"Where are WhatsApp messages stored when they arrive? They are stored in backup at 4 AM, but where are our latest messages stored before that? How can we access this location?"
- StackExchange.com
Have you ever deleted your WhatsApp chat or reset your phone by mistake? If yes, you may lose some important data. Then, a question may occur to you, "where does WhatsApp store data?" This post covers all the relevant information about WhatsApp chat history storage on iPhone, Android, and computer and offers you effective ways to back up WhatsApp history.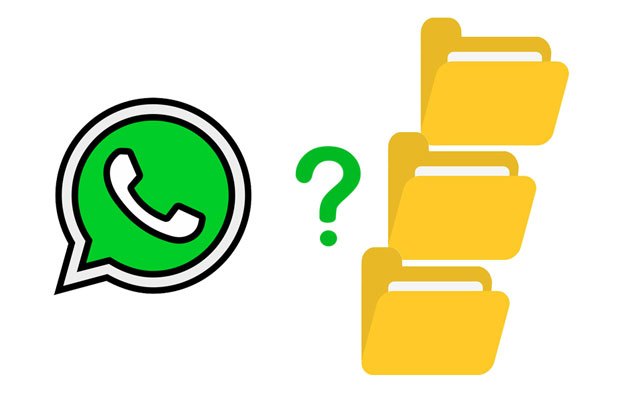 Part 1. Where Are WhatsApp Messages Stored on iPhone?
Part 2. Where Are WhatsApp Messages Stored on Android?
Part 3. Where Is WhatsApp Chat History Stored on PC?
Part 4. The Ultimate Way to Store WhatsApp Messages on PC
Bonus: FAQs about Stored WhatsApp Messages
Part 1. Where Are WhatsApp Messages Stored on iPhone?
If you are an iPhone user, you will wonder: Where are WhatsApp messages stored in iPhone backup? Or where is WhatsApp data stored on iPhone? By default, the WhatsApp chat on iPhone is stored on iCloud rather than WhatsApp's servers. Suppose there are issues with iCloud during the backup process, like security issues and low storage. Alternatively, you can back up WhatsApp data with iTunes or the Email Chat feature.
Below are the top two ways to save WhatsApp messages on your iPhone.
Using iCloud
Open Settings on your iPhone, tap your name, and select iCloud.
Find WhatsApp from the app list and sign in to WhatsApp with your Apple ID.
Open WhatsApp on your iPhone and tap Settings > Chats > Chat Backup.
You can tap Back Up Now to manually back up WhatsApp data to iCloud or turn on Auto Backup and set up a backup frequency for automatical backup.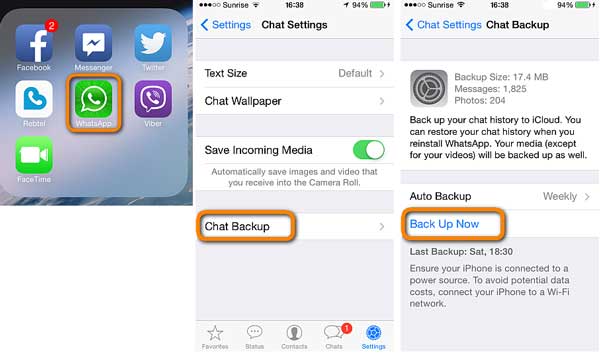 Using iTunes
Plug your iPhone into your computer via a USB cable.
Launch iTunes if it does not open automatically.
Click the iPhone icon when it appears on the top bar.
Tap Summary > Back Up Now > confirm the operation.
Read more: This is a guide on recovering deleted WeChat messages on iOS. If needed, you can tap it to get the methods.
Part 2. Where Are WhatsApp Messages Stored on Android?
Generally, WhatsApp data on Android devices are stored on Google Drive or the local storage, depending on how you set up your device.
By default, WhatsApp automatically backs up your chat history at 2 AM daily on Android and keeps it in the local storage for seven days. You can find the backup in File Manager > SD Card or Internal Storage > WhatsApp > Databases. However, you will find the content is encrypted and unreadable directly.
Assume you enabled WhatsApp backup to Google Drive. You can access the WhatsApp backups from the Google Drive website > Backups, which are identifiable and unencrypted.
Back up to local storage manually:
Open WhatsApp on your Android phone.
Tap the three-vertical dots icon > Settings > Chats > Chat Backup.
Click the BACK UP button to back up WhatsApp chats to the Databases folder in local storage.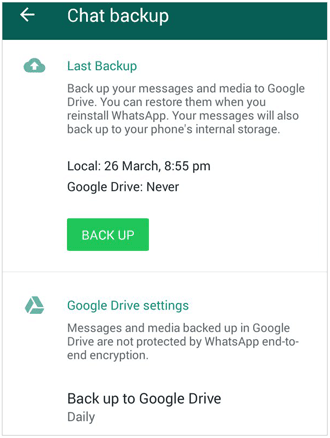 Back up to Google Drive:
Ensure that Google Play Service is installed on your Android phone and activate your Google account.
Open WhatsApp on your Android device > tap the menu icon > Settings > Chats > Chat Backup.
Tap the Back Up to Google Drive option and select a backup frequency.
Add your desired Google account.
Tap the Back Up Over button to pick a wanted network for backup.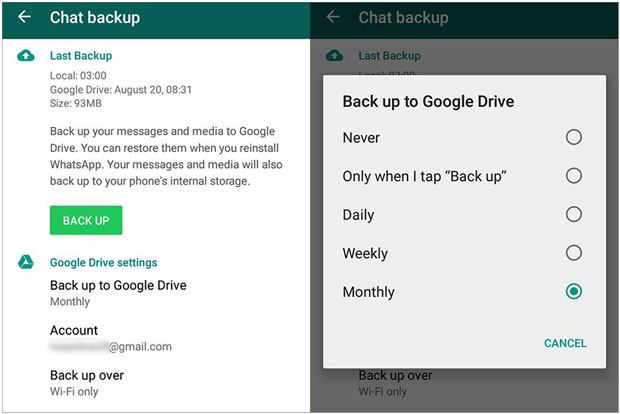 Guess you need: When your iMessage doesn't sync on Mac, don't worry about it because you can fix it with these solutions.
Part 3. Where Is WhatsApp Chat History Stored on PC?
Well, where do WhatsApp messages get stored on a PC? The fact is that the WhatsApp PC version is different from WhatsApp mobile version since it does not have a specific backup location on the PC. Instead, the backups are saved on logs and cache files for temporary data. And like encrypted WhatsApp files on your Android phone, the WhatsApp backups on your PC are not directly readable.
You can search for the WhatsApp messages and media files on your PC:
Open the File Explorer and tap This PC on the left panel.
Enter WhatsApp in the search bar and press the Enter key on the keyboard.
Wait for a while, and then you will see the WhatsApp caches or log files.

Assume you use the Google Chrome browser on your PC. You will find the media files in the Downloads folder, such as pictures, videos, documents, and audio files from WhatsApp Web or WhatsApp for PC.
Sign in to the WhatsApp web version or run WhatsApp for PC on your computer.
Choose a chat from which you wish to download media files and move the cursor over the desired media file.
Tap the downward arrow at the upper-right corner and select the Download option.
Launch the File Explorer on your PC and double-click the Downloads folder.
You will view the downloaded image from WhatsApp.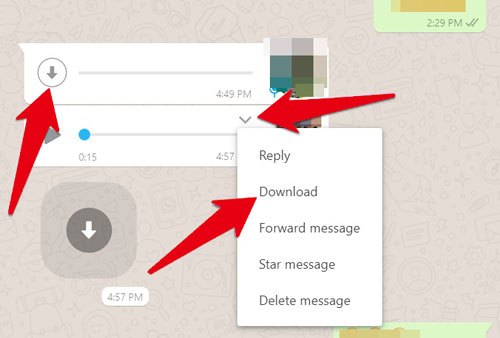 Perhaps you like: With it, you can swiftly recover deleted PDF files from WhatsApp. Let's check it out.
Part 4. The Ultimate Way to Store WhatsApp Messages on PC
WhatsApp Chat Backup is a one-click way to back up WhatsApp messages and attachments from your iPhone to a computer. Besides, it also backs up and restores other social platforms like Line, Viber, WeChat, etc., on your computer and transfers WhatsApp from iOS to Android/iOS.
The highlights of WhatsApp Chat Backup:
* Back up WhatsApp messages, photos, videos, audio files, and documents from your iPhone to a computer.
* Preview and check the backups before exporting them to your PC as PDF or HTML files.
* Restore WhatsApp backup to your Android/iOS device.
* Transfer WhatsApp chats between iOS and Android devices.
* Back up and restore WeChat/Kik/Viber/LINE history on the computer.
* Intuitive interface.
* Widely compatible with Android 2 to Android 13 and iOS 16 and below versions, like iPhone 14/SE (3rd generation)/13 Pro Max/13 Pro/13/13 mini, Samsung Galaxy S23/S22 Ultra/S22+/S22, Sony Xperia 10 Plus/10/10 Ultra, etc.
How to back up iPhone WhatsApp messages to a computer?
1. Open the software on your computer after installation and choose WhatsApp Transfer to continue. Then connect your iPhone to the computer using a USB cable.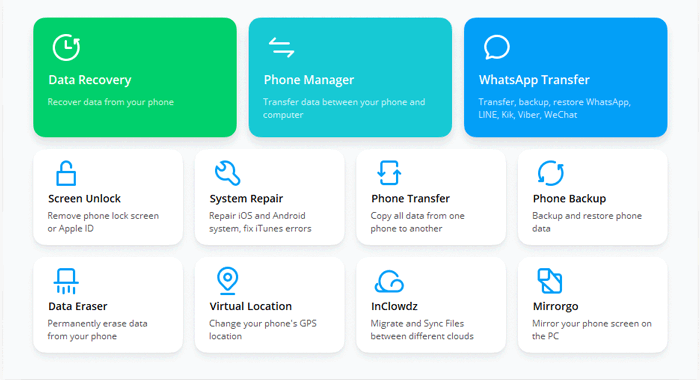 2. Go to the WhatsApp or WhatsApp Business tab on the left, click Backup WhatsApp messages, and tap the Backup button to start the backing up process.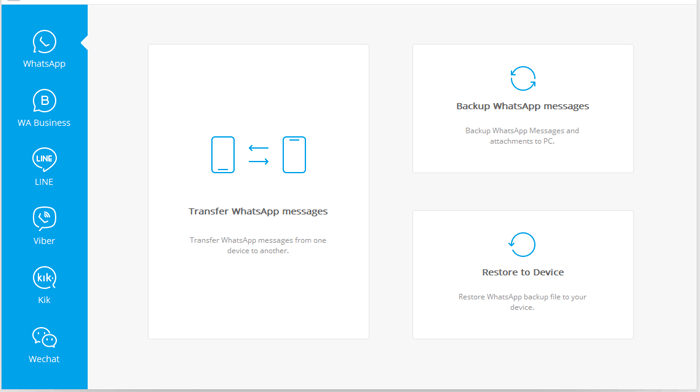 3. When the backup progress is complete, click the View it button to check your WhatsApp backup.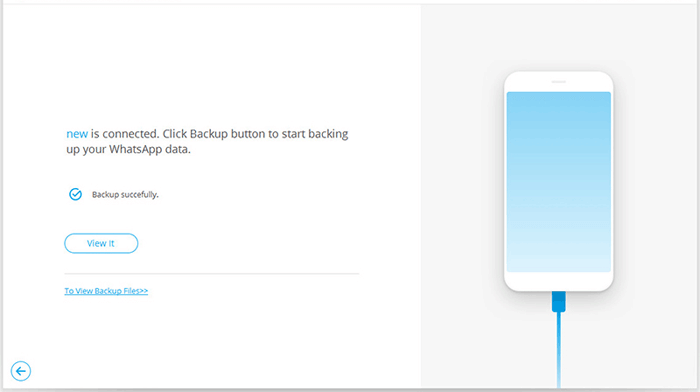 Further reading:
How to Back Up Viber Messages on PC? (Fixed)
Fast Fix WhatsApp Backup Stuck with Practical Tips in 2022
Bonus: FAQs about Stored WhatsApp Messages
1. How long are messages stored on WhatsApp?
Messages are temporarily stored on WhatsApp servers for 30 days if they are not received. That is to say, once someone receives your messages, they are deleted from the WhatsApp servers. If the recipient does not receive your messages, they are kept for 30 days on WhatsApp servers before automatical removal.
2. How long are WhatsApp messages stored on the server?
Unfortunately, WhatsApp never stores messages on its servers. From the above information, you will know that messages are stored on your phone's local storage, iCloud, Google Drive, or PC. But if you don't receive the messages from someone else, they will temporarily present on the WhatsApp servers for 30 days. Thus, we recommend you back up WhatsApp messages regularly to avoid data loss.
3. How do I retrieve old WhatsApp messages?
You can restore the old WhatsApp messages by uninstalling and reinstalling WhatsApp if you have backed up WhatsApp to Google Drive/iCloud before. Besides, there are also multiple ways to back up old WhatsApp messages. If you are interested, check the following tutorials to learn more.
You may like:
[SOLVED] How to Recover 1-Year-Old WhatsApp Messages without Backup on Android and iPhone?
How to Retrieve WhatsApp Messages from Lost Phone without Backup?
4. What files are never stored on WhatsApp servers?
To protect user's privacy, WhatsApp does not store any messages or attachments on its servers. On the contrary, the encrypted data will be saved on your phone locally, on the external SD card, or on the default cloud storage like iCloud or Google Drive.
Final Words
Guess you may clearly understand the question "where are WhatsApp messages stored" by the end of the article. Although everything seems complicated, it is quite simple and helpful to back up WhatsApp messages on your iPhone or Android.
If you wish to back up your WhatsApp history from your phone to a PC, try WhatsApp Chat Backup. You will get everything ready in one click without annoying and complex operations. Moreover, you can also check the backups in readable files! How user-friendly and practical it is!
Related Articles:
[Solved] Where Are Texts Stored on Android Phones in 2023?
How to Restore WhatsApp Backup from Google Drive to iPhone? (Step-by-step Guide)
A Guide on How to Recover Deleted WhatsApp Images on Samsung in 5 Ways
How to Recover Audio Files from WhatsApp on Android in 3 Ways?
How to View Text Messages on iCloud from Your iPhone and Computer? (Complete Guide)