Though switching phones brings a fun experience because you get to experience new features, it is a headache when it comes to file restoration. For instance, you might want to move your WhatsApp chat history to the new device, which can truly be annoying in some way, especially if the two devices don't operate on the same OS. So, if you are deciding to switch from an iPhone to an Android, you may be surprised that none of your WhatsApp chat histories are on the new device. Don't worry, though. This guide will show you how to restore Whatsapp backup from iCloud to Android.
Part 1. Basics Regarding Restoration of WhatsApp from iCloud to Android
Before transferring WhatsApp backup from iCloud to Android, ensure the data is restored on your iPhone. Here are tips to get started:
1. Ensure iCloud Drive is turned on
Head over to Settings, and you'll see your name. If not, you'll find the option to log in at the top. Press the "your name" option, which will create a menu list. Look for iCloud and tap it. Then you can go on ahead and turn iCloud Drive on.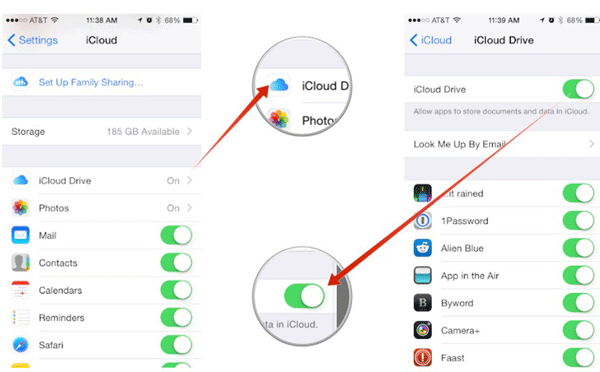 2. Back up your WhatsApp to iCloud
Also, ensure you backup your WhatsApp to iCloud. To do that, open the "WhatsApp" application. At the lower bar, a cogwheel symbol of "Settings." Choose this tab to access all its settings.
Select the "Chats" menu item, and locate the "Chat Backup." Within that section, you will find both an automatic backup and a manual option for backing up your chats. You can even exclude file types like videos or images from being backed up if desired.
To ensure your WhatsApp conversations are always backed up, it's best to keep auto backup enabled. However, if you need the most current data version for a new iPhone or resetting purposes, choose 'Back Up Now' and move right ahead with the next step.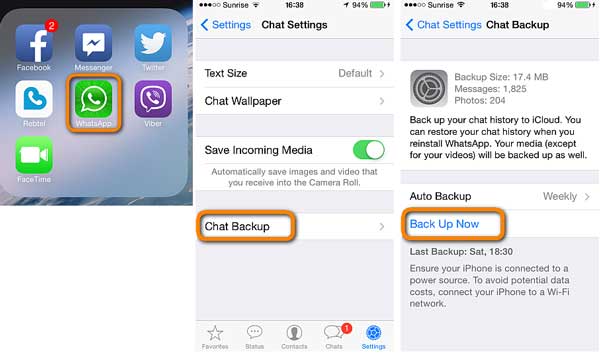 3. Restore Whatsapp backup to your iPhone
First double check that your iCloud backup is ready. Then proceed with the reinstallation of WhatsApp to ensure that everything runs smoothly. Once you've completed the installation, a prompt should appear alerting you to a discovered backup and inviting you to restore it. Don't worry- this process won't take too long. Soon enough, your WhatsApp information will be safely restored on your iPhone.
Securing a backup of your iPhone's data is the first step to transferring it to an Android device. To make this switch seamless and painless, we have broken down the process into three manageable steps; look below for more details.
You may like:
How to Share WhatsApp Contacts on Android and iPhone?
How to Back Up WhatsApp Messages from Android to Mac - 5 Proven Ways
Part 2. Restore WhatsApp Backup from iCloud to Android through Email
Did you know that you can easily email all of your chat history and attachments to an Android phone's email address? An email is a powerful tool that allows users to transfer messages from iCloud to Android and effortlessly send and receive data regardless of what device or software it runs on.
It will assist you in transferring WhatsApp backup files from iCloud to an Android, although it does have its limitations. If the data exceeds a certain file size threshold, this technique won't work. Below are steps on how to get Whatsapp backup from iCloud to Android device via email:
Step 1. To export your WhatsApp conversation to email, launch the app and select any conversation you want. Tap on the contact name at the top of an iPhone screen and scroll down until you find "Export Chat" and click on it.
Step 2. Once you've done that, a pop-up window will ask if you want to attach media or continue without. Choose whatever suits your needs best, and then select 'Mail' to share your message.
Step 3. You'll see the chats and attachments data attached to the email. Enter the target mail in the "To" section. Make sure you enter the right email you want the chats to be sent. Finally, click the "Send" button at the top to send the chats.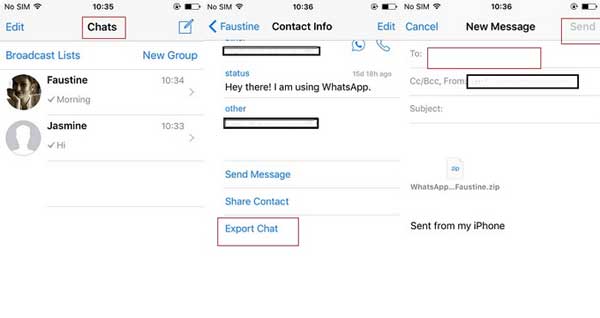 Step 4. Take your phone and log into your email you had exported the backup files. After logging in, you will see the file you backed up in the inbox. While you can read these messages via TXT files, unfortunately, they cannot be easily synchronized with your Android WhatsApp application.
Part 3. Restore iCloud WhatsApp Backup in Android Using iCloud Website
You can also restore your WhatsApp backup directly from iCloud to your Android through the iCloud website. You don't need a computer to do this. But, you will require a very strong internet if you need to download several files from the website. Here's how to get Whatsapp backup from iCloud to Android:
Step 1. Go to iCloud Web
Open a browser on your phone and navigate to icloud.com. Once there, sign in using your Apple ID credentials. If you cannot open the "Sign In" page, tap on the 'Menu' icon at the top of the screen and select "Request desktop site." Now you can easily sign in.
Step 2. Download the iCloud backup
Find and access the iCloud backup file, then download your desired data on Android.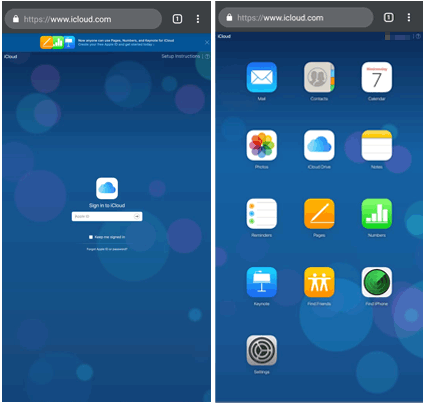 See more:
[2023] How to Recover Deleted WhatsApp Messages on iPhone without Complex Steps?
Why Couldn't Download Video on WhatsApp from iPhone? Fix It Immediately
Part 4. Transfer WhatsApp Data from iPhone to Android without iCloud
WhatsApp Transfer is a renowned software that offers exceptional features to users switching from iPhone to Android or vice versa and experiencing difficulty moving their WhatsApp chats. With its unique features, this acclaimed program has garnered the attention of audiences around the globe, making it one of the most sought-after programs available today.
Moving your WhatsApp data from an iPhone to your Android is a breeze with WhatsApp Transfer. It runs on major computer operating systems, Mac and Windows, as well as almost every version of iOS and Android. Even better, it's easy to use. The app can assist you backup and restore WhatsApp and WhatsApp business.
Core Features of WhatsApp Transfer:
Transfers WhatsApp files between iOS and Android.
Transfer WhatsApp Business conversations between iOS and Android devices.
Backup LINE/Viber/WeChat/Kik chat history.
Backup and restore WhatsApp & WhatsApp Business.
Support all iPhones 14/13/12/11/X/8/7/6 and Android devices like Samsung, LG, Huawei, Motorola and Xiaomi.
Now, let's delve into the step-by-step process to transfer WhatsApp from iPhone to your new Android with WhatsApp Transfer:
01 Launch the program on the computer after installing it. Then choose "WhatsApp Transfer" from the list. Next, connect both devices to the computer. The program will detect them both, providing you with a window that allows for instant data transferring. Select "Transfer WhatsApp messages."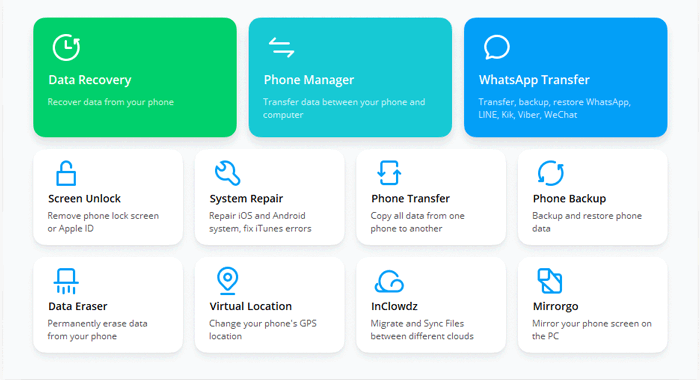 02 Now, select "Transfer" to start the WhatsApp transfer process. Since this process will completely delete all current messages from your destination device, you must click "Continue" if you want to proceed. Alternatively, you can back up your WhatsApp data on a computer beforehand. The process will now start.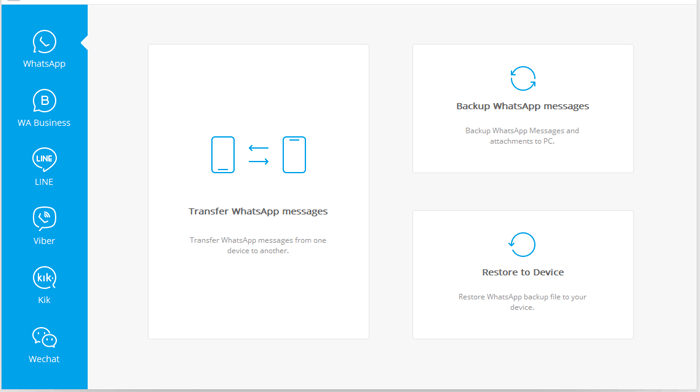 03 Wait as the transfer process continues. Ensure you keep the device connected throughout. When it's finished, you will see a window on the screen. Just disconnect the device and check the transferred files.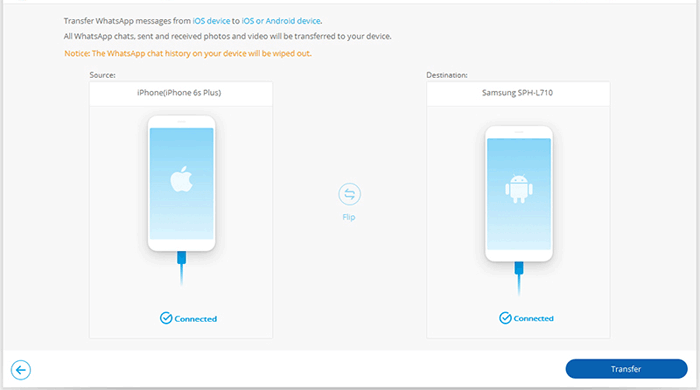 Tips: Can I Get WhatsApp Backup from iCloud to Android Directly?
Unfortunately, it is not possible to directly restore iCloud WhatsApp backup onto an Android device. This is due to the incompatibility between iCloud's encoding and the Android operating system. Although primarily meant for Apple products, iCloud allows you to store other data such as photos, music files, documents, and even WhatsApp conversations in your iTunes account. Not only is it tailored to work with every Apple product, such as the iPhone, iPad, and MacBook, but its cloud technology also allows you to sync your data across multiple applications.
Google Drive storage comes to the rescue here, providing up to 15GB of free cloud-based space accessible on all primary platforms. It's a practical solution that simplifies media management and offers peace of mind for customers. This feature allows iPhone and Android users to access Google Drive's full potential as the go-to cloud storage platform. Hence, Android users have the advantage of saving their data on Google Drive while being able to restore it later with third-party apps through iTunes
Conclusion
How do I restore Whatsapp backup from iCloud to Android? You now have an idea on what needs to be done to restore iCloud WhatsApp backup to Android. You won't have difficulty getting your data to your new Android device. As long as you follow the steps outlined in this article, the process should be relatively straightforward and painless. You must have realized that WhatsApp Transfer is the easiest way to move your WhatsApp chat history to your new Android device from an iPhone without a fuse.
Related Articles:
[Proven] How to Transfer WhatsApp to New Phone Easily? (Android & iPhone)
Cannot Send & Receive WhatsApp Messages, How to Fix?
How to Recover Deleted Photos in WhatsApp on Android and iPhone with Ease?
[3 Solutions] How to Transfer WhatsApp Chats from Android to Android
[Fast Transfer] How to Transfer WhatsApp from iPhone to Android
How to Retrieve WhatsApp Messages from Lost Phone without Backup?