iOS 12, the latest iOS version, is available this fall with focus on performance and quality improvements. It aims at improving the running speed, reaction speed and sensual experience on your iPhone, iPad and iPod touch. Also it comes with a number of exciting new features, such as Memoji, ARKit 2.0, Group FaceTime, Screen Time, Better Parental Controls, Grouped Notifications, new digital health features, Do Not Disturb improvements and etc. Now, let's see everything you'd like to know about iOS 12 in this full guide.
Part 1. iOS 12 Release Date
Part 2. iOS 12 New Features
Part 3. Supported Devices
Part 4. How to Upgrade to iOS 12 Beta?
Part 5. How to Downgrade from iOS 12 Beta to iOS 11?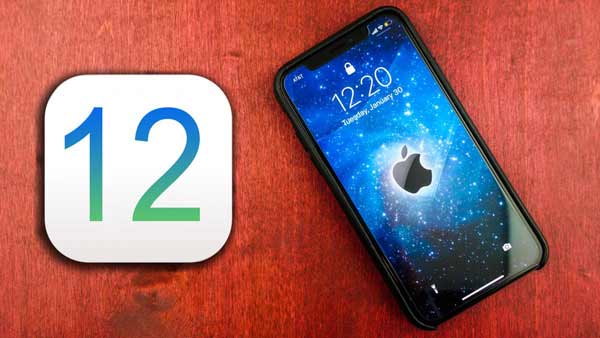 Part 1. iOS 12 Release Date
iOS 12, the latest version of iOS, was released to Apple devices on September 17, 2018. And its preview started to enter the eye-sight of the public at the keynote event at the WWDC 2018 (Worldwide Developers Conference) on June 4. iOS updates were originally introduced in a beta or pre-release testing version, and the official version follows after that.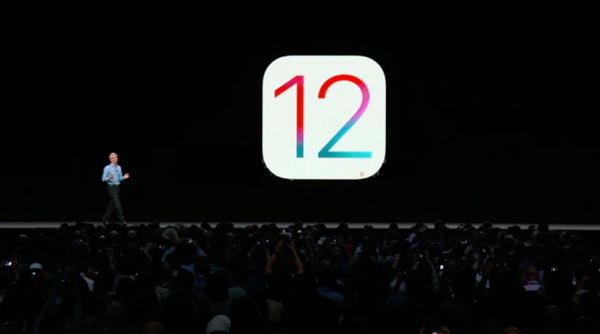 The first iOS 12 developer beta was available after the WWDC keynote (we have now reached the sixth beta), but it is only for registered developers as the name suggests. The public beta version for the public is available for download on June 25. And the final public release of iOS 12.0 took place in the fall - September 17, 2018.
Part 2. iOS 12 New Features
1. Performance Improvement
iOS 12 is able to speed up the things you do every day on your iPhone or iPad, providing your a faster and more responsive experience. For example, when you launch camera, load an app, or type with the keyboard, it reacts faster than ever if you are doing it a lot on your device. Apps launch up to 2X faster under heavy workload; the keyboard displays up 50% faster and sliding to Camera can be up to 70% faster. This performance improvements happen on both new and old devices as long as they are supported by iOS 12.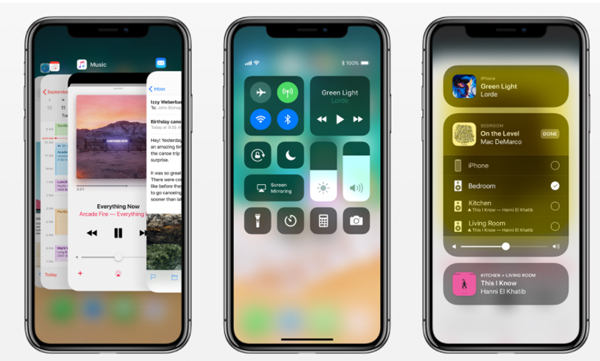 The performance improvement is to optimize the system when under load, Apple said. And also iOS 12 boosts performance as needed and then lowers it when needed to extend battery life. According to WWDC, Apple has optimized peak load requirements to better distribute access the processing power inside the device. The application is about to double its boot speed under load after upgrading to the newest iOS 12, even though it is an old iPhone 5s and iPod Air.
2. Group FaceTime
In iOS 12, FaceTime supports video and audio for up to 32 people at a time. With Group FaceTime, all participants can be seen in the tiled view, and the tile of the person who's speaking will automatically grow bigger, so you will never lose track of the conversation. You can also double-tap on the person you want to view using the Focus View.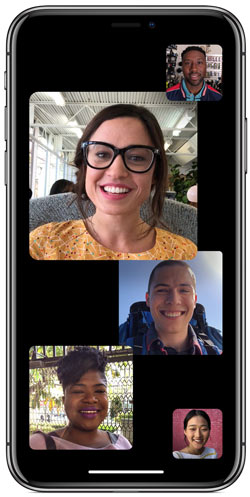 You can launch Group FaceTime directly from a group thread in Messages, or you can also join an on going Group FaceTime at any time. And you can answer the Group FaceTime calls on iPhone, iPad, Mac, Apple Watch and HomePod. With two options, you can only join a chat with audio instead of video. Besides, Group FaceTime call sends a silent, no-ring notification to participants who can tap to join. FaceTime has been more deeply integrated into the Messages, so you can start a FaceTime call in either an individual chat or group chat.
Also, FaceTime includes the same Effects camera introduced in Messages, allowing you to access Animoji and Memoji, filters, stickers, etc. when you are in FaceTiming.
3. Memoji and Animoji
Both of Animoji and Memoji are available for Messages and FaceTime in iOS 12. As for devices with a TrueDepth camera system, Animoji in iOS 12 comes with new features, such as tongue detection and better face tracking. Through tongue detection, Animoji can stick out a tongue and also choose to detect blinks.
Animoji recordings can now last up to 30 seconds, which is 10 seconds higher than in iOS 11, so you can record longer Animoji messages. And there are also new Animoji options available, including Ghost, Koala, Tiger and T-Rex, as well as a new customizable Animoji experience called Memoji.
Memoji is a new type of customizable Animoji, which enables you to create a Memoji to fit your personality and mood. You can choose skin color, hair color, hair style, eye color, eyebrows, nose, freckles and facial hair, accessories and headwear. There is no limit to the number of Memoji you can create, so you can add more than one for each look you want to express.
4. Augmented Reality and ARKit 2
ARKit 2.0 makes some other improvements, such as better 3D object detection, face tracking, realistic rendering, persistent experiences and shared experiences. Apple designed a new file format called USDZ, which retains 3D graphics and animations in iOS 12. This means that you can see augmented reality assets in Safari, Mail, Messages and more.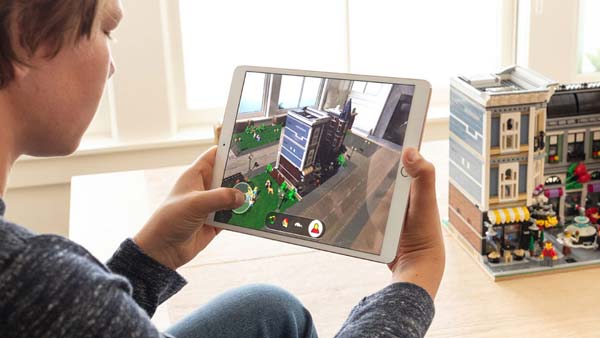 And a new AR app called Measure is available in iOS 12, which allows you measure real-world objects just by pointing your device's camera at them. For example, by tapping two points on a table using your iPhone's camera, you can see the measurement for the table's length and width in real word. What's more, when you are viewing a rectangular object such as a book, the system will automatically recognize the shape and offer you the measurements of the book.
5. Screen Time
Screen time is a new feature built into the Settings app in iOS 12 and it aims at helping you suppress iPhone addiction and achieve a healthier balance between gadgets and life. It can analyze the time you spend on your device and each app and provides a summary of weekly usage habits to help you set a fixed time limit for each app. You will be notified when time's up. Of course, you can ask for more time if you want.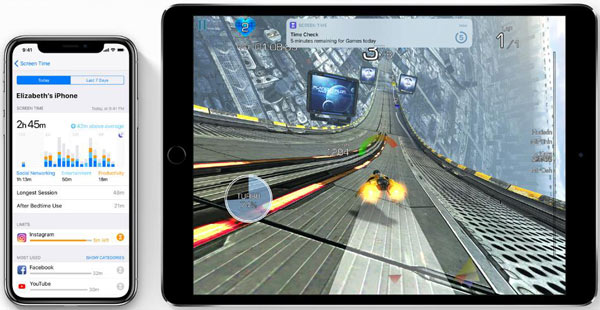 Other features in iOS 12 for combating iPhone addiction:
- Do Not Disturb: darken the display and hide all notifications on the lock screen while sleeping.
- Group Notifications: Allow users to combine notifications with swipes and manage notifications from the lock screen.
- Deliver Quietly: Transfer all notifications to your control center with no sound prompts and read notification badges.
- Allowance: Improves parental control of your child's use on an app.
...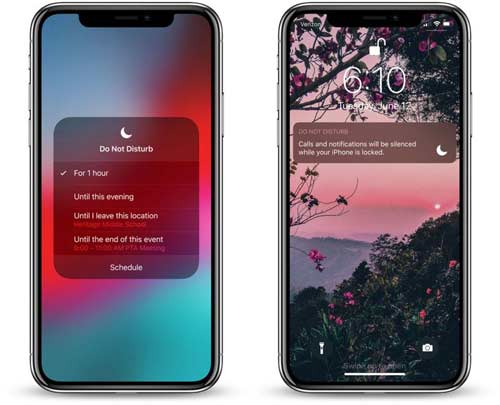 6. Other iOS 12 New Features
Of course, there are more new features in iOS 12, including:
> New way to share your photos with the new For You tab
> New way to search your photos with Search suggestions
> Much more caring for your privacy
> New Apple Books
> Redesigned Stocks app
> Voice Memos coming to iPad
> Automatic strong passwords
> Security code AutoFill
> More battery information and etc.
...
Part 3. Supported Devices
iOS 12 is designed to run on all devices that are able to run iOS 11, even though Apple has improved on both old and new devices. So iOS 12 is compatible with the following iOS devices or later:
Supported iPhone:
iPhone X
iPhone 8
iPhone 8 Plus
iPhone 7
iPhone 7 Plus
iPhone 6s
iPhone 6s Plus
iPhone 6
iPhone 6 Plus
iPhone SE
iPhone 5s
Supported iPad:
12.9-inch iPad Pro 2nd generation
12.9-inch iPad Pro 1st generation
10.5-inch iPad Pro
9.7-inch iPad Pro
iPad 6th generation
iPad 5th generation
iPad Air 2
iPad Air
iPad mini 4
iPad mini 3
iPad mini 2
Supported iPod touch:
iPod touch 6th generation
Part 4. How to Upgrade to iOS 12 Beta?
Before updating to iOS 12, you can take a quick look at its released timeline:
> iOS 12 beta has been released on June 26, which is only applicable only to Apple developers.
> The stable version of iOS 12 is available on September 17, 2018.
Before proceeding, please check whether you have met the following requirements:
> Make sure your iDevice is compatible with iOS 12;
> Be sure your iDevice has enough storage space to download and install iOS 12 (about 1.5GB), see how to manage and free up storage space on iOS 12/11?;
> Back up your phone data beforehand in case the unstable iOS 12 beta version causes unexpected data lost or data damage.
When you meet all above requirements, please follow the steps below to update your iOS version to the latest one. If you want to upgrade to iOS 12 before the public version releases, you'll need to have an Apple Developer account, which costs $99 a year as of now. If you don't have an Apple Developer account, you can only upgrade to iOS 12 beta version.
Situation 1: How to Upgrade to iOS 12 Beta without Apple Developer Account?
Step 1. Download the IPSW file for iOS 12 on your computer. Make sure to choose the right IPSW file for your device.
Step 2. Connect your iDevice to computer via a USB cable and run the latest iTunes.
Step 3. Click your device icon from the left panel of iTunes, and go to Summary page.
Step 4. Click the "Update" button on iTunes while pressing the Shift key (for Windows) or Option key (for Mac).
Step 5. Then you might see a pop-up browser window opened. Please go to the location where you have stored the IPSW file, choose it and open it. This will start the update process.
Step 5. Before long, you can activate iOS 12 beta on your device by registering your device's unique ID to Apple's beta website. See what to do if you can't activate iPhone after iOS 12 upgrade.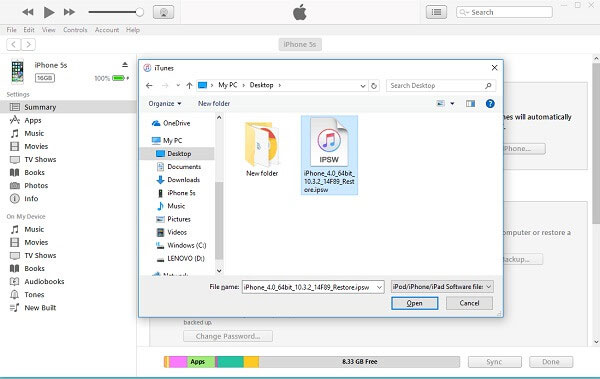 Situation 2: How to Upgrade to iOS 12 with Apple Developer Account?
Step 1. Visit the Apple Developer website on your iDevice and sign into your account.
Step 2. Tap "Download New Beta" option and download the iOS 12 beta version on your iOS device.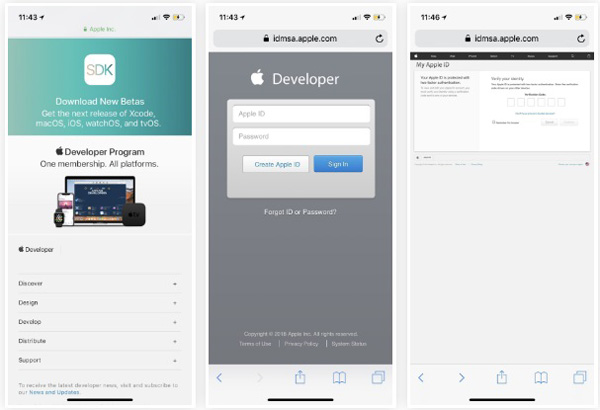 Step 3. When the download is finished, you might see the iOS Beta software profile. Please tap "Install" option.
Step 4. Enter your passcode and agree to the terms and condition as prompted, then the download process will start.
Step 5. After downloading, you will be required to reboot your iDevice. Simply tap "Restart" option to apply iOS 12 beta.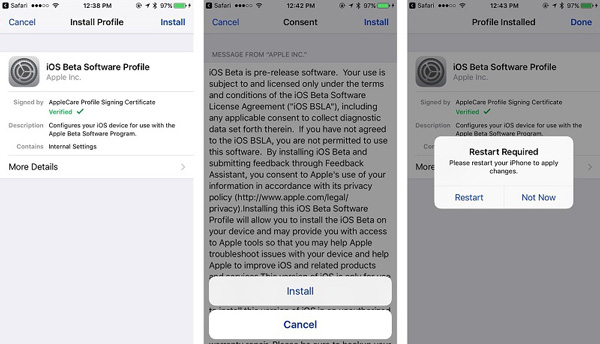 Besides, you can go to beta.apple.com to enroll your iDevice in advance where you can download the configuration profile. Then go to "Settings" > "General" > "Software Update" where you can view iOS 12 beta profile and tap "Download and Install" option to download the beta version of iOS 12. After that, you phone will be restarted to apply the change.
Part 5. How to Downgrade from iOS 12 Beta to iOS 11?
Since the beta version is not stable, most of users might encounter many unexpected complications after upgrading the device to a beta version of iOS. To solve this problem, the best way is to downgrade the device back to the previous stable version. Before downgrading, please remember to back up your phone data, otherwise all of your data will be deleted after the process.
To downgrade your iOS device from iOS 12 to 11, you can follow the steps as below:
Step 1. Open iTunes on your computer and make sure it is the latest version.
Step 2. Connect your iDevice to computer with a USB cable and put it into Recovery mode.
> For iPhone X/8/8 Plus, please press and then quickly release the Volume Up button, press and then quickly release the Volume Down button, then keep holding the Power button till the Recovery mode screen appears.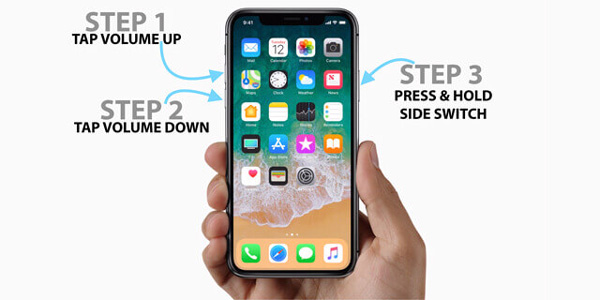 > For iPhone 7/7 Plus, please press and hold the Volume Down + Power button at the same time till the Recovery mode screen shows up. Don't let go even the Apple logo appears on screen.
> For iPhone 6s and older generations, please long press the Home + Power buttons simultaneously till you get into the Recovery mode screen. Don't release even the Apple logo shows on the screen.
Step 3. Once your iDevice enters Recovery mode, iTunes will pop up a window, telling you that a problem is detected and requires you to click "Restore" or "Update" option. Simple click "Update" option to continue.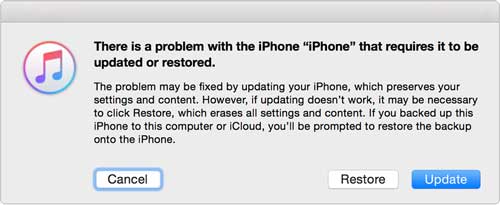 Step 4. After that, please follow the onscreen guide to downgrade from iOS 12 beta version to a stable iOS 11 version.
You May Also Like:
How to Clean Up Caches on iOS 12/11 iPhone/iPad
Solutions to Resolve iOS 11 Common Problems