Getting your first tablet often seems like a joy at first. You download all the apps you want and it feels like the world is your oyster. But after time, all those apps and all that data and music and those photo and video files accumulate. Every website you visit leaves cookies, app cache data, temporary files and anything else your tablet's CPU felt it had to make a copy of and store in its memory. All this accumulated data eventually will cause your tablet to slow down and negatively affect its performance. You could try to erase and clean the wasteful data yourself, but you'd run the risk of erasing data that dramatically affect the functionality of your tablet. And returning your iPad to its default status just to clean out the excess unnecessary storage is too extreme a step that's not worth losing all your valuable apps for.
What you need is a third-party software platform that allows you to identify only the junk and unnecessarily stored data on your tablet and remove it safely. This is the exact purpose of Coolmuster iOS Cleaner. This software that you can download onto any PC or Mac computer can clean any type of iOS device and can remove junk files like app caches, app cookies, download temporary files, crash logs, photo caches, and your iTunes radio history. It can also examine your private data and separate vital information from useless junk such as call histories, browsing history, Safari cookies, Safari browsing history, Safari caches of certain websites, iOS notifications, and any app orphaned files for apps no longer on your mobile device.
And it can also be used on any type of iOS device such as all iPhones like the iPhone 14/13/12/11/X/8/7, iPad Pro, iPad Air, iPad mini, iPad 4, the new iPad, iPad 2, all generations of Apple iPad tablets as well as all iPod touches, Shuffles, Nanos and even the iPod Classic. Using iOS Cleaner to clean your iPad of needless user storage data is simple. First, you just download the software from the following buttons onto any PC or Mac desktop or laptop computer running on Windows or Mac OS X. Then you just:
3 Steps to Clear iPad User Storage Files to Get More Space
Step 1: Launch iOS Cleaner and connect iPad to computer
Run the iOS cleaner on your computer while your iPad is plugged into it via a USB cable. You will see a bar representing all the stored files on that tablet along with four icons labeled "Quick Clean", Deep Clean", "Toolbox" and "Restore".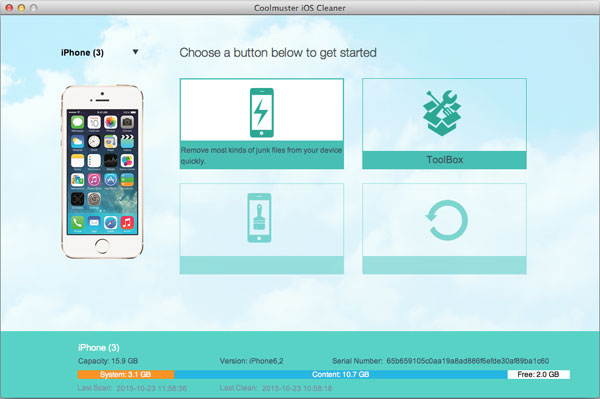 Step 2: Choose the user storage files to delete
Choose "Quick Clean". This will tell you what kinds of files iOS cleaner will scan. Then, click "Start Scan". The software will scan your device and categorize it into the types of files present on your tablet. Once the scanning is complete, iOS Cleaner will display all the files results to help you double check whether or not you want to delete it.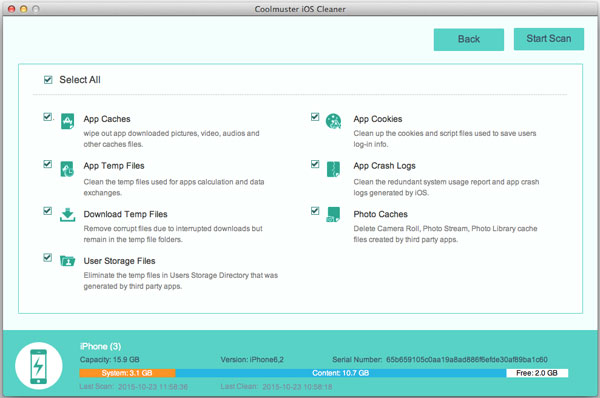 Step 3: Erase user storage files on iPad instantly
You just have selected all the storage files you want to erase from your iPad. At this point, click "Clean" and iOS cleaner will removed all the ticked files from your tablet and display how much space you have cleared out.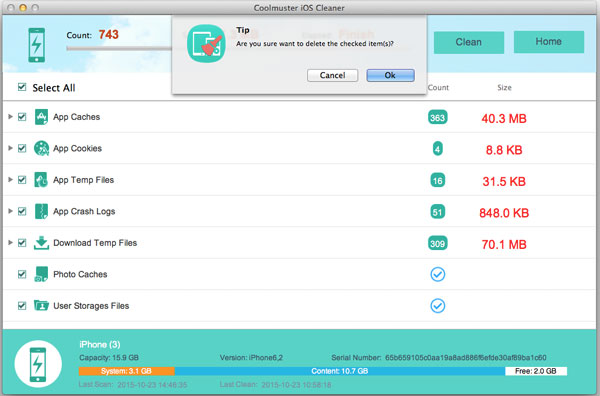 It's that simple. So, free download the Coolmuster iOS Cleaner program to have a try by yourself now!
Related Articles:
Delete iPad Google Search Web History
Wipe All Personal Data from An iPhone
Transfer Data from iPhone to iPhone without iCloud