"I'm running iOS 11 on an iPhone 7, My camera settings in Formats is High Efficiency. (To reduce file size, capture photos and videos in the high-efficiency HIEF/HEVC format. Most Compatible will always use JPEG/H.264.) I cannot understand why the photos are not being described as HEIF. Am I doing something wrong?"
Originally, HEIF image format is the default format of iPhone camera with the new launched iPhone X, iPhone 8 and iPhone 8 Plus in iOS 11. For iPhone 7 Plus and iPhone 7, users can updates software to the latest iOS 11 so that their iPhone camera can support to shoot HEIC photos as well. However, if users still cannot shoot HEIF photos with iPhone camera in iOS 11, please check the following tips to resolve this problem.
4 Tips to Fix iPhone Photos Are Not Taken in HEIF in iOS 11-16
Tips 1. Confirm your iDevice supports HEIF files.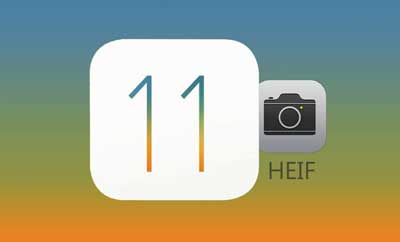 First of all, not all iOS device are supported to take HEIF pictures, and you need to make sure your iPhone or iPad are HEIF photos supported. Currently, the HEIF files or HEIC images only support iOS 11 devices and Mac with macOS High Sierra, including:
- iPhone X, iPhone 8, iPhone 8 Plus, iPhone 7, iPhone 7 Plus or later;
- iPad Pro (10.5 inch) and iPad Pro 12.9 inch (2nd generation) or later;
- Mac with macOS High Sierra or higher.
And the HEIF unsupported devices include:
- iOS 10, iOS 9, iOS 8 or earlier, including iPhone 6s Plus, iPhone 6s, iPhone 6 Plus, iPhone 6, iPhone 5s, iPhone 5 and other;
- Mac with macOS High Sierra 10.12 and earlier;
- Windows PC;
- Other operating system except iOS, including Android, BlackBerry, Windows Phone and etc.
Read More:
How to Fix iCloud Back Up Now Greyed Out?
How to Recover Notes from Broken iPhone?
Tips 2. Make sure your iDevice has been updated to the latest iOS version.
Since iPhone 7 and iPhone 7 Plus are not originally coming with iOS 11, users for iPhone 7 and iPhone 7 Plus need to update their device to the latest iOS version, iOS 11 for now. Thus their device will be able to take HEIC photos.
To update software in iPhone, please unlock your iPhone and go to "Settings" > "General" > "Software Update" on your phone, then download and install the available software update on your iPhone.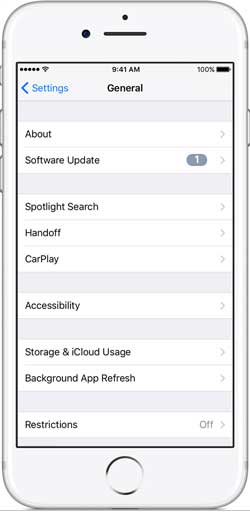 Tips 3. Check if you have enabled HEIC format in iPhone camera.
If your devices are supported by HEIF files and running in iOS 11 but still cannot shoot HEIC photos with iPhone camera, please check whether you have turned on the feature to shoot HEIF format photos in iPhone camera.
To enable HEIC format in iPhone camera, please go to "Settings" > "Camera" > "Formats" and switch on "High Efficiency" feature under CAMERA CAPTURE section. Thus you can shoot HEIF photos and HEVC videos now.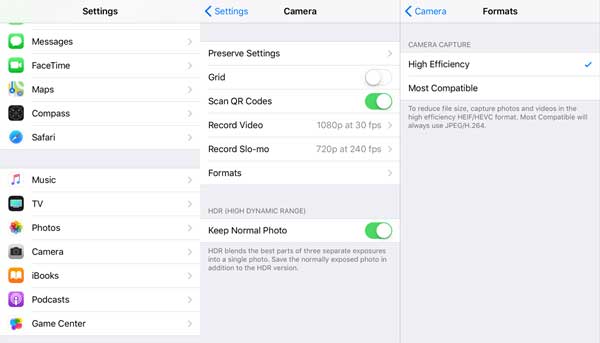 Tips 4. Reboot iPhone to get rid of some glitch on iOS device.
If you have completed all above operations but your iPhone still takes photos in JPEG but not HEIF, you can try to restart your iPhone to fix this problem.
- Soft reboot: Simply press Power button on iPhone to bring out "Slide to power off" screen, and swipe to the right to turn it off. When iPhone goes completely black, press Power button again to turn it on.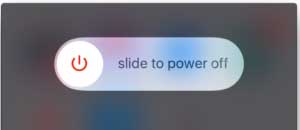 - Hard reboot: Please press and hold the Home button and Power button at the same time for about 10 seconds, don't let go until the Apple logo appears on screen. When iPhone screen completely goes black, please press Power button only to turn on iPhone again.
(Notes: For iPhone 7 or later, please press Volume Down button instead of Home button.)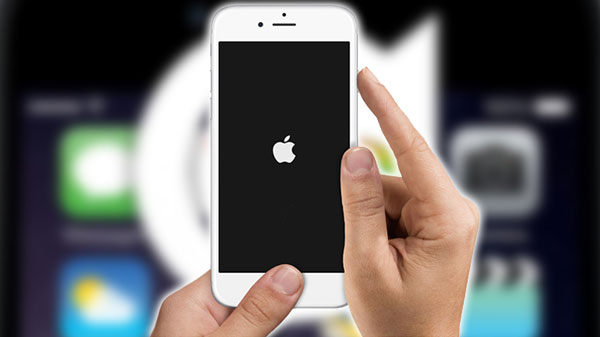 Words in the End
No matter which version of iOS your device is using, if you come across iPhone photos taken not in HEIF but in JPEG format, don't worry. As long as you read this guide carefully, you can know how to fix the problem that iPhone cannot take HEIF photos.
Related Articles:
How to Fix iPhone Stuck in Reboot Loop
Guide to Transfer HEIC/HEIF Photos to JPG/JPEG Files
Free Ways to Open and View HEIF/HEIC Images on Windows/Mac/Android
10 Efficient Ways to Fix A Phone that Won't Charge
iPhone Calendar Disappeared: How to Recover Calendar App & Events on iPhone