Q: My iPhone 7 Plus has no sound.
"My iPhone has been ok but now it loses the ability to make any sound, things like when clicking the top right button to switch it off it used to make a "swoosh" sound, that has stopped; also when I get an email, the phone usually makes a sound, that has stopped....and finally when I usually get a call, the phone obviously rings, that has also stopped a few times and it just vibrates. Any ideas? I think this is either a hardware or software issue, help!" -- From Apple Forum
Some users have reported that their iPhone sound not working, which makes them miss the phone calls, messages, emails or other notifications, or . Why does iPhone have no sound? And how to fix iPhone sound issue? This article is showing you 8 tricks to fix iPhone sound not working issue.
Tip 1. Check the Ring/Silent Mode
The Ring/Silent button is on the left side of iPhone. Check it, if it shows the orange line, it means your iPhone is set to the silent mode, and you need to switch it up to enable the ring mode. After that, you can check if this fixes iPhone sound no working issue or not.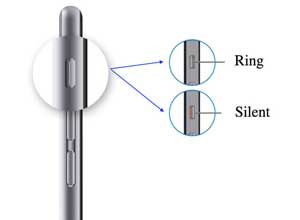 Tip 2. Turn Up iPhone Volume
You can try to increase the volume of iPhone to see if you can hear the sound from iPhone.
To do so, you need to unlock your iPhone at first, or it won't work when iPhone is locked. Then launch any app that has music or sound effect like games, and press the Volume Up button to increase iPhone's sound.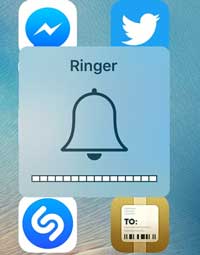 See Also: How to Fix iPad Won't Unlock
Or you can increase the iPhone volume by swiping up the volume slider on iPhone Control Center. (Settings > Sound & Haptics)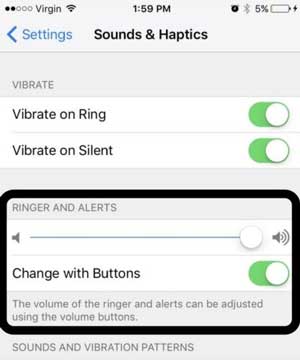 Tip 3. Disable Bluetooth
Still hear no sound from your iPhone? Turn off Bluetooth and make sure no Bluetooth connected to your iPhone. iPhone's software will turn off speaker if it detects a dock connection or an earphone plugged in. Sometimes you may use a Bluetooth speaker or headset and forget to turn off Bluetooth feature on your iPhone, which may be the reason the cause iPhone no sound.
To disable Bluetooth, you can go to Settings > Bluetooth and switch off Bluetooth feature.
Or you can also disable the Bluetooth feature by swiping up the iPhone screen and tapping the Bluetooth icon to make it dim.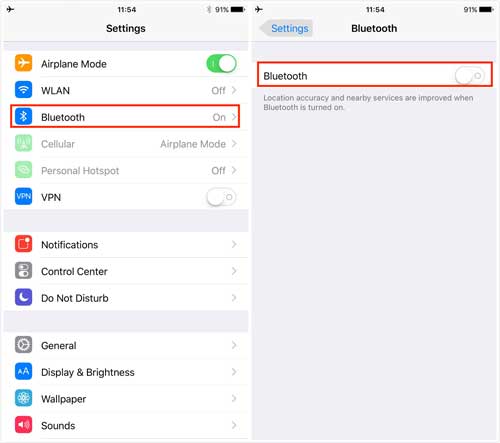 See Also: How to Fix iPhone Touch Screen Unresponsive Issue?
Tip 4. Plug In/Out Earphone
As mentioned above, iPhone's software will turn off speaker if it detects a dock connection or an earphone plugged in. However, a loose wire connectivity can also trigger this feature when you pull out the earphone from your iPhone.
To get rid of this problem, you can try to use your earphones to plug them into and out from the headset jack for a few times, aiming at get the loose wire back to normal. Many users have fixed their phone with this method.
Tip 5. Reboot Your iPhone
Restarting iPhone can fix many little problems, so you can try to restart your iPhone to refresh your iPhone. Just press and hold the Sleep/Wake button and the Home button at the same time till an Apple logo appears on the screen. Then press the Sleep/Wake button only to turn on iPhone again. This will erase all the loading glitches and caches, including iPhone has no sound.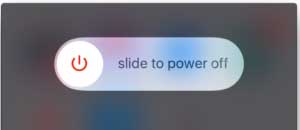 See Also: 3 Methods to Fix iPhone Won't Turn On
Tip 6. Clean Speaker Holes and Charging Port
If there are to much dust or dirt covering the speaker holes, your iPhone may have no sound, too. To clean it, you can make use of a hairdryer to blow the dust off the speaker holes and charging port. Or you can also use a dry and clean toothbrush or toothpick to remove the dust out from the holes.
Tip 7. Software Update for iPhone
If your iPhone still has no sound, there could be some problem on iPhone software, which may be a reminder from Apple to update your iPhone to the latest version of iOS, replacing the outdated iOS version. Upgrading software may fix iPhone sound not working problem, to do so, you can:
- Connect your iPhone to a Wi-Fi network and a power source as well
- Go to Settings > General > Software Update on your iPhone
- If there is an available software update, tap Download and Install or Install Now option to get the latest software on your iPhone now.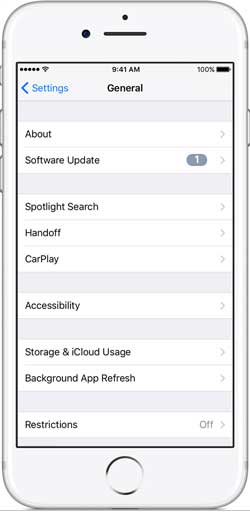 See Also:
iPhone Won't Update? Here's How to Fix!
How to Fix iPhone Won't Connect to Wi-Fi Problem?
Tip 8. Restore iPhone by Factory Reset
This will erase all settings and contents from your iPhone, but it will restore your iPhone to a normal state with system default, which means it fixes your iPhone sound not working problem. So you need to create a backup on your iPhone in case of data lost. To factory reset your iPhone, you can:
- Go to Settings > General > Reset > Erase All Content and Settings on your iPhone.
- Enter your passwords and tap Erase iPhone to confirm your action.
- After that, you can set up your iPhone with different choices, like Set Up as New, Restore from iCloud Backup, or Restore from iTunes Backup.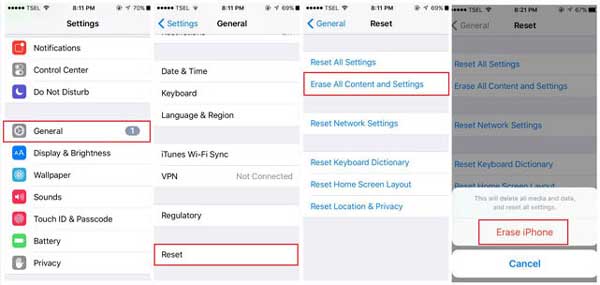 Related Articles:
Simple Way to Restore iPhone from Backup
One Click to Recover Lost Contacts from iPhone without iTunes Backup
How to Change Ringtones for iPhone?