We carry notes everywhere, whether in an actual physical notebook or digitally on our mobile devices. The need to jot down something temporarily for later retrieval will always be there. The most secure backup storage for notes is the iCloud. You can conveniently access the information you backed up from nay device with an internet connection.
Why you would need to recover notes from iCloud?
You might have mistakenly deleted notes from your phone. The iCloud backup will come n handy in this case. In case you lose your phone; you can still retrieve the saved information from the cloud. To do this, just log into your iCloud account and select the appropriate icon. In this case, you can retrieve your notes conveniently.
User Guide: How to Recover Notes from iCloud
- Log into your iCloud account, locate Notes and copy-paste everything you need to retrieve. The reason for this is to ensure you have the notes somewhere else other than the iCloud. Open it and select the notes you want to retrieve. You still do not have your notes on your phone at this stage.
- Go to your phone. Go to Settings and locate the iCloud control panel. Disable "sync". Your notes will now be local and not sourced from the iCloud.
- Still on your phone, go to Notes and turn Sync on. The notes will now appear on your phone.
Things to Take Care
1. You may not have access to your iCloud account while trying to retrieve the notes. If this happens, click on the "forgot password" option beneath the login panel. Follow the prompts and you will be able to recover your account.
2. When you delete the notes you made from your phone, and it happens "sync" was deactivated, you will have lost your notes. This is because backup works with Sync and once you create a note it is automatically saved to iCloud via Sync.
3. Your Notes might have been corrupt rendering them unreadable. You might also have formatted your phone accidentally or willingly, but you cannot access the Notes sine iCloud Sync was not enabled. Sometimes the iOS software updating process fails, rendering the information on your device inaccessible. Your only option would be to use third party retrieval software, of which is available.
Also Read:
* How to Download iCloud Backup
* Sync iOS Devices with iCloud
Extra Bonus: What if you don't have an iCloud backup?
As we mentioned earlier, if you happened to have deleted the notes and Sync was deactivated, you will have lost your notes. If it happens your device is stolen, or the file formats on your phones are corrupted, you will have lost your information. However, there is a simple solution if you do not have an iCloud backup.
The Coolmuster iOS Data Rescuer software is a revolutionary data recovery tool that works to restore nine types of deleted or lost data straight back to your phone. All iDevices are supported. You can retrieve any file format type including Contacts, History, Message, Photos, Note, Voice Memo, Calendar and more. It works to recover lost or deleted files by extracting the iTunes Backup. It works to keep a file of everything you back up on your iTunes account. If you happened to have backed up your files to iTunes and cannot access them via your device, you can use the professional tool to conveniently retrieve the lost data. Moreover, it performs a detailed scan of your device and the iTunes backup to retrieve any lost data. You can then safely save the retrieved information to your PC. Everything will retain its format, quality and details. All texts will be saved in a readable and printable HTML format on your computer.
How to use it;
Step 1 - Open the installed software on the computer and then link your device to the computer via the USB cord.
Step 2 - Choose the right mode and hit the StartScan option to continue.
Step 3- Enter the right file folder to preview more detailed file information. Then click on Recover option to recover notes without iCloud. Finally, just wait patiently for the process to get completed within a little while.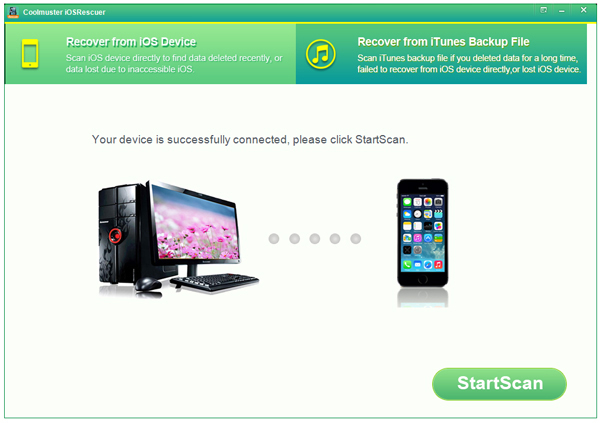 Related Articles:
How to Restore iPod without Deleting Everything