iCloud
is a service offered by Apple company, which allows you to connect Apple devices in amazing ways. Generally speaking, iCloud has integrated the functions of iCloud Photo Library, iCloud Drive, Family Sharing, and Find My iPhone, in an effort to help iOS devices users to safely backup important files, freely share interesting files and quickly find your lost iOS devices. With iCloud Photo Library and iCloud Drive, all your photos, videos, and documents could be kept securely without the need to worry about sudden data losses. Family Sharing lets you easily and freely share music, movies, photos, and more with everyone in your family. In addition, Find My iPhone even allows you to locate and find your iOS devices if you mistakenly lost or forgot your iOS devices somewhere.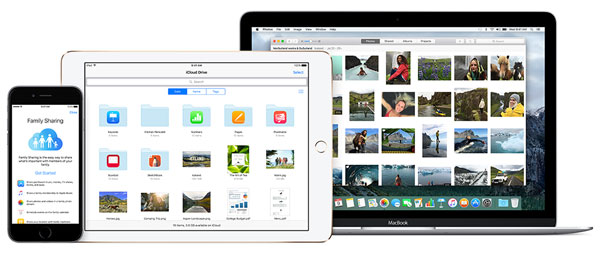 Well, you may have a rough picture of iCloud, but do you really get thorough understanding of iCloud? Do you know what exact functions could iCloud provide to iOS device users? Do you know iCloud can be protected by setting iCloud password? So now, let's get multidimensional introduction on iCloud functions and iCloud password.
Part One: Know More Info. about Functions of iCloud
1. Backup Function
To a certain degree, iCloud could be regarded as a storage place which allows you backup important files from iOS devices to iCloud, as long as the capacity retains below 5GB. And if you have the option to choose a plan for up to 1TB, you can upgrade your storage option right from your Mac or iOS devices. Just enter iCloud and then Storage & Backup, turn the iCloud Backup ON. Finally, choose the files you want to backup and toggle the corresponding icon on.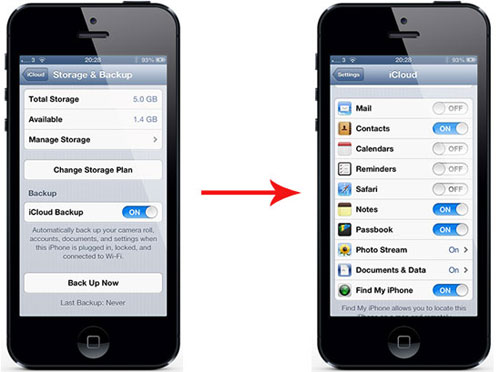 Bonus Here: As is mentioned in the above, the storage capacity of iCloud is limited. Here is the best alternative to iCloud for backing up iPhone/iPad/iPod for your reference if you are looking for a professional backup assistant tool.
2. Restoration Function
Aside from backing up important files from iOS devices, iCloud also allows you to restore files from backup files if unfortunately you lose files from your iOS devices. So you don't need to feel regretful about your lost files. As to the detailed steps, you can click here to know how to restore files from iCloud backup.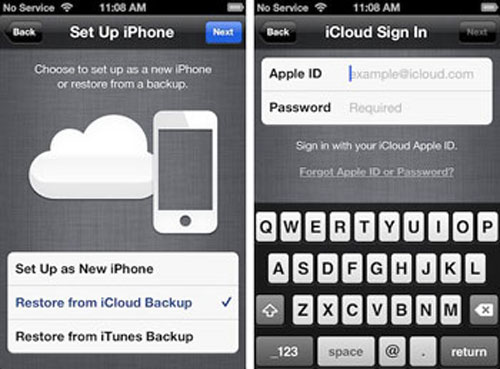 3. Track & Find Function
The most alluring feature within iCloud lies in its ability to track and find the lost iOS devices by means of Find My iPhone. This functions enables you to locate your lost iPhone, iPad and iPod in an easy and efficient way. After tracking your iPhone, you can be fully informed of your iOS devices status. Even if you can't get them back, you can remotely erase all your personal information to guard against privacy leak. Click here to know how to track and find lost iOS device.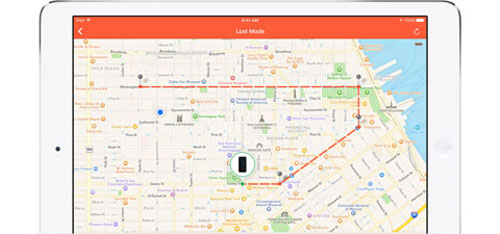 Part Two: Learn More about iCloud Password
When it comes to iCloud, it is natural to speak of iCloud password, which is the same as Apple ID. The ultimate function of iCloud Password is to protect the privacy information of iCloud backup files. As regards to setting iCloud password, you are suggested to set a easy-to-remember yet highly secured password in case you might forget your password. Now, the below tutorial tells you how to change your iCloud password if there is any potential danger lurk in your iCloud password. Just head to My Apple ID to click the Manage your Apple ID. If you turned the two-step verification on and you will be required to send a verification code. Then hit the Password and Security and then Change Password. Type your old password and then enter your new password. Finally confirm and save the new password.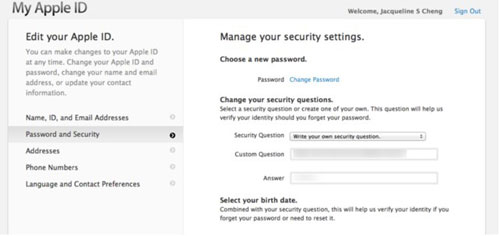 The End
If unfortunately you forgot your old password when changing into a new one. Just read here to know how to reset Apple ID without password. Till now, you must have had a clearer understanding of iCloud and iCloud password. To fully protect the security of your iOS devices, you can also click here to get some useful security apps for iPhone/iPad/iPod.
Related Articles:
Copy Photos/Music/Videos from iPad Air to Mac and PC