How to Transfer Data from HTC Phone to iPhone 6/5S/5C?
Just bought a new iPhone 6 and realize that all your valuable files are still on your old HTC mobile phone? Well, the HTC phone and iPhone are running with two totally different operating systems, Android and iOS. Whether you decide to switch from HTC phone to iPhone, or from iPhone to HTC, or even use both the two phones at the same time, one of the most important issue you should take into consideration is that all precious data and private information need to be transferred from one device to the other. Actually you can finish the data transfer between HTC and iPhone with two applications, iTunes for the iPhone and HTC Sync Manager for the HTC devices. The two applications are both officially produced to help managing the corresponding devices. However, as we all know that if we depend on the two applications, the transferring task can be difficult and complex.
Life is not easy, why not ease ourselves by using a one-stop HTC to iPhone transferring tool that can provide you with a satisfying approach to perform the files transfer from HTC phone to Apple iPhone directly with 1 simple click? The exact name of the transfer tool is Move to iOS, which is a capable Android to iOS data transferring tool to handle all the stuffs transfer between any two iOS devices and Android mobile phones. It doesn't matter what type of Android or iPhone models you are using, Move to iOS app can transfer all materials like contacts, text messages, photos, videos, call logs, music, apps, etc. from HTC to iPhone without any hassle.
Sounds amazing? Then let's explore it deeper. Read the following guide to see how to perform the data transfer from HTC phone to iPhone by using this Phone Transfer. Firstly, click on the below button to free download and install the transfer tool on your Android device.

Step by Step to Move Data from HTC to iPhone 6/6 Plus/5S/5C
Step 1. Download the Move to iOS app on your HTC device
Step Two: Choose your HTC data and transfer them over Wi-Fi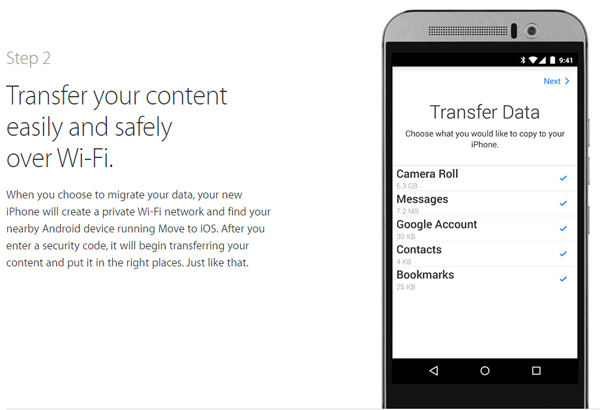 Step Three: Get started with your new iPhone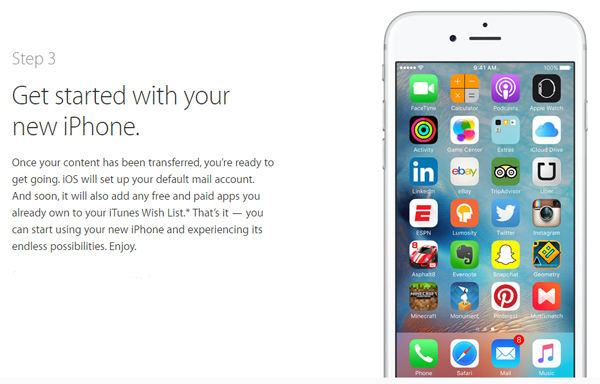 During the files transferring progress, you need to make sure both the devices are well connected with the computer. If disconnected, the transfer would be ended suddenly midway.

Related Articles:
Copy Contacts from Symbian to iOS