It can be quite infuriating to know that your iPhone storage is full, especially when you are trying to update your gadget or save content on the phone. Whether downloading the music on Spotify/Apple Music or simply taking and sharing photos, we'll help you free up storage space on the iPhone.
Unfortunately, the best way to free up any gadget space is to delete the content. Obviously, you do not wish to remove any of your meaningful videos, photos, messages, or music, but what happens to other data you may not be able to see? Here, you will be left in a dilemma of what to do. Luckily, this guide will enlighten you on the various ways to increase your iPhone's storage space. The good thing is that you won't need to delete your data to free your storage space.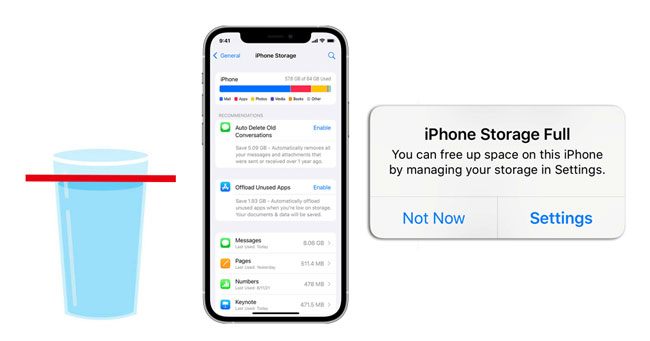 Part 1: Read Before Taking Care of the iPhone Storage Issues
Part 2: What to Do When iPhone Storage is Full
Part 1: Read Before Taking Care of the iPhone Storage Issues
1. Why iPhone keeps saying storage almost full but it's not?
Your iCloud storage isn't counted as a part of iPhone storage. There may be something that corrupted files on the phone, probably taking up the storage. A factory reset may be required.
2. Where is all my iPhone storage going?
If you have many applications in your iPhone device that have no use, you may offload them to get more space. Sometimes, your iPhone may offload these apps automatically. But, the data might still be saved even though the apps are offloaded.
To check if the apps have been offloaded, navigate to Settings, choose iTunes & App Store, and scroll till the end of the page to the Offload Unused Apps. When the toggle is on, the iPhone will remove the apps that aren't being used and keep the data from the apps. These apps will use more storage space.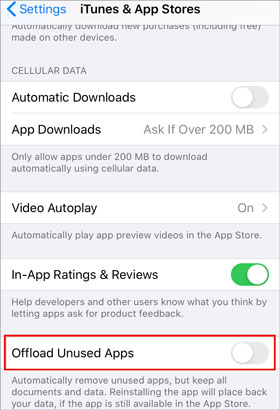 3. What is Other storage and how to delete it?
If you are looking for a way to reduce the storage size used by the category named Other in your device, please know that it can be a little difficult.
The Other storage area is used to store anything that does not fit in the other categories. This category includes system files, reading list, Safari cache, downloaded voices from Siri, voice memos, and notes, just to name a few.
After you have applied a change to your device, Other data may also appear, and it may cause data like Photos or Music to appear temporarily like Other data. You may see it allocating storage for most of your images as System or Other.
How to clear Safari cache:
Go to the Settings app and click Safari.
Scroll down and click Clear History and Website Data.
After that, click the Clear History and Data icon.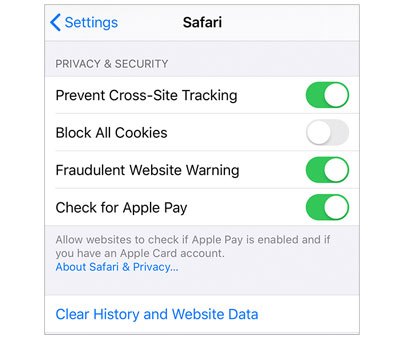 4. Back up your iPhone before fixing the iPhone storage problem.
It is advisable to back up data first before fixing the iPhone storage issue. This will help to prevent data from getting lost.
Part 2: What to Do When iPhone Storage is Full
iPhone storage full issues are on a high rise. Fortunately, the below ways are your savior if you face the problem. But, you must follow them correctly and have your iPhone space sufficient again. Below is what to do if your iPhone storage is full:
1. Use standard definition picture resolution.
Keep in mind that you should not keep all of your pictures in HDR (High Definition Resolution). These pictures take a lot of space, thus making an iPhone storage full in no time. The Standard Definition is normally sufficient unless you require a high photo resolution. To ensure you aren't consuming much space when you click the HDR pictures each time, follow the below steps:
Navigate to iPhone's Setting and then go to Photos and Camera.
After that, set the Format option, which takes less space, i.e., Most Compatible.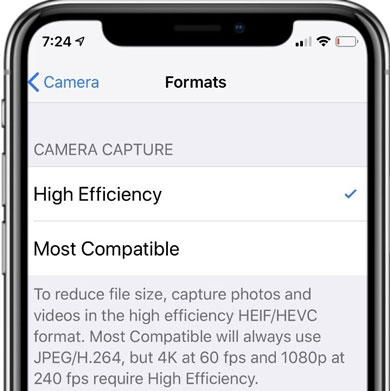 2. Clear out your browsing data.
As we browse the internet daily, some space is lost in browsing history. This leads to the storage space in the phone being less, which brings the iPhone storage full issue. So, the best thing will be to clean up all the browser caches to find enough storage space on the iPhone. To achieve that, do the following:
Navigate to Setting, and click the browser you usually use most of the times.
Click Clear History and Website Data.
All of your browsing data will be cleaned in a matter of seconds.
3. Keep pictures in the iCloud Photo Library.
Pictures and videos take up much space on our phones. You may use iCloud Photo Library, which allows you to store all the photos. This will help in saving up some storage space.
Using iCloud Photo Library to optimize storage features on the iPhone allows you to free up some space by uploading older pictures on your iCloud account. This won't take up your storage space, and you may re-download the pictures at any time. To do that, follow these steps:
Open the Settings app, and click your name.
Choose iCloud > Photos, and turn on iCloud Photos.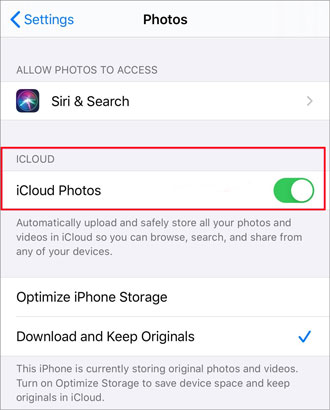 See also: You can extract your photos from your iPhone to your computer in these ways if the storage keeps getting full and your iCloud space is used up.
4. Delete any pre-installed and Unused apps.
We sometimes download a different application on our gadgets for one-time use and forget to remove them afterward. Moreover, there might also be some applications that have been installed already by Apple, such as Compass, Stocks, and Remote.
Now, Apple provides its users the option of deleting any pre-installed apps if they wish to. This is actually a good way of freeing up some space on your iPhone device. To delete the apps, do the following:
Press and hold the app's icon on the screen until it jiggles.
Then click Remove App on the left side to delete the application.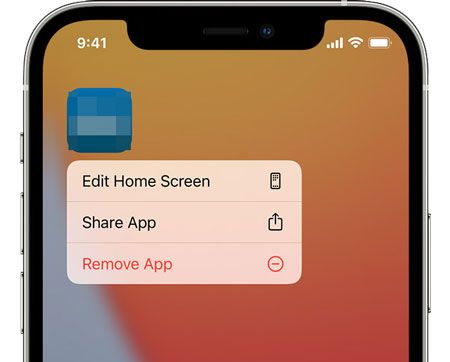 5. Try to find out the app that's taking up more space.
Some applications consume more memory on your iPhone. Most people usually do not know how much space the particular app is taking. To know how much space a certain app has taken, do the following:
Launch the Settings app, and click General and Storage & iCloud Usage.
Click Manage Storage to give you a clear picture of different apps and the space they've taken.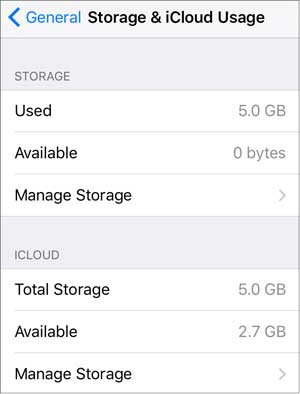 You might need: Another option is to back up your iPhone data to a flash drive, which can release your iPhone storage effectively.
6. Delete offline data from your iPhone.
The data you browse on the internet is usually saved offline on your iPhone. When you are on the internet, the browser saves some of the content you view, and you can view the data when you are offline. This content, after some time, will utilize a lot of your device storage space. However, you can free up your iPhone storage by deleting the offline data. Here is a step by step guide on how you can delete the offline data:
From your iPhone setting page, go to General.
Then tap the Manage Storage option and select the browser's name you are using.
Tap the Offline reading list option. Finally, tap Delete.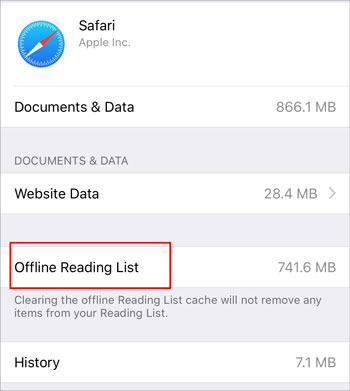 7. Delete your old messages.
Old messages can also fill up your iPhone storage space. For example, if you receive a lot of text and pictures, then a lot of space will be used because pictures are bigger files than text messages. To clear the old messages to have more storage space in your phone, you will have to remove these old conversations or messages.
You can also set a particular duration where your iOS will purge the old messages automatically after a given period. To accomplish this action, you can follow the following steps:
From your phone, go to the Settings page and then tap Messages.
Select Message history and tap the Keep Messages option
Lastly, you have to choose the duration.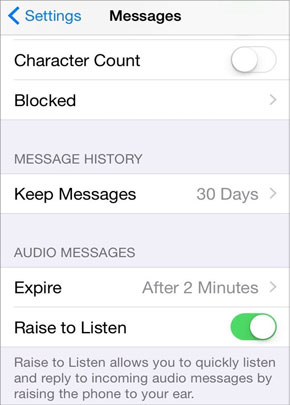 Once you follow the steps above, your older messages will be deleted automatically after that given period you have set.
Bonus: Your Viber took up much space on your iPhone? If you don't want to delete its data, you can back up your Viber messages to a PC without data loss.
8. Back up your files to Cloud.
You can use a specific cloud storage solution like iCloud to back up your files there. Through this process, your crucial data will be safe, and also you can free or optimize the iPhone storage space. To back up your data, you will have to set an account on the iCloud platform.
Here you will be given a 5GB storage location to back up pictures, videos, and documents. After storing them on the platform, you can even delete them on your phone. As long as the iCloud account is active, you will be able to retrieve the data if you want. Here you will create more storage and even boost the working condition of your iPhone.
9. Remove your iPhone Backup.
Once you have used up all your storage space on iCloud, you will be notified. Now, if this happens, there are options where you can remove the backups file on the platform. To accomplish the process, you have to follow the following steps:
From the settings page, you will have to check on the top of your screen and tap the Apple ID.
Then tap the iCloud option and select the Manage Storage option.
On the displayed screen, tap the Backups option and select Delete backups.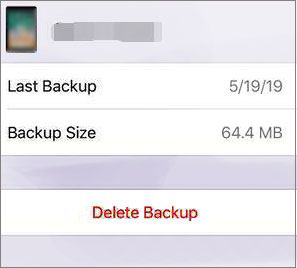 10. Use pCloud to listen to your favorite music.
Do you want to continue to listen to your favorite music, but you don't have enough space on your phone? Then pCloud app is an ideal option for you. pCloud app offers you a 10GB storage location where you can upload your favorite track and store then and listen to your music anytime you want. To get the free 10GB on the app, you will have to sign up for an account first.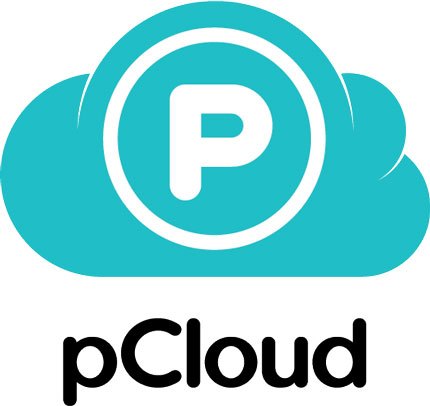 11. Use Coolmuster iOS Cleaner to release iPhone storage.
If your iOS device's storage keeps getting full, you can also use Coolmuster iOS Cleaner to clear useless files. This software can clean swiftly app caches, cookies, browsing history, temp files, etc. Furthermore, it supports iPhone, iPad, and iPod touch. After the cleaning, your iOS device will run faster than before.
To free up your iPhone storage, please download this software on your Mac, and connect your iPhone to the computer via USB.
Then click the "Quick Clean" option, and select the file types you want to clean.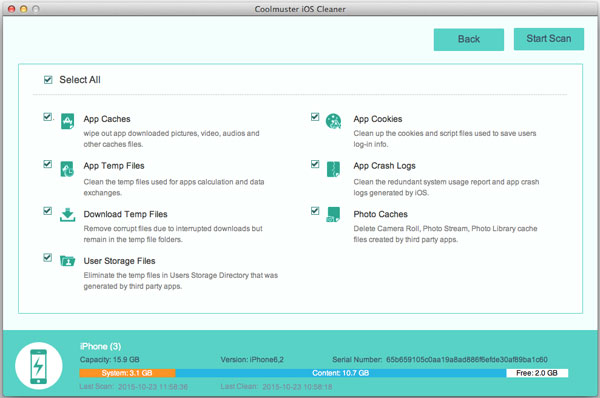 Finally, tap the "Clean" and "OK" icons to begin the cleaning process.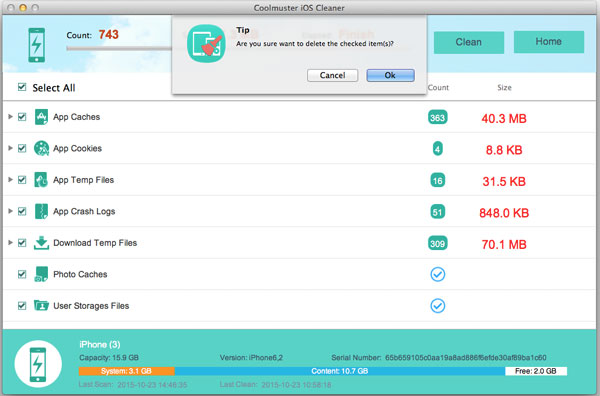 Conclusion
Having less space on your iPhone is annoying, and sometimes it can be inconvenient for you to store more critical files on your phone. To prevent or solve the issues of not having enough space on your phone, you can follow the different ways mentioned above, such as using Coolmuster iOS Cleaner. This software will give you a complete cleaning process, so please do not forget to back up your data before using it.
Related Articles:
A Complete Guide on How to Back Up Music on iPhone? (New Change)
Not Enough iCloud Storage? Fix This Issue with This Full Guide
How to Transfer Photos from SD Card to iPhone in 4 Useful Ways [Ultimate Guide]
11 Best iPad Data Recovery Software Reviews of 2023
Top 10 Best iPhone Manager Software - Manage Your iPhone Data on PC or Mac