Have you ever been in a situation where your iPhone black screen but still on? It's ringing, but it just won't turn on no matter what? It can be a nightmare when the device's screen remains black. So, therefore, what instigates the black screen of death on iPhone, and how can you mend the defect? This guide provides effective solutions to fix iPhone black screen but still on issue, and the various causes of the problem.
Part 1. Why Is My iPhone Screen Black But Still On?
Why my iPhone screen is black but the phone is on? There might be different causes as to why your iPhone unexpectedly blacks out. It could be because you dialing the wrong buttons, which may cause the iPhone to go into DFU mode, and also if your iPhone is revamped. Here are the major causes of the iPhone screen is black but phone is on the issue:
1. Hardware Issues
An iOS phone consists of small assembled parts, and it will become dysfunctional if some of them disintegrate after a hard fall. When the elements between the display and the motherboard are damaged, your iPhone will go into black screen mode. Moreover, some parts might be destroyed after falling into water or other liquids. When this happens, your device will not switch on. In addition, other hardware causes might consist of the following:
The iPhone elements are incorrectly assembled.
Your battery is used up or dead.
2. Software Problems
Just like hardware problems, software challenges might result in the iPhone's black screen of death. Nonetheless, you still have the opportunity to fix your iPhone's black screen if it is a result of software malfunction. The following are some of the major software causes:
Failure of your iOS to update to the latest version.
In case of a crashed application or one that mismatches with your existing operating system.
Failure of your iOS jailbreaking or makes supplementary system malfunctions.
A virus comes with the newest release of your iOS.
iPhone runs out of storage space, and there is no space for rebooting.
You May like:
Apple iPhone Black Screen of Death? Here Are the Best Solutions
How to Fix iPad Black Screen of Death in Minutes? (9 DIY Ways)
Part 2. How to Fix iPhone Black Screen But Still On Issue
If your iPhone screen black but still works, then there are some different techniques that you can use to mend the problem:
Fix 1. Charge iPhone
Sometimes dwindling battery power can cause problems and make your iPhone act abnormally. This might even result in an iPhone on but black screen issue. Therefore, ensure that your device is fully charged before restarting. The anomaly might be sorted out once your iPhone is charged to capacity.
Fix 2. Force Restart the Device
My iPhone screen went black but still works ; what should I do? In the scenario, your iPhone isn't responsive to any dials or commands but only displays the blacked screen; there is a need to try a "Force Restart", which can resolve the issue. When you choose a force restart an iPhone, applications and software programs are compelled to reboot. This procedure may repair bugs and malware issues, thus fixing the iPhone screen not working, but the phone's the problem. Here are steps to force restart your iOS:
For iPhone 8 and newer series:
Swiftly dial and let go of the Volume Up key.
Press and let go of the Volume Down key.
Hold down Power or Side key until you see Apple logo on your device's screen.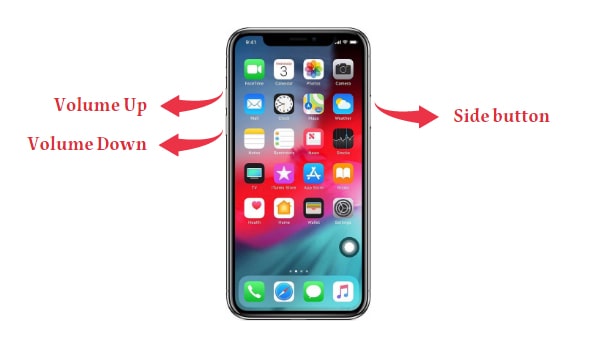 For iPhone 7 series:
Hold the Power or Side and Volume Down keys on your device at the same time.
Press both keys until Apple logo is showcased on the iPhone screen.
For iPhone 6 series and older models:
Hold both the Power and Home keys simultaneously till you see Apple logo on your device's screen.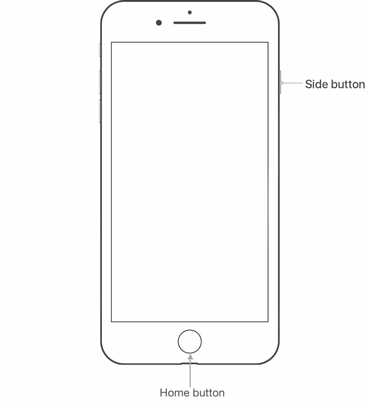 Further Reading:
How to Control iPhone with Broken Screen Effortlessly? (6 Proven Ways)
How to Fix iPhone Grey Screen of Death By Yourself? (8 Solutions)
Fix 3. Close Troublesome App
A problematic application may instigate your screen to go dark. Furthermore, if your iPhone is loading something and the network connectivity is not strong, you may find that your iPhone is on, but the screen is black.
To fix iPhone screen not working but phone is on issue, you should do the following:
Step 1. Close the application.
Step 2. Open the App Store, navigate to the bottom and select Updates. Then, proceed to click the Update button located next to the app you wish to update. To update all apps that require updating, simply click on the Update All button.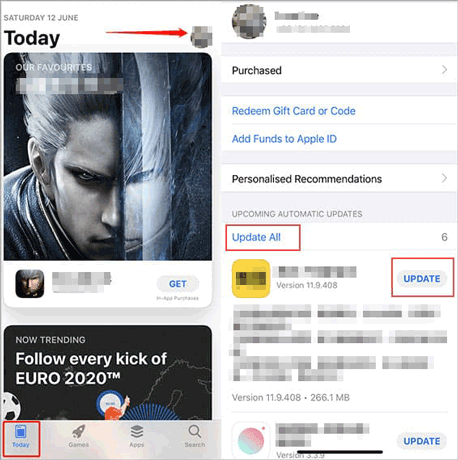 Step 3. Reboot your iOS device.
There is no lost data with this approach. Nevertheless, if it continues, it is recommended to get in touch with the App's developer or remove the application completely.
Fix 4. Update iPhone with iTunes
My iPhone screen went black but the phone still works; how to fix it? iTunes is a software developed by Apple for managing media files and repairing iOS problems by reinstalling the program. Here's how to restore an iPhone with iTunes:
Step 1. Join your iPhone using a lighting cable to the PC. Open the newest iTunes, and then wait for it to detect the device.
Step 2. When iTunes detects the iPhone, select the Summary key, then dial Back Up Now option to create the backup of your device data.
Step 3. Select Check for Update and update your phone to the current iOS 16 without losing data.
Step 4. If your device fails to update, dial Restore iPhone, which will delete all your data. However, once done, you can reinstate your backup data from iTunes.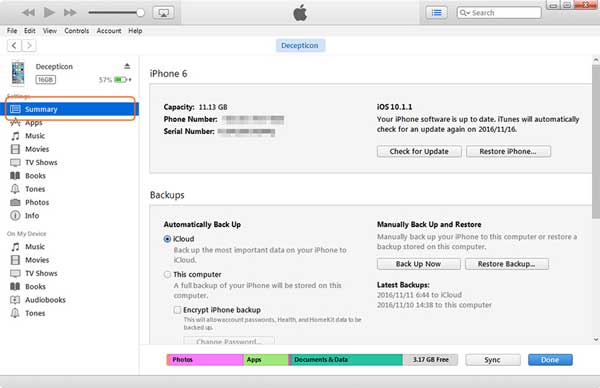 Learn More:
Want to know how to fix iTunes backup & restore problem? Please check here.
iTunes stuck on preparing iPhone for restore? Click here to learn how to fix it.
Fix 5. Go for DFU Restore
If restoring the iPhone via iTunes does not resolve the 'iPhone screen went black but still works' problem, then the last resort is to go for the DFU mode. It is not advisable to boot the device into DFU since you can block your device. That is why you should avoid this action if you are unsure. Conversely, if you want to try to it to fix black screen on iPhone but still works issue, take the following steps:
Step 1. Enter DFU mode on your iPhone.
Step 2. Reboot the computer and begin afresh. Link your iPhone to your laptop via a lightning cable.
Step 3. Once your iPhone is successfully detected in DFU mode by iTunes and a notification appears on your computer, click OK and select Restore to initiate the restoration process for your iPhone in DFU mode. After the restoration is complete, your iPhone will return to normal functionality.

Fix 6. Contact Apple Store
How to fix iPhone display not working but phone is on issue? After attempting all the above tips and your device screen still has a dark screen, then it may be an issue to do with the device's hardware. The iPhone Screen connector or wire might have delinked or have some other severe hardware challenges. You can contact Apple support and get your device checked by specialized Apple personnel.
Also Read:
13 Ways to Fix and Avoid iPhone Stuck on Spinning Wheel Issue
How to Fix Green Lines on iPhone Screen? Proven Solutions Are Here
Part 3. The Best Way to Fix Black Screen on iPhone But Still Works Issue
Alternatively, you may decide to use a reliable tool to help deal with the problem of the iPhone is on but the screen is black. iOS System Recovery can resolve all system problems of all iOS devices. When repairing your device, the tool will retain all the data available on the phone and protect it from damage. All it takes is to download the program on the computer and let it do its thing.
Key Features:
Repair iOS devices to normal without data loss.
Easy and safe to use.
Support most iOS devices and versions.
Fix various iPhone system issues like stuck on Apple Logo, Recovery Mode and more.
Here's how to fix the 'iPhone black screen but still on' issue:
01 Install the tool on a computer. Open the software on your computer and establish a connection between your iPhone and the computer using a USB cable. Next, navigate to the bottom left corner and select the More tool, followed by clicking on iOS System Recovery.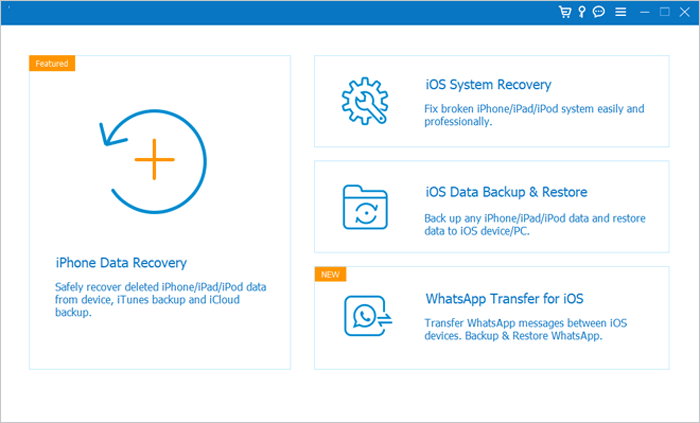 02Once the connection is established, tap the Start icon to fix the iPhone black screen but still on issue.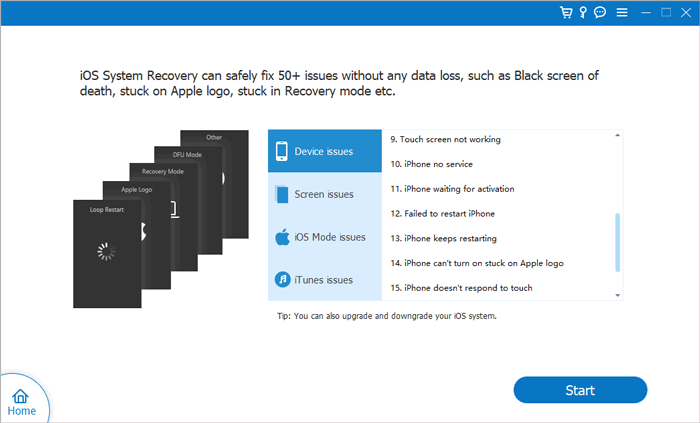 03Please review and verify the information of your iPhone as prompted. Once confirmed, proceed by clicking the Repair button to initiate the repair process.
04The software will then download the most up-to-date firmware version suitable for your device. Within approximately 5 to 10 minutes, your iPhone will successfully exit the black screen state and return to its normal functionality.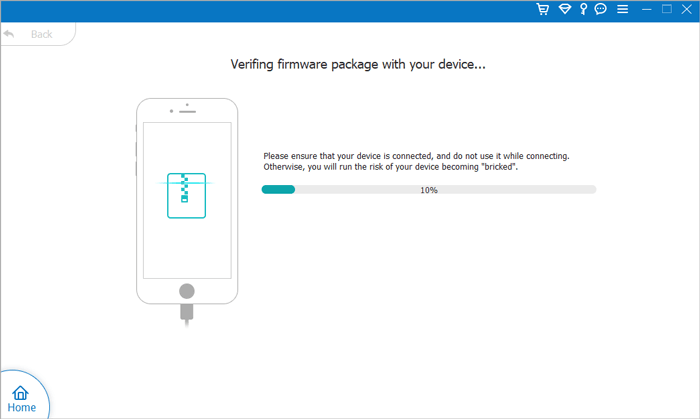 Recap
There may be countless reasons for your iPhone screen going black. You can decide to force reboot it, update it, or repair it in a DFU mode. Also, you can contact Apple Support if the iPhone working but screen black issue still persists. However, the best resolution is to utilize the iOS System Recovery. This app is simple to use and ensures your data don't get lost. Let's have a try.
Related Articles:
How to Fix the iPhone Transferring Data Stuck Issue Effortlessly? 14 Quick Tricks Here
How to Trust Computer on iPhone with Broken Screen? [Solved]
iPhone Blue Screen of Death? Here are 7 Easy Ways to Fix
How to Fix an iPhone Stuck on Loading Screen? (iPhone 13 and iOS 15 Supported)
Fix iPad Touch Screen Not Working Problem in 12 Pro Ways (All iPad Series Supported)
9 Tricks to Fix iPhone White Screen of Death without Effort (Updated)