Most Android users have recently complained about their screens turning black and white. And why is my phone black and white? Android smartphones have an in-built feature that can help modify colors or put the screen in black and white or grayscale mode, to lower eye strain. If a user accidentally or intentionally activates these options, the screen will turn black and white.
This article will guide you on the reasons and teach you how to get color back on your phone. So, please read on.
Part 1. Why Is My Phone in Black and White?
A phone screen turning black and white and not showing its regular display is not an everyday occurrence. But, it can happen due to various reasons. The reasons why my Android is black and white are below:
* Sleep mode is turned on.
* You've activated the accessibility options.
* You have enabled dark mode.
* Power saving mode is on.
You May Like:
How to Fix SD Card Corrupted on Android? [Comprehensive Guide]
Android Phone Keeps Turning Off Randomly? 15 Fixes Here
Part 2. How to Fix Black and White Screen on Android Phone
After we learn some causes for the Android screen turning black and white, how do I get color back on my phone? You should implement precise solutions to resolve the issue. Apply the following methods to fix the black-and-white screen on your Android.
Fix 1. Turn Off Sleep Mode
Why is my phone screen black and white? As said, one cause for your phone screen to turn black and white is when the sleep mode is activated. This feature helps change the display to grayscale and mute all sounds to ensure you sleep well. Once you turn it on, your Android screen automatically turns black and white.
Consequently, deactivating sleep mode may help eliminate the black-and-white issue. You can turn off sleep mode on your Android screen with the following steps:
Step 1. Locate the Settings application on your Android phone and click on it.
Step 2. Locate Special features and click on it.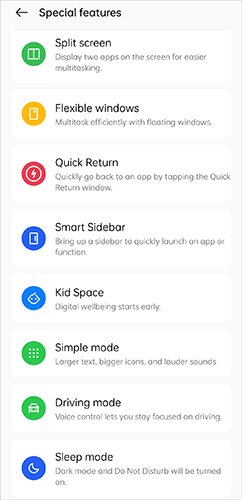 Step 3. Scroll down to the Sleep mode option and turn it off. Doing this can resolve your phone's black-and-white issue.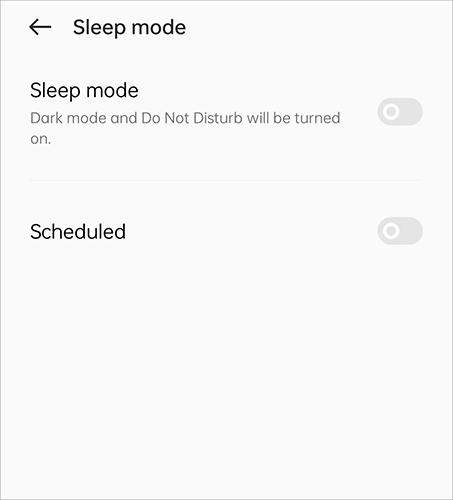 Fix 2. Delete Recently Installed Apps
If the black-and-white screen issue only emerged after installing a new application on your device, then this is likely the root cause of the problem. In such a scenario, you should navigate to Settings > Apps and uninstall it from your phone. Alternatively, you can uninstall the application from the home screen by holding down its icon for a few seconds. When it starts to shake, drag and drop it onto the trash bin icon.
Once done, assess the issue on your phone to see if the screen still displays in white or black.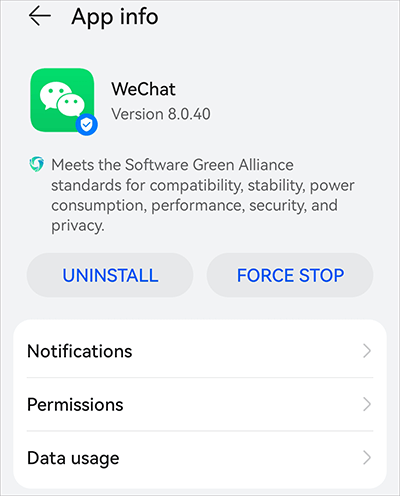 Fix 3. Check Accessibility Settings
Still bothered with the "why is my phone background black" question? Sometimes, the issue might be caused by accidentally enabling a grayscale mode in your phone's accessibility settings. If you mistakenly turned it on, turn them off to see if the problem will be solved. Here are the steps:
Step 1. Open Settings on your Android. Navigate to the Accessibility features tab.
Step 2. Click on the Accessibility option.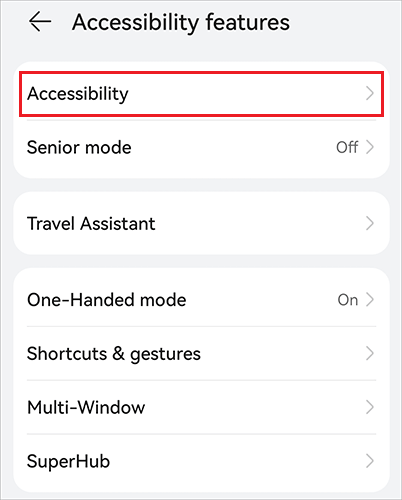 Step 3. Look for the Colour correction option. Disable it if it's turned on.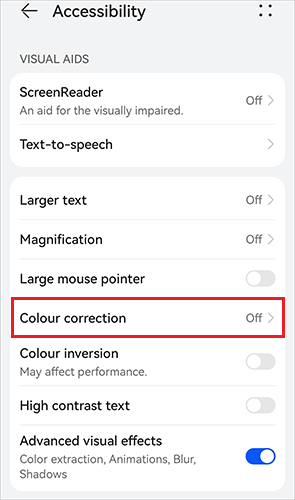 Fix 4. Check Developer Options
Why did my phone turn black and white? If you've enabled developer options on your Android device, there's a possibility that you accidentally turned on a grayscale or monochromatic mode. To check and disable this:
Step 1. Open the Settings app.
Step 2. Scroll down and tap on About phone.
Step 3. Find the Build number entry and tap it multiple times until you see a message saying you've unlocked developer options.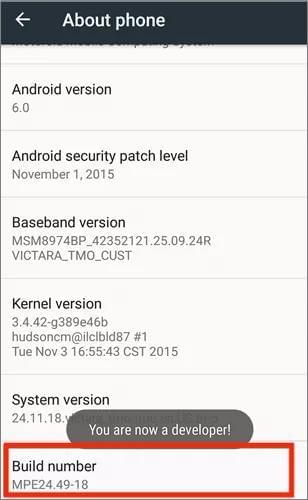 Step 4. Go back to Settings > Developer options > Simulate color space.
Step 5. Tap on Simulate color space and select Disabled.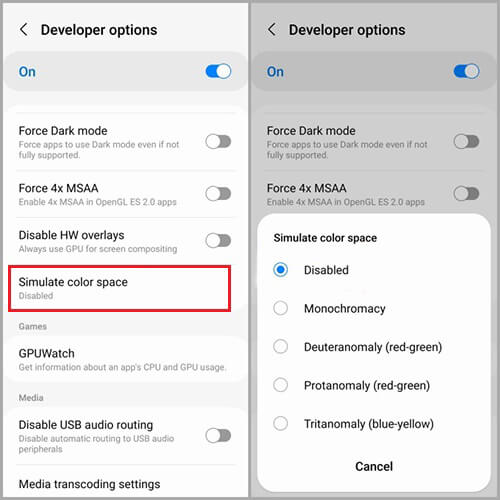 Further Reading:
When Things Get Too Hot: Understanding and Resolving Samsung Phone Overheating
Samsung Phone Hang at Startup Screen? Check 11 Solutions Here
Fix 5. Restart the Phone
Sometimes, a simple restart can often resolve minor software glitches causing display issues. The restart process varies depending on the Android device, but essentially, you still need to hold down the Power button. When you see a pop-up window, tap the Restart button. If the screen doesn't respond, hold down the Power button for a few seconds to turn it off. Afterward, press it again to turn it back on.
Now, use your Android phone for a while and check if the black-and-white screen issue still persists. If it does, proceed to the next method.
Fix 6. Turn Off the Dark Mode
The reason why is my phone's background is black is that dark mode is most likely enabled on your phone. Follow the following steps to turn it off:
Step 1. Open the Settings app and navigate to the Display & brightness tab.
Step 2. Select Dark mode. Click on the toggle below the Dark mode option to deactivate it.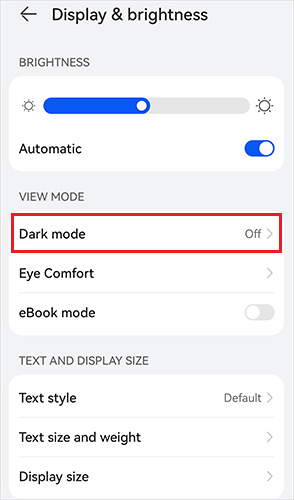 Fix 7. Disable Power Saving Mode
When the power saving mode is on, it minimizes brightness to save battery power or shows a grayscale. Thus, if your device has the power saving mode on, it may seem like your screen is black and white. You should turn off power saving mode and see if the screen will return to normal:
Step 1. Head to Settings, and click on Battery.
Step 2. Turn off Power Saving mode.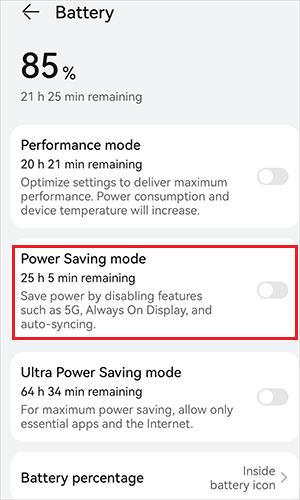 Fix 8. Turn off the Colour Inversion Feature
If the colour inversion feature is on, it can make some screens appear black and white. To turn off this feature, follow these steps:
Step 1. Launch Settings on your Android.
Step 2. Go to the Accessibility features menu and choose Accessibility.
Step 3. Now choose Colour inversion and toggle the switch to off.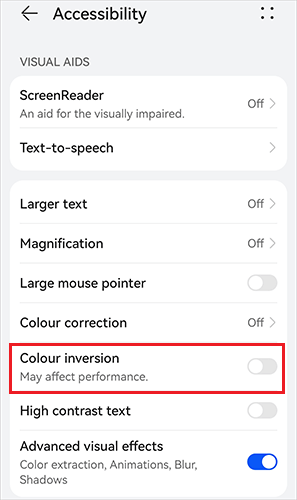 Learn More:
Samsung Phone Keeps Restarting? Swiftly Find Out Reasons and Solve It
9 Ways to Fix Android Tablet White Screen of Death in 2023
Part 3. One Click to Fix Phone Black and White Problem
How do I change my phone color back to normal? Android Repair is your ultimate option. This Android repair software can help you fix multiple issues related to Android devices. It can help you fix a black-and-white screen on an Android device in just a click without complex steps. Additionally, Android Repair can also fix issues such as apps crashing, bricked phones, etc. It supports most Android devices, including popular models. Download and install it to fix the issue from now on.
Top Highlights of Android Repair:
Fix black-and-white problems on a Windows PC.
Fix Android system issues like being stuck in the boot loop, black screen, and more.
Support thousands of Android devices.
Simple and swift process.
Easy to use without technical skills.

Free Download for PC
How to turn the phone on black and white in easy steps:
01Launch the program on the PC and plug in your phone. Choose System Repair, and on the next screen, choose Android and hit Start.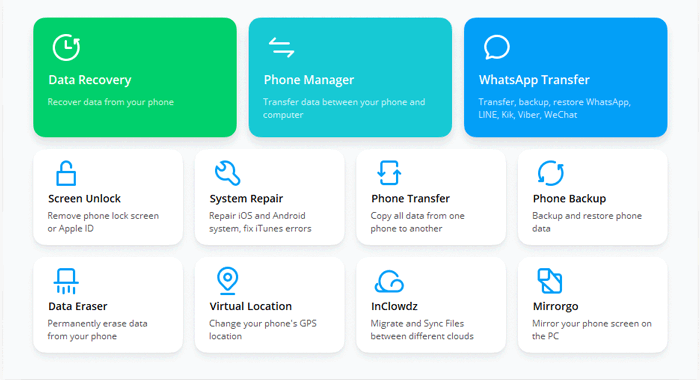 02Select your phone's name, carrier, country, and model. Next, boot the phone to Download mode.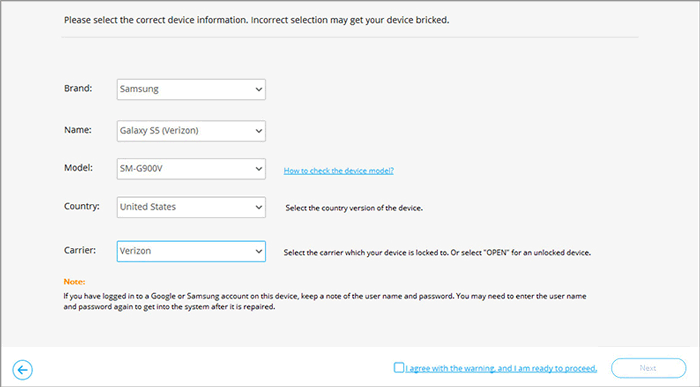 03Once done, the firmware will start downloading. Just enter 000000 in the provided space to confirm.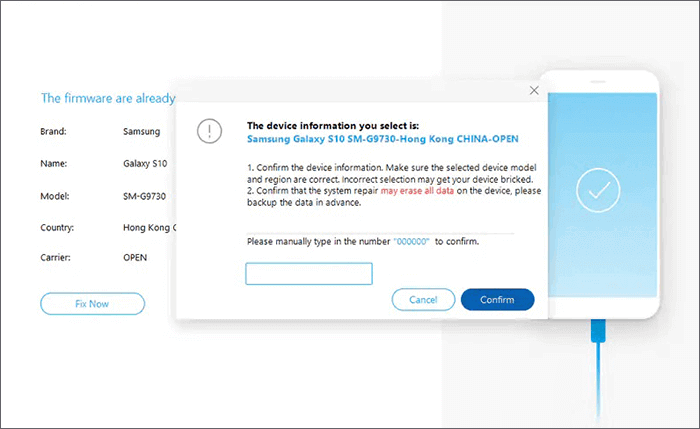 04Wait for the repair to complete and tap Done afterward. Now the black and white screen on the phone will have been fixed.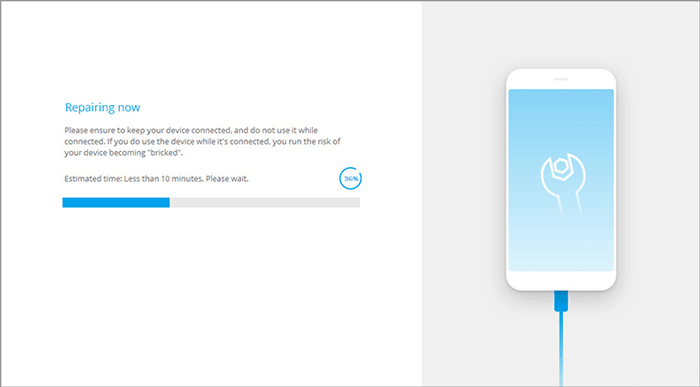 Also Read:
Fix Google Photos Backup Stuck Problem with Tested Ways (Proved by Many People)
[Odin Mode Android] How to Get Out of Odin Mode on Samsung Devices?
Conclusion
That is how you fix black-and-white screen problems on Android devices. So, if you've been asking yourself, "why did my phone go black and white", this guide is the best place to start seeking your answers. Besides, Android Repair is your best choice to fix system-related problems on Android devices without difficulty.
Related Articles:
10 Efficient Ways to Fix A Phone that Won't Charge
What to Do When Android Phone Won't Turn On | 8 Solutions [Tested]
How to Flash a Dead Android Phone for Software & Hardware Issues [Solved]
5 Effective Ways to Fix Android Black Screen of Death Issue
How to Fix Android Phone Blue Screen of Death?
Touch Screen Not Working on Samsung: 15 Reliable Solutions To Repair Screen