We all know that iOS is the smoothest OS since it barely faces problems. But most people don't know that there is one potential issue you can encounter with iOS devices. The most infamous one is the iPhone pink screen of death. The name sounds like a joke, so it is easy to assume it isn't serious.
But the pink screen of death is happening to quite a few devices. Most of them are not even older models but the latest models. If you have ever encountered a pink screen of death on an iPhone or iPad device, you're not alone. Many iOS users have reported facing the same problem, and we are here to put your worries at bay. Read on to learn how to solve the iPhone pink screen of death in feasible ways.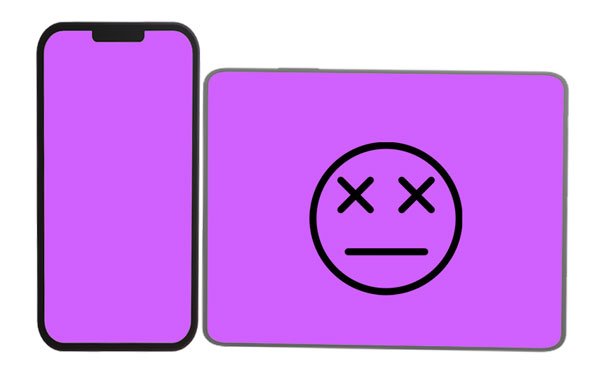 Part 1: What's the iPhone Pink Screen of Death?
The pink screen on an iPhone or iPad of death occurs when you're using the device, and it's due to software problems generally. Normally, the pink screen will happen when your iPhone device has an older version or the iOS version isn't compatible.
An old iOS version makes your iPhone prone to glitches, lag, and crashes, rendering your phone useless. The same is true with an incompatible iOS version. A pink screen means you won't be able to use the device anymore, which is disappointing. You won't even be able to turn off the phone because it won't respond at all. But with the right solutions, everything may work out.
Part 2: Why Is There a Pink Screen on an iPhone/iPad?
There are many reasons behind the iPhone showing a pink screen of death on iPhones and iPads.
* The first reason is having an outdated iOS version on your device. Apple is always releasing new iOS updates to keep their devices up-to-date and secure. So, keeping your device on an older version of iOS will cause a pink screen.
* Another reason is to install the wrong iOS version on your device.
* Also, downloading spyware from a source that's not verified can lead to a pink screen.
* Some defective parts in your device can cause this problem.
* The pink screen of death issue also comes when the iPhone has a hardware problem, like a damaged battery.
Part 3: Simple Things to Do to Fix Pink Screen of Death on iPhone/iPad
There are numerous reasons why your iPhone or iPad can go blank with a pink screen on it. But most of the time, it is because of older iOS versions or incompatibility issues. A pink screen can mean a lot of things. Read on to learn the simple troubleshooting tips.
3.1 Check the iOS Version
This is the first thing to do when your iPhone 13 Pro gets a pink screen of death on your iPhone or iPad. You are likely facing a pink screen because of an older iOS version. Do this to check the iOS or iPadOS version:
Step 1: Head to Settings on your iPhone or iPad and look for General.
Step 2: Then scroll down and look for About.
Step 3: You'll see the software version, model number, serial number, and model name. Update your device if it's using an older version by clicking Software Update.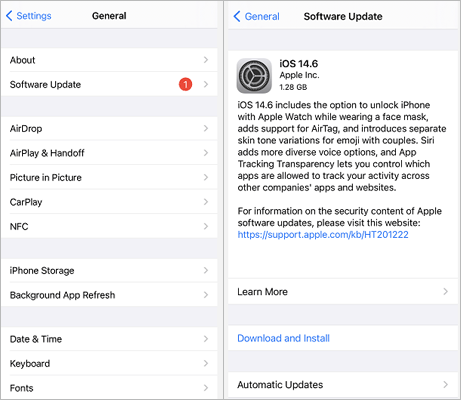 3.2 Update All Apps to the Latest Version or Remove Those Suspicious Apps
If the problem is because of a software bug, a simple app update can help. Ensure you update all applications to the latest version. In the same way, you update your iOS and keep updating the applications on your device as well. Also, remove suspicious apps from your iPhone or iPad.
There might have been some malicious apps you've downloaded in the past, and since then, they have been working silently in the background. Always make sure to check for this before it does any real harm to your phone. Please remove these apps from your iOS device completely.
To update applications to the latest version to repair the iPhone 13 pink screen of death, follow the steps:
Step 1: Head to App Store and select the profile.
Step 2: Scroll down to get the pending updates.
Step 3: Click on the Update for every app, or you can Update All.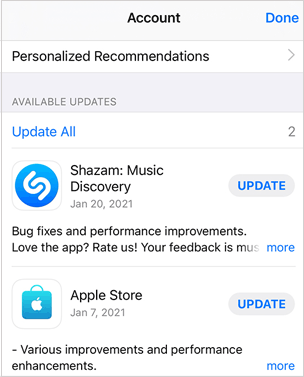 Read also: Your iPhone gets stuck when transferring data? Don't worry. You can repair this issue with these easy tricks.
3.3 Force Restart Your iPhone/iPad
You can also force reboot your iPhone/iPad and see if the problem of the pink screen will be solved. Doing this resets the device's current power cycle and fixes most related issues. Force restarting depends on the device's generation; not all undergo the same process. Here is how to conduct a force reboot on iPhones and iPads:
iPhone 8 and new generations:
Step 1: Either press the Volume Down or Up buttons and quickly release it.
Step 2: Press the Side button for a few seconds till the device reboots and shows the Apple logo.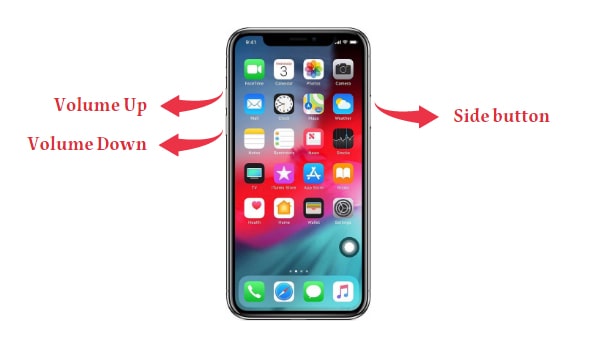 iPhone 7:
Press the Volume Down + Power keys simultaneously for a few seconds until the iPhone gets rebooted and shows the Apple logo.
iPad With the Home buttons & iPhone 6 or below:
Long press both the Home + Power keys for a few seconds.
Release them when you see the Apple logo.
iPad Without Home button:
Press the Volume Up key, then quickly release it. Go to the Volume Down key and do the same.
Lastly, long press the Power key till the device reboots.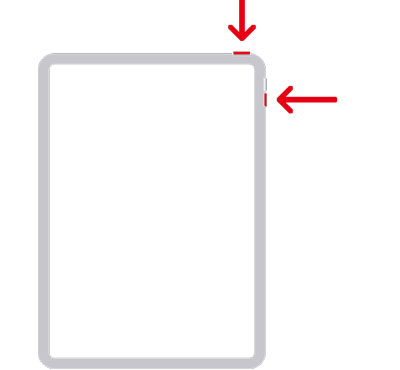 You might need: Do you want to recover your deleted songs from your iPhone? If yes, you can utilize these 4 practical methods.
3.4 Check Your iPhone Storage
The pink screen issue could result from insufficient space in your device. So, check your storage and, if necessary, delete some unused files or apps to create more space.
To check your storage:
Step 1: Go to Settings on your device and click General.
Step 2: Then look for [Device] Storage. When you find a low storage space, delete some of your apps, music, pictures, and other unwanted files.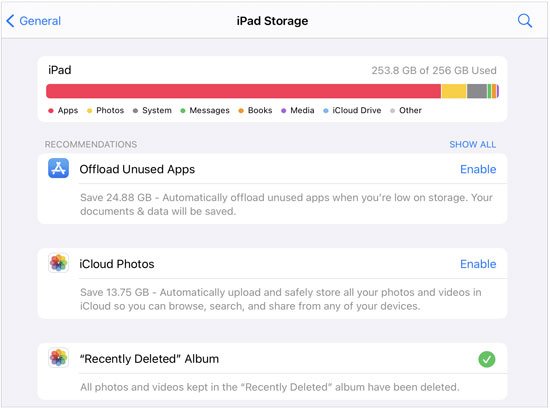 Guess you like: You can use a reliable recovery app for iMessage from this article, and get your lost iMessages back.
Part 4: Best Way to Fix Pink Screen on iPhone/iPad - Using iOS System Recovery
One of the most effective ways to cure that pink screen on your iOS device without losing your data is to use this iOS System Recovery. This powerful tool is designed to fix iOS devices to normal, covering various system issues on iOS devices, including the pink screen of death, iPad/iPhone grey screen, etc. With its two modes (Standard and Advanced modes), you'll be able to fix your device to normal without any problem. You better go with Standard Mode if you don't want to lose your precious files.
Besides, you can use this software to repair the activation problem on iOS devices, and get your device out of loop restart, and more. With simple clicks, you can fix multiple issues immediately.
Powerful features of this repair tool:
* Effectively Fix your iPhone and iPad pink screen to normal.
* Fast work out different system issues on iOS mobile devices.
* Have 2 modes to fix the pink screen of death problem: Standard and Advanced.
* Compatible with almost all iOS generations, including the latest iOS 16.
* Safe to use, and no info leakage.
Download this iOS repair software.
Here is how to fix iPhone pink screen of death with this tool:
01First, download and install the software on your computer. Next, launch it and select the option for iOS System Recovery as soon as it opens.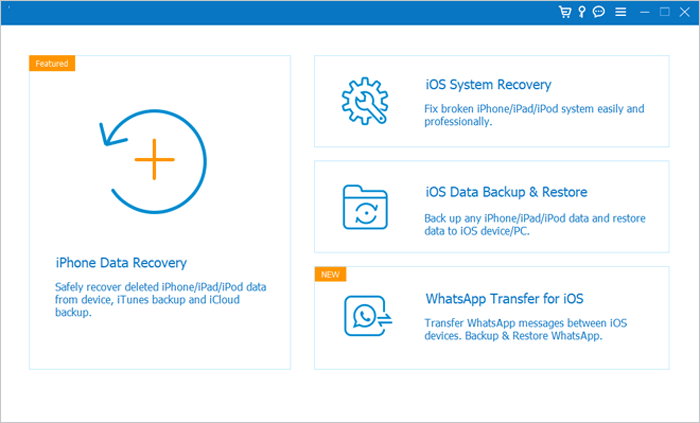 02Take a lighting cable and connect the iPhone to the computer. When prompted to trust the computer, hit the Trust option and click on the Start tab.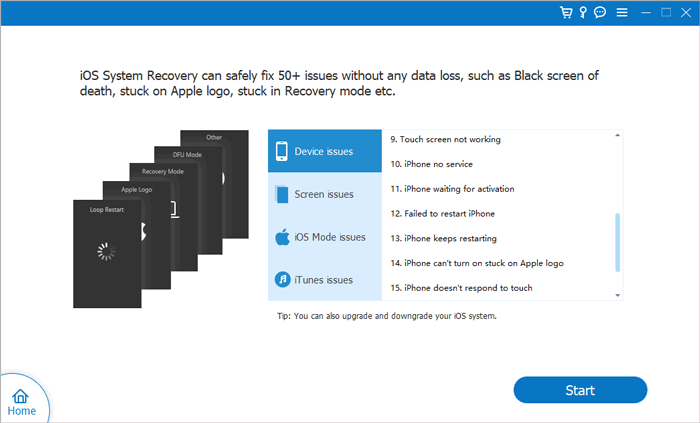 03Confirm the info displayed about your device, like name, model, etc., and select the mode you want to use to fix the device. Here, you have Standard Mode and Advanced Mode, and choose the mode you want to use. Once done, tap on the Confirm tab to proceed.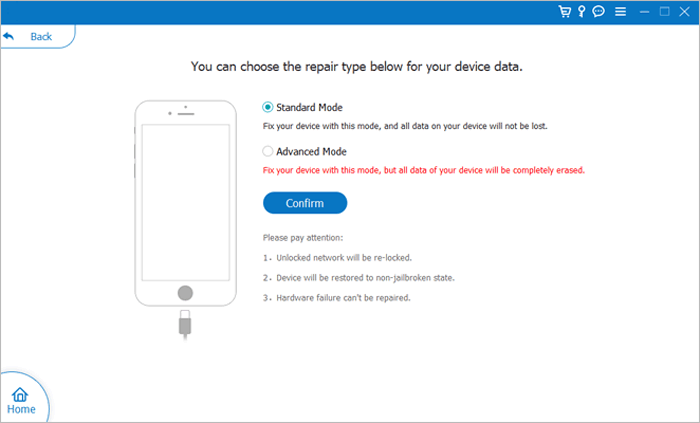 04Tap on the Repair option at the bottom of the screen. Instantly, the firmware will start downloading as it fixes the device to normal.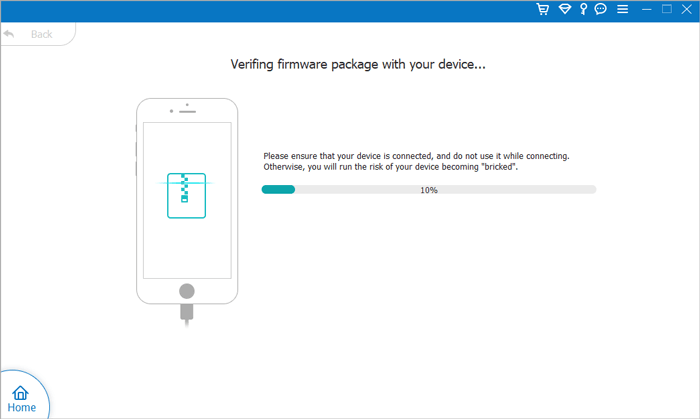 See more: 13 Ways to Fix and Avoid iPhone Stuck on Spinning Wheel Issue
Bonus: Contact Apple Support
If the above methods don't work for you, then it means that the device has a hardware problem. If it's hardware, you can only get help by contacting Apple support. You can contact them online by calling or sending a message. Or, you can go to the local Apple Store for help, that is, after making an appointment. Let them know about the problem in detail.
Final Verdict
A pink screen on an iPhone or iPad can be a grave thing. But you don't have to worry about it anymore. Just follow the methods outlined in this article, and you'll be good to go. From this guide, you can see the easier, safer way to fix the pink screen on iPhone or iPad would be through iOS System Recovery. It fixes diverse issues in just a few clicks. Why not consider it your number one option to solve the pink screen of death on your iOS device?
Related Articles:
How to Transfer Videos from Mac to iPad? (Step-by-step Tutorial)
How to Transfer iBooks from iPad to Another iPad? [SOLVED]
3 Ways to Transfer Music from iPhone to Computer without iTunes
How to Transfer Contacts from iPhone to Android [Full Guide]
How to Transfer iPhone Data to Xiaomi: iPhone to Xiaomi Transfer in 5 Ways
iPad Keeps Restarting | How to Fix It Easily (11 Proven Fixes)