As iPod Touch has a HD built-in iSight camera for taking photos and shooting videos, a multifunctional processor for embellishing pictures, a dedicated message application or Siri for sending text messages, photos, videos, location information as well as contacts, a huge Genuis music library, and the function of sharing or transferring files through the Bluetooth technology, users of iPod Touch can store a vast amount of data on the device. It's convenient when you use it on a daily basis. But what if you feel like buying a new one of the latest generation and intend to sell or give your old one to someone else? You will need to erase all the data off iPod Touch in order to protect them from being read, seen, exposed or used by others.
Why need a tool to wipe the data on your iPod?
However, it's not the case that once you delete the data by hand, they will be removed entirely. They just seem to be got rid of from you device, there will actually still retain some on it. For the former case, before wiping all the data, you should first check all the iOS software updates and install them. Transfer the data to the computer to ensure all the important ones are safe, and back them up. If you use iCloud to make backups, make sure your iPod Touch is connected to Wi-Fi and the power supply. If you use iTunes, install the latest version and read about how to make backups to another area. Upon backing the data up, close iMessage if it's in an active state. Then wipe all the data with a professional tool and restore your device to its factory condition.
Coolmuster iOS Eraser is a useful software that suits different versions of the Apple mobile operation system, iOS. You will be able to easily wipe everything, including your text messages, pictures, videos, music, browsing history, applications, games or other files of various formats off your iPod Touch within just a few minutes. Having no data retained inside, it can help you to clear up the space and put it to its original condition. This way, you won't have to worry about your personal information being revealed any more.
Key Features:
- Delete all data, such as contacts, text messages, emails, account info, passwords, videos, photos, etc., from iPod.
- After erasing iPod data with this tool, no any data recovery tool can detect or recover them back.
- All iPod models are supported, including iPod touch 7/6/5/4.
- Read the following guide to see how simple to handle it.
Read More Articles:
How to Clear Photo Caches on iPhone?
How to Clear Junk Files on iPad?
Workaround on How to Erase iPod Data by Using iPod Data Eraser
Step 1. Connect iPod to PC and Run Software
Here, we set the Windows version as an example. First of all, download and install the data erasing program for iPod on your PC. Launch it and you will see its clear and user-friendly interface showing like below. Connect your old iPod to your computer using the Apple provided USB cord and once the connection is successful, your iPod will be detected by the program.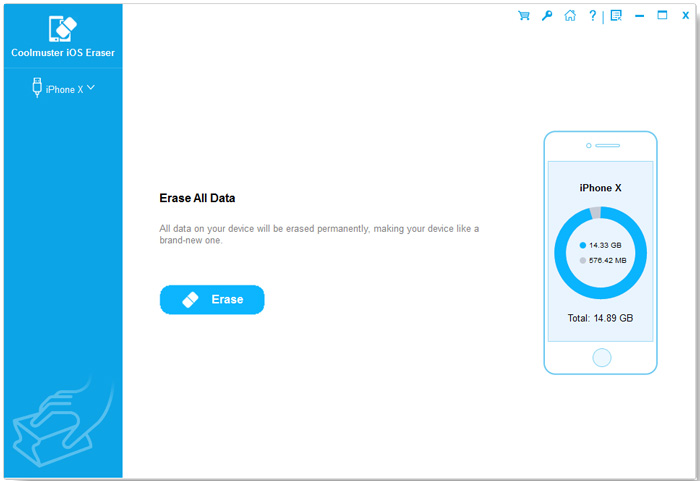 Step 2. Choose Level of Data Erasing as Needed
The program offers three different levels of data erasing for your choice. The first level will erase your iPod data quickly to save your time. The second level will leave no traceability of data erasure and use random data to overwrite all existing and deleted data on your iPod. The third level is the most secure but time-consuming option which will write over the data 3 times. You can directly use the default second level.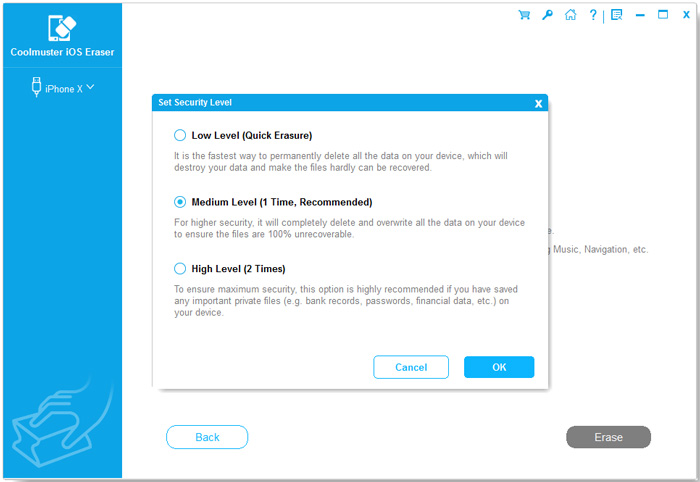 Step 3. Start to Erase All Data on Your iPod
After above settings, the last thing you need to do is clicking the button of "erase all data and settings" and then the program will delete all data from your iPod immediately.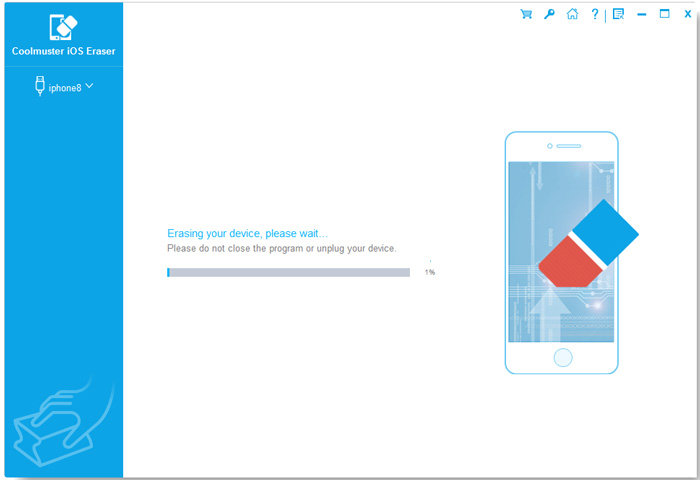 After a few seconds when the data erasing process is done, all data will be deleted permanently from your iPod. Since the deletion performed by this tool is permanent, we kindly suggest you backup the important data beforehand for once they have been erased by this software, there will be no any way to retrieve them back!
Learn more about iPod touch:
iPod touch, a portable mobile device released by Apple, is the first iPod product that can be connected to the iTunes store via Wi-Fi. Every generation of this product bears a strong resemblance to iPhone of the same generation on the outside, only that iPod touch is lighter and thinner. Depicted by Apple's former CEO, Steve Jobs, as "an iPhone without a phone", this device provides all functions of iPhone except the phone, GPS, vibration, proximity sensor and digital compass functions. In spite of the fact that iPod touch is an iPhone without providing the phone service itself, it still can make phone calls through an Apple adapter connected dual SIM cards through wireless Bluetooth.
Related Articles:
How to Erase iPhone Data for Selling
How to Retrieve Deleted Songs from iPod
A Comparative Study on How to Get iPhone Text Messages on Windows 10