Android smart phone appeals to a majority of consumers throughout the world owing to its features. Android operating system has become one of the most promising mobile operating systems in the market. If you got an Android cell phone, you may eager to copy all contents from your old phone to the new Android device. But things become not that easy when you want to transfer all your important calendar to the Android phone or tablet. Don't worry. This article shares with two simple solutions to sync iCloud calendar to Android.
Way 1. Sync iCloud Calendar to Android via iCloud and Google Calendar
Way 2. Transfer Calendar from iCloud to Android with Transfer for Mobile in 1 Click
Way 1. Sync iCloud Calendar to Android via iCloud and Google Calendar
Using iCloud and Google Calendar is a free way to move iCloud calendar to Android device. But you should have a Google account. Otherwise, you need to create one first. To proceed with this method, you can follow the steps in the below:
Steps to Put iCloud calendar to Android device with this way:
1. Go to the iCloud website and sign in your account.
2. Press the Calendar icon to enter the calendar control panel.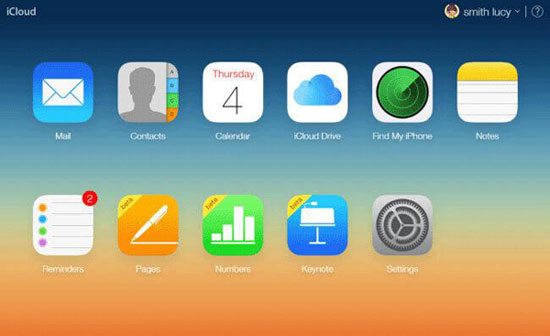 3. You need to choose a calendar category, such as Calendar or Work. Then, click the share button.
4. There will be a pop-up dialog, where you should select the Public calendar. Then a url will shows up, which begins with webcal.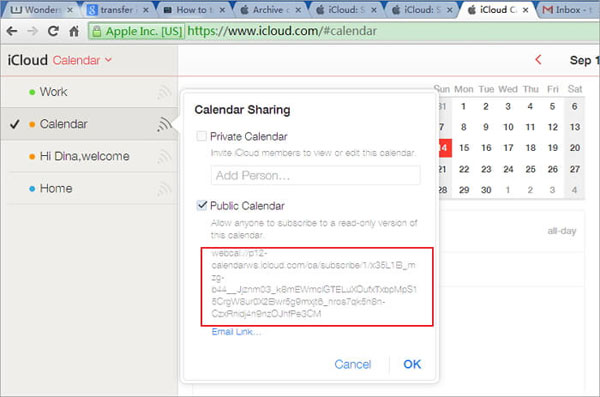 5. Copy the URL and paste it into the address field in your browser. After you change "webcal" to "http", you can press Enter or Return.

6. A ica. file will be downloaded to your computer automatically, which saves your iCloud calendar.
7. Now, you should launch Google browser and sign in your Google account. Then, launch Google calendar website.
8. Click the reversed triangle right to the Other calendar tab on the left side menu.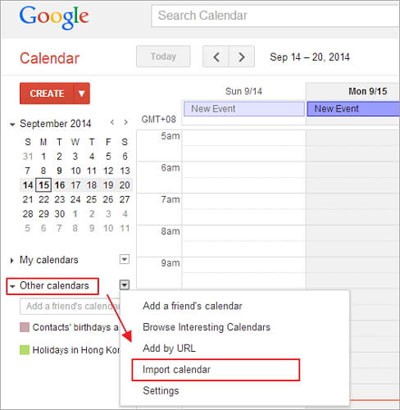 9. Choose Import calendar option from the drop-down list. Then, browse your computer to find the .ica file and import it to your Google calendar.
10. Turn to your Android phone or tablet, press Settings > Accounts & sync.
11. Choose Google account if it is shown here already. If not, you can click Add account, find Google account and sign into it.
12. At last, you should tap Sync Calendar > Sync now on Google account sync screen.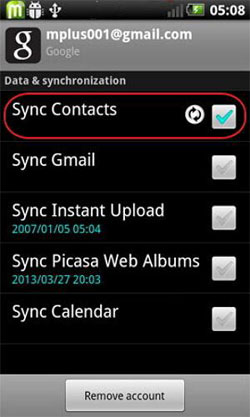 Done! After all the process above, you can view iCloud calendar on Android phone or tablet right now!
Way 2. Transfer Calendar from iCloud to Android with Transfer for Mobile in 1 Click
You must be complicated with the way 1 above. And it is troublesome if you have no Google account. In fact, you can transfer calendar from iCloud to Android device with one click by using a third-party tool named iCloud to Android Transfer. It empowers you with the ability to move iCloud calendar to Android device without complex operations. You can use it to transfer calendar between iPhone and HTC and Copy Calendar from Nokia to Samsung.
All what you need are: your iDevice (iPhone, iPad or iPod touch), an Android device, two USB cables, sign in iCloud account on iDevice, iCloud to Android Transfer, and a Windows PC.
How to export iCloud calendar to Android phone/tablet with this method:
Step 1. Download, install and launch the iCloud to Android Transfer on your PC. Choose the option labeled Restore From Backups and click iCloud.
Step 2. Use two USB cables to connect your iDevice and Android phone or tablet to the computer. After detected, the two devices will show up in the window. Just sign in your iCloud now.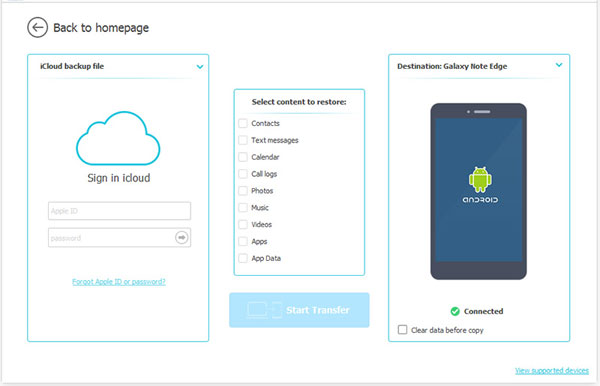 Step 3. If you only want to transfer calendar, you need to uncheck the other contents except Calendar. Then, click Start Copy to begin the process. During the process, be sure not to disconnect your both devices.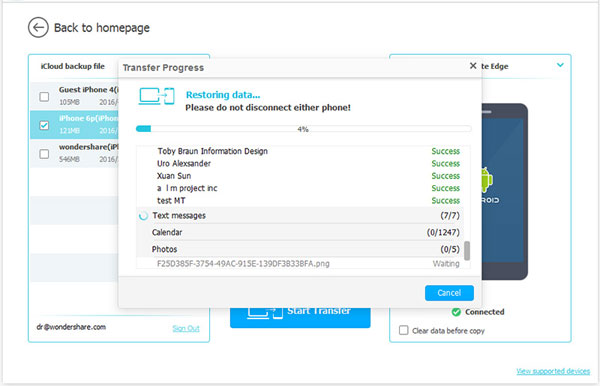 Related Articles:
How to Transfer Files from Android to iPhone [Full Solutions]
One-stop Guide to Transfer to New iPhone
iCloud vs. iTunes Backup: What's the Difference between Them?