It happens to almost all of us. We downloaded a bunch of apps and music, only to find that they are missing. All it takes is one accidental click, and there goes all your files! This can be very distressing. Not to mention the hassle of having to re-download them again. Don't you wish to know a way to get your files back? Of course, any person would love that. Luckily, there is. We'll show you how to recover deleted files from iPhone in simple ways. Just keep reading.
Can I Get Back Deleted Files on iPhone?
Yes. Recovering deleted files from an iPhone is not as impossible as you think. When you delete files from your iPhone, they won't be erased immediately from the device. Instead, they'll be kept in the device's storage. But you can only access this location using third-party applications. In short, you can recover files from an iPhone if they haven't been overwritten.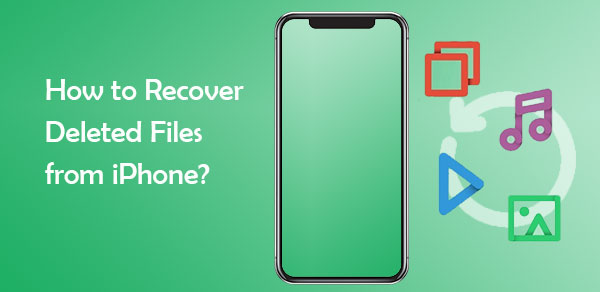 Part 1. How to Recover Deleted Files from iPhone without Backup
For those who didn't back up the iPhone data, you still have few options to find deleted stuff on iPhone. Below are ways to retrieve deleted data on your iPhone even if you don't have a backup.
Option 1. Use Coolmuster iPhone Data Recovery
Apple keeps its software relatively simple and doesn't allow many options for getting back the data. What about all that data you have on your iPhone but lost because of accidental deletion? With Coolmuster iPhone Data Recovery, you can easily get back all your deleted files. It is an easy-to-use and powerful application capable of recovering even deleted photos, contacts, text messages, call logs and many more from iPhone, iPad and iPod touch.
It doesn't matter if you did a factory reset or you deleted the files accidentally; iPhone Data Recovery is your best choice. It adopts a deep scan mode that lets you restore all deleted files from the iPhone. It can recover the deleted files in three simple steps: scan, preview, and recover. As simple as that!
How Coolmuster iPhone Data Recovery helps;
* Directly recovers deleted and existing content from an iPhone to a computer.
* Restores all data from iTunes backups.
* Previews the scanned files, and you can choose the specific files to restore.
* Doesn't alter the quality and format of files.
* It can restore various data files from an iPhone, like contacts, SMS, photos, camera roll, safari history, etc.
* Supports the latest iPhone 14/13/12/11/X/8/7 and iOS 16.
How to restore lost data on iPhone without Backup? Here is a step-by-step guide;
01 Launch the program on the computer
Download the program on the computer. Launch it and tap the "iOS Recovery" option from the list. Connect your iDevice to the same computer using a lighting cable. Tap "Trust" when asked to trust the computer.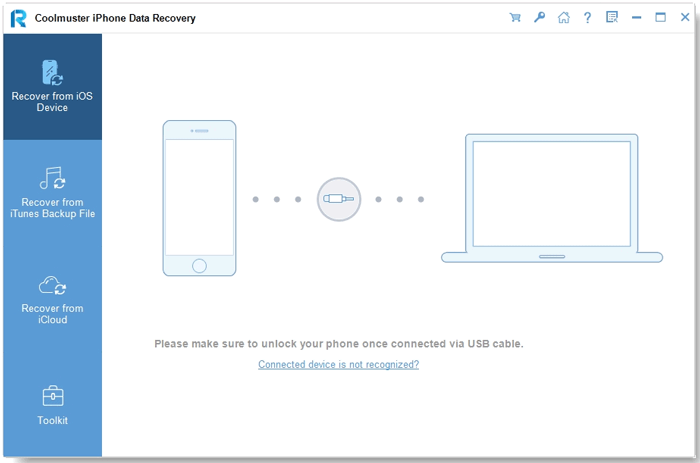 02 Scan iPhone deleted files
After your device gets recognized, you'll see all data in your iPhone device displayed on the screen. Choose the data types you wish to recover and hit the "Start Scan" icon to proceed. Once the program scans the files, you may preview detailed files on the main screen, including existing and deleted files. Choose any category from the left panel to open with their details on the right panel.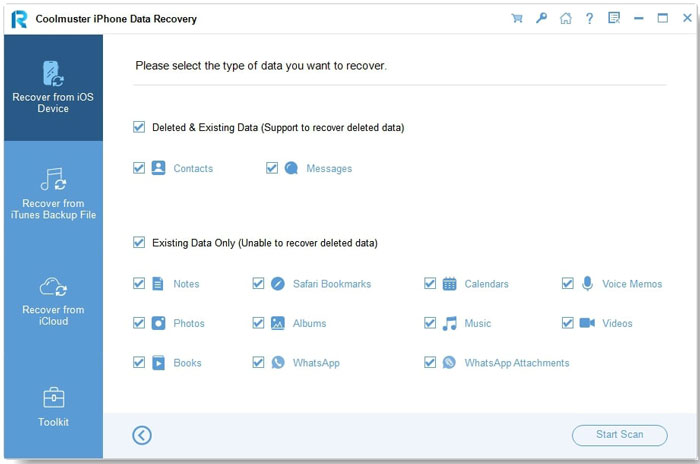 03 Recover deleted file on iPhone
After selecting the specific files, click the "Recover to the Computer" button to recover permanently deleted files on iPhone.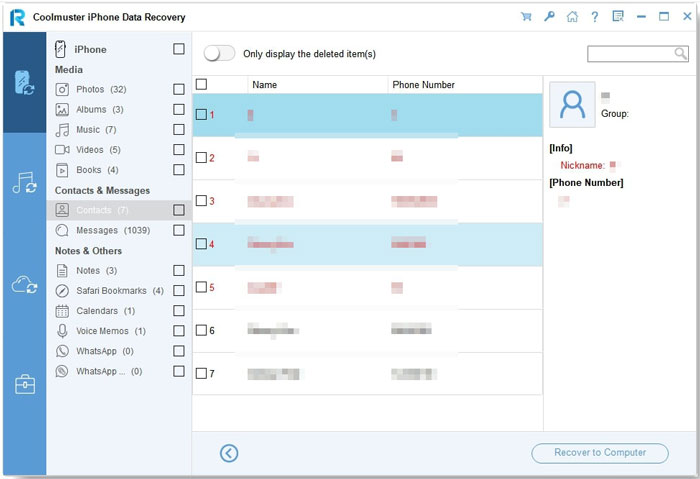 You may like:
How to Recover Formatted Data from iPhone 14/13/12/11/X/8/8 Plus/7/6
How to Retrieve Deleted Text Messages on iPhone with or without Backup
Option 2. Recover from Recently Deleted Folder
Just like Windows or Mac computers, iPhone too has a recycle bin folder named Recently Deleted Folder. But after 30 days, all files in this folder will be deleted automatically. So, you have a month to recover any deleted file from the Recently Deleted Folder. To effectively get deleted files back from the Recently Deleted folder of iPhone:
Step 1: Open the Files App on your iOS device.
Step 2: Head to "Locations" and click "Recently Deleted."
Step 3: Choose the files you wish to keep, then click "Recover."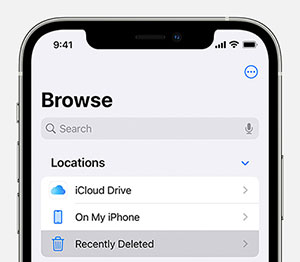 That's it! This is also a more straightforward way to restore deleted files on your iPhone. But not all files can be retrieved in this way. So, the first method is still the best.
Part 2. How to Recover Deleted Files on iPhone with Backup
There's nothing to worry about if you have backed up your iPhone before. You can restore iPhone data from backup to get your deleted data back.
Option 1. Restore from iTunes Backup
iTunes can help restore your data even if you've done a factory reset on your iPhone or you have upgraded your iPhone to the latest version. The only drawback is that you have to have an iTunes backup of your device and not an iCloud backup for this method to work. The procedure for restoring files with iTunes backup is as follows:
Step 1: Open iTunes on the computer and connect the iPhone device to the computer with a working lighting cable.
Step 2: Choose the "Summary" option and click on the "Restore Backup" option. Wait for the process to complete.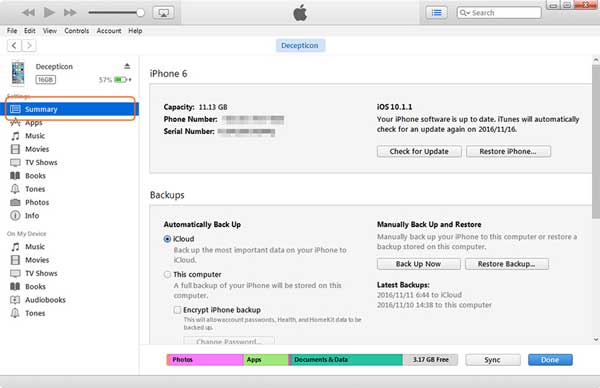 There is no previewing of your files while restoring them via iTunes backup.
Option 2. Restore from iCloud Backup
iCloud is a cloud storage service that allows users to back up their iOS devices to the cloud. But you can easily get back your deleted files with iCloud too. To successfully restore the data, you'll need to have an iCloud backup, and here is how to retrieve deleted data back by restoring iPhone from iCloud;
Step 1: Head to your iPhone's Settings and click "General."
Step 2: Proceed to "Reset" and "Erase all Contents & Settings" if you're done setting up the phone.
Step 3: Follow the on-screen steps to head to the "Apps and Data" screen. When there, look for the "Restore from an iCloud Backup" option. Click on it to commence the restoration process.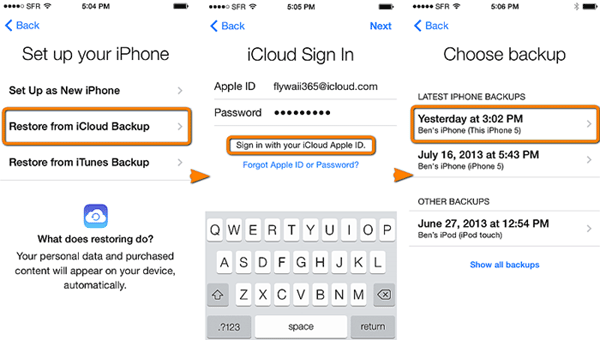 Remember, you need a strong internet connection, and your iPhone should have enough charge since the whole process might take a lot of time to finish. But it depends on the files' sizes.
See more:
3 Proven Ways to Recover Data from iPhone that Won't Turn On (with Troubleshooting)
How to Recover Data from Broken iPhone with or without Backup
Bonus Tip: What to Do to Avoid Data Loss on iPhone
Losing some of your important files can be worrisome. Usually, data loss is a result of software updates, low storage space, or accidental deletion. To prevent all data loss inconveniences, here are some tips to help you keep your important data safe;
Tip 1. Create a Backup Plan: If you love taking tons of pictures or always downloading tons of interesting videos on YouTube, then creating different backups of all your files is highly recommended. Backup your data to iCloud, iTunes, or a computer.
Tip 2. Assess the compatibility of your iOS device: At first, it can be said that iOS is a very versatile and secure operating system. But, some older-model iPhone devices may not always be compatible with the newer software updates. If your iPhone isn't supporting the latest iOS version, don't force it, which could lead to data loss.
Tip 3. Make sure your iPhone has enough storage space.
Conclusion
So whether you lost an important message from your iPhone, lost a good number of photos, or want to get the apps and music you deleted back, this guide is for you. Our easy-to-use guide can tell you how to find deleted things on iPhone. Additionally, you have the Coolmuster iPhone Data Recovery software. It is really powerful, and you will get all your deleted files back in just a few clicks.
Related Articles:
iPhone Data Recovery: Recover Lost Data/Files from iPhone
How to Recover Data from iPhone after Factory Reset? (4 Ways Available)
How to Recover Data from iPhone Internal Memory? Top 3 Ways
13 Best iPhone Recovery Software in 2022 (Detailed Reviews)
How to Recover Data from A Stolen iPhone 14/13/12/11/X/8/7/6
How to Recover Deleted Files on Android without Computer and Root