High-speed Way to Search SMS Messages from iPhone
It is no more an exaggeration to say that message texting function is surely regarded as an essential part of iPhone device, as well as an important means to inform someone of something, to express their feelings or simply to chat with the beloved ones, which can't be neglected, especially for introvert people. With time passing by, more and more messages will be saved on your iPhone. So, when you need to search a specific message from your mother received around weeks ago, you will have to search one by one from the long list of your conversation history? Actually, no need! You can easily get the message you want from the messages list on your iPhone in one click.
How to Easily Search Messages from iPhone?
First of all, you have to enter your Messages tab from your iPhone, so as to start the search process.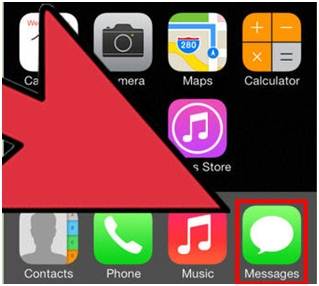 Then, you will see a search bar on the top of the message screen.Then you just need to make sure to type in the relevant keywords, so as to have access to the relevant message or a group of messages.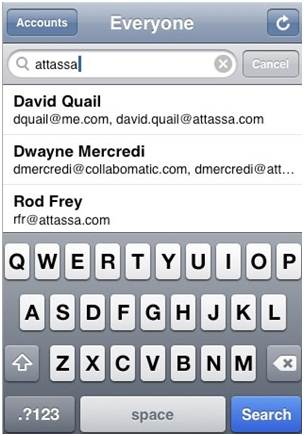 Now, you can get the exact message from the screen. It's much easier to locate the one from several messages than from a long list of messages, right?
Extra Bonus: Common Issues Related to Inability to Search Messages
However, sometimes when you want to search messages on your iPhone, it may fail and show no results at all even if you have typed highly-relevant keywords. The following are listed as the common reasons for the failure to search messages on iPhone.
1. iOS 9 issues. After buying a new iPhone, quite a few users may prefer updating to the latest iOS 9. But before that, you have to get well prepared for updating to iOS 9 and follow the professional guide to begin the upgrade process. Or otherwise, the iOS 9 issue will lead to your troubles of inability to search messages on iPhone. Here, if you are faced with any problems related to iOS 9 upgrading, click here to get the solution.
2. Spotlight search issues. With spotlight search, you can scan for the related piece of information. But sometimes, you may fail to search the exact messages on iPhone due to spotlight search. To get the best solution in this regard, you can check for the Apple forums.
3. Specific message search. If you type in the non-relevant keywords, it is apparent that you won't get any results during this process. Therefore, you have to get the right keywords.
In general, the three aspects mentioned in the above are the main causes for the failure to search messages on iPhone. So if unfortunately you can't get the exact message as wanted, just check out for the reason and fix it! And sometimes when you are searching for a specific message but with no results, it's simply because you have deleted them by mistake. But, don't worry! You can still get easy access to the lost messages on iPhone in one click, even if they were lost.
How to Search Deleted Messages on iPhone?
To access the deleted messages on iPhone, you have to rely on a professional assistant tool such as Coolmuster iOS Data Rescuer. With this handy assistant, you can have free access to viewing the deleted messages from your iPhone. Also, this software allows you to recover the deleted messages from iPhone, as well as other files previously saved on your iPhone, including contacts, music songs, homemade videos, ringtones and etc. The biggest shining point of this software lies in its two modes of recovery, i.e. recover from iOS devices or recover from iTunes backup. Below is the free trial version of this software! You can download the right version and give it a try by yourself!
Then open the installed software on the computer. After that, connect your iPhone to the computer via the USB cord. If you have backed up iPhone to iTunes, you won't need to connect your iPhone. Then you will see the below interface. Choose the right mode as you wanted.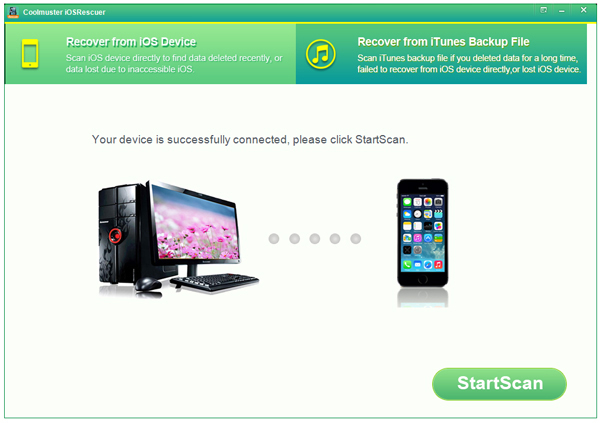 Now, you will see different file folders are arranged on the left panel. You can enter the Messages tab to preview the deleted messages from your iPhone. If needed, you can hit the Recover option to recover the messages from your iPhone in one click.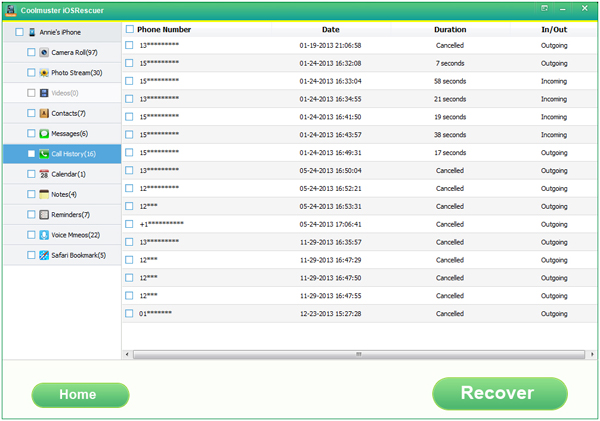 Quite easy, right? If you are looking for a way to search and view the deleted messages from your iPhone, then this is surely your best choice! What are you waiting for? But actually, sudden data losses bring nothing but inconvenience to your daily life, you are suggested to choose a professional backup assistant to back up your iPhone files frequently!
Related Articles:
Want to Restore iPhone from iPad Backup?
How to Recover Lost Data from Jailbroken iOS 9
Add a comment