Ever asked yourself how to add text to a PDF document? Adding a text box to a PDF document is very important and comes in handy in various situations. Maybe you forgot to add some critical points in the file or just want to clarify. The only way to ensure you can add those points or update the file is to add a text box. However, it can be difficult without an appropriate tool to edit and insert the text into a PDF file. But all is not lost. This guide explains how you can add text to a PDF file simply.

Part 1. Why Do We Need to Add Text to PDF Document?
There are many reasons why you may need to add text to a PDF document:
Annotate: Adding texts in any document will enable users to provide feedback, explanations, etc.
Fill Forms: PDF forms include text fields to allow users to fill in the information. Therefore, adding texts in these fields will allow users to enter required data, complete the forms and send the information electronically.
Make corrections and updates: Adding text to a PDF file will allow users to make the necessary corrections or update the document without changing the original content. This is especially important when revising the documents without starting from scratch.
Add digital signatures: A PDF document that includes text lets users add digital signatures to show authorization, approval, or ownership of the file.
It is clear that adding text to any PDF document is important. But how to add text to a PDF document? Read on.
More quick office solutions:
Unlocking PDF Text: How to Convert PDFs to Editable Text in Seconds
Unleash Your Android Device's Reading Potential: 5 Best PDF Reader Apps
Part 2. How to Add Text to a PDF Document
How do I add text to a PDF document? It is straightforward to add a text box to a PDF file. We will show you a handful of ways to add text to a PDF document.
Way 1. Add a Text Box to a PDF Document Using PDFelement [Fastest]
PDFelement is a feature-rich PDF editor that's a go-to option for all users dealing with PDF files. With this tool, you can do any type of edit to meet your needs or that of recipients. It lets users add text boxes to the PDF document and allows you to manipulate text color size, font, and alignments. If you think signing or editing a PDF file is impossible, this tool makes the impossible possible.
PDFelement has made the PDF editing process a walk in the park. But it doesn't stop there. Not only can you add text, but you can also insert links and add watermarks with this notable tool.
Since it is one of the most trending PDF editors, it is jam-packed with features like reading and viewing PDF documents, converting, organizing the documents and pages, adding passwords to your PDF document to keep it safe, and much more.
In addition to the editing functionalities, PDFelement offers other important options that enable users to annotate their PDFs with comments, shapes, images, etc. All these features are easy to use without much tech know-how. On the other hand, the intuitive interface saves you time, and the in-built spell checker simplifies the editing work.
Top Highlights of PDFelement
Quickly add or edit the text in PDF documents with the same format.
Easily change the text color size, font, and alignments.
Insert links and watermarks into your PDF.
Allow annotation of PDF documents with shapes and comments.
Intuitive interface that is easy to use.
In-built spell checker.
Work on computers and mobile devices.
How can you add text to a PDF document? Here are the easiest steps to add a text box into a PDF document using PDFelement:
01Launch the program and import the PDF
First, download the program on your PC and install it. After that, launch the tool to open the primary interface. Drag the files and drop them into the tool. You can also tap the Open Files icon and select the PDF document to edit.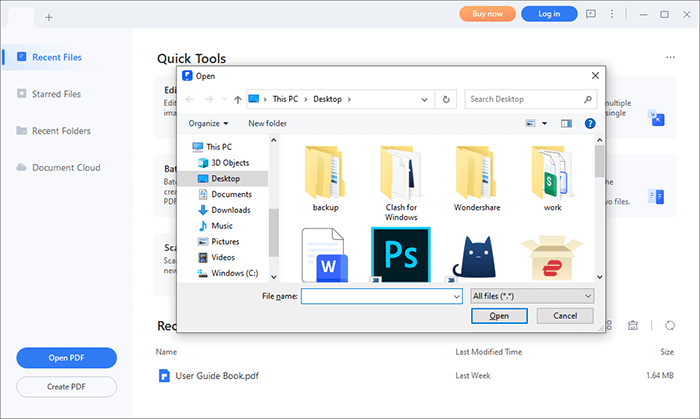 02Start adding text to the PDF
After opening the file, press the Edit button and move your cursor to the field where the text will be inserted. Tap on that field to select it. Double-tap to insert the text in the document.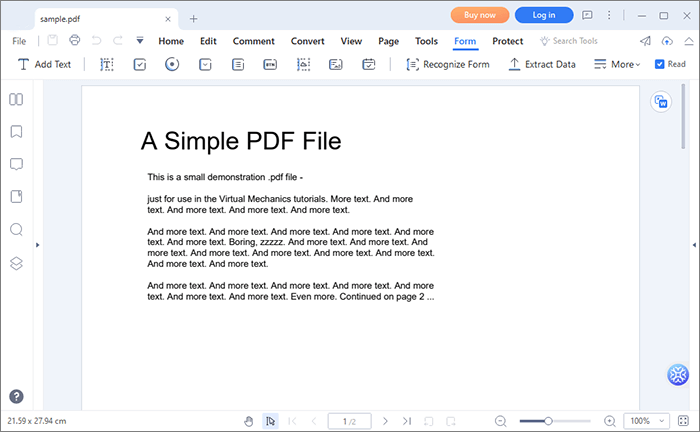 03Insert a text box to the file
To add new text to the document, tap on the Add Text tab and tap anywhere on the document to insert the text box, then enter the content in the box and save the changes. You can also change the font, line spaces, font size, text color, etc.
Way 2. Add Text to PDF Using Microsoft Word
If you don't have a PDF reader tool on your PC, MS Word can help you open the PDF document. Similarly, it can help add text boxes to PDF documents on Windows computers.
Here are the steps:
Step 1. Start by opening your PDF file with MS Word by right-clicking on the file, then choose Word from the drop-down list. A pop-up warning message will appear on the screen. Click on OK.

Step 2. The PDF file will become editable; you can now add the text anywhere. Choose the Insert tab at the top and find Text Box. Here, you can use the built-in text boxes or draw your text boxes. Click on Draw Text Box from the drop-down menu.
Step 3. Choose File and Save As in the dialog box to save the document. Select the PDF as output format from the Save as Type. Lastly, press the Save icon.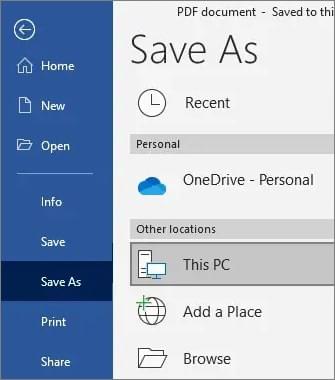 Way 3. Add Text Box to PDF with Preview on Mac
Preview is a Mac's built-in PDF viewer you can use to add text fields to the PDF. Even though it isn't a professional PDF editor, it has basic tools that allow users to perform simple tasks on their PDF files. You can find the editing tools in Tools > Annotate.
Check the steps below for adding text to the PDF file using Mac's Preview:
Step 1. Open the file to add text with the Preview app. Tap the Pen Point button to open the markup toolbar.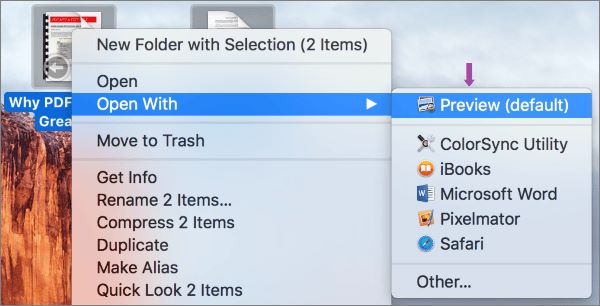 Step 2. Select the T button to open the text box on the PDF document. Enter any text you wish to add.

Way 4. Add Text to PDF with Google Docs
Google Docs offers a way to draw tools to insert text boxes, images, shapes, lines, etc.; you can also use them to create flow charts. Apart from that, it's equipped with tools to handle PDF problems like editing PDFs and adding watermarks and annotations.
Step 1. Sign into your Gmail account and open Google Docs Online Editor. Now tap on the Upload tab to upload your file.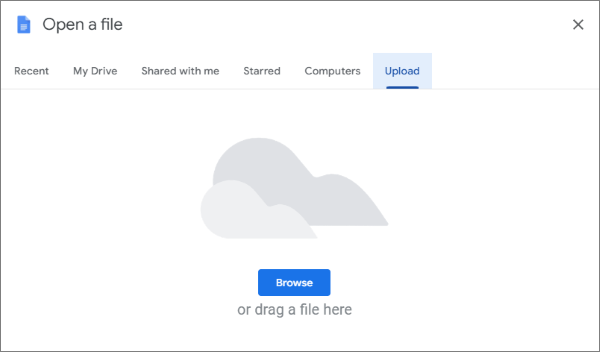 Step 2. When the file uploads, open it with Google Docs from the drop-down list.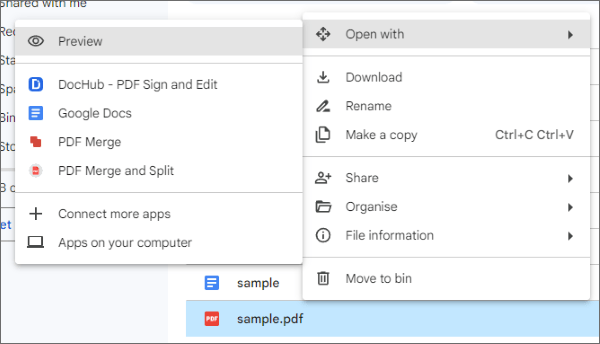 Step 3. Click on the Insert tab at the top, choose Drawing > New, then choose Text Box at the top to draw the text in the opened window. Tap on Save and Close, and it will be inserted into the document.

Also read:
Celebrate Your Documents: Effortless Ways to Insert a Signature into PDF
Text to PDF Made Easy: Your Step-by-Step Conversion Handbook
Final Word
Adding text to a PDF document isn't a problem, especially if you have the right tools. The ways mentioned will help you add a text box to your PDF file with ease. However, PDFelement is the most convenient option. It's time-saving and allows you to tackle any PDF issues effortlessly.
Related Articles:
Multimedia Magic: How to Enrich Your ePub with Audio and Video Elements
Mastering the Art: How to Copy PDF to Word Like a Pro [5 Ways]
The Quest for the Best PDF to Word Converter: Expert Reviews
How to Insert Multiple Page PDF into Word with Ease [4 Methods]
Beyond Locks: Effective Ways to Save PDF Without Password
Efficient Ways to Extract Pages from PDF: Comprehensive Guide