If you handle PDF tasks, you probably understand the ease and convenience of managing smaller files. Adobe is one of the common tools and methods you can use to split a PDF into smaller, manageable files. Unfortunately, most people still struggle to use the Adobe Split PDF tool. This article explains how to use the split PDF Adobe program and its best alternative in the market – Coolmuster PDF Splitter.
Part 1. How to Split PDF in Adobe Acrobat
Adobe Acrobat is an application software collection that allows you to view, manage, manipulate, create, and print PDF files. One of the functions that Adobe Acrobat can help you accomplish is to merge or split PDFs.
1.1 How to Separate PDF Pages in Adobe by Desktop App
You can split PDFs in Adobe using the online web page or the desktop. Here is how to use the PDF split in the Adobe desktop app.
Step 1. Launch the Adobe app on your desktop.
Step 2. Click "Tools" and "Organize Pages" on the right-hand side.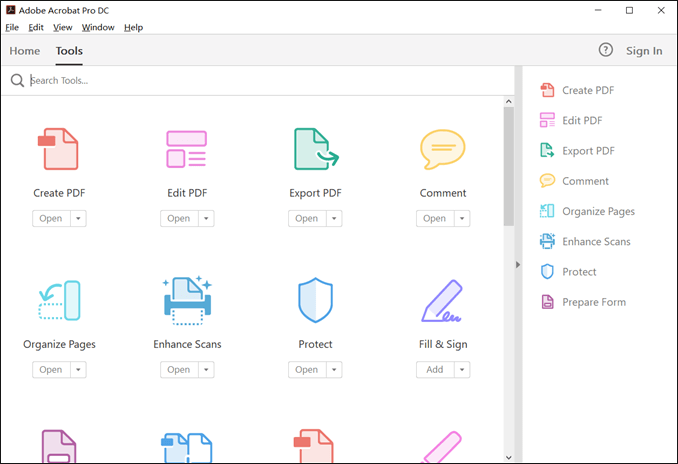 Step 3. Hit the "Select a File" button to upload your PDF to the app's interface.
Step 4. Once the PDF file is uploaded, click the split tool that resembles a scissor icon at the top of the page.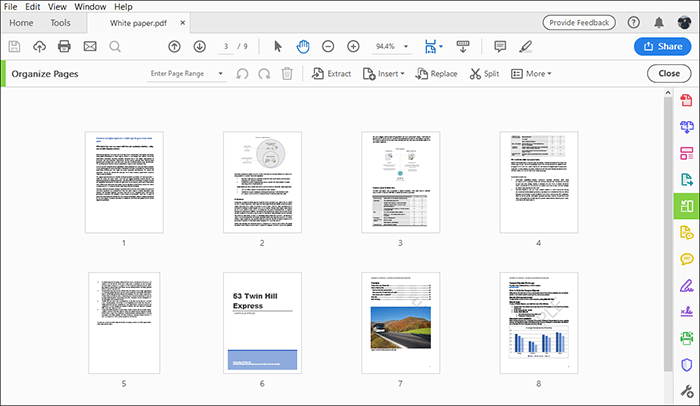 Step 5. Select the PDF splitting criteria by clicking the "Click by" drop-down menu. There is an option to split: "Based on the number of PDF pages", "Top-level bookmarks", or "Maximum file size".
Step 6. Click the "Output Options" to customize your destination folder for the output file, then click "OK".
Step 7. Click the "Split" icon to begin the split PDF Adobe process. Click "OK" to confirm and accept the next prompts. Once Adobe has split your PDF file, you can access it in the destination folder you set before.
Read More:
Streamline Your PDF Workflow: Top 3 Ways to Split PDFs on Mac
[9 Tools Review] The Hottest PDF to Word Converter Online/Offline
1.2 How to Split Adobe PDF Pages in Adobe Online
The online Adobe PDF splitter is a fast, convenient, and cost-saving option to split PDFs. Unlike Adobe Acrobat DC, the online splitter doesn't require downloading or installing. However, you need an active internet connection to use the online split PDF Adobe Acrobat tool. Here is how to split a PDF in Adobe online.
Step 1. Launch the free online PDF splitter Adobe page. Click "Select a file" or drag and drop a PDF to upload to the online interface.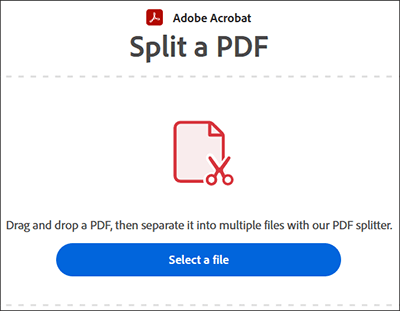 Step 2. You may be required to sign in to access the free trial, which allows you to separate files into multiple documents. You can create a free account or click "Continue with Adobe" to sign in to an already existing Adobe account.
Step 3. Select up to 19 divider lines to split your PDF into multiple new files, then click "Continue".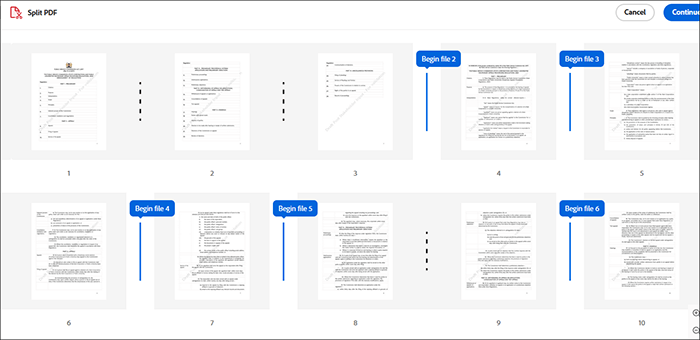 Step 4. Tick the "Save" box on the new pop-up window, then click "Save". Adobe will split your PDF files fast and allow you to download the split files.
Part 2. Pros and Cons of Adobe Split PDF
Here is why the Adobe PDF splitter is liked and unliked in equal measure.
Pros of Adobe Acrobat Split PDF:
* It is fairly easy to use online and as an app. Both platforms have a user-friendly, easy-to-navigate interface.
* It promises to split PDF files without heavily compromising file quality.
* It is relatively fast, though some users complain the splitting process can be lengthy.
* It enables to customize the criteria for splitting PDF files.
* It also allows you to split multiple PDF files simultaneously.
Cons of Adobe Acrobat Split PDF:
* Adobe Acrobat PDF online splitter requires you to sign in to access the features.
* The free trial may be limited in terms of the number of tasks you can perform and features you can access. The premium plan can be expensive if you're on a budget.
Regardless, Adobe is still one of the top reliable PDF splitter tools besides the number Coolmuster PDF Splitter option.
See Also:
Maximizing Your Productivity: How to Edit Text in PDFs Using Adobe Acrobat
From Separate to Seamless: How to Combine PDF Files Effortlessly
Part 3. The Best Adobe Split PDF Alternative – Coolmuster PDF Splitter
Coolmuster PDF Splitter is undoubtedly one of the most popular and reliable PDF splitter and hands-down the best Adobe Acrobat alternative. The splitter comes with amazing comprehensive features that provide you with the convenience and reliability of a popular PDF splitter.
Features of Coolmuster PDF Splitter:
Select specific file pages before splitting the file.
Add your PDF folders and files fast, usually with a single click.
Split file pages with three convenient modes.
Preview file pages directly on the program's interface.
Split PDF files into multiple separate pages without losing quality.
Enjoy the user-friendly interface and seamless PDF-splitting experience.

Free Download for PC
Here is how to use this number one Adobe Split PDF alternative tool.
01Download, install, and run Coolmuster PDF Splitter on your device.
02Click "Add File" or "Add Folder" to add the PDF files for splitting. Alternatively, drag and drop the PDFs onto the interface. Click the "Delete" button to remove unwanted PDF documents from the uploaded list.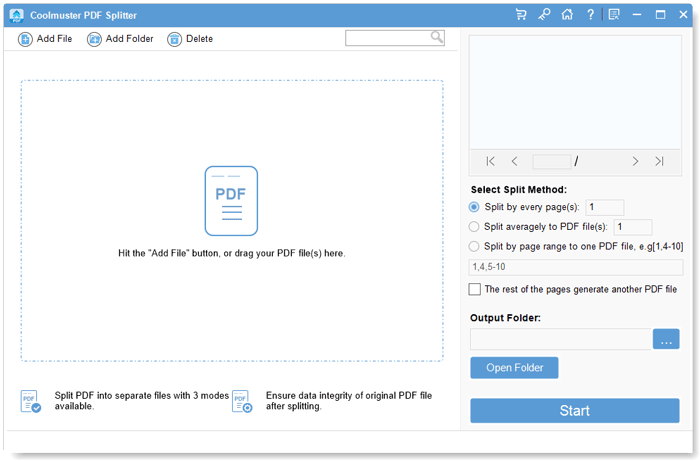 03This splitter offers three convenient modes to split file pages: "Split by every page(s)", "Split averagely to PDF file(s)", or "Split by page range to one PDF file".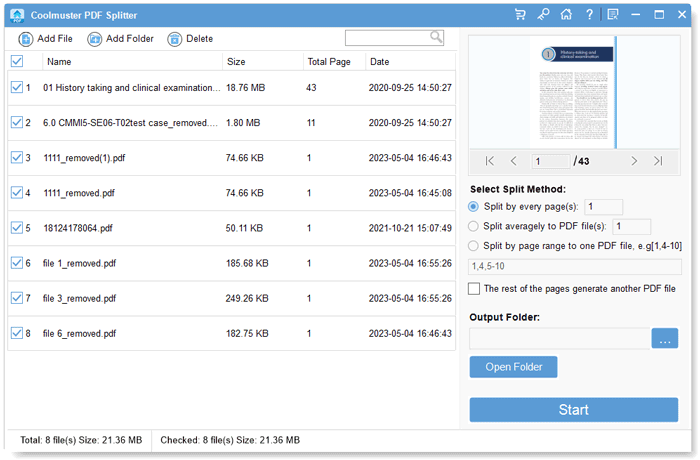 04Click "Start" to begin splitting the selected files.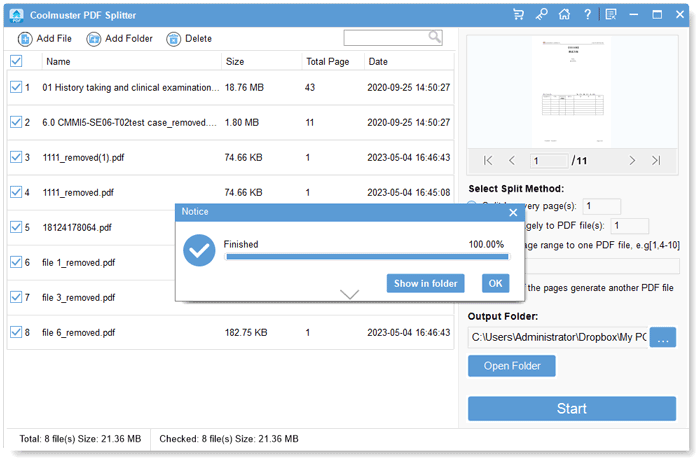 May Like:
Simplify Your Workflow: How to Merge PDF Files in Minutes
How to Merge Multiple PDF Files Like a Pro: Step-by-Step Guide
Part 4. Adobe Split PDF Online Alternatives
If you don't want to use Adobe to split PDFs online, try an alternative range of online PDF splitters for free. This section lists some top recommended online PDF splitters that can substitute Adobe.
Alternative 1. PDF2go
PDF2go is an online tool that can substitute the Adobe Split PDF program. With this splitter, you can split PDF files freely without regard to file size or length. Here is how to split PDFs online with PDF2go.
Step 1. Open the online splitter on your web browser.
Step 2. Drag and drop or click "Choose File" to add the file you want to split.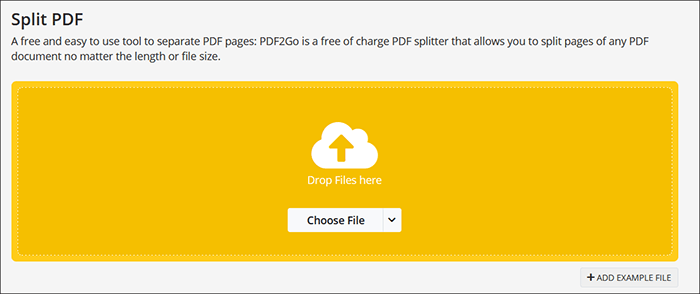 Step 3. Click the scissor icon to split the pages. Also, click the red "X" button if you want to delete the specific page from the file.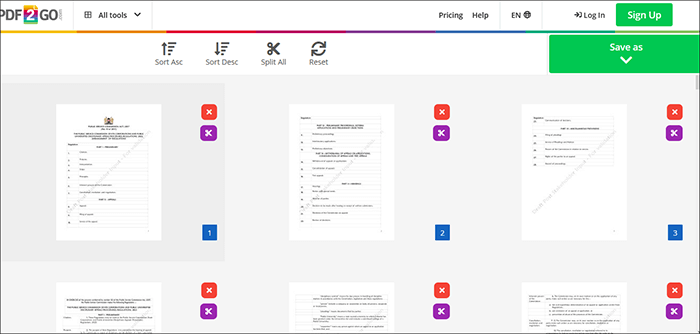 Step 4. Click "Save as" to set the optional settings (for example, how to separate the PDF pages) and the destination folder, then click "SAVE".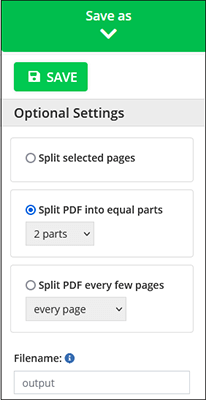 Step 5. Click "Download" to save the split PDF file.
Alternative 2. Smallpdf
Smallpdf is another Adobe Split PDF alternative available online. The splitter can split a PDF instantly into individual one-pagers or extract some pages to create another PDF file. In addition, Smallpdf lets you add and extract file pages from multiple PDF files simultaneously. Here is how to use Smallpdf to split Adobe PDF files online.
Step 1. Open Smallpdf on your web browser.
Step 2. Drag, drop, or click "CHOOSE FILES" to upload your file.
Step 3. Click the split scissor icon to split to create a new PDF with separate pages. Tick the "Split after every page" button at the top to separate each page on the PDF into an individual file. Then, click "Split".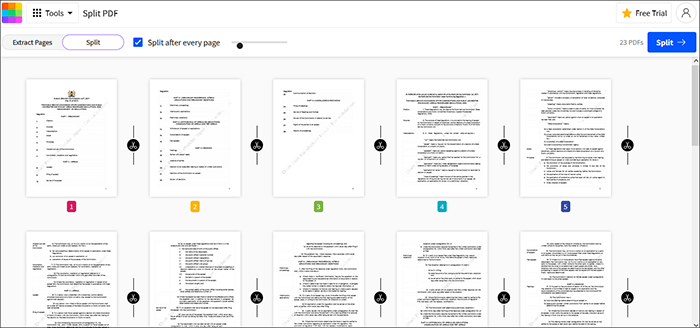 Step 4. Click "Download Zip file" to save the split file.
Can't Miss:
[Solved] How to Change Word Document to PDF in Efficient Ways
Effective Ways to Password Protect PDF Files with Sensitive Data
Part 5. FAQs About Adobe Split PDF
Most people find it hard to use Adobe to split PDF pages. This section answers the common questions to challenges you're likely to face when using the split PDF Acrobat software.
1. Can I split a PDF file with Adobe Reader?
No, since Adobe Reader is a PDF viewer and can't split PDF pages. It is easy to confuse Adobe Reader with Adobe Acrobat even though they belong to the same family. Still, you can split a PDF file using Adobe Acrobat. Alternatively, you can use an Adobe Split PDF alternative – like Coolmuster PDF Splitter – to separate your PDFs.
2. Can I edit a split PDF file?
Yes, you can edit a split PDF file. Adobe Acrobat provides a broad suite of applications, including PDF creation and editing. However, you can use an alternative tool to edit your PDF if you don't want to use Adobe Acrobat.
3. Does Adobe Split PDF have Alternatives?
Yes, you can split your PDFs without necessarily using Adobe. Try Coolmuster PDF Splitter to discover how to split a PDF into multiple files without Acrobat.
4. Does the Adobe PDF splitter reduce file quality?
Yes and no. If you're using Adobe to split a small PDF file, you will likely get a split file with preserved file quality. However, if you're splitting multiple large PDF files with Adobe, there is a slight chance your file's quality may be compromised.
Key Takeaways
Adobe is a popular PDF file management software and tool. You can leverage its file-splitting capabilities to separate PDF files via the desktop app or on its website via your web browser. However, if you want a more comprehensive Adobe PDF splitter, Coolmuster PDF Splitter is the number one alternative. Download Coolmuster PDF Splitter to split multiple large PDF files fast and safely.
Related Articles:
Simplify Document Management: Adobe Merge PDF in Action [Updated]
[Easy Guide] Convert Word to PDF via Adobe Acrobat & Alternatives
Word to PDF Hyperlinks Not Working? Troubleshooting Tips and Tricks
PDF Puzzle Unraveled: Mastering PDF to Microsoft Word Conversion
The Quest for the Best PDF to Word Converter: Expert Reviews
How to Combine PDF Files Without Adobe Acrobat [Windows & Mac]