If your work revolves around Word documents, you have likely been in a difficult position to change the Word files to PDF at a certain time. PDF format is unmatched in benefits. It's usually a more compact file format that will always look the same across all devices. Also, PDFs allow you to easily share your document without risking someone changing the content.
Due to this, you are always advised to convert your Word files to PDF. This is where Word to PDF converters come into play. However, not all Word to PDF converters are reliable. Since there are plenty of them, finding a suitable tool worth your time, money, and effort can be challenging.
Luckily, we've made things simpler. We've curated only the best Word to PDF converter that will make your conversion process surprisingly easy. You just have to choose a tool that aligns with your needs and get started.
Part 1. 5 Word to PDF Converters Offline
When you require a stable tool to convert many Word documents without the internet or just aren't comfortable uploading your files online to third-party websites, offline tools are a great solution. Here, we'll introduce 5 Word to PDF converters that can work offline by installing them onto your device.
1. Coolmuster Word to PDF Converter
Coolmuster Word to PDF Converter is a frontrunner as one of the best Word to PDF converter software that provides top-notch results. It creates professional-looking PDFs while maintaining the formatting of the original file. Its batch conversion feature and ability to create high-quality results make it stand out from the rest. You can seamlessly convert as many Word files as possible at once.
In addition, it features powerful customization tools for modifying the margins and page sizes the way you want. Aside from that, it is very safe to use since it employs good security measures to ensure your files are safe and kept private.
Key features of Coolmuster Word to PDF Converter:
Create high-quality PDF files from Word on a computer.
Plenty of customization options for page size and margins.
Batch conversion of Word to PDF.
Retain content integrity and layout during the conversion process.
Secure and swiftly create high-quality PDFs quickly.
Here are steps to use Coolmuster Word to PDF Converter:
01Launch the tool after installing it. Add Word Docs to the program by clicking on the "Add File" button.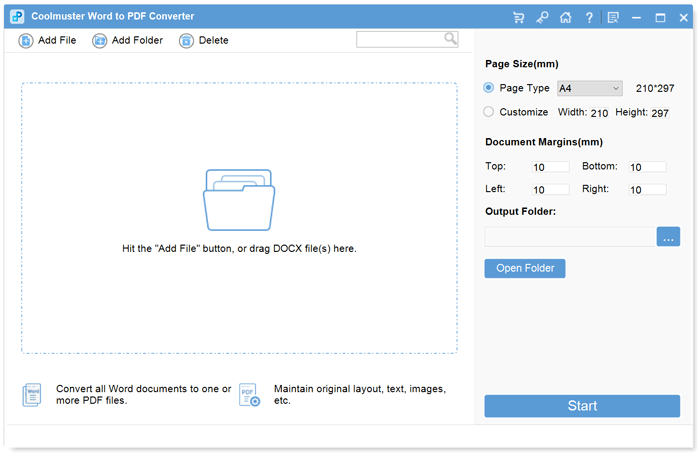 02Customize the page margins as well as the size of the output file. You can also choose where you'll save the converted files.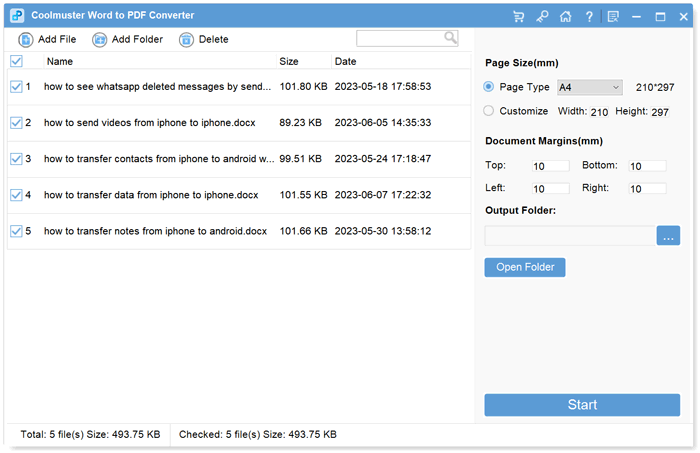 03Click on the "Start" tab to start converting your Word files to PDF.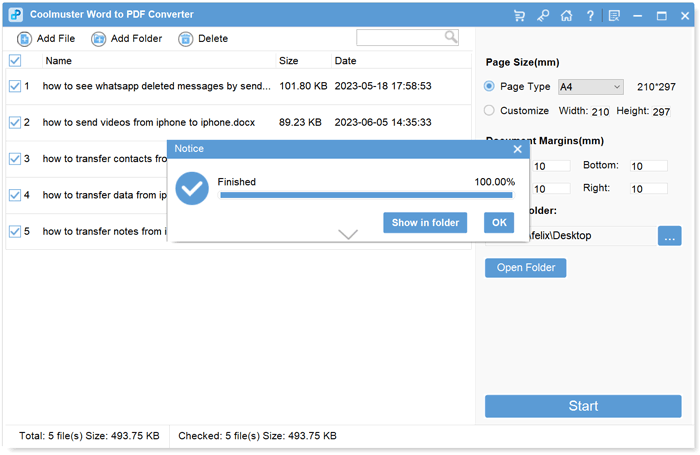 Pros:
* High quality and quick results.
* Safe to use.
* Convert multiple Word files to PDF at once.
* Easy and simple to use.
Cons:
Limited features in the free version.
Read More:
How to Open a PDF in Google Docs [Multiple Useful Methods]
No More Formatting Frustration: The Easy Way to Convert PDF to DOC/DOCX
2. WPS Office
Another Word to PDF that boasts great tools is WPS Office. It is a free office suite that can work on major OS and mobile gadgets. It is very simple to use WPS Office; just open your document in WPS and hover over to the Export as PDF section to start converting your file. In a few extra steps, you will have your converted PDF. It is a great option when you wish to turn your files offline. You can easily convert simple documents with ease with the WPS Office.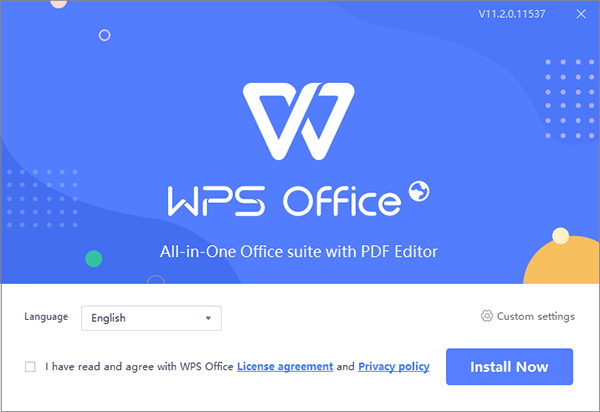 Pros:
* Free to use with a complete office suite.
* Allow converting files offline.
* Work on major OS.
Cons:
Extra steps are needed to convert files.
3. Soda PDF
Soda PDF can be a great helper when you want to convert your Word files to PDF. The tool can be accessed online, and since it's a desktop program, it gives you much flexibility when you are on the go. There is also an online version where you upload the file to the cloud. But, with the desktop version, you don't have to upload the files to the cloud. Soda PDF works on Windows, browsers, and mobile phones.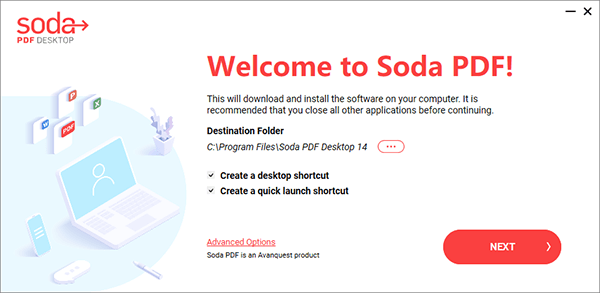 Pros:
* Free trials.
* Simple interface.
* Full-featured tool.
Cons:
* Don't work on Mac.
* To subscribe is the pricing model.
See Also:
Editing PDFs for Free: Top 3 Tools You Need to Try
9 Simple Ways to Export Text Messages from iPhone to PDF (Step-by-step)
4. Adobe Acrobat
Adobe Acrobat is an excellent MS Word to PDF converter that enables you to create and modify your PDFs without a hassle. It has everything you need to create high-quality PDFs. This tool is viewed as an industry standard that enables you to focus on getting projects finished after you familiarize yourself with its advanced features. While converting the documents, it keeps the original layout, saving the time you would have used to make the adjustments.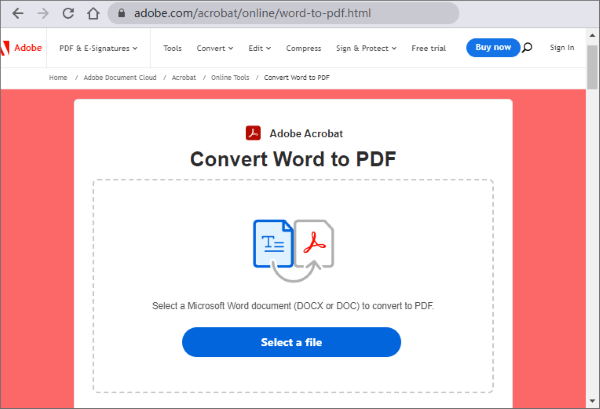 Pros:
* Integrated with the cloud easily.
* Seamless document review.
* Streamline the menu bar to give more features.
Cons:
Quite costly than other converters.
5. Smallpdf
Smallpdf Word to PDF converter is a versatile tool with mobile, online, and desktop versions. The app is very easier to use and also free to install. In addition, it has Chrome extensions, Dropbox and Google Workspace. However, its free version limits your usage, allowing you to only undertake two actions in a day. Therefore, if you are working with many PDFs, you will require a paid version.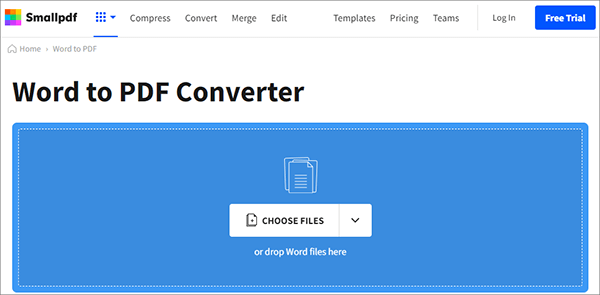 Pros:
* Easier to use applications for Android, iOS, and Windows.
* Free to use but with limitations.
* PDF suite that's full-featured.
Cons:
* Two actions a day in the free version.
* No version for Mac desktops.
Can't Miss:
How to Save a Word Document as a PDF on Windows & Mac Systems
Effortless PDF Conversion: How to Save Google Docs as PDF on iPhone
Part 2. 3 Word to PDF Converters Online
These are some of the best Word to PDF converters that can conduct the conversion process online with an internet connection. Even though they may not be a good option since they rely on an internet connection, they will ensure you convert your files without any problem.
1. Nitro
This is an online tool that is quick to convert your files and delivers average-sized files to use. After converting the files, you will get an email containing the link to the files you converted. But Nitro has some limitations. Even though it is faster to create average PDFs, it can take longer with many pages or if the formatting is complex. What's more, Nitro has file size restrictions. For instance, it can only turn files that are 5MB and no more than 50 pages. If your file is large, you will have to use its Pro version.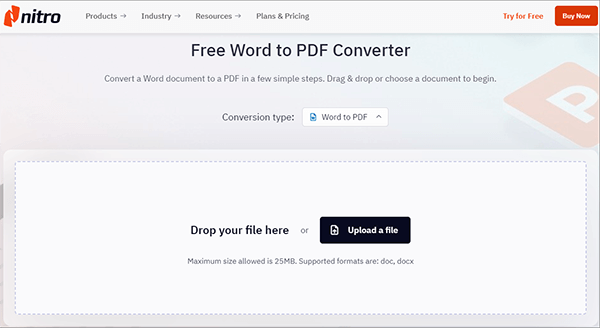 Pros:
* Intuitive interface.
* Free to use.
* Make the PDF email link mobile-friendly.
Cons:
* Check the email for the link.
* Upload files to the cloud first.
2. Zamzar Converter
Zamzar is known as a popular converting site with an old-school format. It supports several formats, and the conversion process is very simple. You will have your Docs files converted to PDF in just three steps. But, after converting your files, you must wait for an email containing the files you converted. In addition, it doesn't have ads or edit options to modify your PDF file.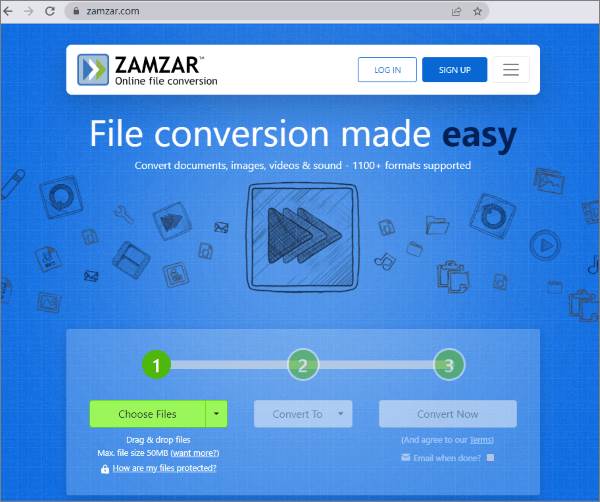 Pros:
* Simple to use.
* No ads.
* Quickly create PDFs.
Cons:
* Wait to be emailed the files.
* No edit options.
See Also:
How to Save a Google Doc as a PDF? [Computer & Mobile Device]
Converting Magic: How to Send a Pages Document as a PDF Like a Pro
3. iLovePDF
iLovePDF is another web-based Word to PDF converter that allows users to change their files quickly. This tool works on Windows and Mac computers, where you can easily convert your files. It's one of the web apps that allows the editing of PDFs without difficulty. It offers tools to help you create great PDFs while keeping your data safe. This online software is very easy to use, and it takes mere minutes to turn your Word Doc to PDF.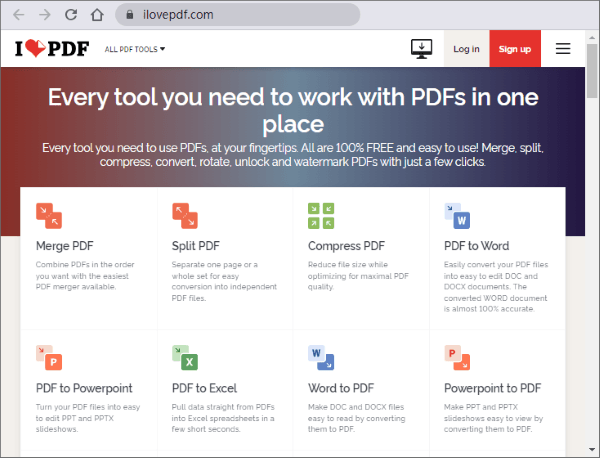 Pros:
* Faster conversion processes.
* Easy to use with many functions.
* Support both Mac and Windows computers.
* Simple layout.
Cons:
Contain many ads.
Winding Up
Hopefully, this list of Word to PDF converters will assist you in creating stunning PDFs for your project. Whether you want to convert your files offline or online, there are tools to help. Even though online tools seem the best to instantly change your Word Docs on the go, they have many limitations.
The best tool we recommend is Coolmuster Word to PDF Converter. It is the best tool since it offers advanced features, many customization options, and safety for your files.
Related Articles:
[Easy Office Solutions] How to Convert DOCX to PDF - 6 Methods
[Solved] How to Change Word Document to PDF in Efficient Ways
Unrestricted Access: Mastering the Art of Removing Security from PDF
How to Open a PDF in Google Docs [Multiple Useful Methods]
Convert PDF to Google Doc | You Should Try the 4 Methods Recommended