How to save a Word document as a PDF? This is one of the most asked questions lately, as working remotely is now the norm.
Besides work-related matters, changing a doc file to a PDF is inevitable. If your top priority is the safety of your files or you wish to share them, then saving Word documents as PDFs is something you should consider. It'll take only a few taps if you're using a professional PDF creator.
Unlike Word's default file type (DOCX), PDFs do not need any proprietary program to open them. Moreover, they are more suitable for printing than doc files.
The bright side is that converting a Word file into a PDF is no more a complicated process. You can conduct the whole process within MS Word and also utilize software or third-party tools that are readily available. Either way, you will get it done. Just follow the methods below to know how to save a Word doc as a PDF.

Part 1. How to Save Document as PDF with Word to PDF Converter [Windows & Mac]
How do I save a Word document as a PDF without going through many hassles? Coolmuster Word to PDF Converter is your best choice. This tool allows you to convert documents to PDF files in batches without delay. You can instantly change Word files to PDF, regardless of their size. You can convert as many documents as possible and in high-quality results.
It is very safe to use this tool as it adopts top security mechanisms to keep any data secure during the conversion process. Also, it offers more options to customize output files like document margins, page size, and more. Its user-friendly interface makes it easier to use.
Also, it receives regular updates and is highly compatible with all DOCX files, making it an ideal tool for changing Word documents to PDFs.
How Coolmuster Word to PDF Converter can help
Effortless conversion: Converts doc files to PDF easily, saving effort and time.
Preserved formatting: Retains the original formatting, layout, and fonts.
Batch processing: Supports converting many Word files into PDF at the same time, which increases productivity.
Customizable settings: You can adjust page sizes or document margins depending on your preferences.
Faster conversions: Quickly changes Word to PDF, even on large documents.
Easy-to-use interface: Intuitive interface that makes it simple to convert files.
Here's how to save a Word document as PDF via Coolmuster Word to PDF Converter:
01Launch the program on a PC after downloading and installing it. When you get to the main interface. Click on Add File or Add Folder.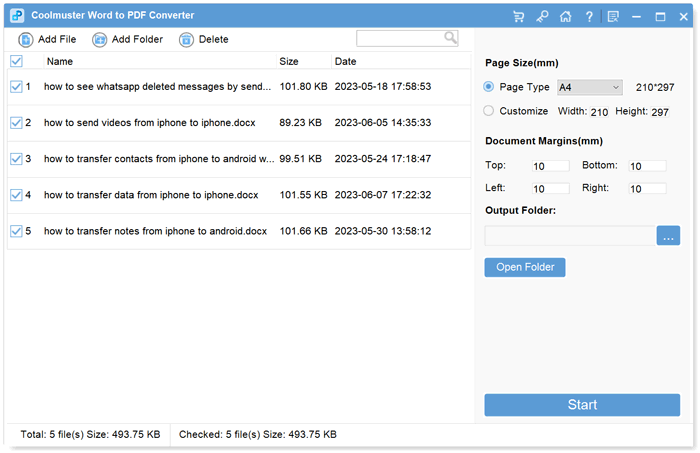 02Once done, customize the page size and margin, then choose the output location. And click the Start option to begin converting your files. Wait as the software changes your DOCX files to PDF files.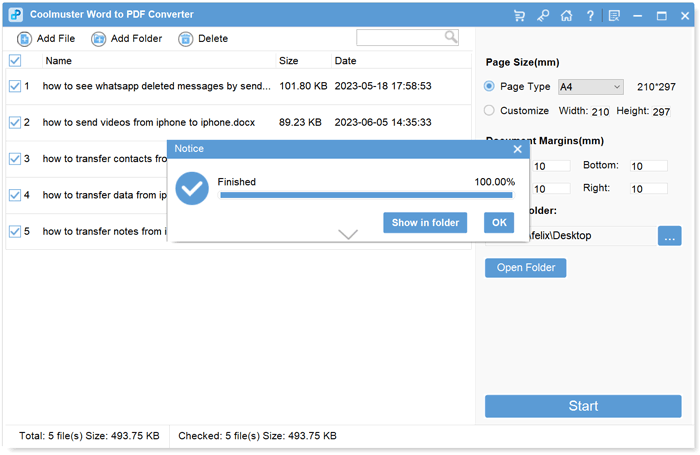 Part 2. How to Save a Document as a PDF Directly in Microsoft Word [Windows]
Changing a Word file into a PDF is pretty easy. Microsoft has added a PDF conversion tool in Microsoft Word to help convert and save files in PDF format. You can save your document directly as a PDF without requiring additional software. The Save As feature grants you this right.
But, the steps may vary slightly depending on the version of MS Word you're using. But, in general, the procedure is the same.
Here's how to save a Word document as PDF in Microsoft Word:
Step 1: Navigate to the Word file you want to save as PDF and open it. At the upper left of your document, you will see the File button. Press on it.
Step 2: After clicking on File, you will reach a screen with options on the left panel. Find Save As and click on it.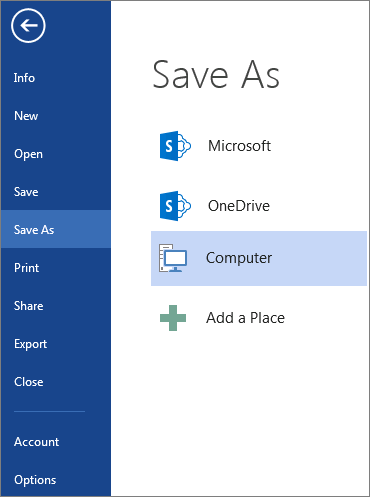 Step 3: Confirm the save location of your current file at the top right above the fields for file name & file type. If you want to retain the save location, tap on the field for file type, then choose PDF (*.PDF) as the output file and hit Save.
Step 4: You can save the PDF file to another folder or use a folder in cloud storage. Click on Other Locations or choose the OneDrive Personal option if you already have an account.
Step 5: Tap the Browse button to save into another folder on the PC. Open your desired folder, tap on the Save as Type section, then choose PDF. Once done, click Save to save the Word doc as a PDF. Now you are done and can view and share the converted files.
After saving your Word as a PDF file, it should show in the default application for opening PDFs. Furthermore, if you want to make changes, just return to the Word document and conduct the changes needed, then repeat these steps to convert it again as a PDF. The good thing is that you can save as many files as possible but only one at a time. Though it can be tiresome to go back and forth between opening documents and saving them as PDFs, the best part is that it doesn't cost you a dime.
But note that it may not be the best option since MS Word doesn't have advanced customization options. The file may not have that professional look. It would be best to use reliable software offering more tweak options for high-quality results.
Also see:
[Comprehensive Tutorial] How to Save a PDF as a Word Document
How to Transfer Word Doc to iPhone in 4 Ways [Easy & Quick]
Part 3. How to Save Word as PDF Using Preview Tool On Mac [Mac]
Preview is a built-in PDF viewer and image viewer for Mac computers. Apart from viewing or printing PDF files and digital images, it also comes in handy for editing these media files. So, when you want to save Word as a PDF, Mac's Preview app can greatly help.
This handy feature can convert, edit and view a wide range of files, including PDFs. So, if you are a Mac user, you have a good service to save those slick Word files to more portable and secure PDF files. Here are steps to save a Word document as PDF using the Preview tool on Mac:
Step 1: Choose the Word file to save to PDF in Finder. Click on the File in the upper left section.
Step 2: Choose the option for Open With. You'll see a menu slide out on your right. Tap on Preview.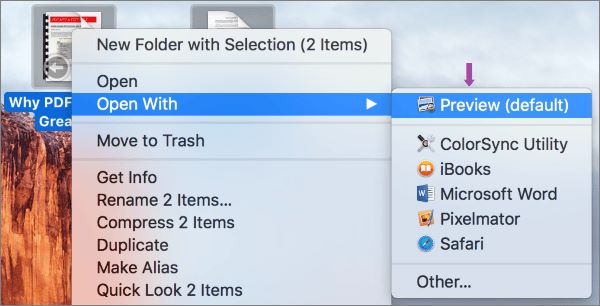 Step 3: While in Preview, tap on File at the top left and choose the Export as PDF option. Finally, tap Save to save the file as a PDF file.
Part 4. How to Save a Word Doc as a PDF Online with Google Drive [Windows & Mac]
One of the simplest ways of saving a Word doc as a PDF is through Google Drive. Here, you just upload your particular file to your Google Drive and then download it as PDF to your device. The procedure is very simple, and you'll save your doc as a PDF in no time. Here are the steps:
Step 1: Head to your Google Drive on your device. You can also log in if this is the first time. Tap the Drive option and press the drop-down icon next to My Drive to bring a list of options.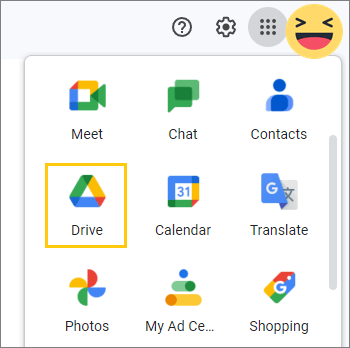 Step 2: Choose the File upload option. Go to the file you want to convert, then tap Open. You'll see the file uploading at the bottom of the screen.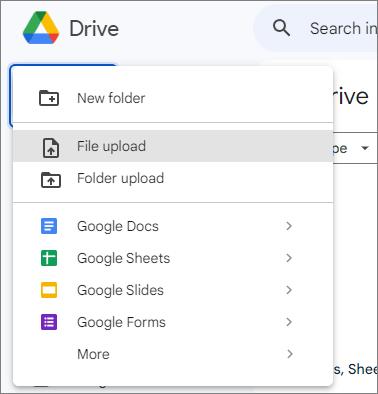 Step 3: Press on the file to open it in Google Docs. Now click File at the top left.
Step 4: Find the Download option and click on it. Choose PDF Document (.PDF) on the window that slides out. Click on the file after it downloads. You can change the file name and location to save.
More relevant articles:
[Solved] How to Change Word Document to PDF in Efficient Ways
Unrestricted Access: Mastering the Art of Removing Security from PDF
Part 5. How to Save Doc as PDF via Online Tools [Windows & Mac]
You can also save your Word doc as PDF using web-based tools. Online PDF Converter is one of the tools you can use to convert doc files to PDF online.
Below are the steps to use:
Step 1: Visit the Online PDF Converter website on a browser. Tap on Choose file.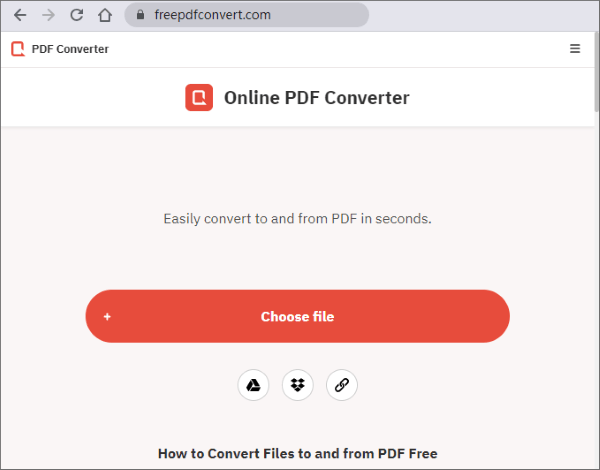 Step 2: After the file is converted, tap on the Download button to save it to the computer.
Conclusion
That is how you save a Word document as a PDF. It is very easy to turn any Word document into PDF. But Coolmuster Word to PDF Converter remains the safest and easiest way to create high-quality PDF files.
Related Articles:
How to Open a PDF in Google Docs [Multiple Useful Methods]
Convert PDF to Google Doc | You Should Try the 4 Methods Recommended
[9 Tools Review] The Hottest PDF to Word Converter Online/Offline
Effective Ways to Password Protect PDF Files with Sensitive Data
How to Split a PDF into Multiple Files? 4 Methods for Both Windows & Mac Users!
Unlocking the Power of Conversion: How to Convert PDF to Word