Microsoft Word is a widely used program for creating reports, applications, letters, forms, or ebooks. You may want to change the Word document to pdf mainly because of compatibility problems. PDF is a handy file format that is highly compatible with most devices operating on different platforms. As such, you may want to change a Word file to PDF to ensure that all parties can access it. But how to change Word document to PDF? It is very simple to create a pdf from the original Word. With the ways mentioned here, getting your final pdf copy will take less time. Read on to learn more!

Method 1. How to Turn a Word Document into a PDF via Word to PDF Converter
If you want to change a Word document to a PDF efficiently without struggles, Coolmuster Word to PDF Converter is the tool for you. This is one of the most notable Word to PDF Converter that enables you to change Word to PDF seamlessly. Besides, it is safe to use as it protects sensitive data while changing your files.
You can customize the output files as you see fit by setting the page size, output folder, and document margins. With this tool, you can convert multiple Word documents into PDFs at the same time and in high quality.
Key features:
Quickly and easily convert Word to PDF.
Support batch conversion of Word documents into PDF.
Create high-quality PDF files.
Safe and clean interface.
Maintain file layout during conversion.
How do I change a Word document to a PDF? Below are the steps to follow:
01Install the program onto your computer, then run it. Once done, add the Word files to your software by clicking on Add File or Add Folder. Also, you can drag your files to the program's interface.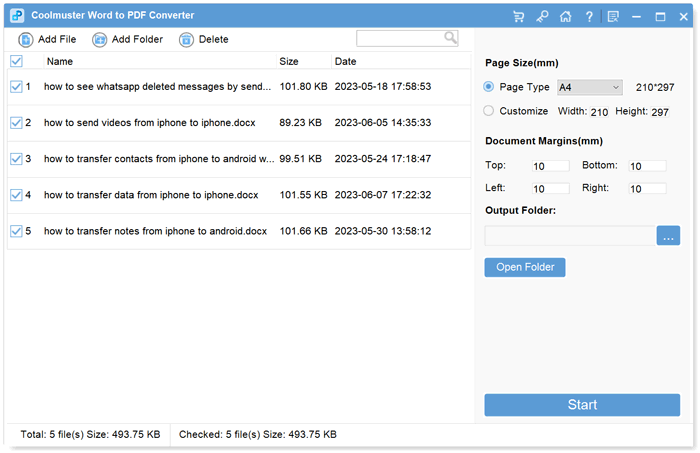 02Next, customize the output PDF document, margins, and size, and choose the output folder. Click Start to begin changing your files. Once done, click Show in folder and check the files converted.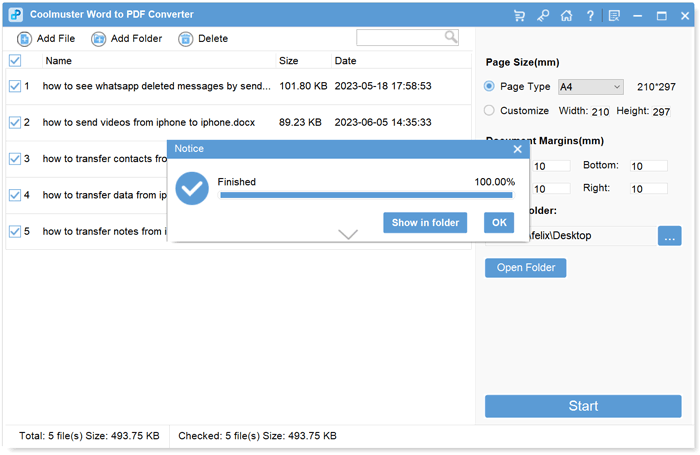 More relevant guides:
Unrestricted Access: Mastering the Art of Removing Security from PDF
How to Open a PDF in Google Docs [Multiple Useful Methods]
Method 2. How to Change a Word Document to a PDF in Microsoft Word
Microsoft Office provides an effective yet simple way of changing Word files to PDF. Even though it does not have reliable and robust features to edit PDFs, it is still a viable option to change the Word document to a PDF without much hassle. The process, however, may vary depending on the Word version your Windows PC has. Overall, it can get you going with the conversion process, but the result won't be perfect. Still, it can do for personal files.
So, how do you change a Word document to a PDF? There are two ways you can use Microsoft Word to change Word doc to PDF.
Option 1. Change Word Document to PDF Using Export Option
One way to use Word to convert a Word file to PDF is by using the Export feature. It is simple to use this function, and you will create your PDF file without any problem.
Below are the steps:
Step 1: First, open your Word document file in Microsoft Word, and after loading, click on the File option and proceed to Export on the left panel. Next, choose Create PDF/XPS Document from the options. Again, click the Create PDF/XPS icon at the lower right to confirm.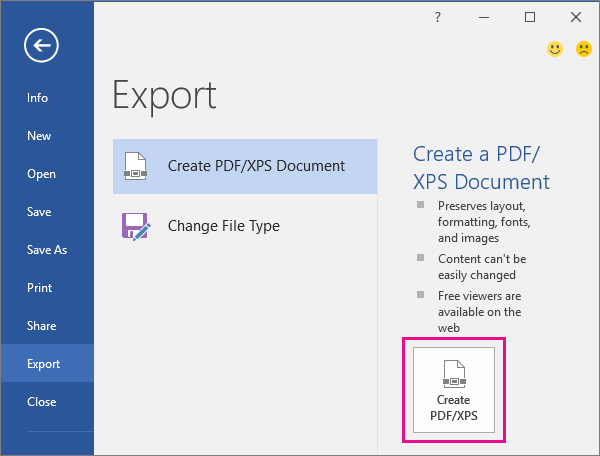 Step 2: On the next window, tap Options, then customize the file properties according to your needs. Finally, press OK, confirm the settings, and close the Options window.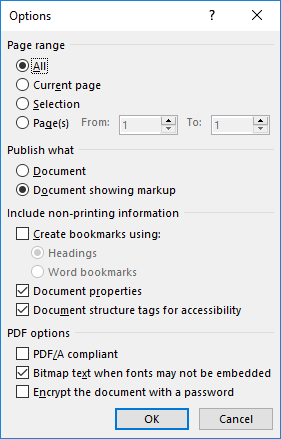 Step 3: Once done, select the destination folder with the file name in the Publish as PDF or XPS window. From there, click the Publish option.
Option 2. Change Word Format to PDF Using Save As Feature
There is also a Save As feature in Microsoft Word which can help you get a PDF file from a Word document. It is as easy as clicking on the Save As option, and you are done!
It's very simple to use with the steps below:
Step 1: Click on the right Word document from your PC to open it on Microsoft Office.
Step 2: Proceed to the File option in the Word document and choose Save As from the options on the left panel. Tap the Save As option from the drop-down menu, then select PDF as the output format.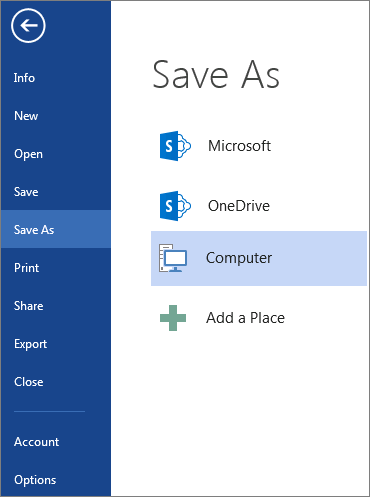 Step 3: Lastly, tap the Save icon to turn the Word file into a PDF.
Method 3. How to Change a Word Document to PDF with Print Function
You can also use the Print feature to convert Word files to PDF. This Print feature can work with any program available on the computer, provided it has printing capabilities. It is straightforward to use Microsoft Print to PDF feature.
The below steps will show you how to change a Word doc to PDF:
Step 1: Start by opening your document in Word, and tap on the File option. Proceed to Print or press the CTRL+P keys simultaneously on your keyboard.
Step 2: From the Print window, press on the drop-down list below the Printer, then choose Microsoft Print to PDF.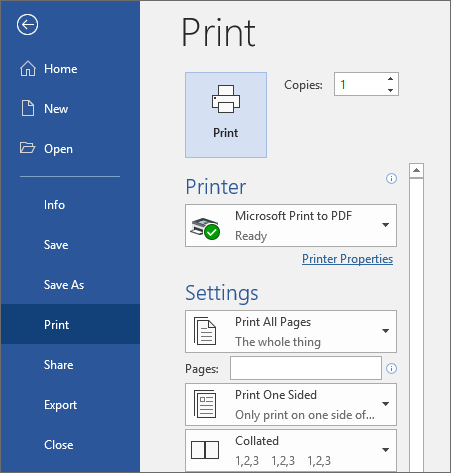 Step 3: Select the settings you wish to add, like the number of pages to be printed. The Word document will start printing to PDF, which means it'll create a printout as a PDF file. Now name the document, choose the folder to save, and save it as a PDF document.
Also see:
Convert PDF to Google Doc | You Should Try the 4 Methods Recommended
[9 Tools Review] The Hottest PDF to Word Converter Online/Offline
Method 4: How to Change Word DOC to PDF Online
If your computer doesn't have Microsoft Office or you don't want to install software, you can convert your files online. There are several online tools to help convert Word documents to PDF for free. Below are some of the tools to use:
Tool 1. HiPDF Word to PDF
This is an online Word-to-PDF converter that lets you change and edit PDF files with ease. With HiPDF, you can change different types of files to PDF and vice versa. You may also compress your PDF size and edit the PDF images, texts or split and combine the PDFs.
Here are steps on how to change Word to PDF using HiPDF:
Step 1: Visit the HiPDF Word to PDF website. Click CHOOSE FILE to upload the Word document from your device.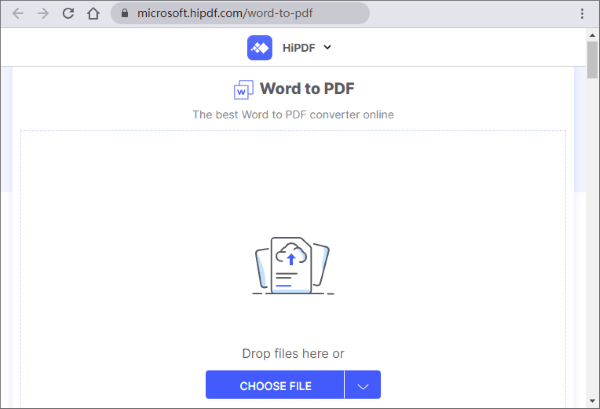 Step 2: Click the Convert button and hit Download after converting the file.
Tool 2. Adobe Acrobat
Adobe Acrobat also comes in handy when changing Word documents to PDF. It is an online tool that is free to use and easily converts your files without installing software. Below are the steps on how to change a Word doc to a PDF with Adobe Acrobat:
Step 1: Head to Adobe Acrobat online tool website from the web browser. Drag the Word file and drop them onto the program. Also, you can tap on the Select a file button to choose your file. Adobe will instantly start converting your Word doc to PDF.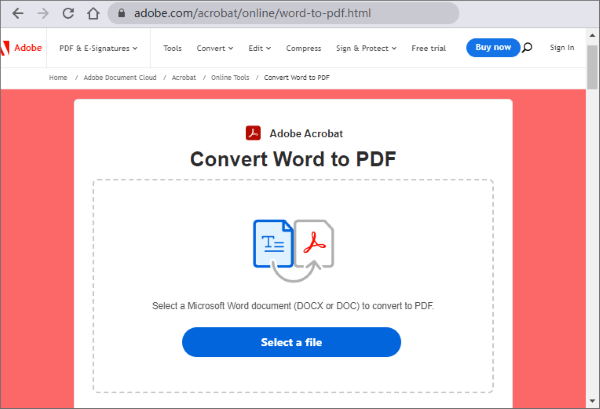 Step 2: Tap Download to save your converted PDF file to the computer.
Tool 3. PDF Converter
Another online tool that can allow you to change Word to PDF is PDF Converter. It does a good job in converting Word files with modest formatting. If you just want to change a Word doc to PDF occasionally, this is the tool to use.
Here's how to change a document from Word to PDF:
Step 1: Visit the PDF Converter website on a browser. Click on Choose file to upload your Word document.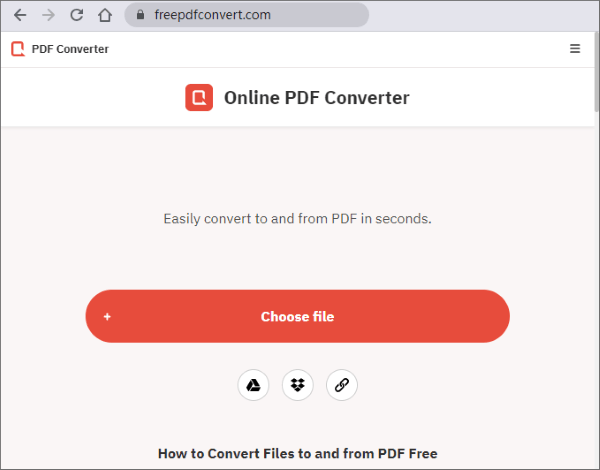 Step 2: Wait for the process to complete. Press the Download button to save your PDF file.
Summary
From this guide, you can see that converting Word to PDF is very simple. Following the options we listed above, you can create your PDF file quickly and share it with others. However, note that some options have limitations and may not convert your files conveniently. In that case, we recommend using Coolmuster Word to PDF Converter for easier, faster file conversions. It converts multiple Word documents to high-quality PDF files in seconds.
Related Articles:
Effective Ways to Password Protect PDF Files with Sensitive Data
How to Split a PDF into Multiple Files? 4 Methods for Both Windows & Mac Users!
[Comprehensive Tutorial] How to Save a PDF as a Word Document
Unlocking the Power of Conversion: How to Convert PDF to Word
Effortless PDF Editing: Insert Pages into Your Document with Just 3 Clicks
No More Watermark Distractions: Learn How to Remove Them from PDFs