Portable Document Format is one of the most extensively used file formats characterized by its ability to enhance document interchange. However, there comes a time when you need to create fillable PDF from Word so that other people can easily fill in the information. Though creating a form may be easier, the hardest part is creating fillable PDF forms. So, understanding how to make a Word document a fillable PDF is important. Luckily, everything you need is right here in this guide. These techniques will help you get the task done perfectly.
Part 1. Can I Create Fillable PDF from Word?
Yes. It is possible to create fillable PDF files from Word. Normally, a fillable PDF means others can fill in the necessary information in the file. Luckily, several methods exist to convert Word document to fillable PDF. You can use Adobe Acrobat's tools to create an editable PDF form. Also, you can use other online tools to turn the Word Doc into a PDF effortlessly.
All in all, getting a fillable PDF from a Word document is easier and much more possible. Continue reading to learn how to make a fillable PDF from Word.
Part 2. How to Make a Word Document Fillable PDF
A fillable PDF is mainly a document with various fields that can be edited and are particularly convenient to fill out and view without a PDF editor. Below are ways to convert Word to fillable PDF:
Way 1. How to Create a Fillable PDF from a Word Document with PDFelement
PDFelement is a well-renowned program with easier-to-use features that makes your file conversion journey a child's play. It lets you create fillable PDF forms from Word in no time. You just have to click the "Edit" button to make the form fillable.
The interactive fields like checkboxes, text boxes, list boxes, and radio buttons are all found in this tool. The PDFelement is an extensive PDF solution that offers all capabilities you require for PDF handling.
Key highlights:
Create a fillable PDF from Word easily.
Edit PDF conveniently by adding text, shapes, or images, inserting links, or adding a watermark.
User-friendly interface that is easy to use.
Edit or convert large PDFs in seconds.
Here are the steps to convert Word Doc to fillable PDF with ease:
01Visit the official page of PDFelement and download it on your computer. Install and launch it. Choose the "Create PDF" button from the home window.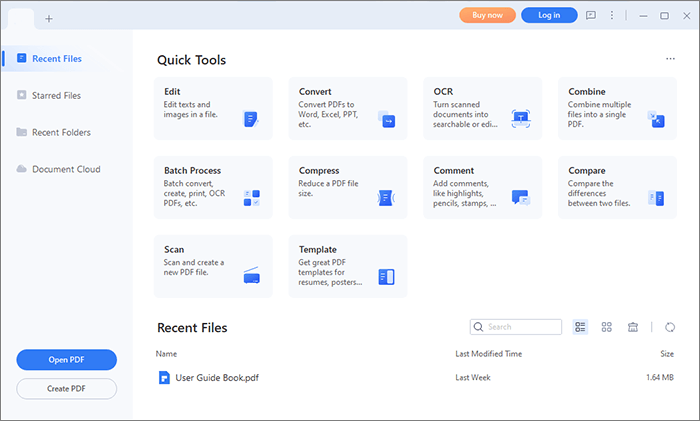 02A popup window will appear; find the Doc files you wish to convert to PDF, then choose them and hit "Open".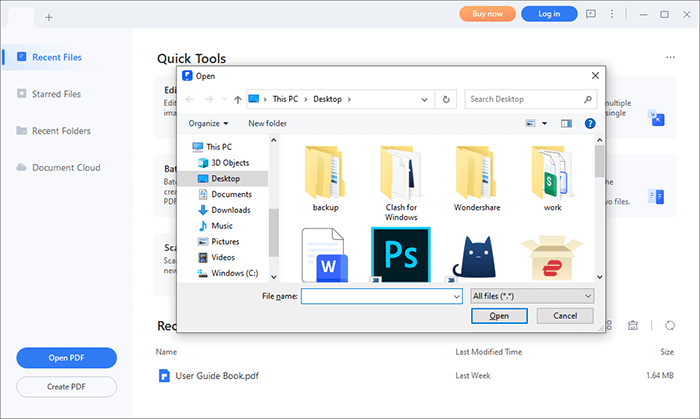 03Your Doc file will convert to PDF automatically. After that, the converted file will open in the program, and you may now manually add fillable fields.
Read More:
Unlock Interactivity: Transforming PDFs into Fillable Forms
From Separate to Seamless: How to Combine PDF Files Effortlessly
Way 2. How to Turn a Word Doc into a Fillable PDF in Adobe Acrobat
Adobe Acrobat is a great tool to manage or edit PDF files. It allows you to create fillable PDFs from Word Docs without much effort. The tool can detect the area you want to fill in and then automatically create editable fields. The form tools help in adding new fillable fields in the form, like text boxes or checkboxes. Therefore, you can create your fillable PDF form from scratch with its free trial. The tool provides a free trial of up to 7 days.
Below are the steps to convert a Word Doc to fillable PDF:
Step 1. First open the Word document, then add empty underscores. You can also leave blank spaces in those areas you would want to be filled. After preparing the file to be saved, save it as a PDF file.
Step 2. Now open your PDF in Adobe Acrobat. Locate the "Tools" tab and click on then select "Prepare Form".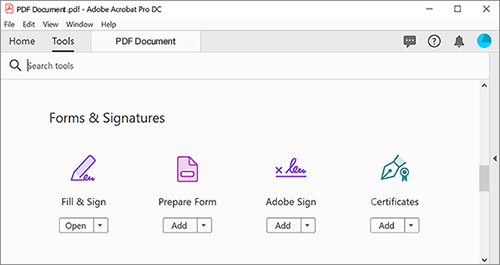 Step 3. Press the "Start" button so that the tool can start detecting the blank areas as it makes editable/fillable PDFs.
Step 4. Preview the PDF for unrecognized form areas and add the text files or drop-down boxes using the top toolbar.
Step 5. Remove any set fillable areas that are incorrect, make more edits, and preview your fillable PDF. From there, head to "File" and press the "Save As" option to save the PDF form.
Can't Miss:
Combine and Merge PDF Files Online - The Best Free PDF Merger Online
Simplify Your Workflow: How to Merge PDF Files in Minutes
Part 3. How to Convert Word to Fillable PDF Free Online
You can also create fillable PDF online without downloading third-party software on your devices. There are simple and easy-to-use tools that can work across all platforms. Check below the tools to use to make editable PDF from Word online:
Way 1. How to Convert a Word Document to a Fillable PDF by Sejda
Sejda is one of the best online tools that can complete this task of converting Word Doc to fillable PDF. It's a complete online tool with a full PDF suite and a wide variety of tools for compression, form-making, e-signature, and much more. The tool can work on all browsers and has an offline version apart from the online version if you want to work offline. It offers a free version but with limitations. To create a fillable form online, turn the Word Doc into PDF and then create your form. It's pretty simple, and these are steps to get started and convert Word Doc to fillable PDF via Sejda:
Step 1. Visit the Sejda website, and upload your Word Doc to be converted. Also, you can upload from cloud storage like Google Drive, Dropbox, etc. After uploading the file, it'll be converted to a PDF instantly.
Step 2. After the conversion, tap on three dots to bring a menu. Choose the "Create Forms" option. The tool will process and drop your file into the text editor to add the necessary form fields.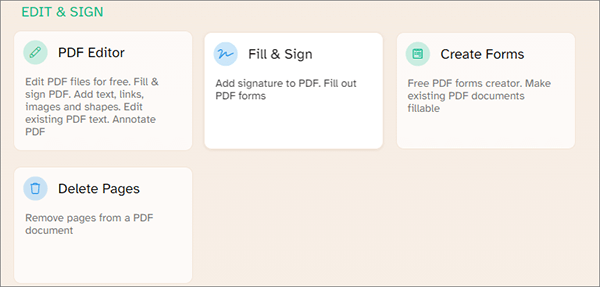 Step 3. From the upper bar, you'll get options for adding text fields, MCQ, labels, drop-downs, and more. Add all fields, then edit the form to your liking.
Step 4. After that, tap the "Apply changes" tab, and another window will appear. Click on the "Keep" tab from the popup and once done processing, tap on the "Download" button, then install a file. You will have successfully created a fillable PDF form.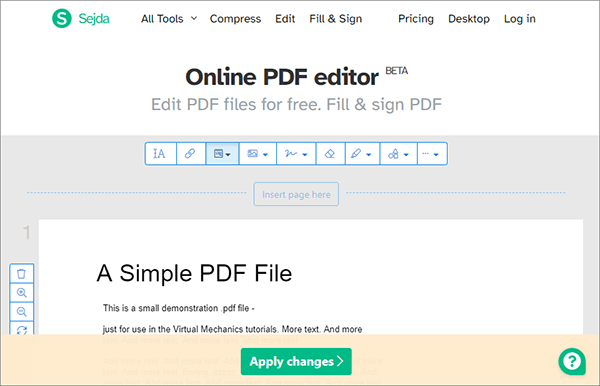 See Also:
How to Save a Word Document as a PDF on Windows & Mac Systems
Effortless PDF Conversion: How to Save Google Docs as PDF on iPhone
Way 2. How to Turn a Document into a Fillable PDF Through DocFly
DocFly is another impeccable online tool that can create editable PDFs from Word. It's still easier to use and free. The form creator tool from its edit module enables users to add text, paragraph fields, text fields, and others. But, users can only download only three PDFs for free.
With that said, here are steps on how to turn a Word document into a fillable PDF via DocFly:
Step 1. Visit docfly.com in the web browser. Drag documents and drop them into the tool. Choose Word document, hit the three dots icon on your right side, then select "Convert to PDF".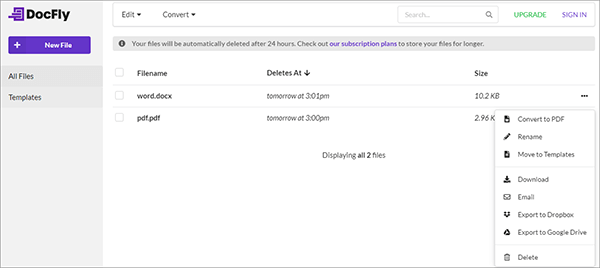 Step 2. From there, tap on the PDF you converted, then enter the Edit module. Choose "PDF Form Creator", then proceed to "Text Fields". Now add the fillable fields where you want.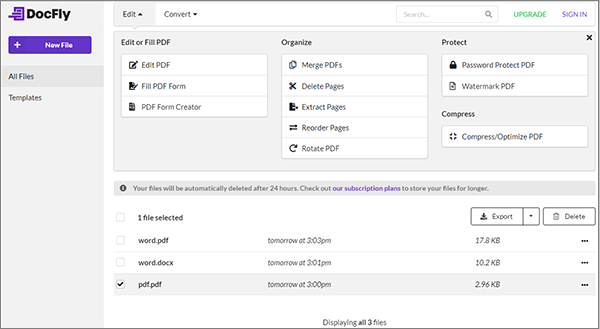 Step 3. Tap "Export" and "Download" to save your fillable PDF to your device.
May Like:
How to Save a Google Doc as a PDF? [Computer & Mobile Device]
Converting Magic: How to Send a Pages Document as a PDF Like a Pro
Part 4. FAQs on Creating Fillable PDFs from Word
Q1. Can MS Word help create a fillable PDF?
Unfortunately, you can't create a fillable PDF in Microsoft Word. Word won't save any interactive form areas while exporting Word as a PDF format; it will become flat.
But, if you don't want to give edits or fill-in rights to those you share the file with, then MS Word can be a better alternative to create non-fillable forms and export them as PDF files.
Q2. How to know if a PDF is fillable?
To know if a form has interactive fields, open it in an Acrobat product like Adobe Reader 7. Then tap on "Highlight Fields" from the Document Message bar. If the interactive field shows a colored fill, then it is fillable.
Bottom Line
That's all on how to convert a Word Doc to a fillable PDF. We've outlined various ways to do that using online and offline tools. However, the recommended tool to create fillable PDFs quickly and easily is PDFelement. It is a versatile, quick, and easier-to-use tool that truly does the job right. If you work on Word and PDFs a lot, you should choose this tool. It makes the conversion process a walkover.
Related Articles:
How to Transfer Word Doc to iPhone in 4 Ways [Easy & Quick]
[Easy Office Solutions] How to Convert DOCX to PDF - 6 Methods
[Solved] How to Change Word Document to PDF in Efficient Ways
Unrestricted Access: Mastering the Art of Removing Security from PDF
How to Open a PDF in Google Docs [Multiple Useful Methods]
Convert PDF to Google Doc | You Should Try the 4 Methods Recommended