Are you also wondering how to convert PDF to Word Docs freely using Zamzar? If you have a PDF file, you may want to change it to a common format like Word. In that case, you should arm yourself with an apt PDF to Word Converter. The tool that is popularly known for such a task is Zamzar. It is easy to use, and more importantly, you don't have to pay a penny. Even though Zamzar is a popular online file converter, many are unaware that it can also convert PDF to Word.
If you have some PDFs that you would wish to change to a Word document via Zamzar, then this guide is for you. In this article, you'll get a detailed overview of how to use the free PDF-to-Word converter Zamzar and the alternative tools.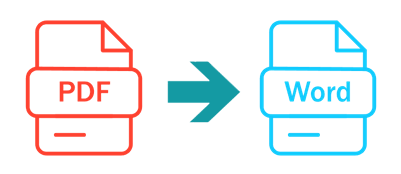 Part 1. Is Zamzar the Best PDF to Word Converter?
It depends. For users with urgent needs, online converters are enough for emergencies. Most online converters like Zamzar are functional, but they are not perfect. Converting files with these online tools has other shortcomings that are as follows:
Limited file size - Most online tools only allow users to import files of a certain size. For instance, Zamzar allows converting only 25 files with a maximum size of 50MB in the free version.
Limited output quality - There is a high chance of getting poor output quality as these free tools don't invest in advanced technology. The conversion quality will depend on the level of technology, and if the technology used isn't up to par, the files converted will be of poor quality.
Privacy concern - Even though online programs delete the uploaded files after several hours, some users might still have their own concerns about leaking their private information.
Also read:
How to Save a Google Doc as a PDF? [Computer & Mobile Device]
Efficient Collaboration: How to Email a Google Doc as a PDF
Part 2. How to Convert PDF Files to Word Using Zamzar
Converting files using Zamzar is a straightforward process. Even if you don't have any tech know-how about file format conversion, you will not find it challenging to turn a PDF into a Word document with Zamzar. Besides, the entire process can happen in just minutes. But this will depend on your file size and how stable your internet connection is.
It has never been easier to change PDF to Word using Zamzar. Though the conversion may take more time, and the output may not be of great quality, it can still save the day.
Below is how to convert a PDF file to a Word document via Zamzar:
Step 1. Visit the Zamzar PDF to Word website to open its homepage. Tap on the Choose Files tab. Now select all the PDF files you want to convert. Remember, you can only convert files with a size of 50MB.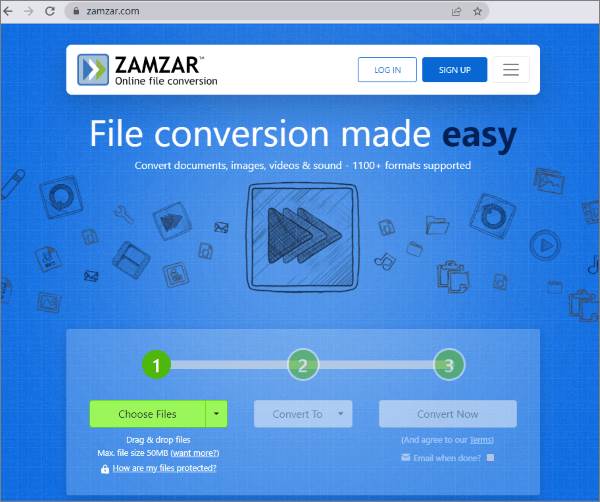 Step 2. Now tap on the Convert To button, then select DOCX from the drop-down menu as the output format.
Step 3. Tap the Convert Now button to trigger PDF to Word document conversion process. Once the conversion process finishes, you can now download your files.
Part 3. How to Convert PDF to Word with Zamzar Alternative Tools
For other users, if Zamzar isn't a perfect tool for converting PDF files to MS Word, below are some alternative tools you can consider:
Tool 1. Coolmuster PDF to Word Converter [Best Alternative Offline]
To overcome problems associated with online PDF to Word converters like Zamzar, you require a powerful tool with all the features to simplify the conversion process. One tool that rocks for its wonderfulness is Coolmuster PDF to Word Converter. This is a perfect Zamzar alternative that boasts advanced features to produce only top results for users. It's all you require to take your file conversion abilities to a new level.
This is a prominent software used by millions of people around the globe. It can help ease how users convert PDFs to other formats, such as Word. What's more, it supports batch conversions, so if you have many PDF files to convert to Word, you can conveniently do so using this tool. The partial conversion function also comes in handy for those who want to only convert specific PDF pages. The speed at which this tool converts PDFs is excellent, and in just a few clicks, you will have your files ready to be edited.
During the conversion, the formats and layouts are replicated. The user interface is concise and well-designed to improve the user experience. This makes it easier to use the available functions to get only the top results. The preview feature is a big plus of this tool. Before converting the PDF files, you can preview them as you delete unnecessary files.
Top Highlights of this Coolmuster PDF to Word Converter
Export your PDF files into Word Docs easily.
Convert multiple PDFs to Word at the same time.
Replicate all elements available in the PDF in your new document.
Well-designed interface.
Allow previewing of PDF files before conversion.
Support batch & partial conversions.
Provide only accurate results at faster speeds.
Protect information during the conversion process.
Below are steps to use when converting PDF to Word Using Coolmuster PDF to Word Converter:
01Run the software on the computer and add files
Start by installing the program on the computer. Launch it and choose either the Add Files or Add Folder buttons to upload the files into the tool. You can also drag your files and drop them into the tool.
02Set the output
Decide how you want to convert the PDF files using a specific mode. To convert all files, use the All mode; to convert only the files you are previewing, use the Current mode; and to convert a range of PDF pages, use the Range mode. After that, hit Enter on the PC's keyboard. Choose the location to save the files.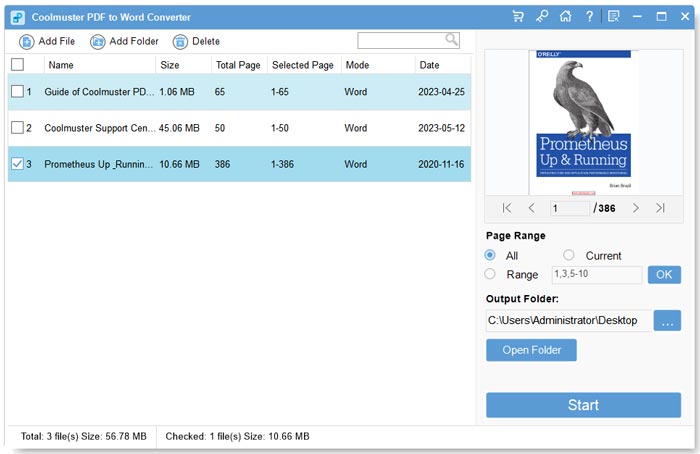 03Start converting files
Tap the Start icon to initiate the conversion process. When the progress bar reaches 100%, tap the Open button next to browse and check your output files.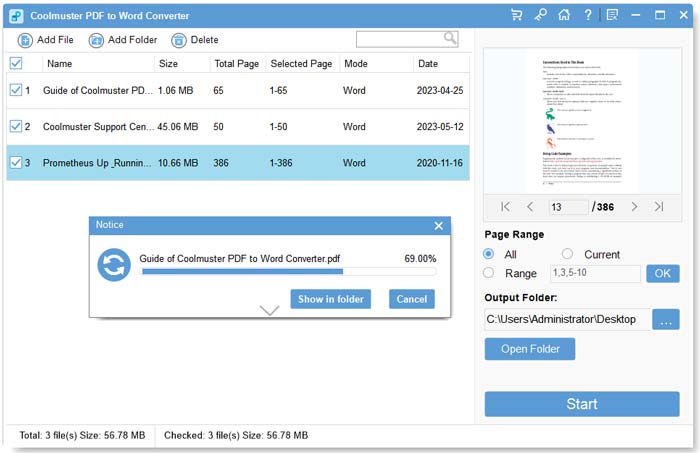 Tool 2. Adobe Acrobat Online [Best Alternative Online]
If you wish to convert PDF to Word Docs while maintaining the original PDF formatting, Adobe Acrobat is a reliable tool for your needs. It is a popular software tool for creating, viewing, managing, and manipulating PDFs, but do you know that there are also official online PDF tools of Adobe Acrobat?
Here're the steps for converting PDF to Word Docs :
Step 1: Go to Adobe Acrobat online PDF to Word conversion page.
Step 2: Drag and drop your file onto the drop zone. Alternatively, click the Select Files button to navigate to your PDF file and add it for conversion. The file will start uploading.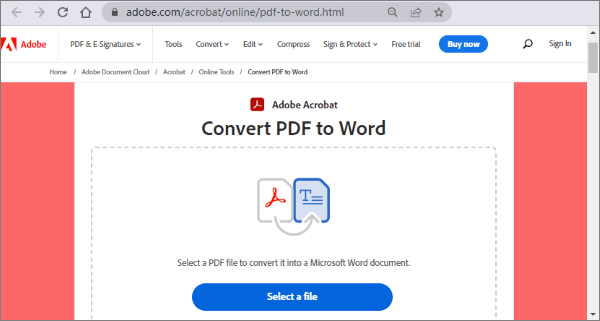 Step 3: Click the Download button to save the converted Word Document on your computer.
More relevant articles:
How to Convert Microsoft Word Document to PDF: Quick and Efficient
How to Open a PDF in Google Docs [Multiple Useful Methods]
Conclusion
Zamzar is a handy tool that helps in converting PDF files to Word. With it, you can seamlessly create a few Word documents from PDFs. But it's not the perfect choice to use. The online conversion potentially places your files in danger and needs a stable internet to operate.
Coolmuster PDF to Word Converter is the best alternative to Zamzar since it works offline to create a secure user environment. Since conversion happens offline, all your files are stored on your device's local storage, and you do not need to upload any documents to the internet. There are no file size limitations, and the output produced is first-rate.
Related Articles:
How to Convert JPG to PDF Like a Pro [Computer & Mobile Phones]
Effortlessly Convert ePub to PDF on Your Computer: Our Top Picks
Retain PDF Layout: How to Separate Pages in PDF Effortlessly
How to Insert Multiple Page PDF into Word with Ease [4 Methods]
How to Export PDF to Word Easily? Your Ultimate How-To Guide
Streamline PDF Management: A Comprehensive Review of iLove PDF Merge