If you have experience working with Word and PDF documents using online converter services, then iLovePDF is a name you've likely encountered. It's one of the popular online PDF converter tools that has garnered millions of users all over. People prefer using this small tool to perform their everyday tasks with PDFs. However, not all understand how to convert PDF to Word using iLovePDF.
Luckily, this guide provides a comprehensive overview of iLovePDF to Word. You'll explore every detail of this flawless PDF converter tool, along with a seamless alternative.
Part 1. How to Convert PDF to Word with iLovePDF
The iLovePDF is an online tool that supports converting PDF documents to Microsoft Word format. It's a simple yet effective online PDF converter that is easy to use. It has a fair collection of features, making it a good online tool that's mostly preferred by many to convert their PDF files to Word documents.
iLovePDF can import PDFs from local storage on your computer, Google Drive, or Dropbox. The PDF to Word converter iLovePDF also supports the drag-and-drop feature that quickly adds files to the tool. As such, amateurs will find it easy to perform the conversion. Using this PDF converter tool is quite straightforward. You just need an internet connection to start converting PDFs to Word documents. Below are the steps to convert PDF to Word using the iLovePDF:
Step 1. Visit the iLovePDF website on any web browser. On the tool's interface, tap "Select PDF file", then upload the desired PDF file for Word conversion. Also, you can drag your files and drop them into the window.

Step 2. The PDF file you uploaded will show on the iLovePDF window. You'll see a plus icon at the upper right, where you can add other files. After the ward, proceed to the lower right section and tap on the "Convert to WORD" option.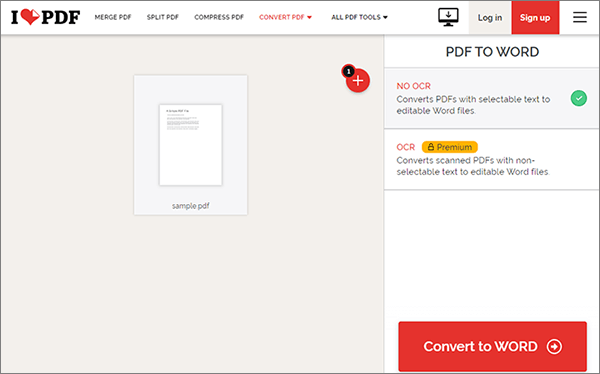 Step 3. Once done, your PDF will be changed by this tool. When the conversion is complete, tap "Download", and your file will be stored on the computer. You can also save the converted file to the cloud or share the download link.
Read More:
How to Convert PDF to Word in Windows 10/11? A User-Friendly Guide
Streamline Your Document Workflow: How to Convert PDF to Word on Mac
Part 2. Pros and Cons of iLovePDF
Online PDF converters such as iLovePDF are useful for turning PDFs into Word Docs for free. Besides, the online converter tools can help save memory on your device since they don't need installation. However, the iLovePDF tool has various pros and cons that you should be mindful of to decide whether it is the right program for the task.
Pros:
Free to use - iLovePDF offers a free plan to access basic features.
Ease of use - The tool has an easy interface to allow users to convert their files without problems.
Integration with cloud storage services - The PDF to Word iLovePDF integrates with the most popular cloud services, such as Dropbox and Google Drive, which allows users to import/export files directly from their cloud accounts.
No installation - You can use the iLovePDF converter online without installing it, which helps save space on your computer.
Easier accessibility - You can access these online tools anytime and on any device with an internet connection.
Cons:
Slow - The process of uploading and converting files may be slow.
Limitation - The free version is limited to only one file for each task.
Unsafe - Not safe to use, and if you have confidential data in your document, it may leak on the internet.
Restrict file size - Limit the size of the file to upload.
Poor output - Low quality of output file.
It's evident that the iLovePDF PDF converter isn't the best tool to convert PDF to Word. Even though it can be useful, it won't be a good tool if you have many PDF files with complex formatting. Therefore, you had better look for a desktop solution that can convert your files without limitations and retain all the elements.
In the next section, we introduce a powerful iLovePDF alternative software that can convert PDF to Word without any flaws, which is useful when dealing with official and sensitive files.
May Like:
[Comprehensive Tutorial] How to Save a PDF as a Word Document
[Efficient Office Solutions] How to Convert Word to PDF in 4 Different Methods
Part 3. How to Convert PDF to Word by iLovePDF Alternative
Coolmuster PDF to Word Converter is designed with users in mind, offering top-tier features for seamless PDF interaction. Its well-organized interface ensures fast and easy use, enabling instant conversion from PDF to Microsoft Word. The tool allows file previewing before conversion, ensuring accurate results by excluding unnecessary content. It retains original text style, graphics, tables, and layout, making it essential for professional documents.
The converter is particularly suited for bulk conversions, capable of handling up to 200 PDFs simultaneously. It places a strong emphasis on data security, implementing robust measures to safeguard sensitive information during the conversion process. Highly regarded as a top-rated alternative to iLovePDF, Coolmuster PDF to Word Converter is renowned for its efficiency and reliability, making it a sought-after solution in the market.
That being said, here are the focal points of Coolmuster PDF to Word Converter:
Smoothly and effortlessly convert PDF files to Docx/Doc format.
Preserve layout, images, and fonts when converting PDF to Word.
Preview as you choose the specific pages to convert.
Convert up to 200 PDFs at once.
Reliable, fast, and accurate results.
Very safe to use as it protects all user data and files.
Check the below steps to smoothly convert PDF to Word with this iLovePDF alternative:
01Download, install, and launch Coolmuster PDF to Word Converter. Choose " Add File" or "Add Folder" on the toolbar at the top to import the PDF files. Alternatively, drag and drop the files into the program at once. View the files as you delete the unnecessary ones using the "Delete" button.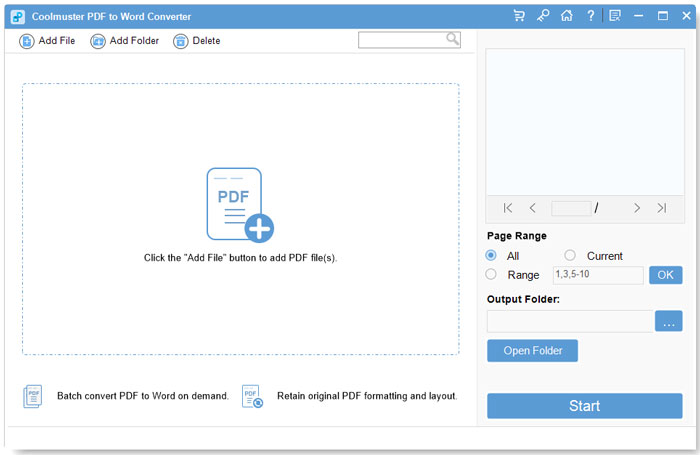 02The program offers three Page Range modes: "All" (Default), "Current", and "Range". Pick your preferred mode and specify the output file location. Customize storage by clicking "Browse".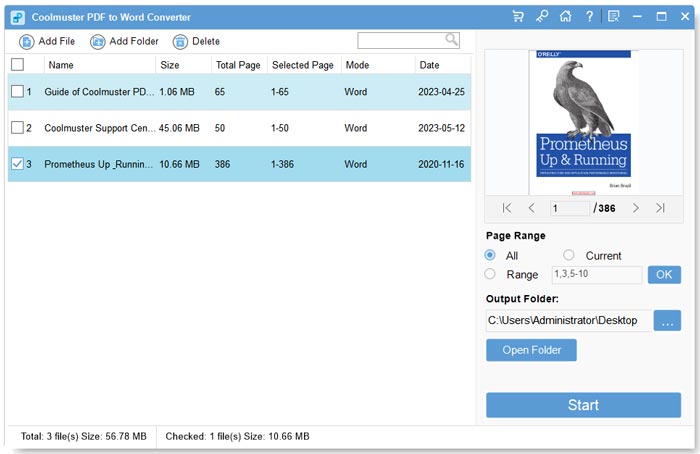 03Finally, press the "Start" tab to initiate the conversion process. Keep checking the progress bar. The conversion will finish when the bar reaches 100%. Tap "Open" to check the converted files.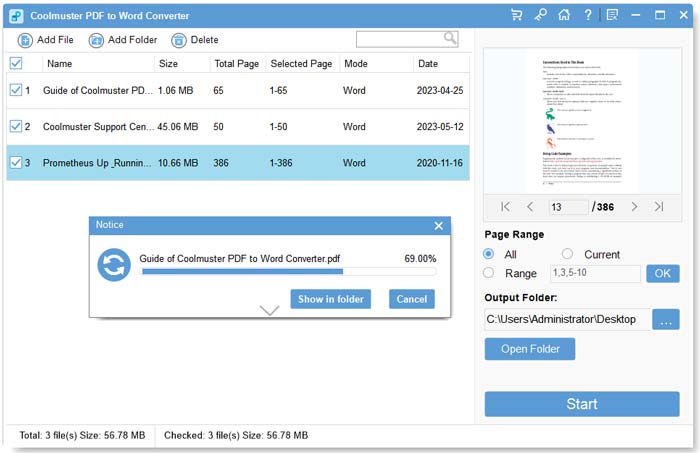 See Also:
How to Convert Word to PDF Free Offline & Online: Easily Solved
Effortless Document Transformation: Converting Word to PDF with iLovePDF
Last Words
That is all about PDF to Word converter iLovePDF. If using the iLovePDF has been tricky for you, now everything is as clear as daylight. If you find the iLovePDF confined in features, you may rather not use its services. Coolmuster PDF to Word Converter is the finest iLovePDF alternative worth a try. It is feature-rich, and its ability to replicate all PDF elements in output files is the cherry on top. It is worth your time and effort. So, give it a try.
Related Articles:
How to Convert Microsoft Word Document to PDF: Quick and Efficient
Complete Guide on How to Transfer PDF to iPhone
Say Goodbye to Lengthy PDFs: Adobe Split PDF for Enhanced Productivity
[Easy Office Solution] How to Link a PDF in Google Docs | 4 Methods
The Quest for the Best PDF to Word Converter: Expert Reviews
How to Insert Multiple Page PDF into Word with Ease [4 Methods]