Have you created a Word document and now want to share it with others? Of course, you'd want to be sure each person you shared with can open it on any device, regardless of the software or system of the device. Also, you wouldn't want the original formatting modified and unauthorized edits made in the document. In that case, converting the document to PDF is a better solution. The good news is that you can convert Word to PDF for free, thanks to the many available free tools. Besides, some are entirely online, so, no need to install them on your device.
Follow this guide closely to learn how to turn Word into PDF for free.

Part 1. What Are the Benefits of Converting Word to PDF?
Nowadays, using Word documents and PDF files is becoming more common. Word is a great tool for processing documents, while PDF is a preferred format for sharing documents.
Below are various benefits of converting Word to PDF:
Compatibility - PDF format is known for its high compatibility with most devices and OS making it a better format than Word in accessibility.
Small file size - Normally, emails limit the files you can share. However, the file size for PDFs is quite smaller than for Word documents. Therefore, such files can be shared or uploaded easily.
Security - All online files are at risk of security breaches and cyber-attacks. But you can add passwords to your PDF files for protection, making them a highly preferred file format.
Very easier to print - Formatting of documents normally changes while printing. But with PDFfiles, you will easily print them in high quality since they are printer-friendly.
Also see:
Combine and Merge PDF Files Online - The Best Free PDF Merger Online
How to Save a Google Doc as a PDF? [Computer & Mobile Device]
Part 2. How to Convert Word to PDF Offline Free
Offline conversion is the quickest, easiest, and safest way to change Word into PDF. Besides, you don't require an internet connection to convert your files, which is a huge plus since the network can sometimes interfere with the conversion process. And several offline tools come to your aid. But note that you must install some of them on your device beforehand. Check the best ways to convert Word to PDF offline for free:
Method 1. Coolmuster Word to PDF Converter
Coolmuster Word to PDF Converter is your best choice to effortlessly change Word to PDF offline. It tops as an easier-to-use tool that leads to quick conversions. The batch file conversion is beneficial since you don't have to add one file at a time as you convert it. No limitations are encountered with this tool; you can conveniently change your documents to PDFs without stress.
The created PDF files are of high quality, making it the best tool for creating good-looking PDFs for projects or work-related. What's more, your files are kept secure during the conversion process. The wide range of customization options allows you to make the necessary changes to your files.
Key Highlights
Convert multiple Word documents to PDF at the same time.
Effortlessly convert Word to PDF.
Retain the layout and integrity of files when converting them.
Quick results.
Work on both Mac and Windows.
How to use Coolmuster Word to PDF Converter to convert Word to PDF free:
01Start by downloading the program on the computer, then launch it. When you reach the interface, add the Word docs by clicking Add File or Add Folder. You can also drag and drop the files onto the software.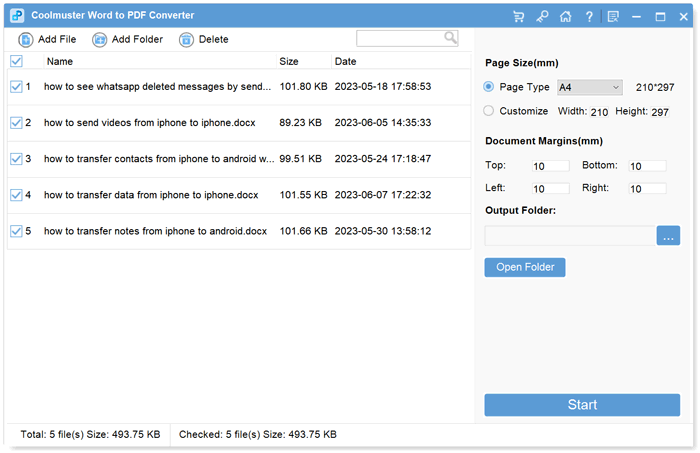 02Once done, modify the page document, margins, and size. Choose the output folder.
03Press the Start tab to change Word into PDF. Wait for the process to complete, and you may now review your files.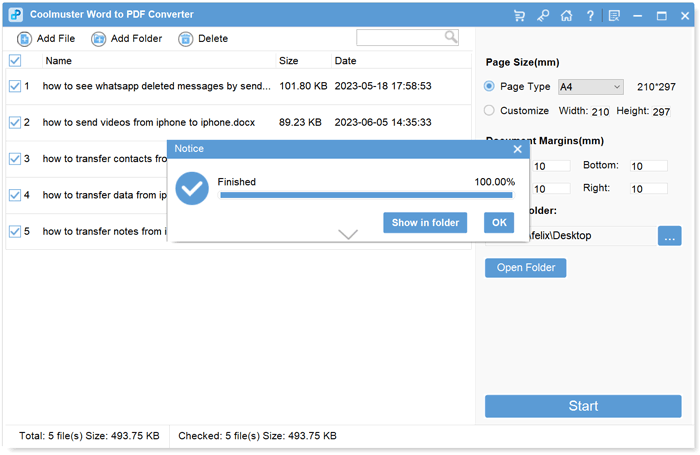 Method 2. WPS Office Offline
If you want to convert Word docs to PDFs offline, WPS Office can help. It lets you edit and format the file before its converted and allows you to preview the pages you converted. WPS Office provides many editing options, including free Word-to-PDF conversion.
Here are steps to use WPS Office to convert your Word document to PDF for free:
Step 1: Head to the WPS Office website and hit the Free Download tab to install the tool on the computer.
Step 2: Open the document to be converted in WPS Office. Then head to the tools section and choose the Export to PDF icon.

Step 3: Check the options provided and hit Export to PDF.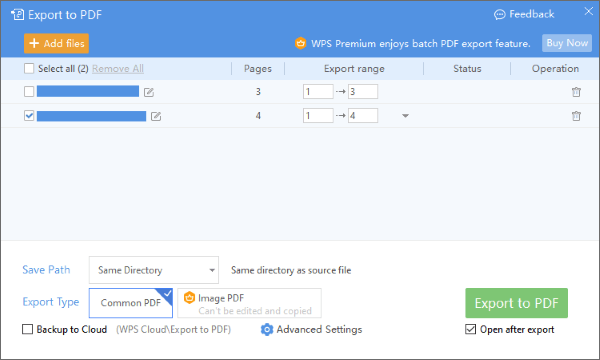 Method 3. Microsoft Word
If you have Microsoft Office on your computer, you can easily convert Word documents to PDF. You don't have to install apps or services on your Windows computer. If you have a Windows 10 computer, then it will be a piece of cake to turn your documents into PDFs. Here are the two common ways to turn documents into PDFs for free.
Way 1. Convert from Word to PDF Free in MS Word Using the Save As Option
This is one way of using MS Word to change Word to PDF. The File tab has the Save As option to save your document as a PDF.
Here are the steps:
Step 1: Tap on the document to open it and hit on the File tab from the menu.

Step 2: Choose Save As from the options. Choose the PDF option from the listed file formats. Then hit Save.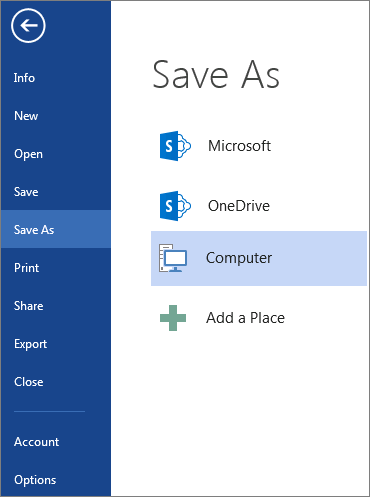 Way 2. Convert Word to PDF for free in MS Word via Export Option
You will also find the Export option in Microsoft Office, which can help you change the Word document to PDF.
Here are the steps:
Step 1: First, open a Word document in MS Word. Proceed to the File button from the menu.
Step 2: Hit the Export option, then tap on the option for Create PDF/XPS.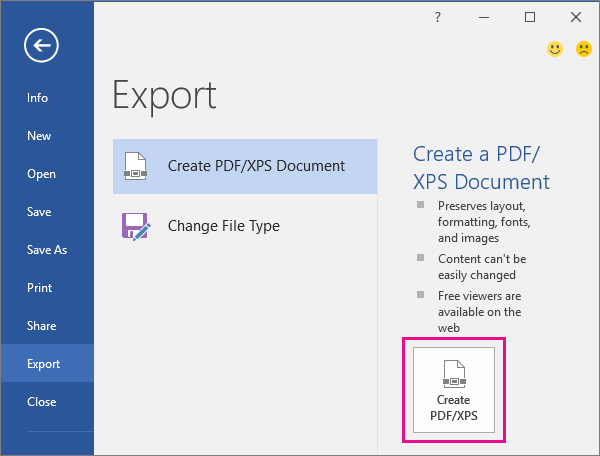 Step 3: Next, choose optimization options: the Standard option or the Minimum size option. Once done, tap Publish.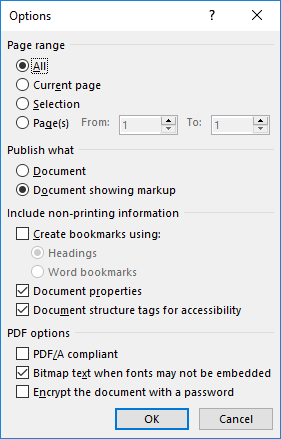 More relevant guides:
Simplify Your Workflow: How to Merge PDF Files in Minutes
From Separate to Seamless: How to Combine PDF Files Effortlessly
Part 3. How to Convert Word to PDF Online Free
Apart from converting your files offline, you can also do that online. The good thing is that plenty of tools are available to do the task. You only need a stable and strong internet connection to start the conversion process.
Tool 1. WPS Office Online
This is a user-friendly program that may assist you in managing documents efficiently. You can easily change your Word files to PDF online with WPS Office.
Here are the steps:
Step 1: Head to the WPS Office site to start converting your files. Tap on the Convert button.
Step 2: Tap on the Online Tools tab at the top left. Choose Word to PDF from the list. Upload your document to the tool by tapping Select Word File.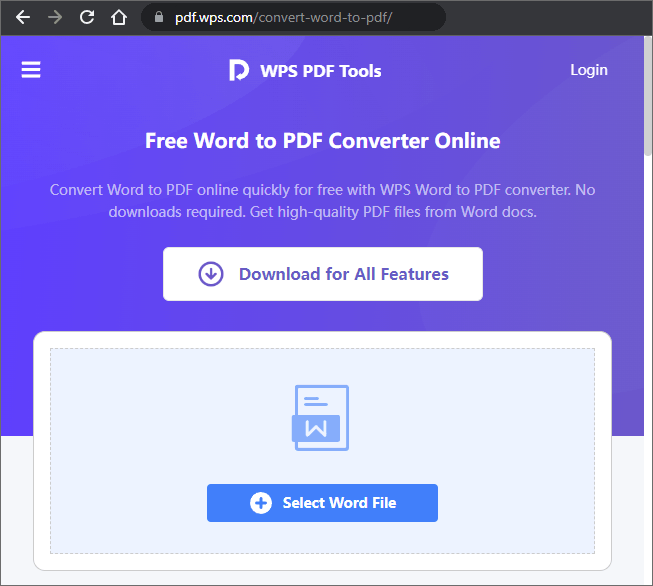 Step 3: From there, tap the Download tab to convert your document to PDF.
Tool 2. Online2PDF
Online2PDF is a free Word-to-PDF Converter online with amazing features. It enables you to change a single file size of 50MB maximum. Also, it supports converting a maximum of 20 files with a size limit of 100MB. But, the process can be slower while converting multiple files at once.
Here are the steps to follow to free convert Word to PDF:
Step 1: Choose the Word files you wish to convert by tapping the Select files button.
Step 2: You can customize your output files freely. After that, click on Convert to change your files.
Tool 3. Zamzar
This is an online converter that's known to convert a wide variety of files. It enables you to add files from the computer, drag/drop them, or directly add links containing your documents. However, with this tool, you can only convert files up to 50MB and allow the conversion of two files daily.
Here are the steps:
Step 1: Visit the Zamzar website and click the Choose Files button. Click Convert To for the desired file format.
Step 2: Finally, hit Convert Now to convert your files.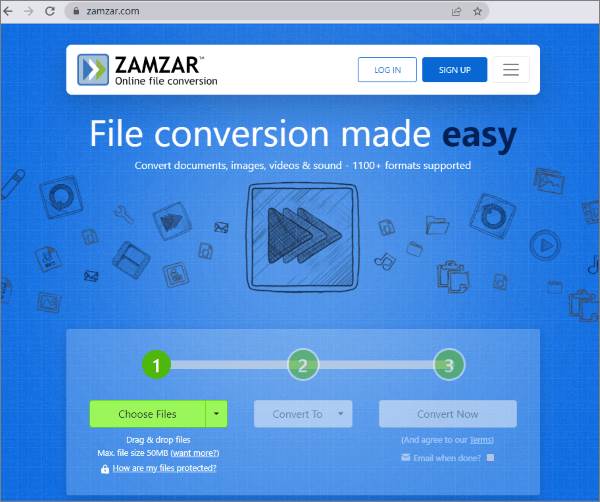 Conclusion
This is a complete guide on how to convert Word to PDF free with online and offline methods. Several offline and online Word-to-PDF converter apps can help you turn Word to PDF for free.
The most suitable option is Coolmuster Word to PDF Converter. It lets you easily and quickly convert multiple Word documents to PDF at once. The many customization options will allow you to modify your PDF files without a hassle.
Related Articles:
Effortless PDF Conversion: How to Save Google Docs as PDF on iPhone
Converting Magic: How to Send a Pages Document as a PDF Like a Pro
Unrestricted Access: Mastering the Art of Removing Security from PDF
How to Open a PDF in Google Docs [Multiple Useful Methods]
Convert PDF to Google Doc | You Should Try the 4 Methods Recommended
[9 Tools Review] The Hottest PDF to Word Converter Online/Offline