Undeniably, PDF format is a popular file format mostly used by staff members. And it's for a good cause. Most people like converting MS Word into PDF due to its many benefits. When you change a Word Doc to PDF, you will get a file with a fixed layout and organized pages. Additionally, the security index of such files is very high.
If you're here, you probably want to know how to convert Word to PDF with iLovePDF. This sophisticated tool creates PDFs from Word documents, making it an appealing tool for many office workers. Not just these two files, it also supports other file formats. Because it has numerous functions, most people may not know how to use it.
In this guide, you'll understand everything about the Word to PDF iLovePDF converter, its pros and cons, how to use it, a better alternative, and much more. So keep reading.
Part 1. Basic Info About iLovePDF
iLovePDF is one of the most used Word-to-PDF converters, but only a few know it better. Here are some points to note about this great PDF creator tool.
1.1 What's iLovePDF?
iLovePDF is a useful tool that can help you edit, organize, compress, rotate, and do much more with your PDF files. It is an effective tool that can be accessed on almost all devices. You may use it on a webpage or even install it on your computer.
Apart from that, mobile applications allow you to convert your PDFs anytime and anywhere. iLovePDF offers just enough features to help you manage your files with ease. You can split or merge your PDF files, convert PDFs to other formats and vice versa, and do much more.
The iLovePDF's extensive modules, like PDF conversion, splitting, etc., make it stand out. Notably, it caters specifically to industry needs, thus granting users the ability to add watermarks to their files, a feature suitable for design and legal industry professionals. The tool's versatility further offers integration capabilities with cloud storage services, including Dropbox, Google Drive, and more.
Read More:
How to Save a Word Document as a PDF on Windows & Mac Systems
From PDF to Word: The Easy Way to Convert Files on Windows
1.2 iLovePDF Word to PDF Converter Plans & Pricing
The pricing of iLovePDF is within a reasonable range compared to similar tools. The tool comes with desktop and online versions. The desktop version is free to use and is offered in two pricing plans. The cost starts at $4 per month for the Premium plan. Besides, it also offers a free trial at no cost. So, if you want to convert only a few Word files to PDF, a free version can help you.
The free account allows you to access a few tools, and each file you upload is securely channeled through an HTTPS connection. For the non-tech guys, this tool is more secure than a tool that uses a standard HTTP connection.
However, the free account is limited regarding tools, though they can handle a specified number of files. But these limits are reduced if you pay a monthly premium cost. You will find all PDF tools included in this plan with a significantly raised file threshold.
Besides, the file size you can upload is also increased with a paid plan, and no annoying ads in any version you use.
1.3 iLovePDF Word to PDF Converter Pros & Cons
iLovePDF offers numerous advantages which enhance user experience as well as productivity. On the other hand, it also has downsides that you should know.
Pros:
* iLovePDF is a complete tool that supports converting, splitting, merging, and editing PDF files, which increases efficiency.
* It has a user-friendly interface which makes it easier for novice people to maneuver around when converting and editing their files.
* iLovePDF seamlessly integrates with popular services like Dropbox and Google Drive to handle files easily.
Cons:
* It comes with limited features in free versions. You will only find security and watermarking features in the Premium version. This leads to constraint functionality for users who wish to use it for free.
* The free version has many ads that may cause disruptions while using.
Can't Miss:
Unlocking the Power of Conversion: How to Convert PDF to Word
[9 Tools Review] The Hottest PDF to Word Converter Online/Offline
Part 2. How to Convert Doc to PDF with iLovePDF
Converting Docx to PDF is easy with iLovePDF, a simple online software. You can also use it to convert multiple of your files. This helps make the conversion process an easier task. If you have many files, converting them will take you less time. But, there is a limit to the number of files you can convert with its free version. Here are steps to convert Docx to PDF iLovePDF:
Step 1. Add Word Documents
Visit iLovePDF's official site, select "Word to PDF", upload your document by clicking "Select WORD files", or drag and drop files onto the tool's interface. Use the "+" sign to add more files if needed. Convert multiple files simultaneously.
Step 2. Turn Doc to PDF
Once all files are uploaded, click "Convert to PDF" in the lower right section of the tool. The conversion process will start, and the duration may vary depending on the number and size of the files being converted.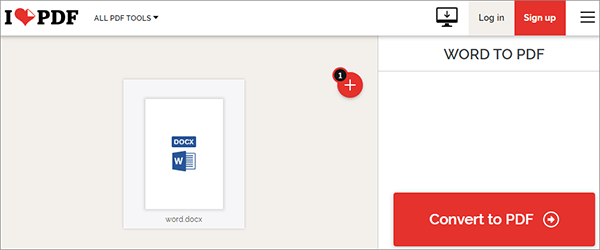 Step 3. Save PDF Files
After converting the files, you will see a large Red button with "Download PDF". Tap on it to save the files you converted.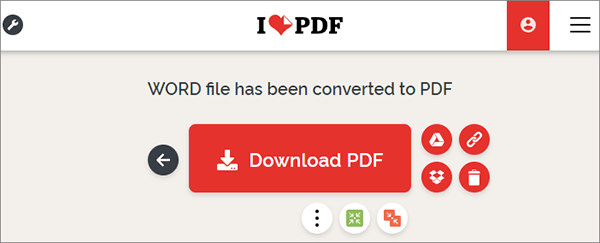 May Like:
[Comprehensive Tutorial] How to Save a PDF as a Word Document
Effortless PDF Conversion: How to Save Google Docs as PDF on iPhone
Part 3. Best iLovePDF Alternative - Coolmuster Word to PDF Converter
If you feel the iLovePDF tool isn't right for you, a better alternative software you should consider using to convert your Doc files to PDF is Coolmuster Word to PDF Converter. This tool is designed with beginners in mind, making it easier to use. It is your one-stop shop for all your Word to PDF conversion needs.
You may use it to create those high-quality PDFs. With the many customizable options, you are assured of getting professional-like results. Besides, it is a safe-to-use tool, and your files won't be at risk. Even after conversion, your content integrity is retained, as well as the layout. It is a great tool to convert Word to PDF without hiccups.
Key features:
Effortlessly convert Word Docs to PDF.
Batch conversion.
Retain the original formatting, layout, and fonts.
Customize output files as you wish.
Easier to use the interface.
Below are steps to use when converting Word Docs to PDF using Coolmuster Word to PDF Converter:
01First, install the tool on the PC and launch it. You'll see its primary interface. Start adding files right away by clicking on "Add File".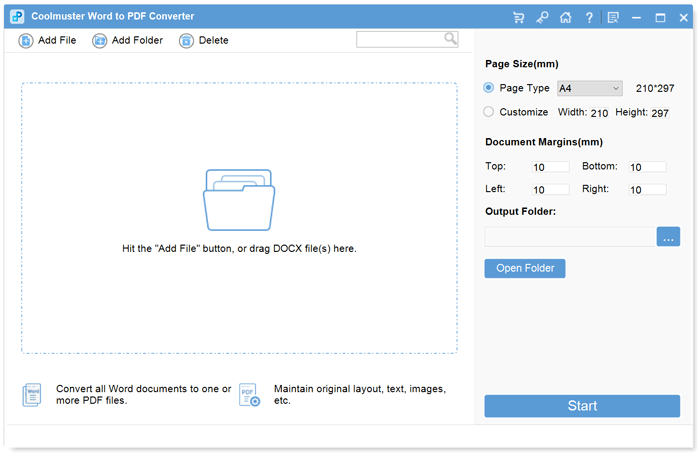 02You can customize your files by changing the margins and page size.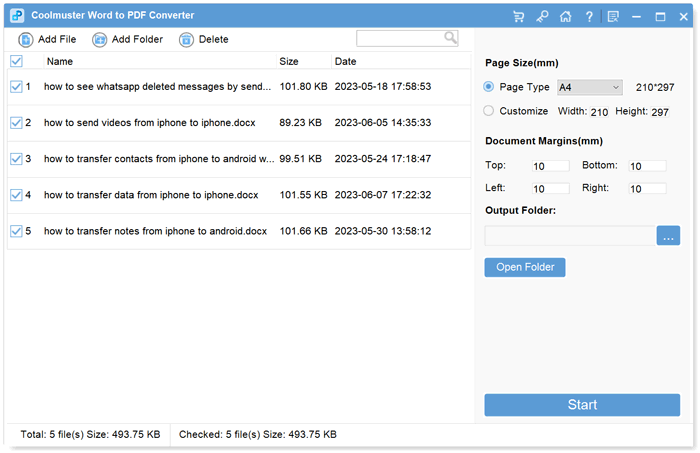 03From there, press the "Start" icon, and the process will start immediately. Wait for some time for your files to convert. It's as simple as that.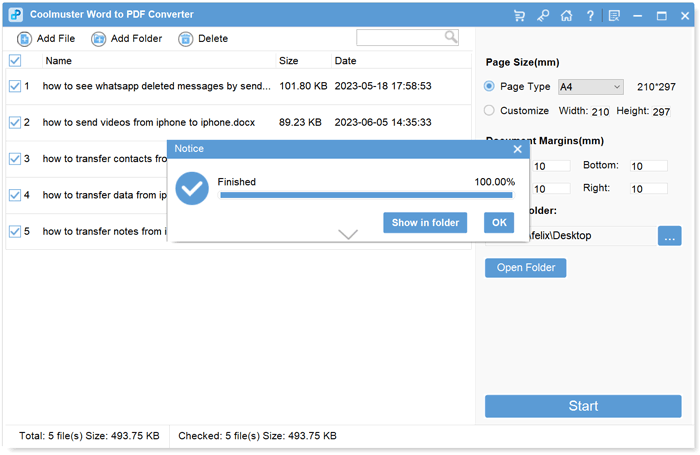 Final Words
You now have a deeper understanding of the iLovePDF tool, how to use it to turn Word documents into PDFs, the pros and cons, pricing, and other useful information. Overall, it is an average tool that can meet some of your needs. It centrally features document management tools to simplify your work. The editing and conversion tools are all there to give great results.
But, if you feel it doesn't match your needs, we recommend a better alternative - Coolmuster Word to PDF Converter. It is fully packed with more advanced features and produces only top-quality results. It is worth your effort and every bit of your time. It's also easy to use.
Related Articles:
How to Save a Google Doc as a PDF? [Computer & Mobile Device]
Converting Magic: How to Send a Pages Document as a PDF Like a Pro
[Solved] How to Change Word Document to PDF in Efficient Ways
Unrestricted Access: Mastering the Art of Removing Security from PDF
How to Open a PDF in Google Docs [Multiple Useful Methods]
Convert PDF to Google Doc | You Should Try the 4 Methods Recommended