It is extremely annoying when you finally get an important PDF file that you desired for a long time, but only find that there is a big watermark on it, which prevents you from getting the fullest reading experience from the PDF. To solve this problem, you need a PDF water remover to help you remove these disgusting watermarks from PDF file.
My last article told you Adobe Acrobat is able to help you create watermark on PDF. Actually it is also fully capable of removing watermark from PDF files. In this article, we will show you how to use Adobe Acrobat to remove watermark from PDF document with a few mouse clicks.
Learn More:
* How to Insert Pages into PDF in 3 Clicks?
* How to Insert Image into PDF Files?
Step 1. Open PDF with Adobe Acrobat
Launch Adobe Acrobat 9 Pro on your computer, click on the "File" menu and choose the "Open" option to browse and locate the PDF file that you want to remove the watermark. Click "OK" to import the PDF into Acrobat.
Step 2. Remove Watermark from PDF
Go to the "Document" menu, click it and choose the "Watermark" option from the drop-down list. Then, choose the option of "Remove".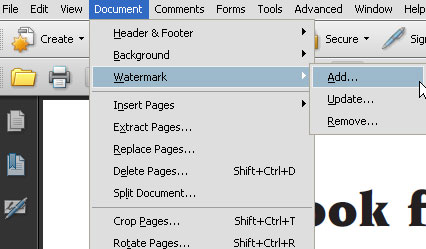 Step 3. Save the New PDF without Watermark
Above steps will remove all the existing watermark from your PDF file. You can press the "Ctrl+S" key to save the new PDF. Or you can click "File" > "Save As" to save the PDF free of watermark.
Additional Tips: How to Remove Encrypted PDF Files?
Above are the steps for removing watermark from PDF with Adobe Acrobat. Well, we all know that PDF is ideal for securing files thanks to its high level encryption standards. Many people choose to apply password protection on their created PDF files in order to prevent them from being copied or modified by other person. If you need to remove password protection from PDF, we suggest you use Coolmuster PDF Password Remover, which allows you to remove owner password and user password to free PDF's copying, printing and opening permissions. Thanks to the intuitive interface, users with any level of computer skill can handle this program easily and quickly.
Free download Coolmuster PDF Password Remover to have a try!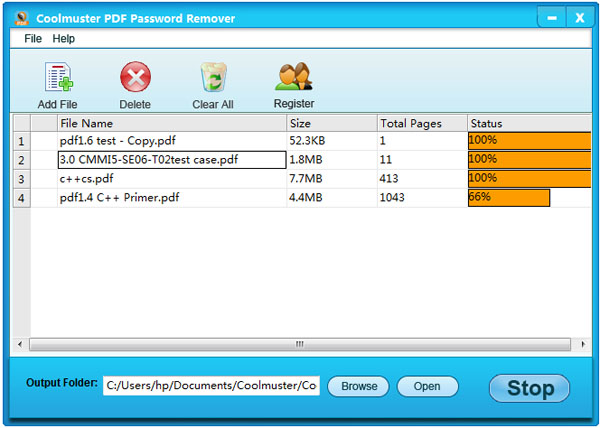 In conclusion, removing watermarks from PDF files is made easy with Adobe Acrobat. By following a few simple steps, you can eliminate distracting watermarks and fully enjoy your PDF documents. Additionally, if you encounter password-protected PDF files, Coolmuster PDF Password Remover offers a convenient solution for removing encryption and gaining full access to your PDFs. Enhance your PDF reading experience by removing watermarks and unlocking the potential of your documents.
Related Articles:
How to Secure PDF Files with PDF Encryption