TikTok is, without a doubt, the most popular video hosting platform, with billions of active users. It enables users to create short videos and share them. It is a wonderful place to upload your content and connect with others. If you've ever downloaded a TikTok video, you will notice that it is always watermarked with the logo and username of the user. This might not be pleasing because it can obscure some important parts of your video.
Luckily, there are some ways you can remove TikTok watermark. We will share only the best ways to remove watermark from TikTok to ensure your precious videos don't have logos or anything.
Part 1. What's TikTok Watermark?
It is basically a graphic that's imposed onto a TikTok video. Mainly, the purpose of such graphics that are superimposed on TikTok videos is to clearly state the origin of that media to prevent it from being reposted again without attribution. Usually, TikTok videos have watermarks with their logos and the original poster's username.
Since the video is someone else's, you cannot post it. It is unethical and may escalate into a media crisis. In such a case, you may desperately need a TikTok watermark remover to get rid of the watermark and use it. However, TikTok's watermark bounces and moves around as the video plays, which can be problematic when trying to delete it.
But don't worry; the article has all the necessary information. The next sections will describe the steps to remove a TikTok watermark effectively. So, continue reading.
Also Read:
How to Convert iPhone Video to MP4 without Quality Loss in 7 Ways?
12 Best Video Converter Software for Windows 11/10/8/7 (Free & Paid)
Part 2. How to Remove TikTok Watermark
TikTok is a simple platform that lets users easily create videos to market their products. It is not only beginner friendly but also intuitive, with other perks, of course. However, watermarks make it quite difficult for other people to reshare the video on different channels. So, we introduced six ways you can use to download and remove TikTok watermark in this part. Let's explore together.
Way 1. How to Take Off TikTok Watermark via Video Converter Ultimate
Video Converter Ultimate is a practical tool that can help you flawlessly remove watermarks from any video. It can remove the logo perfectly without a fuss. With just a click of a button, that annoying watermark or logo will instantly disappear. You can use Video Converter Ultimate to remove a watermark from TikTok and Instagram videos. You just have to select an area containing the watermark and get it modified in a few seconds.
With this tool, removing many watermarks is no big deal. Not only that, but you can also add your logo to the final video without losing quality. Cool right? It is the most impeccable TikTok watermark remover you should never miss.
Key Features:
Remove watermarks and logos from TikTok videos.
Add image or text watermarks without quality loss.
High-quality video compressor, editor, and converter.
Adjust video/audio output settings.
Available in multiple video formats such as MP4, FLV, MOV, etc.
Here's how to take off TikTok watermark in just a click:
01Install the software on the computer. Next, head to the app's Toolbox section, choose Video Watermark Remover, and then add the video you want to remove the watermark.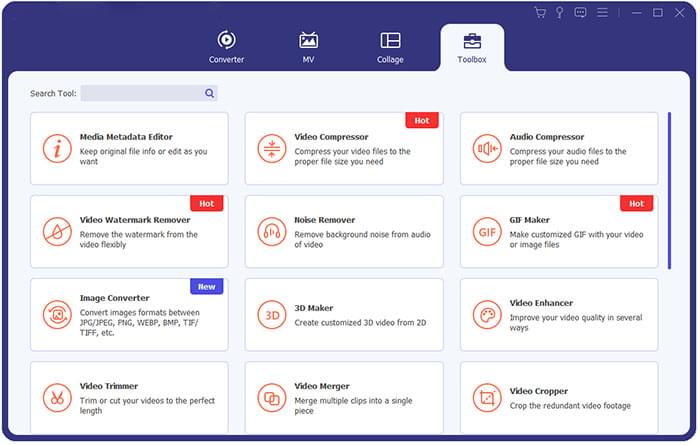 02Now tap on the Add watermark removing area tab. Then place the watermark remover selector where the watermark is located to cover the watermark. You may make changes to the box as you wish.
03Click on the Export icon to begin exporting the file uploaded. You will now have a video without the watermark.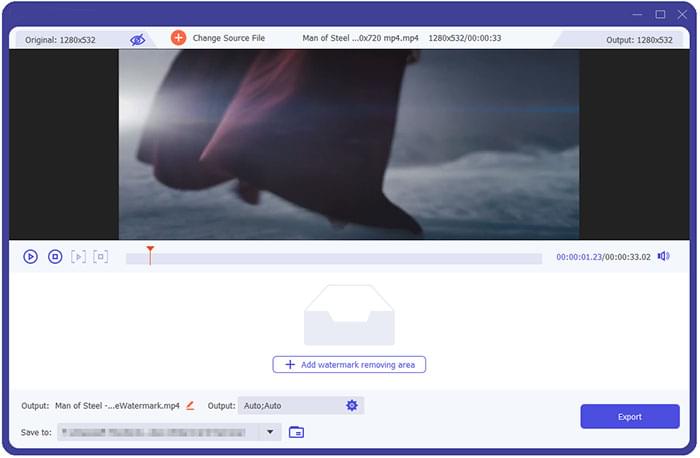 Further Reading:
Practical Video Lighting Editor List: Make Video Brighter in Easy Steps
10 Hot MP4 Video Editors - Edit MP4 Videos with Powerful Features
Way 2. How to Get Rid Of TikTok Watermark via Beecut
Beecut is a wonderful TikTok watermark remover app available for web and desktop versions. You can either download it or use it directly online. You can easily remove watermarks from videos, with no limitations on the file size or the number of times you should use it. All you do is place the remover on the target area to erase the watermark. Here are the steps to use its online version:
Step 1. Using any browser, head to the Beetcut website and click Edit Online, then choose the Remove Watermark option. On the net window, choose Remove Watermark from Video.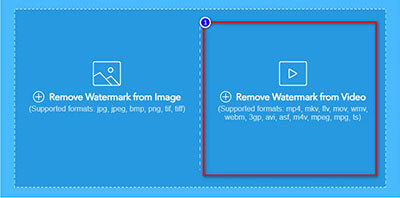 Step 2. Choose a video to be removed the watermark from your device, then hit Open. Wait for the video to finish uploading.
Step 3. Now place the selection box on a watermark, then tap the Erase option to get rid of the watermark. Wait a few moments for the process to finish, and tap Download Files to get it on your computer.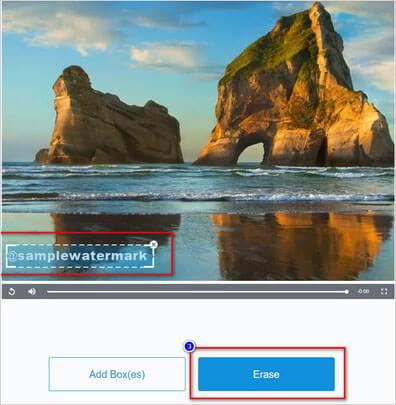 Way 3. How to Download and Remove TikTok Watermark by Blurring the Watermark
Both computer programs and mobile apps offer the option to remove the TikTok watermark by blurring it with a logo or text. Simply open a video editing application, choose your desired logo, drag it to the overlay track, and adjust its duration to cover the watermark.
If an important part of your video is in the place where the watermark appears, you may need to blur the TikTok watermark instead of removing it. You can use an online blurring tool to select the area where the TikTok watermark appears.
Online Video Cutter is a web-based tool that provides an effective way to cover up logos or watermarks in your videos. By using it, you can apply a blur effect to the watermark, effectively removing it from view. However, please note that the watermark's original position may still leave a faint trace. Although the blurred area will be visible in the video, it is still preferable to have a visible watermark. Keep in mind that if the watermark is large and centrally placed, blurring it may not be the most optimal choice. If you're interested in trying out this software, you can follow the subsequent steps we have provided below.
Step 1. Search the Online Video Cutter app on the web on a browser, tap Open File, and upload a video. Wait for the video to upload.
Step 2. To remove the watermark, you can choose the specific area containing the watermark and apply a blur effect to conceal it.
Step 3. Choose the target area with a watermark, then hit Save.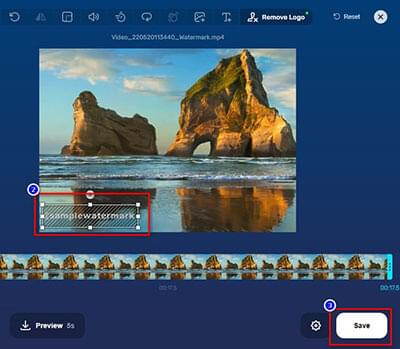 You May Like:
[Easy Guide] How to Save Instagram Videos to PC/Mac?
[Proven] How to Transfer Videos from iPhone to Computer
Way 4. How to Save TikTok Without Logo by Cropping Out the Watermark
If you don't want to use third-party apps to remove TikTok watermarks, the in-built app can greatly help. Here are the steps:
Step 1. Click on the video you want to remove the watermark from the Photos app. Then click on Edit at the top.
Step 2. Click on the Crop button and pinch the video to zoom it in. Now edit video dimensions to crop out the watermark on a video.
Step 3. You will have to crop many areas of the videos due to the watermark bouncing. Click Done and save the newly cropped video.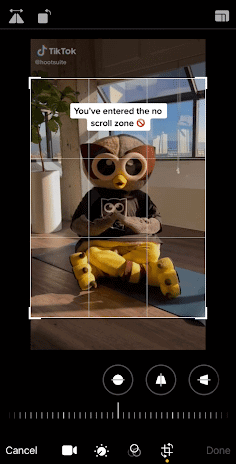 Even though this option seems simple, it's not very useful because it leads to cutting various parts of visuals or text on the original video. Besides, the video's aspect ratio will also change. Due to that, you are likely to get a low-quality video. So, it is not a better way of removing the TikTok watermark.
Way 5. How to Remove TikTok Watermark from Saved Video by Adding Border to Video
You can also add a border around the video. Doing this will cover the TikTok watermark, thus removing it from your video. To cover the TikTok watermark, you have the flexibility to utilize various straightforward editing tools available on both your phone and computer. With these tools, you can easily incorporate a border or frame around your video.
Adding a border around a video is not the most visually appealing option, similar to cropping, as it can cover a significant portion of the video. This approach may result in cutting off parts of the content, giving it an unprofessional and low-quality appearance. However, for videos where the watermark has minimal impact on the main content, adding a video border can be a simple and effective solution.
Learn More:
How to Transfer Videos from Computer to iPhone with/without iTunes
Top 8 Apps to Merge Videos on iOS and Android
Way 6. How to Save TikTok Videos Without Watermark
To save yourself the hassles of removing a watermark on a TikTok video, why not download the video without the watermark? It is possible to do so through websites like SaveTik, SnapTik, and TikMate. Steps to follow:
Step 1. Choose the video you want to download from the TikTok application on a laptop or phone.
Step 2. Choose the Share icon and Copy Link.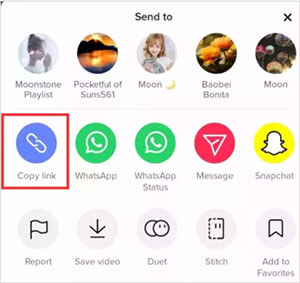 Step 3. Head to the SaveTik website and paste a link into the download bar. The video will start downloading to your device.
Conclusion
That's all on removing the TikTok watermark. Adding a border or cropping isn't an effective approach. Besides, using third-party tools may help but does not always guarantee success. Therefore, the best app to remove TikTok watermark is Video Converter Ultimate. The software can remove watermarks and logos from TikTok videos in a few clicks and saves the videos without losing quality.
Related Articles:
[4 Aspects] How to Save Videos from WeChat on iPhone?
How to Back Up WhatsApp Photos/Videos? (Proven Tips for iPhone & Android)
[Fixed] How to Recover Deleted Videos from iPhone?
How to Transfer Videos from Mac to iPad? (Step-by-step Tutorial)
How to Send Videos from Samsung to iPhone without Losing Quality?
17 Optional Methods to Find the Videos Disappeared from iPhone Back