PDF files are password-protected for security reasons, so they cannot be viewed, modified, or printed without the appropriate permissions. Furthermore, encrypted PDFs require a password to be entered each time the document is accessed. Getting around like that could seem like a lot of work.
However, you may quickly and easily delete the password if you have PDF editors. Still, it can only be done if you already know the password. So, if you are wondering how to remove password protection from PDF, in this article, you will learn efficient solutions you can utilize:
Part 1. How to Remove Password Protection from PDF Offline
To PDF remove password protection offline requires reliable tools. There are many options to decrypt PDFs offline. The software discussed below is safe and ensures you remove password protection from PDFs quickly.
Method 1. How to Remove PDF Password Protection by Coolmuster PDF Password Remover
With Coolmuster PDF Password Remover, you can confidently unlock protected PDF files with a single click. It can unlock the author's encrypted PDFs with restrictions preventing others from making copies, making edits, or printing. Coolmuster PDF Password Remover has two separate decryption options to quickly erase passwords from PDF files. Right-click decryption lets you delete any PDF you've imported into the application with the click of a mouse, and batch decryption lets you decrypt up to 200 PDFs at once.
It supports operating systems including Mac OS X 10.9 and later, as well as Windows 11/10/8/7. The software is also convenient because it accepts yearly and monthly subscriptions. Here are some of Coolmuster PDF Password Remover's top features, which make it the most effective tool for removing PDF security.
Decrypt protected PDF files, whether you're the owner or the user.
Unlock the PDFs with the simple-to-use interface if you key in the correct password.
Decrypt PDFs in bulk so multiple users can print, edit, and copy simultaneously.
Run independently, without Acrobat Reader/Viewer.
Maximize the use of the CPU to increase its efficiency.
Below are simple steps to follow in removing password protection from PDFs using Coolmuster PDF Password Remover:
01Install and run the Coolmuster PDF Password Remover App. Select the "Add File" button to import PDF documents that are password protected.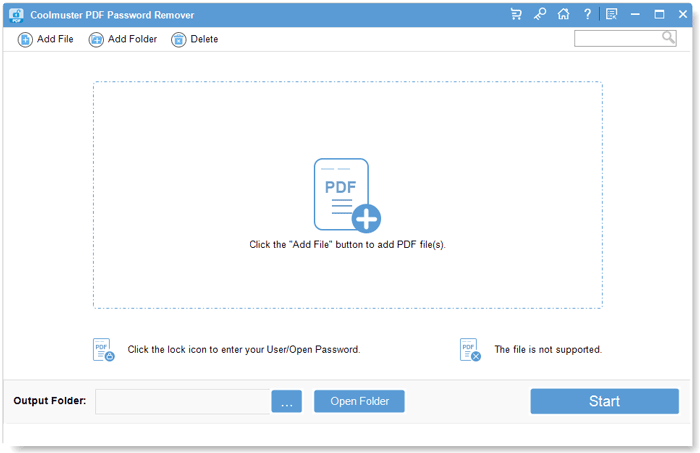 02Tap the "Browse" button at the program's base and choose an Output Folder to store the decrypted PDFs.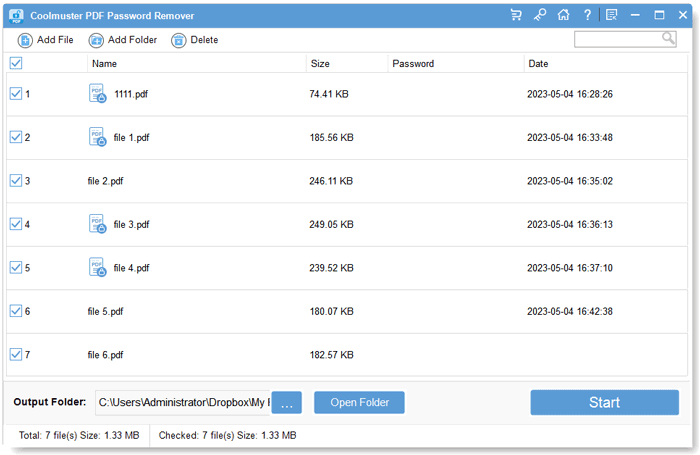 03Press the "Start" button when you're ready to begin decryption after making your selections. A pop-up menu will display after right-clicking the imported PDF file. Select "Decrypt" to decrypt that particular PDF.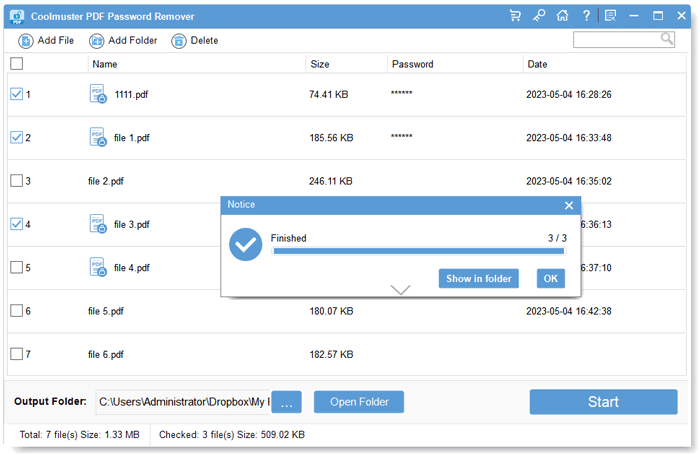 Read More:
How to Remove Password from PDF on iPhone with the Most Popular Apps
Best Programs on How to Remove Password from PDF on Mac [Newest]
Method 2. How to Remove Password Protection from PDF Using WPS Office
WPS Office is a professional and user-friendly office suite with a powerful PDF capability that enables users to open, edit, and distribute PDF files. You will need an open password to unlock a PDF using WPS Office. Open the PDF in WPS Office (by inputting the password) to decrypt it, and then follow the steps below.
Step 1. Download and launch WPS Office, then upload the encrypted PDF file.
Step 2. Click the "Encrypt" option under the Protect menu.
Step 3. In the resulting dialogue box, deselect the "Set password of editing and extracting" if they appear.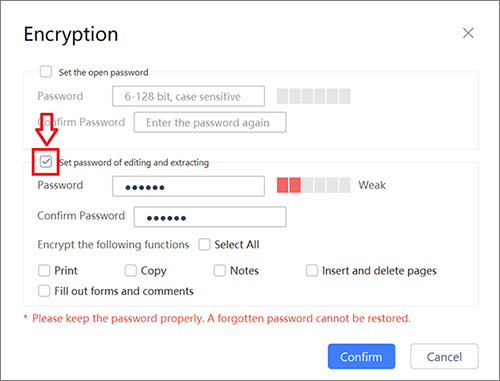 Step 4. When you click the "Confirm" button, your password will be immediately removed.
Method 3. How to PDF Remove Password Protection with Adobe Acrobat
Adobe Acrobat is a versatile and popular program for working with PDF files and related tasks, such as decrypting protected files. A PDF's password security can be readily removed in Adobe Acrobat if you have the right permissions or know the password in the following simple steps:
Step 1. Launch Acrobat Pro DC and choose the "Open File" menu option.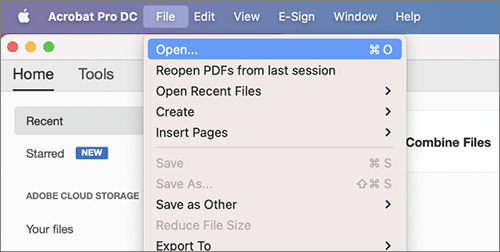 Step 2. Select the "Security" option; in Security Method, choose "No Security".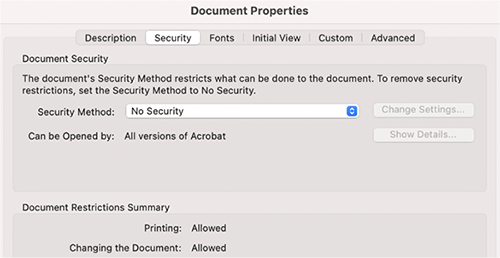 Step 3. Click "OK" to remove the password protection on the PDF file.
Step 4. If the file requires a password, enter it in the enter password section and press "OK". Confirm your selection by clicking "OK" again in the alert window.
See Also:
Say Goodbye to Restrictions: Adobe PDF Remove Password Solutions
PDF to Word Magic: Convert PDF to Word with Adobe Acrobat & Alternatives
Method 4. How to Remove PDF Password Protection Through Preview
Preview is a built-in software on macOS that may be used to open, view, and make changes to various files, including PDFs. If you're using a Mac, you can consider Preview the best free PDF password remover for Mac.
The PDF protection can be removed easily with just a few clicks. However, it can only decrypt PDFs for which the password is already known. Using the Preview program on a Mac to remove a known password from a PDF file is a simple process as follows:
Step 1. Launch the PDF file in Preview, and you will be prompted to enter the password.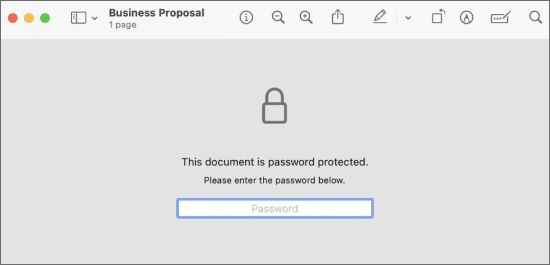 Step 2. Click the "File" menu and select the "Print" option.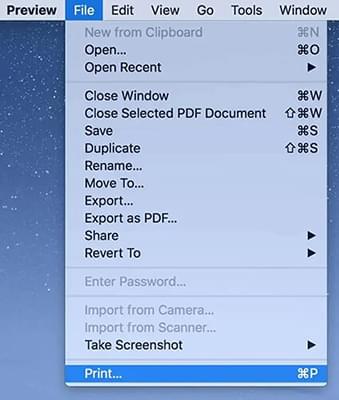 Step 3. You should save the file in the PDF format.
Step 4. Verify that no password has been set for the file under the PDF Security Options. Selecting "OK" deactivates Preview's password protection.
Part 2. How to Remove Password Protection from PDF Online
Online PDF password removal tools are a quick and easy way to remove security from PDF files. These solutions allow consumers to quickly access their content without remembering or obtaining passwords, requiring no complex program installations or technical expertise. Here are some key online PDF password removal tools:
Method 1. How to Remove Password Protection from PDF Using Google Drive
Google Drive is well-known as a fantastic resource for storing, updating, and converting a wide variety of documents. Google Drive's PDF password removal feature is a user-friendly and straightforward solution for managing your PDF files.
Here's a rundown of the basic steps required to unlock a protected PDF on Google Drive:
Step 1. Using the Google Drive option, click "File upload" to open an encrypted PDF.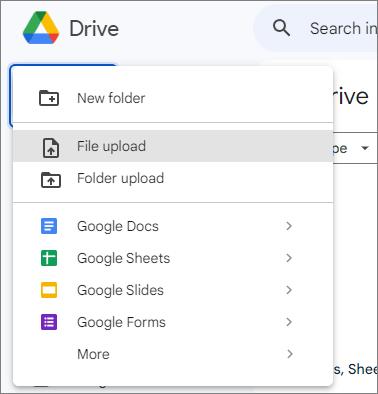 Step 2. Right-click your cursor and select "Open with" > "Google Docs".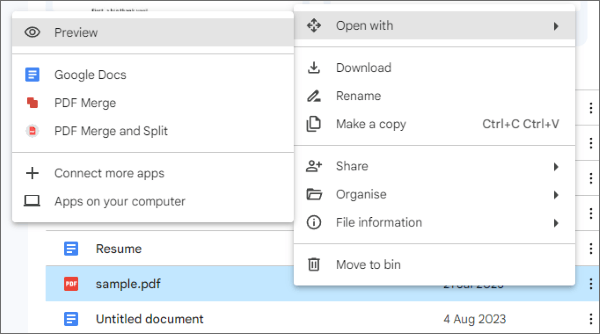 Step 3. Finally, in the File column, select "Download" and then "PDF document(.pdf)" to download your PDF file, unlock its password protection, and use its full features.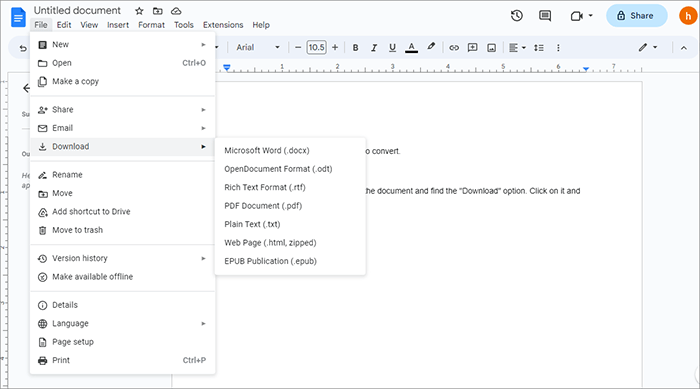 Method 2. How to PDF Remove Password Protection Through SmallPDF
SmallPDF has become well-known as a trustworthy and simple-to-use platform with various PDF-related solutions. The capability to deactivate PDF password protection stands out among its many useful features. Here is the simple procedure for removing PDF password protection using SmallPDF.
Step 1. Navigate the SmallPDF website and click "CHOOSE FILE" to add PDF files.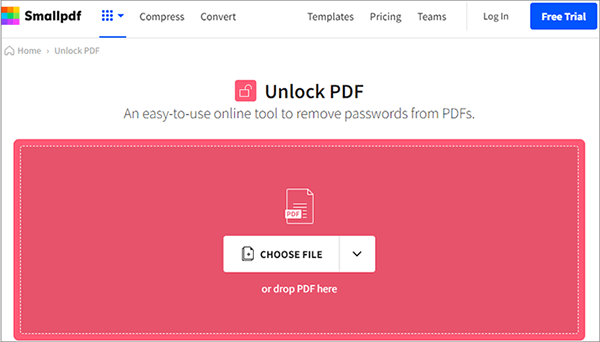 Step 2. Click the "UNLOCK PDF" button after verifying your permission to access the file. Begin decryption needs to begin immediately.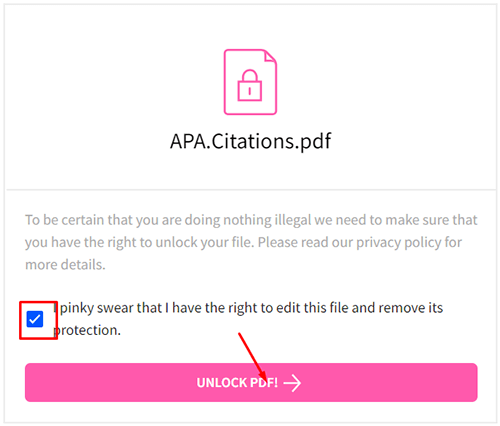 Step 3. Continue editing your PDF document, or select "Download" to save the updated PDF.
May Like:
[Useful PDF Tips] How to Open Password-Protected PDF Without the Password
Liberating Your Files: The Magic of PDF Secured Remove [Updated]
Method 3. How to Remove Password Protection from PDF via iLovePDF
iLovePDF is a flexible program that facilitates managing and modifying PDF files. It can unlock PDF files so you may view or make changes to content previously protected by a password. iLovePDF makes accessing and editing protected PDF files easy without the original owner's password. The following is a step-by-step guide on how to use iLovePDF to unlock protected PDF files:
Step 1. On the iLovePDF website, tap the "Select PDF files" button.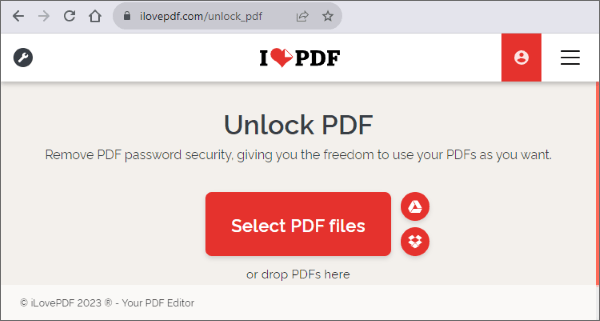 Step 2. Click the "Unlock PDF" button.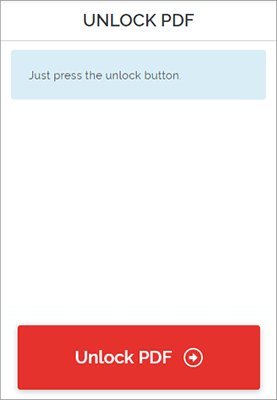 Step 3. You have removed passwords from your PDFs. Click "Download unlocked PDFs" to download PDFs.
Method 4. How to Remove PDF Password Protection Using PDF2go
PDF2go is a web-based service with the option to turn off PDF protection. It simplifies the process of decrypting password-protected documents, and it does it without installing any additional software. To unlock PDFs using PDF2go, follow these steps:
Step 1. Visit PDF2go's official website and select the "Choose File" option.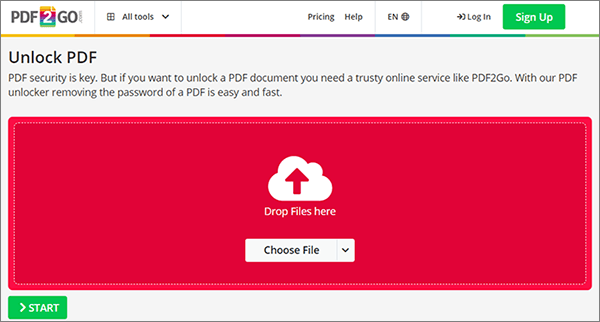 Step 2. Click the "START" button. Your PDF file has been unlocked.
Step 3. You can now download the unlocked PDF.
Can't Miss:
How to Convert Password Protected PDF to Without Password: Approved Methods
[Office Solutions] How to Send Password Protected PDF in 6 Different Ways
Method 5. How to Remove PDF Password Protection with Soda PDF
Soda PDF is an expert PDF security program that can decrypt and remove password protection from PDF documents so that they can be freely printed, copied, and edited. Using the Soda PDF protection tool, you can re-protect your document with a new password or modify access levels after you have made edits.
The procedure to remove passwords from PDFs using Soda PDF online is simple and is as follows:
Step 1. Go to Soda PDF's online web and click "CHOOSE FILE" to work with.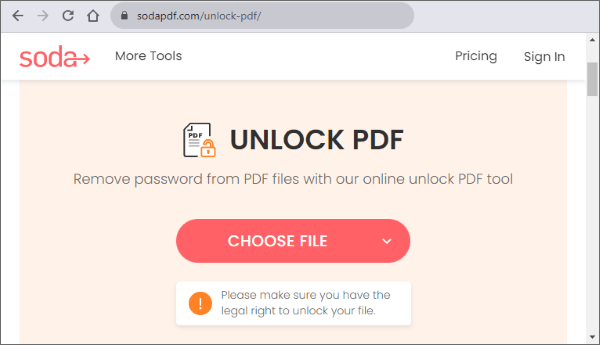 Step 2. Ensure you have the right password to unlock your file. Click on "Enter the password here" and tap the "UNLOCK" button. You'll get a PDF without password protection.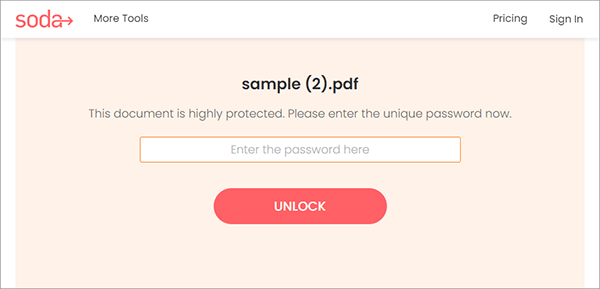 Conclusion
Still trying to figure out how to remove password protection from PDF? Worry no more since you can easily decrypt PDFs with Coolmuster PDF Password Remover. In addition to being great for professional and educational use, its intuitive design and robust features make it a good choice for casual users. Download Coolmuster PDF Password Remover now to remove restrictions from your PDFs.
Related Articles:
Effective Ways to Password Protect PDF Files with Sensitive Data
[Comprehensive Guide] 7 Ways to Unlock PDF for Editing for Free
The Best Free PDF Security Remover Tools to Recommend [7 Tools]
Mastering PDF Unlocks: How to Unlock PDF Online with Ease
[Solved] How to Remove Permissions from PDF Files Easy & Efficiently