PDF is considered a standard file format for reading documents globally. Due to technological advancements, formats have evolved to present documents in more improved versions. One important feature that has enabled users to link together several documents on a single file is hyperlinks.
However, hyperlinks can, at times, be out of work. Normally, it is because your link is changed or is no longer available. Therefore, what to do when facing Word to PDF hyperlinks not working issue? This article shows you the way out of this problem, why it happens in the first place, and how to fix it. Keep reading.
Part 1. Reasons for Hyperlinks Not Working in PDF from Word
To resolve any problem, understanding the reason behind it is very important. This trick helps in preventing problems from occurring again. In this case of hyperlinks in PDF from Word not working, the underlying causes are interconnected. Let us now see what might be the reason for Word to PDF hyperlinks not working:
1. The hyperlink text isn't spelled correctly
We tend to make mistakes when typing hyperlinked text. Or maybe you did not copy the link properly, which led to pasting an incomplete hyperlink. Often, we don't select the whole link from the web page. Selecting an incomplete link can make the hyperlink option unavailable.
2. Outdated software
You should always be updated. Many times, we forget to update our device's software. A backdated MS Word/Office will often cause hyperlink problems. You should always keep your web browser updated also. If not, it may gather all malware, and it may fail to keep a balance between a web browser and Word.
3. Malware or bugs
This hyperlink problem could also result from malware, viruses, and bugs in your device. Viruses will make a hyperlink to be corrupt. Besides, bugs could also affect your document and browser, and malware will also affect your device entirely. This will, in turn, lead to your computer losing the clickable link.
4. Internet connection problem
If the system isn't connected to a server, the hyperlinks will not work. Hyperlinks need a connection to the server for them to work.
5. Encryption Issues
Secure protocols and insecure protocols are different. HTTPS uses SSL encryption, while others don't. So, if the hyperlink isn't working properly in PDF, it could be due to encryption problems.
6. Faulty conversion process used
Proper conversion is a primary key to accurate and efficient documents. If your settings weren't enabled in conversion software, some links wouldn't show the result pages.
7. Link detection error
The links may work on some devices but not all. The issue may be due to auto-link detection in the PDF app.
You May Like:
How to Save a Word Document as a PDF on Windows & Mac Systems
Effortless PDF Conversion: How to Save Google Docs as PDF on iPhone
Part 2. Fixes to Word to PDF Hyperlinks Not Working
Let's see what to do when a hyperlink doesn't work. We've organized easy step-by-step fixes to use whenever you encounter this problem.
Fix 1. Check URL Path
Try checking the URL path by copying and checking it on a web browser to see if it works properly. If the hyperlink isn't correct, it will not open up in the browser. Here are the steps:
Step 1. First, open the PDF file, then copy your hyperlink URL, which isn't working. Open your preferred browser, like Chrome.
Step 2. Paste your URL to Chrome browser's search bar, then press Enter. If this link is incorrect, you may find other relevant info, then insert your new link.
Fix 2. Use Another Device to Check the Link
If the hyperlink isn't working in the PDF, you may check if it works on another gadget to confirm that. Here are the steps:
Step 1. Start by opening the file on your Windows computer if it wasn't working on a Mac previously. Copy the link address using the right-click command.
Step 2. Open Safari on Windows, then check if the hyperlink is working. If it works, it might be designed to work only on Windows and not on macOS.
Fix 3. Use the Correct URL or Path
There may be different causes of hyperlink malfunctioning, but of all the technical discrepancies, there's a possibility that the hyperlink added to the document is changed or incorrect. Obviously, an incorrect hyperlink can't open up. So, ensure you've copied the correct link.
Fix 4. Replace the http:// with https://
URLs that don't have a basic portion of http:// or https:// in PDF documents. It should be written with appropriate requirements so the hyperlink can run across browsers when clicking.
Fix 5. Check the Internet Connection
Though internet connectivity problems are unlikely to be the direct cause of this problem, it is a good idea to make sure you're using a stable and strong internet connection. Ensure your device's connection is active.
Fix 6. Reconnect to Server
Connecting your system again to the server could also be beneficial if the cause of hyperlinks invalidity is server problems. Follow the below steps to reconnect your system to the server:
Step 1. First, copy the URL on the clipboard, then tap on the internet tab from the taskbar for the internet connection.
Step 2. Then tap on the Wi-Fi button, then switch it off and on again. This will solve the hyperlinks issue. Open your browser, then recheck the link to confirm.
Further Reading:
How to Save a Google Doc as a PDF? [Computer & Mobile Device]
Converting Magic: How to Send a Pages Document as a PDF Like a Pro
Part 3. How to Convert Doc to PDF with Hyperlinks
After you've solved the issue of hyperlinks not working in PDF from Word, you can also learn how to convert Word documents to PDFs. The way out is to look for powerful software with all the PDF packages. One great software that you should consider is Coolmuster Word to PDF Converter. The software comes in handy whenever you wish to convert your documents to PDF files.
It makes the whole process a breeze. You will convert your files smoothly, and the files converted will maintain the original formatting, hyperlinks, images, etc. Coolmuster Word to PDF Converter is a reliable tool that will save you time since you can convert multiple files at the same time. Besides, it ensures your documents are of high quality.
Key Features:
Convert Word to PDF on a computer effortlessly.
Preserve formatting of the file by retaining page layout, fonts, etc.
Support conversion of multiple documents at the same time.
Customization options to produce high-quality results.
Easier to use interface that makes it simpler to maneuver around while converting your files.
Quick and faster results.
Below are steps on how to save Word Doc as PDF with hyperlinks easily:
01Install and launch the tool on your computer. You will see the primary interface where you can directly add your files. Hit the Add File or Add Folder button to add your documents to the program.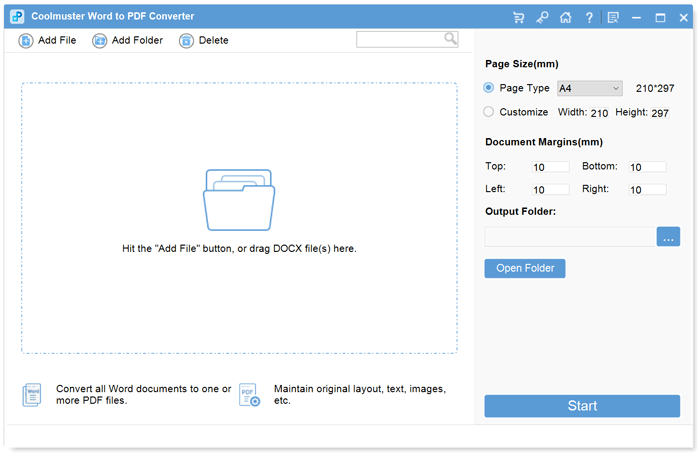 02After that, customize the size of your Word document and margins.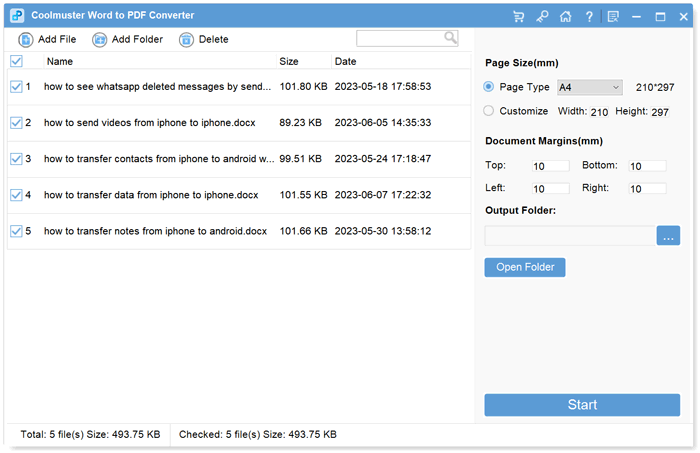 03Finally, hit the Start button, and the tool will convert your files instantly. Wait for the tool to export Word Docs to PDF with hyperlinks.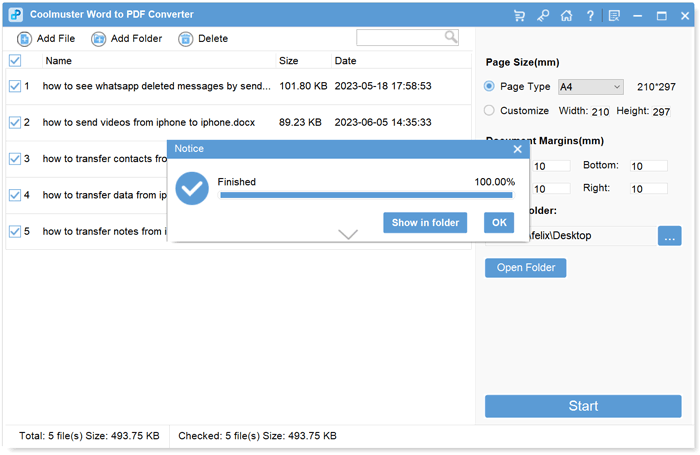 Also Read:
[Easy Office Solutions] How to Convert DOCX to PDF - 6 Methods
[Efficient Office Solutions] How to Convert Word to PDF in 4 Different Methods
Bottom Line
There are numerous reasons why Word to PDF hyperlinks are not working. However, you should also focus on solutions to fixing the issue. In this write-up, we have shown you reasons and solutions to make Word to PDF with hyperlinks work again. As you can see, many ways exist to resolve the hyperlinks problem.
Along with these top solutions, you must have a PDF editor that can convert Word to PDF. In this case, Coolmuster Word to PDF Converter software is the best. It proves to be a better choice with advanced unlimited features to convert your PDFs without a hitch. It is your best choice to save Word Doc to PDF with hyperlinks.
Related Articles:
[Solved] How to Change Word Document to PDF in Efficient Ways
Unrestricted Access: Mastering the Art of Removing Security from PDF
How to Open a PDF in Google Docs [Multiple Useful Methods]
Convert PDF to Google Doc | You Should Try the 4 Methods Recommended
[9 Tools Review] The Hottest PDF to Word Converter Online/Offline
Combine and Merge PDF Files Online - The Best Free PDF Merger Online