Why do you need to delete iOS update on iPhone/iPad?
Sometimes, when you are connected to Wifi, your iOS may get updated automatically even though you did not want the update at that time. Maybe you plan to do an update later and not right now, although automatic updates can be very frustrating in this case. Or maybe, you newer update has taken up too much space and you don't want it right now. Sometimes, the new version may not work properly and may show limited functionality in some cases.
You might be more comfortable with the older iOS version and are regretting updating the iOS of your iPhone or iPad and just wish that you could have your old version back. In these cases, you will be happy to know that you can delete iOS updates on your iPhone and iPad so that you can have the older version that you prefer back.
User Guide: How to Delete iOS Update on iPhone/iPad
There are easy ways to delete iOS updates and the best part is that you can update later, if you want to, any time you want. Just follow these steps:
- Open you iPhone or iPad from which you wish to delete the update.
- Now go to the "General" options from your Settings icon.
- Here go to "Storage and iCloud Usage" and then to "Manage Storage".
- Here you will find your iOS in the list. Tap on it, then tap and "Delete Update" and confirm your choice.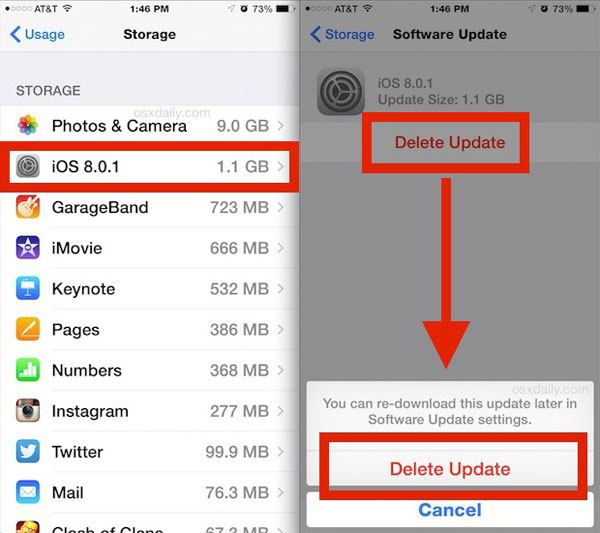 That's it! No more irritating updates without your consent! And if you want to free up as much space on your device, simply deleting iOS update on iPhone/iPad is far from being enough. You can actually use one professional data cleaner to fully clean up all useless junk files from your device so as to free as much space as you can. And this Coolmuster iOS Cleaner software is surely the one you should try!
Extra Bonus: What is the Coolmuster iOS Cleaner?
This is a professional software and one of the best of its kind, earning highly satisfactory customer reviews and great response from those who have used it. As the name, suggests it is a cleaner software, and very efficient in wiping out any junk file or data that is not needed by the user, including files that can delete your iOS update. It cleans up your phone to provide more space and at the same time makes your device run faster.
It works for iPhone, iPad as well as iPod, so no matter what your device is; it will act as a great cleaner. It comes with an easy user interface that you can quickly understand. You need not be an expert to navigate through this software. This software is a complete package, packing all that you want in a single space.
Steps to use this software:
1) First, just install this software on your PC. It won't take much time.
2) Now launch the application and connect your iDevice to your PC. The software automatically detects your device that is connected.
3) Select the option for cleaning your iPhone, iPad or iPad. Now, you can select the files you want to delete including the files that were associated with your iOS update. Once you have selected them, just confirm the fact that you want to delete them and they will be deleted.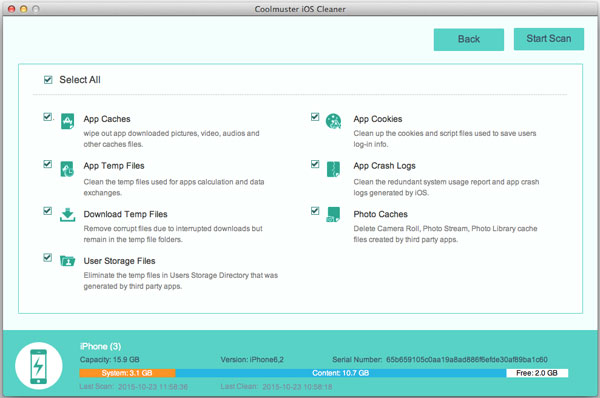 Conclusion
Coolmuster iOS Cleaner helps you delete only the unwanted files while keeping the necessary files intact. You can view all your files in one place with the help of this software and better choose what to keep and what to delete. Thus, deleting updates is no longer a painful process but a hassle-free experience.
Related Articles:
How to Uninstall Apps on iPhone/iPad
How to Fully Delete iPad Podcasts
Top 7 Phone Transfer Apps Help with Phone to Phone Transfer
Transfer iBooks from iPhone to iPad or Vice Versa