With more and more files saved on your device, it is bound to run slower and slower! But how will you deal with that? For an Android user, you can simply insert an external SD card to expand the storage space of your device. But if you are an iOS device user, taking iPod as example, how will you avoid this situation? In the below part, you will know several useful tips as well as professional data cleaning tool to help clean up your iPod touch!
Part 1. Useful Tips to Clean iPod Touch
Tip 1. Remove Unwanted Music Tracks and Albums
To remove unwanted music tacks and albums from your iPod touch, you can go to Settings > General > Storage & iCloud Usage > Manage Storage. You can now clean all the tracks in any album by swiping it right to left. Also, you can choose the Edit option on the top right to delete multiple tracks and albums in one shot. In addition to that, you can open the Music app on your phone. And then go to Artists > Only Downloaded Music. Toggle that button on. Also, you can transfer files to the computer as a backup and then remove them from your device!
Tip 2. Uninstall Unnecessary or Unused Apps
Actually, for some people, not all apps saved on your iPod touch are often used. Sometimes, people just try several apps to tick out the best one that suits his/her taste. In this case, you are highly suggested to delete those unused apps from your iPod touch so as to free up more space. And you should know that deleting these apps doesn't mean that you have to permanently say goodbye to these apps. They can be redownloaded!
Tip 3. Save as Less Music Songs as Possible
Don't save all songs on your iPod touch! Instead, consider signing up for a service like iTunes Match, which lets you enjoy music from your iTunes library wherever you are. Also, other music apps like SoundCloud, Spotify and etc. can also do it! These are actually great ways to stream music to iPod touch without occupying too much space.
Tip 4. Reclaim Hard Drive Space
When you are told not enough space is available, you need to take a look at which apps are taking up the most space and why. After checking, you can clearly know why the storage space is in need. Then you can take the corresponding measures. For example, when you find that an ocean of music songs or videos get your iPod touch packed, you can consider the tip 1 to clean up your iPod touch.
Part 2. Professional Tool to Clean iPod touch
No doubt, the accumulation greatly contribute to the squeezed space of the iPod touch. But do you know other invisible files also fuel the situation? That is - junk files, which come along with the files you download from the internet such as music songs, videos, apps and etc. And these files won't disappear from your iPod touch automatically.
That's what this Coolmuster iOS Cleaner software can do for you. With this software, all the junk files will be automatically detected and cleaned from your iPod touch in one click, including app crash logs, photo caches, app caches, download temp files and many more. More importantly, this software can support all generations of iPhone, iPad and iPod. By the way, if you are Windows user, this Coolmuster iOS Cleaner is for you!
Also Read:
What if There are Not Enough Space for Downloads?
How to Easily Clean up All Junk Files from iPhone?
How to clean iPod touch with Coolmuster iOS Cleaner:
First of all, open the installed software on the computer and then get your iPod connected to the computer via the USB cord. Then you can see the below interface. Choose the mode of Quick Clean option to continue the process.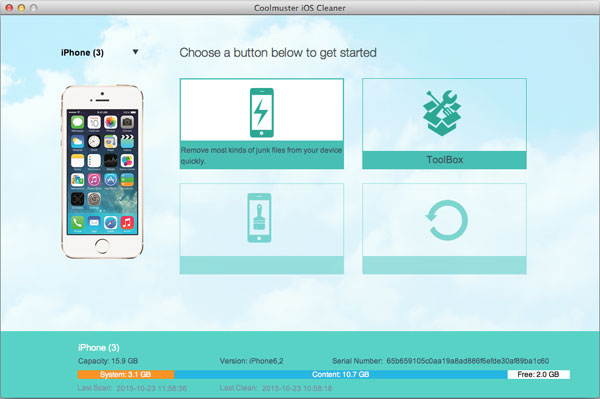 Then, all the junk file folders will be detected and displayed on the main interface. You can enter the different tabs and hit the StartScan option to preview more detailed information.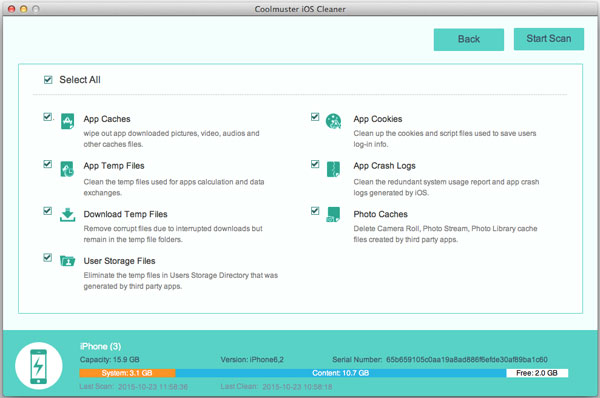 Then you can choose the files you want to remove from iPod touch and hit the Clean option to clean them from your device. Now, just wait for the process to get completed within a little while.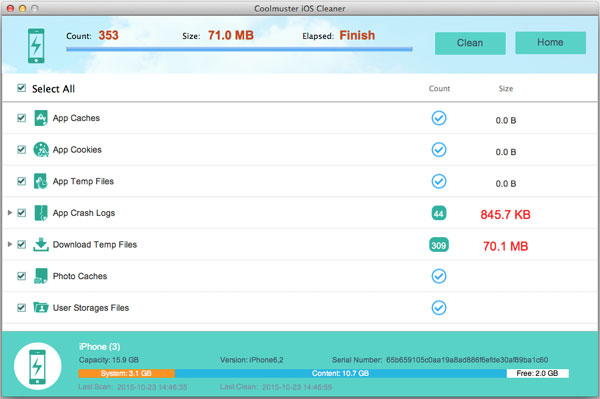 Now, just restart your iPod touch and you will find it runs a little bit faster than before! Just follow the below tips to clean iPod touch frequently, there will be no such thing as storage scarcity!
Conclusion
See? This Coolmuster iOS Cleaner program can clean iPod touch with thorough erasure tech. No one can recover your data from the device after using the cleaner. By the way, backing up useful data is necessary before using the software, or you will lose all data.
Related Articles:
How to Clean Corrupted Media Files from iPod
Easy Way to Erase Crash Files from iPhone
3 Solutions to Fix iPhone Frozen Issue - 100% Work