I just got a new iPhone and I don't like some of the apps that came on it, I will never use them and they are just taking up space. I feel like I pay enough for my iPhone plus contract and should be able to personalize my iPhone the way I want. Does anyone know if there is a way to do this? your advice would be much appreciated... - From Apple Community
Need to free up more space on your iPhone? Need to get rid of the unwanted files on your iPhone? Now, you may find it is barely impossible to clear those files pre-saved on your iPhone simply by touching the Delete option, like apps.
Well, this is not entirely true. Actually, you can delete those undeletable apps on iPhone with some right tips and tricks. To remove undeletable apps from iPhone, you need to make sure that your iPhone has access to a 9 pages of apps, stable Wifi connection and an iTunes account. Now, let's see how to delete undeletable apps on iPhone within simple clicks.
Method 1. How to Remove Undeletable Apps from iPhone
Method 2. Guide to Delete Undeletable iPhone Apps with Professional App Eraser for iPhone/iPad/iPod
Can't Miss:
How to Mass Delete Unwanted Photos from iPhone
How to Permanently Erase Documents from iPad
Method 1. How to Remove Undeletable Apps from iPhone
Step 1. Move the app that you do not want to keep on your iPhone to the 9th page.
Step 2. Arrange the apps that you wish to delete to the bottom on the page.
Step 3. Now, make sure that Page 8 has at least one more application on it than Page 9 does. Then, press and hold an application on Page 8 and drag apps from Page 8 to Page 9.
Step 4. When you see the bottom apps on the page disappear, just continue moving apps to the hidden 10th page until you have gotten rid of all apps that you do not want.
Step 5. After that, you can rearrange all your apps the way you'd like and the Apple apps will not appear again.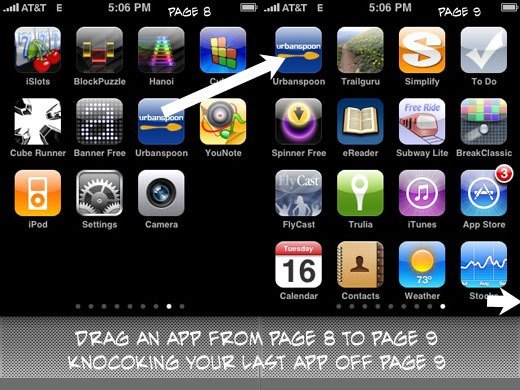 Note: Here, to delete undeletable apps on iPhone does not really mean getting them perished from your device. Instead, it means you move the unwanted apps to the hidden 10th page on the iPhone, which is a virtual storage area that Apple offers to hold extra apps should you have installed more than 9 pages of apps on the device.
Method 2. Guide to Delete Undeletable iPhone Apps with Professional App Eraser for iPhone/iPad/iPod
If you are looking for an easy way to permanently delete other files from iPhone like personal contacts, photos, videos and many more due to various reasons, just fully rely on this Coolmuster iOS Assistant software. With it, you can easily remove any files from iPhone, iPad and iPod, without any possibility of getting recovered, no matter you want to protect your personal information or for other purposes.
And to use this software is quite easy;
- Open the installed software on the computer and link iPhone to the computer via the USB cord. Then it will detect your device and scan for all files saved on the device.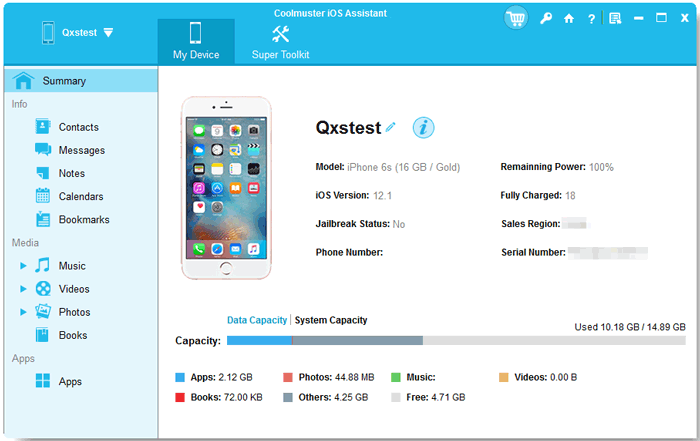 - Enter the "App" tab to preview more detailed file information and select the unwanted apps by ticking them out.
- Finally, hit the "Unistall" option to permanently remove files from iPhone.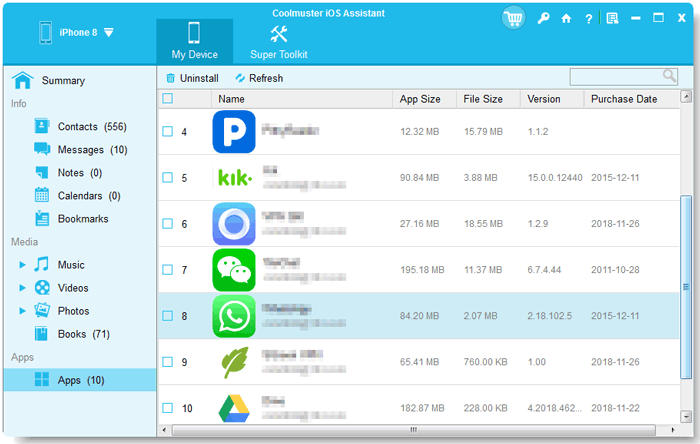 Wrapping Up
whether you choose Method 1 to remove undeletable apps from your iPhone or utilize Coolmuster iOS Assistant for a more comprehensive file deletion, you can regain control over your device's storage space and personalize it according to your preferences. Choose the method that suits your needs best and enjoy a clutter-free iPhone experience.
Related Articles:
Permanently Delete Text Messages on iPhone
Send Videos from Samsung to iPhone without Effort
Transfer Data from Huawei to iPhone