Since its invention in 2007, iPhone has been a powerful device. Users can use the iPhone to make calls, send texts, take pictures, play games, record videos and edit docs. There are also several private and confidential data stored on the iDevice as well. It would be a huge problem if the data were accessed by a third-party you didn't know. Personal info such as credit card, contacts or even family address can be sold to crimes if an illegitimate person accesses the phone. The feeling you get after your iPhone gets lost or stolen is comparable to none.
Luckily, if you have lost your iPhone, you can utilize iCloud's Find My iPhone feature to locate your device and find it. Besides, you can also use Find My iPhone to wipe or lock the entire data on the lost phone.
Part 1. How to wipe iPhone remotely with Find My iPhone?
Part 2. What to Do If Find My iPhone isn't enabled on Your Lost iPhone?
Part 3. How to Automatically Erase iPhone Data After Too Many Failed Passcode Attempts?
Part 4. How to Wipe iPhone If You Have Your iPhone?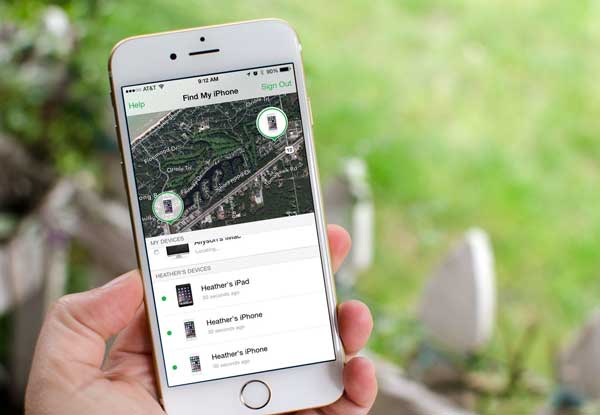 Part 1. How to Wipe iPhone Remotely with Find My iPhone?
It is essential to note that in order to wipe your iPhone remotely, you must have first set up Find My iPhone on iPhone before it was lost. There is a good chance that you have already registered your iPhone with this app because you are always prompted to set up "Find My iPhone" the first time you turn on your device. You should also consider the iPhone's coverage because you can only access the iDevice remotely if it has service.
If you erase your device remotely, activation lock will remain ON to protect it. The user's Apple ID and password will be needed to reactivate the iPhone. Remember that before wiping your device, it is crucial to attempt locating it or playing a sound on it. Of course, backing up iPhone data is also very important in case of this unexpected situation. After wiping the device, you can no longer use "Find My iPhone" to locate it either. If you need, check this guide to recover data from your lost iPhone.
Here is how you can wipe iPhone remotely:
Step 1: Sign in to Find My iPhone through another iDevice using similar Apple ID credentials you utilized when setting your Find My iPhone.
Step 2: Select and confirm the iPhone you wish to wipe on the Devices list.
Step 3: Tap Actions button, and then Erase [device].
Step 4: Enter your Apple ID password if prompted.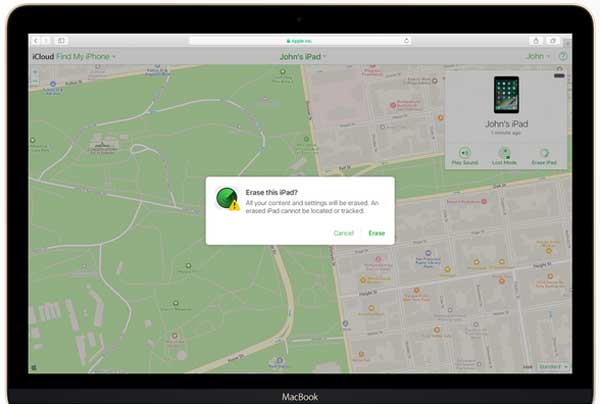 Check here if you need: How to Fix Repeated iCloud Sign-in Request on iPhone/iPad?
Part 2. What to Do If Find My iPhone isn't enabled on Your Lost iPhone?
There are times when users lose their iPhones when the Find My iPhone is disabled. If this ever happens to you, it is advisable to consider the following tips.
* You should report officially to the local law enforcement department
* Report to your network carrier or network. The network carrier typically disables your iPhone by preventing calls, texts, as well as the use of data from the phone.
* It is recommendable to change your Apple ID as well as other accounts such as emails and payment services.
Can't Miss: How to Unlock Password Protected iPhone without Losing Data
Part 3. How to Automatically Erase iPhone Data After Too Many Failed Passcode Attempts?
Apple provides the option to wipe the entire data on your iPhone after ten failed passcode attempts for security purposes. You can follow the following steps to enable this feature:
Step 1: Go to Settings application and then click on "Touch ID and Passcode". You should then input your passcode to continue.
Step 2: Find the "Erase Data" option by scrolling to the bottom of the page.
Step 3: Toggle the button to the right, and then confirm by clicking the "Enable" button.
Step 4: Tap on the "Erase Now" button.
You May Like: How to Remove Apple ID from iPhone without Password
Part 4. How to Wipe iPhone If You Have Your iPhone?
Whether you are taking your iPhone for repair or just selling it, you should erase it to remove your content and delete your accounts. You can reset your iPhone by going to Settings, General, then Rest, and then click on Erase All Content and Settings. You will, however, be needed to input your Apple ID and password before the process ends.
It is also possible to soft reset the iPhone if it has just locked up and need to restart and none of the buttons is functioning. To do this, hold the Home button and the Power button at same time until the iPhone turns off the Apple logo appears. Afterward, let go, and the iPhone will be back to normal.
One can also utilize the Coolmuster iOS Eraser to help in erasing the iDevice. This app allows users to just delete all data on their iPhones with a single click. The files will be permanently and entirely wiped out after erasing, and no recovery app can retrieve the files on your iPhone.
Here is how you can use Coolmuster to erase your iPhone.
Notice: It is essential to back up your entire data before erasing the iPhone. Additionally, you should not disconnect your iPhone before the whole process ends.
Step 1: Ensure the app recognizes your iPhone.
- It is essential to ensure your iPhone is recognizable by the Coolmuster program before working with it.
- If you have not installed iTunes on your PC, you should download and install the latest iTunes program and then restart your computer.
- Connect your iPhone to the PC via a USB cable. The computer will automatically detect your iPhone if it's among the trusted devices.
- Click on "Erase" button on the main interface.
* If iTunes is running on your PC, just close the popup iTunes buttons that pop up and continue using the program.
* Turn off the Find My iPhone if it's enabled on your iPhone and continues.)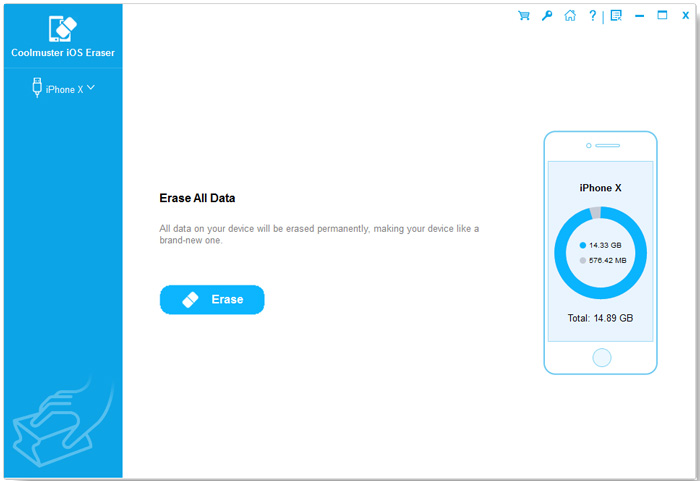 Step 2: Select the security level for wiping and confirm.
Click on the menu next to the security level to select a security level for wiping out. You can choose the needed security level from here. After choosing the required level, click on the OK button. You can then click on the "Erase" button after typing "delete" into the blank text box. Click OK if prompted whether you want to continue.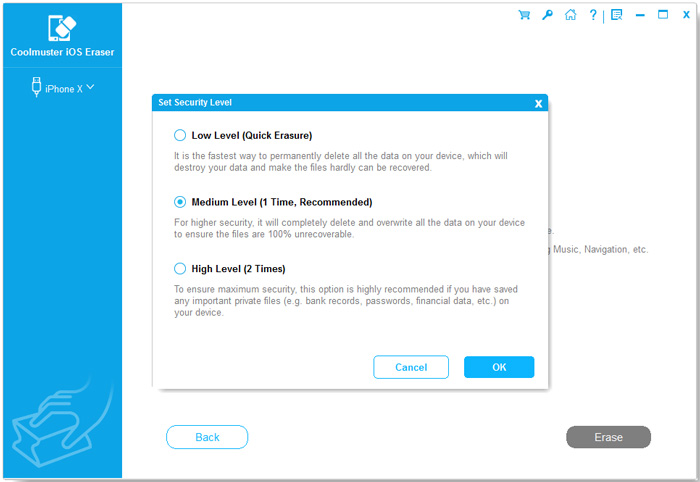 Step 3: Begin the erasing process.
The program will start erasing your iPhone after a quick scan. The phone will then reboot after the entire process ends. You can then unlock your device after rebooting.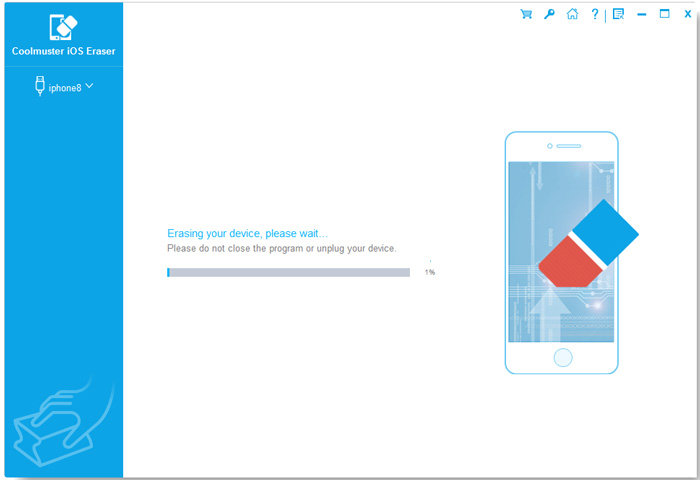 It is notable that the overwriting process is faster at medium levels than the high level. The app overwrites your iPhone two times in high level to affirm optimal security, while it only overwrites one time in a medium level. And the low level will not overwrite data but erase it only.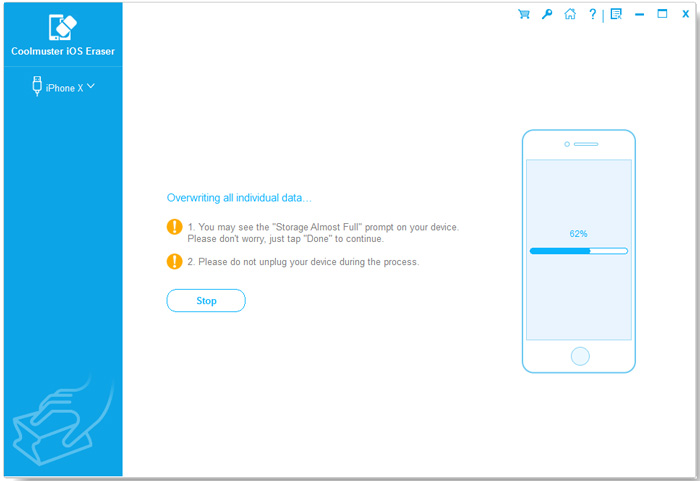 Conclusion
losing your iPhone can be a distressing experience, especially considering the personal and confidential data stored on the device. Fortunately, with Find My iPhone, you have the ability to remotely wipe your iPhone and protect your sensitive information from falling into the wrong hands. Besides, Coolmuster iOS Eraser can wipe an iPhone completely. If you want to sell your iOS device, please use it before selling.
Related Articles:
How to Remove Junk Files on iPhone?
How to Delete Kindle Books from iPad
How to Easily Restore iPhone with Broken Screen
Guide on How to Recover Lost Files from Locked iPad