As more and more USB-enabled data storage devices are born (hard disks, memory cards, smart phones, etc.), the sharing and transmission of multimedia files and documents between two devices becomes very simple. Especially in these years, smart phones have rapidly spread to even one person. Most people use smart phones to store and share media files in an extremely simple and convenient way. The data transfer between the same platform is very simple, such as iOS device to iOS device, Android device to Android device. But if you want to share files across platforms, say iPhone to Android, a common way is to transfer via Bluetooth.
However, sometimes iPhone bluetooth Android doesn't work. Do not worry! Next we will provide methods to help you solve the problem of iPhone (iPhone 14/13/12/11/X/8/7) bluetooth to Android not supported problem.
Part 1: iPhone Bluetooth Android Not Supported? Fixed
Part 2: The Best Way to Transfer iPhone Data to Android
Part 1: iPhone Bluetooth Android Not Supported? Fixed
Below are the reasons why iPhone bluetooth Android not working, and the solutions to fix these problems:
1.Android and iPhone work on different operating systems
Q: Although Bluetooth is a very popular wireless technology and has been integrated into iPhones and Android smart phones, because these two devices are equipped with different operating systems, the wireless file sharing function between them is limited.
A: Over the years, developers have conducted long-term research on this issue and proposed some solutions. The most common solution is to install the same third-party Bluetooth file sharing application on both devices. However, this kind of application is still rare in the market, so for some users this may seem quite difficult.
2. Problems with Sharing Speed May Occur When Sharing Large Files
Q: Even if you find the relevant Bluetooth file sharing application and you enable Bluetooth sharing on both devices, you may encounter problems with sharing speed when you are sharing larger files. For example, an ordinary movie file may be between 700 MB and 3 GB. In this case, if you use Bluetooth to transmit it is more difficult, because sending these larger files may take about 40 minutes to 1 hour.
A: Android and iPhone are mainstream devices in the mobile phone market. Therefore, developers have conducted long-term research on this issue of concern and proposed a revolutionary solution. Sharing files across platforms with a new software has now become easier and faster, and it also includes many other thoughtful features.
You May Like: How to Backup iPhone to iPad?
Part 2: The Best Way to Transfer iPhone Data to Android
Research shows that Coolmuster Mobile Transfer has made it possible to transfer files over cross platforms like iPhone X/8/7/7 Plus, Android and even Windows phone without any problem. It is extremely easy to use and it has also increased the file transferring speeds radically. Apart from the ability to transfer files between two devices, the software is also packed with plenty of features that enable you to backup and restore phone data, delete data from your previous phone, and so forth.
Other Features of Phone Transfer You Can Enjoy:
1. It can help you transfer podcasts, contacts, text messages, photos, videos, music files, calendar, notes and more between iOS device and Android directly.
2. It supports all iOS devices, including iPhone 14/13/12/11/X/8/7/6S, iPad, iPod, Android devices like Samsung, HTC, LG, Sony, Huawei, ZTE, etc. as well as Windows phones.
3. One-click backup your phone data to computer and restore it to other phones later on.
4. It can scan and erase data from your previous phone.
5. Restore files from iCloud, iTunes and OneDrive backup without any data loss.
6. The program supports over 3500 phones as well as different networks.
Read More: How to Port Android Apps to iPhone
3 Steps to Transfer iPhone Data to Android by Using Phone Transfer:
Step 1. In the very beginning, you should download and install the Phone Transfer program on your computer, launch it by double clicking on it. Then, choose the "Phone to Phone Transfer" mode from its primary interface to enter the phone transferring window.
Step 2. Connect your iPhone and Android phone to the computer using two USB cables. After the connection, the software will detect your devices and display them side by side like the following picture.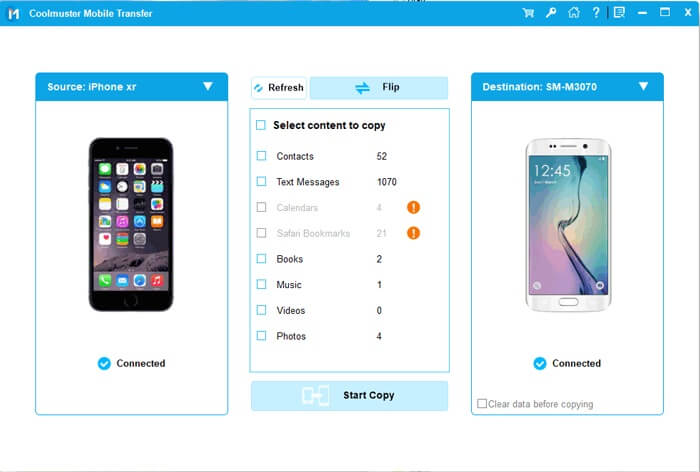 Step 3. In the screen of the program, you can see all the transferable file types are listed. Now, check the data types you want to transfer and click the button of "Start Copy". This will start the data transfer from iPhone to Android immediately.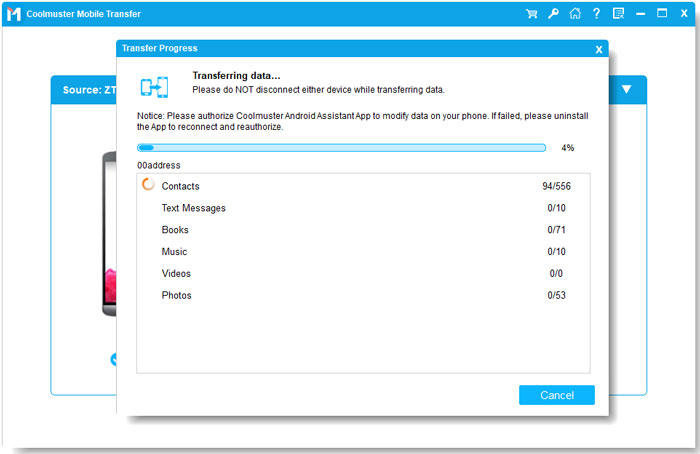 Conclusion
Simply put, even though you cannot send files between iPhone and Android phone via Bluetooth, you can use Coolmuster Mobile Transfer to make it. It supports most Android and iOS devices, and fast transfers multiple file types at once. Download it and start the data transmission.
Related Articles:
How to Transfer Contacts from One iPhone to Another
How to Transfer Data from Samsung to Samsung
How to Transfer iTunes Apps to Android?