How to Transfer Music Files from iPod to Android Phone/Tablet?
You must think it is extremely fashionable to listen music with an iPod. But when you newly got a brand-new Android phone or tablet, you must realize that it is so convenient to have these music files saved on the Android device and enjoy them on the go, without having to take along a mobile phone and music player respectively. However, due to the different operating systems, it is not so simple to transfer songs from iPod device to Android phone. That would make you upset because you just have stored hundreds of dollars worth of songs purchased from iTunes to the iPod. Is it possible to push all of them to Android device without complex operations?
There is an traditional method to realize the music transfer is exporting these songs from iTunes to a folder on your computer desktop and then import them to your Android device. As you can image, this method is not so easy and costs you lots of time because it will be confused to copy music from iPod to Android when the songs were not bought from iTunes. Have you ever tried iPod to Android Transfer? This is an third-party iPod music to Android transfer program that can help you solve your problem in an easy way.
What Else Can iPod Music to Android Transfer Do?
iPod Music to Android Transfer is fully capable of transferring all your important files, such as music, videos, photos, contacts, text messages, call history and more from iPod to Android phone or Android tablet without any hassle. Apart from that, it also supports iPhone, iPad and Symbian Nokia. That means you can use this program to perform data transfer between any two phones in iOS, Android and Symbian operating systems. Here we provide you with the free trial version of the powerful software. You can install it on your computer to have a free try.
This program supports all models of iPod and Android, such as iPod touch, iPod touch 4/5, iPod Shuffle, iPod Nano 3/4/5/6, and iPod Classic, as well as Samsung, HTC, Sony, Motorola, LG, etc. Please pick up the right version to be downloaded on your computer according to your computer system.
Can't Miss:
How to Transfer Data from Old iPod Shuffle/nano to New iPod touch
How to Transfer Android Music to iPod
Move Music to Android Phone from iPod touch/Shuffle/Nano/Classic
Step 1. Run the iPod to Android Transfer tool
First of all, you must be sure the iTunes is installed on your computer. Install and launch the Coolmuster Phone Transfer and you will be popped up with the following interface. You can connect both iPod and Android device to the computer via two USB cords.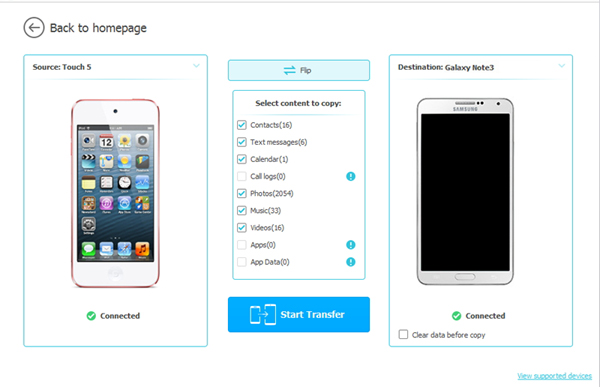 Step 2: Set up your iPod and Android devices
After both your two devices are connected to the program successfully, they will be detected by the program and located as "Source" and "Destination". To transfer iPod files to Android, you should make sure the iPod shows in the "Source" place and Android in the "Destination". If not, you need to click "Flip" button to change their positions.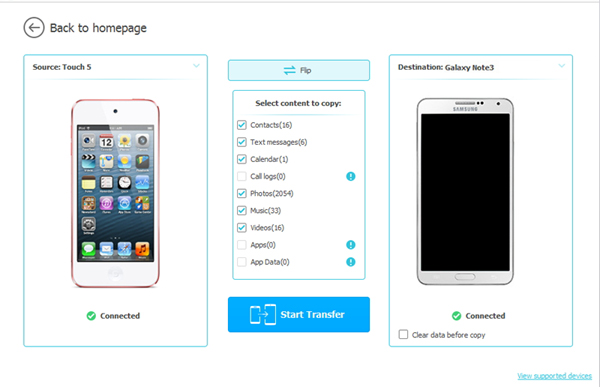 Step 3. Start to pull music to Android from iPod
Uncheck other file types except "Music", then, you can click the button of "Start Transfer" to move all the songs from the source iPod to the destination Android. During the process, you should keep your iPod and Android phone connected to the computer all the time.
Here is how you copy iPod music files to Android. Only within three simple steps, you can make it! Why not continue to transfer other files like SMS, contacts, pictures, videos and apps from iPod to Android, or other more devices with this right-hand tool? It is really a handy data transferring program for any device.
Related Articles:
Contacts Transfer between Sony Ericsson and Galaxy S5/S4/S3
Transfer Contacts between Android and iPhone
Add a comment