How to Transfer Apps from Samsung to iPhone X/8/8 Plus/7/7 Plus?
There are lots of reasons why a person might need to transfer apps from Samsung to iPhone. They might have decided that a Samsung phone is not the right choice for them and are now ready to join the legions of Apple fans waiting on tenterhooks for news of the iPhone 6S. They might have two mobiles - one of each - and be keen to keep the devices as closely synced as possible. Whilst it is not strictly possible to transfer the exact same apps from a Samsung phone to an iPhone, there are various ways in which you can regain all of the lost games and features and securely move every other kind of data between the devices. In fact, the only kind of information that cannot be directly transferred is apps, because iOS programs are designed to work with Apple interfaces only.
However, Apple's new app - Move to iOS offers a quick and easy method of moving important data files from a Samsung to an iPhone. This handy third party app can securely transfer photos, videos, contact lists, text messages, music tracks, calendars, and other information from Android to iPhone/iPad in a matter of minutes. Plus, it does this in a way which is entirely safe and secure – no data will be lost. With the support of this app, you can finally say goodbye to fussy and time consuming transfers and having to resort to moving folders file by file, because the easy to use interface takes care of it for you. You only have to select the files that you want to move from the Samsung to the iPhone and hit the transfer function to start the process.
Move to iOS app is great for all Android and iOS devices. It supports Samsung Galaxy S6/S5/S4/S3/Note 4/3/2, as well as iPhone X, iPhone 8/8 Plus, iPhone 7/7 Plus, iPhone 6S/6S Plus, iPhone 6/6 Plus, iPhone 5S/5C, iPhone 5, etc. This simple three step guide will show you how to master the Move to iOS app and start moving apps from your Samsung phone onto your iPhone in no time.

Easy Way to Transfer and Play Samsung Apps on iPhone
Step 1. Download the Move to iOS app on your Android device
Step Two: Choose your Android apps and transfer them over Wi-Fi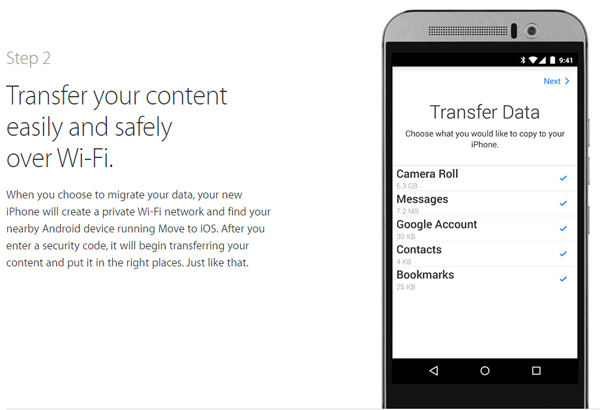 Step Three: Get started with your new iPhone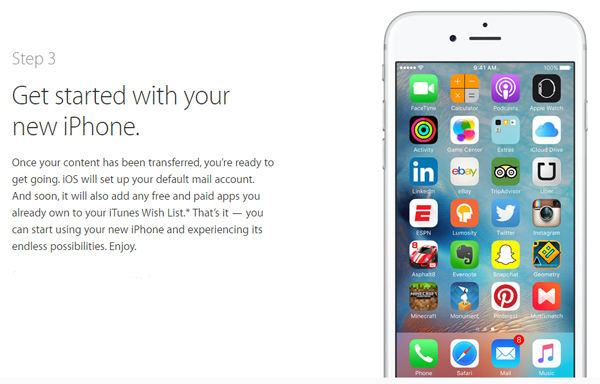 The Move to iOS app is one of the fastest and safest ways to move your important information between two devices, without any risk of important information being lost during transfers.

Related Articles:
How to Copy Photos from Android to iPad