Are you planning to purchase a brand-new HTC phone but don't know how to move contacts from the old HTC to a new one? If you cherish HTC devices so much, you would want to upgrade your device to the most recent HTC phones. But how can you cope with your contacts on the current HTC phone?
If you own an HTC phone, you must know how to successfully transfer data between HTC phones as it will determine whether you will access all your data safely to your new phone, and lose or corrupt it. Here are possible ways to transfer contacts from HTC to HTC.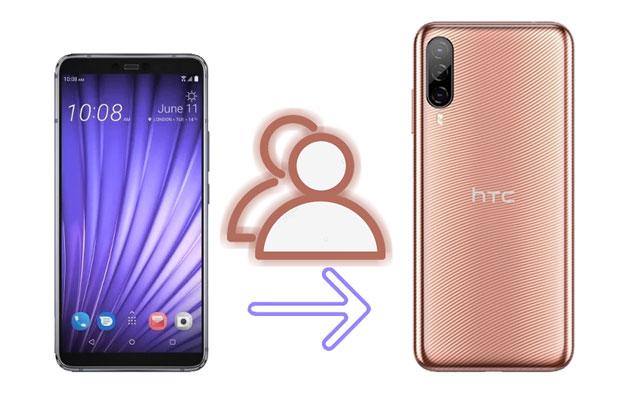 Way 1. How to Move Contacts from one HTC Device to Another via HTC Transfer Tool
The HTC Transfer Tool is a practical application that helps to move data between two HTC devices. With its well-created security feature, you are sure your data will be secure during the transfer process. The free application helps move data like settings, bookmarks, music, contacts, wallpaper, messages, calendars, photos, and more.
The tool is also programmed to use Wi-Fi Direct to copy data relatively fast. Furthermore, your HTC phone must be Android version 2.3 and above. Besides, it's specifically developed to work with HTC devices, so it can't transfer data to other Android brands apart from HTC.
Here are steps to transfer data between HTC phones using HTC Transfer Tool:
Step 1: Install the HTC Transfer Tool
Open Settings on the new HTC device and click Transfer Content > HTC Android Phone. Download and set up the HTC Transfer App from the Google Play Store on the old device.
Step 2: Confirm the PIN on HTC Phones
Make sure that the PIN shown on both HTC devices are similar. Click on the Next button.
Step 3: Select Contacts to Transfer
Select the Contacts/Call History option on the screen, and click on the Start button to begin the transfer.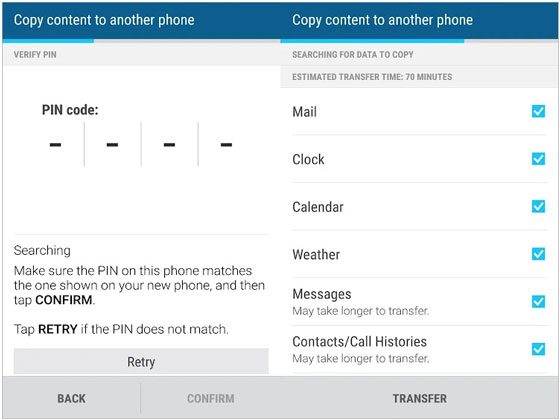 You may need: Transferring photos from HTC to PC is an easy thing because you can utilize these methods to complete it.
Way 2. How to Move Contacts Between HTC Devices via Bluetooth
If the amount of data you want to transfer isn't huge, you can use Bluetooth as a medium of transfer. Bluetooth is a built-in feature in Android smartphones that allows data to be transferred between Android phones. There will be no need to install third-party applications. The good thing is that Bluetooth supports contact transfer between HTC phones.
Additionally, if you want to move many contacts, Bluetooth will take a long time to complete the process, making it inconvenient and inefficient. However, if you have plenty of time to spare and you want to transfer a small number of contacts, follow the guidelines elaborated below:
Step 1: Enable Bluetooth on HTC
On both devices, open Settings and enable Bluetooth. Put the two phones close to each other and wait as they connect. You will be required to pair the devices with a unique code.
Step 2: Share Contacts via Bluetooth
After successfully pairing the devices via Bluetooth, open contacts on the old device and click "Send Contacts".
Next, click the Send contact by Bluetooth or Share name card via icon. A pop-up will appear on the screen. Click Select All > Done, and select Bluetooth.
Step 3: Receive Contacts on the Target HTC Phone
Select the new HTC device as the recipient. Confirm the request on the new device to begin the process. Then tap the Accept icon to save your contacts on the destination HTC device.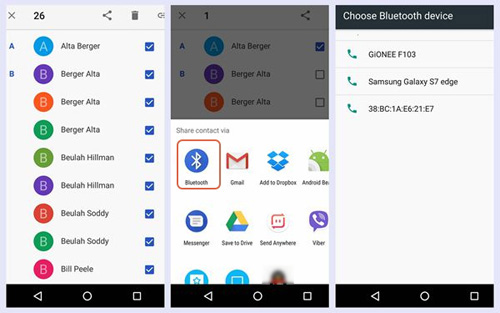 Learn more: How can you effortlessly transfer data from HTC to Samsung? Open this guide to get useful solutions.
Way 3. How Share Contacts from Between HTC Devices with HTC Backup
HTC devices have an in-built feature, HTC Backup, that allows you to save and retrieve your HTC data effortlessly. For this method to work, you first need to have backed-up contacts on the old device. This will enable you to retrieve the files to the new smartphone by logging into the HTC backup account.
The restoration process will reset all your current settings on the old device. Thus, if you want to restore purchased applications, you must install them from the Play Store.
Here is how to move contacts between HTC device:
Step 1: Connect HTC Devices to a Network
Firstly, enable mobile data or Wi-Fi connection on the two HTC devices.
Step 2: Add Your HTC Account to the Phone
On the old device, backup data. Open HTC's Settings and go to Backup & reset > Backup account > HTC account. Use your email, Facebook, or Google account to sign in. Enable Automatic Backup for setting automatic periodical backups, or tap "Back up now" to back up the device manually.
Step 3: Restore Backup to New HTC Phone
Restore the backups to the new device. On the new device, open Settings and proceed to Backup & reset. Lastly, click Restore from the HTC backup.
Sign in to the account you backed up your data on the old device. Choose the contacts folder and click Next. If prompted, open the cloud storage.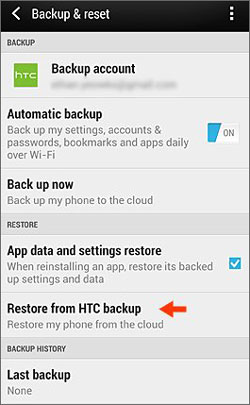 See also:
HTC SMS Recovery: 3 Effortless Methods to Retrieve Deleted SMS from HTC Phone
Transfer Data from HTC to Huawei P40/P30/P20 without a Hassle?
Way 4: How to Transfer Data from One HTC Phone to Another via Coolmuster Mobile Transfer
Coolmuster Mobile Transfer is a cost-efficient tool for HTC data transfer, which enables you to transfer multiple data types between HTC devices, such as contacts, messages, music, applications, pictures, and more. Compared to other HTC transfer applications, the Coolmuster Mobile Transfer simplifies the connection process on the devices via USB cable or Wi-Fi.
The application provides a simple and direct on-screen guide to help you through the process. Additionally, the application works with devices that operate on Android OSes (Android 4.0 or above) and iOSes (iOS 6.0 or higher). Thus, you can handily copy contacts and other data from an iPhone to an Android phone.
Key features of this HTC transfer software:
* The transferring process is simple, secure, and efficient.
* Support most files types on HTC, like music, contacts, call history, videos, apps, etc.
* Transfer files between two phones that operate on different OSes.
* Compatible with the most current Android and iOS.
* Allow you to select data by category before copying them.
Download Coolmuster Mobile Transfer.
How to transfer data from one HTC phone to another in one click?
01Launch the Program
Install Coolmuster Mobile Transfer on your PC. Open it and click Mobile Transfer.
02Connect HTC Phones to PC
Use a USB cable to connect your HTC devices to the PC and allow USB debugging on each device as requested. Afterward, the application will automatically recognize your phone. After that, check if your HTC phones are in the right positions. If needed, you can tap the Flip icon to change their locations.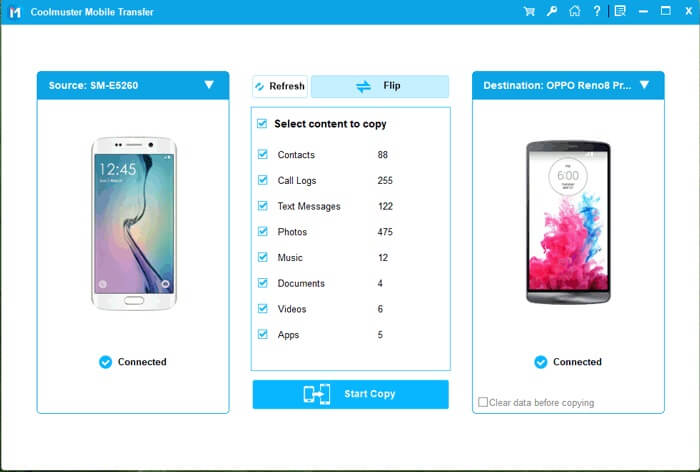 03Fast Transfer Data from HTC to HTC
Select Contacts and other file types from the list, and click the Start Copy icon to begin transferring to the new device.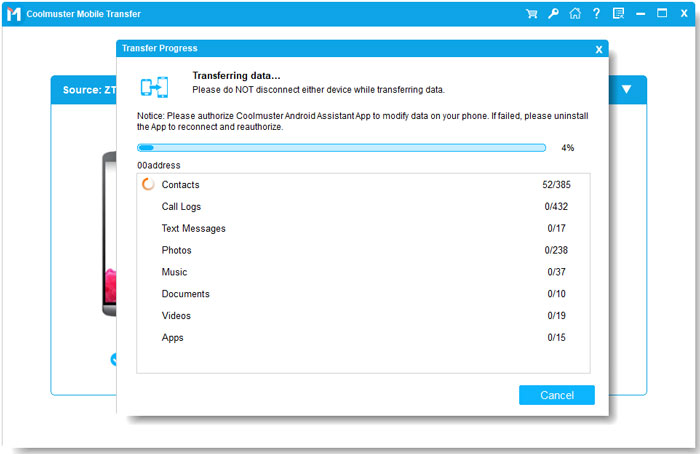 Conclusion
You've got two HTC phones, and you need to transfer the data between them. Data transfer is easy with a few tools and a little know-how. If you want the simplest and quickest way to move your files, then Coolmuster Mobile Transfer is the best choice. This software can copy various files at a time without losing quality.
Related Articles:
How to Transfer Contacts from iPad to Android (Effective)
How to Transfer Contacts from PC to iPhone with/without iTunes - 4 Ways
4 Useful Ways to Transfer Contacts from Samsung to PC
3 Tested Methods to Transfer Data from LG to HTC [Safe and Updated]
HTC Pattern Lock Bypass: How to Unlock HTC Phone Forgot Password
3 Proven Ways to Restore Deleted Contacts on Android Phone & SIM Card