Upgrading to a new Android device is always exciting, but the process of transferring all your data from your old phone to the new one can be a daunting task. Fortunately, advancements in technology have made it easier than ever to transfer data between Android devices wirelessly, without the need for cables or complicated procedures. To make this even simpler, we have specially selected easy methods on how to transfer data from Android to Android wirelessly in this article.
Method 1. How to Transfer Files from Android to Android Wirelessly by Coolmuster Mobile Transfer
The first way to transfer data between Android devices is to use third-party software. Coolmuster Mobile Transfer is the most reliable and efficient app to transfer files from Android to Android on a computer. It is your ideal companion when looking for an easier yet effective app to migrate all your data to your new Android effortlessly.
With this tool, you can transfer various types of files, including music, photos, apps, contacts, videos, call logs, documents, etc. The tool supports Wi-Fi and USB connection. This means you can also transfer your files via a wired connection. With millions of users, Mobile Transfer is your most trusted phone-to-phone transfer app. The software supports iOS devices as well.
Key features of Coolmuster Mobile Transfer:
Transfer data between Android devices wirelessly.
Work on Mac and Windows computers.
Choose specific data types to transfer.
Fast without file size limit.
Steps to transfer everything from Android to Android wirelessly:
01Download and install the software on the computer. Launch it and enter the Mobile Transfer module.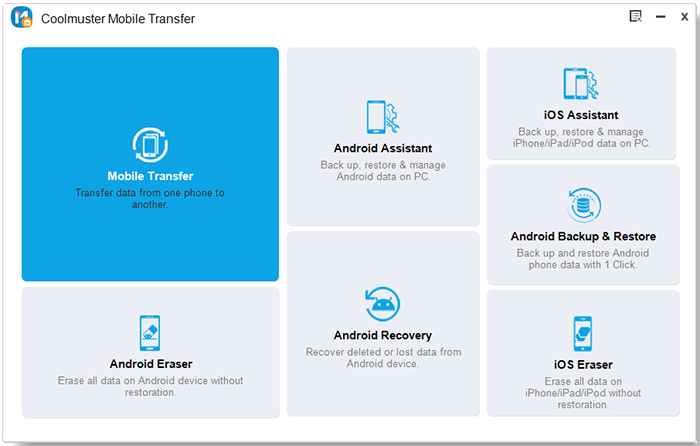 02Tap on the option for "Can't recognize the device?". And a pop-up screen will appear. Select "Connect via Wi-Fi" to proceed. Make sure both phones and computers are connected to the same network.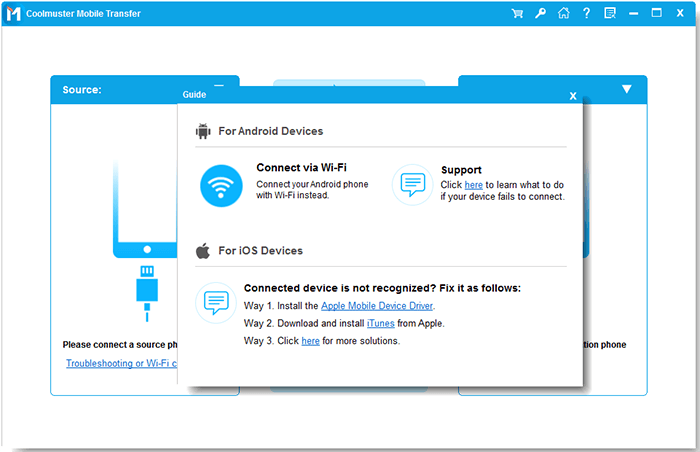 03Tap on "Allow access" on the computer and scan the QR code that shows up on the computer's screen. After a successful connection, your Android device may display a "Connected" notification.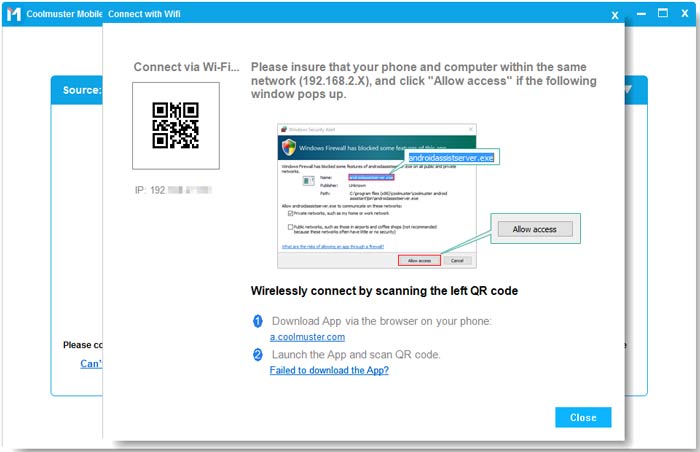 04Make sure the devices are in their correct positions with old Android in the Source position. From the main interface, choose the files to transfer and click on "Start Copy".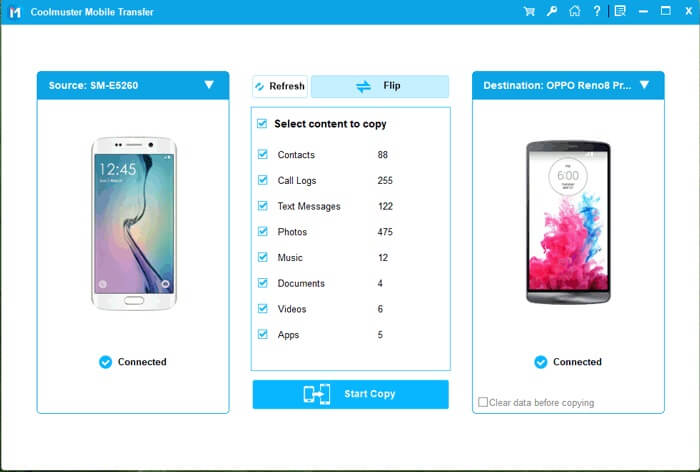 Read More:
5 Easy Methods to Transfer Files between Android Devices via Wi-Fi
How to Transfer Videos from Android to Android Quickly?
Method 2. How to Transfer Data from Android to Android with Bluetooth
Bluetooth is a wireless transfer technology that helps in transmitting data. This feature adopts very unique radio frequencies to make the transfer possible. It's a built-in feature that is available on all mobile phones and lets users transfer data over a secured network. However, the transfer can only occur when devices are in a short range.
Bluetooth wireless transfer is very straightforward, but it is a time-consuming process. Here are the steps to copy data via Bluetooth.
Step 1. First, turn on Bluetooth on both devices from your phone's screen at the top. You can also switch it on from the Settings page. Ensure the phones are visible to other mobile phones.
Step 2. Take your one Android phone and search for the other device's Bluetooth signal. Wait for the name of your other Android to appear below AVAILABLE DEVICES.
Step 3. Pair the devices with a key that appears on both phones. Click on the device name below PAIRED DEVICES. You'll get a message requesting confirmation. Tap "OK" to pair the devices.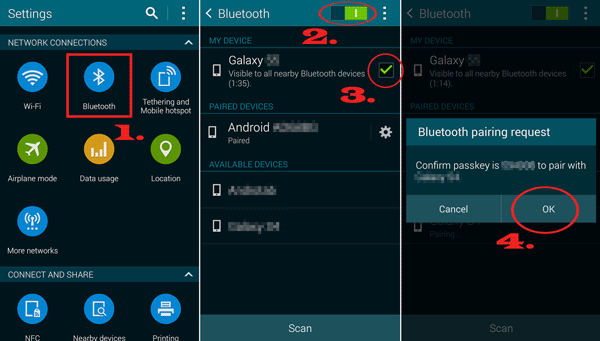 Step 4. Now, start sharing your files from Android to Android. To do this, Open "File Manager", head to folders, then choose the files you wish to share. Tap on the menu button and click on "Share" option.
Step 5. Choose Bluetooth from the sharing option to share your files wirelessly between Android devices. Choose the Android you paired with and hit "Accept" to start the process.
May Like:
[Solved] How to Transfer Files from iPhone to Android via Bluetooth?
How to Transfer Photos from Android to iPhone Wirelessly [Guide in 2023]
Method 3. How to Move Data from Android to Android Using Google Drive
Cloud storage services are ideal for backup and file sharing. One awesome cloud storage product from Google is Google Drive. It offers 15 GB of free storage, which is enough to keep some of your important files. The best part is that Google Drive is a cross-platform application that doesn't have any limitations on the devices you use to access the files. You can save videos, documents, or photos to Google Drive and access them on another device.
Here are the steps:
Step 1. Launch the Google Drive application on your old Android phone. Click "Add" then choose "Upload" option to select the videos, documents, photos, and more from your phone.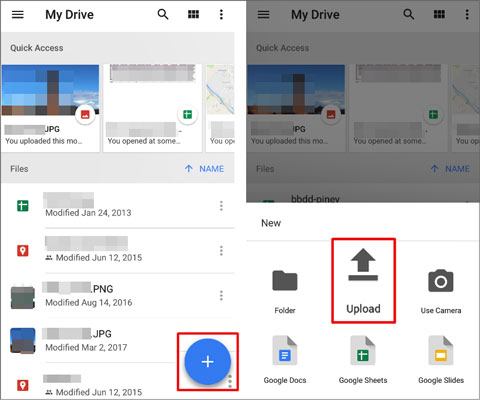 Step 2. Choose the files to transfer, then click "Upload". When done, click on "My Drive", click on three dots, and select the option for "Share".
Step 3. Add the recipient's email address, change permissions, and click "Send".
Step 4. On the new Android phone, launch Google Drive and access the files sent from the other phone.
See Also:
How to Transfer Files from Android to PC over Wi-Fi? [6 Ways]
How to Transfer Data from Samsung to Samsung: Step-by-Step Guide
Method 4. How to Copy Data from Android to Android Wirelessly via SHAREit
SHAREit is one of the most popular applications for transferring files between mobile phones wirelessly. You just need to download the application on both devices and start transferring files. The devices should be connected through Wi-Fi. You can transfer various files, including videos, documents, photos, etc.
Check the detailed steps below:
Step 1. Install the SHAREit app on both devices. Launch the app on the source phone and click "Send". You will be directed to the phone's storage to choose the files to transfer.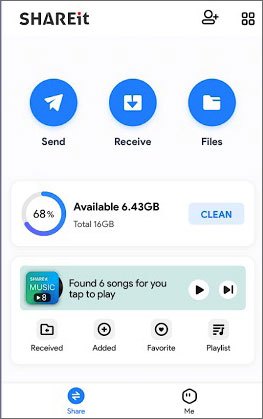 Step 2. Launch the app on your target phone and click "Receive". Your device will start searching for the nearby source device. Click on the phone's icon to begin receiving data on the target device.
Method 5. How to Transfer Data from Android to Android by Send Anywhere
Just like its name, the Send Anywhere app is a formidable software to share data between two Android devices. Its strength lies in its ability to share files to multiple devices at the same time. The 256-bit encryption is foolproof in how secure it is. Additionally, it generates a 6-digit code to connect the devices. The best part is that you don't need an internet connection to transfer your files. Below are steps to transfer files between Android devices using Send Anywhere:
Step 1. Install and launch the Send Anywhere app. From the primary interface, click on "Send" and locate the data to transfer. Once done, click on "SEND" again.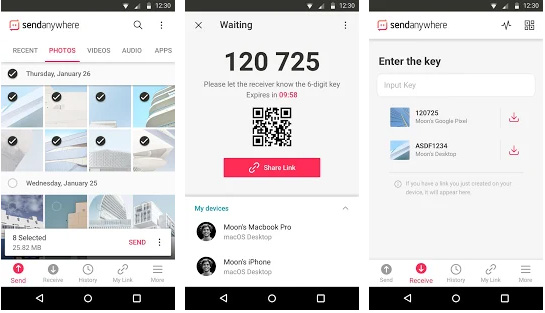 Step 2. Share the six-number code you will receive on your source phone with the recipient.
Step 3. On the target phone, click the "Receive" option from the app and key in the code to get the files.
Can't Miss:
Best 9 Methods to Transfer/Share Contacts from Android to Android [2023]
8 Useful Methods to Transfer Data from Samsung to Huawei
Method 6. How to Move Data Between Android Wirelessly Through NFC
Another way to copy data from Android to Android wirelessly is to use Near Field Communication (NFC). It's a fast way that can help you migrate large data types between Android devices. NFC supports Android Beam, which works by pressing the devices' backs together to allow data transfer. To transfer your datas between Androids, here are the steps to follow:
Step 1. Enable NFC on both phones. To locate NFC, head to Settings on the phone, click on "Wireless & networks". You'll see the NFC option. Just toggle on this option on both devices.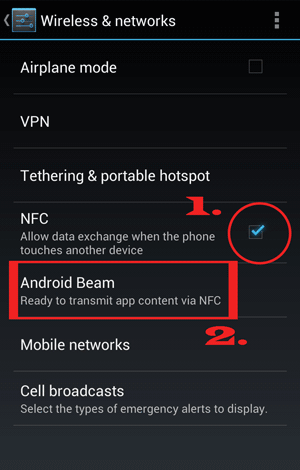 Step 2. If the phones have NFC enabled, turn on the Android Beam, then use it to access the files you wish to copy to another Android.
Step 3. Choose the files and start the beaming procedure. Place the devices together on their back.
Step 4. You'll get messages for confirmation of a successful connection. On the source phone, the phone's screen will appear smaller. Click "Touch to beam" when it appears.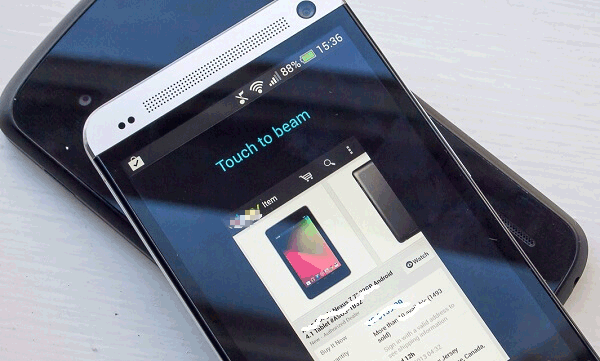 Step 5. When the beaming starts, you'll get a sound notification. Ensure the phone is unlocked and is turned on. Keep both phones back to back. Wait for the beaming to complete. Your files will now have been transferred to the target Android.
Concluding Words
Transferring data between Android devices has never been easier. This guide has demonstrated only the simplest ways to copy data from one Android to another wirelessly. The detailed steps will make your transfer seamless. However, a reliable, robust phone-to-phone transfer software that makes the transfer process smooth is Coolmuster Mobile Transfer. It is free from errors and limitations.
Related Articles:
[SOLVED] How to Connect Android Phone to PC through Wi-Fi?
5 Approaches to Transfer Data from Xiaomi to Samsung
How to Transfer Pictures from Android to Android? [4 Ways]
5 Best Ways to Transfer Music from Android to Android (Easy and Helpful)
How to Transfer Files from Android to iPad - A Complete Guide