How to Transfer iPhone Ringtones to Android?
Summary: Want to transfer ringtones from iPhone to Android but don't know how to do that? This is a tutorial shows you how to transfer iPhone ringtones to Android easily and quickly.
If you are a new Android phone user who has just switched from an iPhone to Android, such as HTC One M10, Huawei P10, or Samsung Galaxy S9, you may wish to transfer the wonderful ringtones on your iPhone to your new Android phone. Many people think that this problem will not be easy because the iPhone and Android are on different systems and may have problems with format incompatibility. In fact, if you have the right tool, you can easily transfer your iPhone ringtones to your Android phone with one click.
You May Like: How to Backup iPhone to iPad?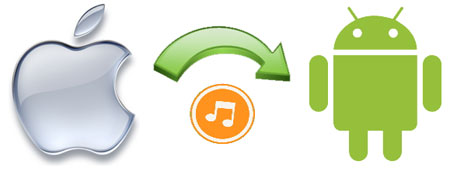 Tool We Use to Transfer Ringtones from iPhone to Android - Phone Transfer
When talking about transferring data between iPhone and Android, the easiest way is using a professional phone to phone transferring program. You can depend on a very effective program which is known as Phone Transfer, that can accomplish the process at a lighting speed.
1. It can help you transfer ringtones, contacts, text messages, photos, videos, music files, calendar, notes and more from iPhone to Android directly.
2. It supports all iOS devices, including iPhone 11/11 Pro/11 Pro Max/XR/XS/XS Max/X/8/7/6S, iPad, iPod, Android devices like Samsung, HTC, LG, Sony, Huawei, ZTE, etc. as well as Windows phones.
3. This phone to phone transfer tool is easy-to-use, you can transfer everything at the same time, or you can transfer some of them selectively.
4. One-click backup iPhone/iPad/iPod and Android phone data to computer and restore it to other phones later on.
5. Restore files from iCloud, iTunes and OneDrive backup without any data loss.
6. The program supports over 3500 phones as well as different networks.
How to Transfer iPhone Ringtones to Android Step by Step?
The iOS device's ringtone is saved in the .m4r format, and on Android devices, you can select an .m4a audio file as the ringtone. If you need to transfer a ringtone file from iPhone to Android, or vice versa, you need to change the extension of the ringtone file. Before you start the transmission, you need to know that Apple's ringtones do not apply to any applications because they are encrypted by Apple.
In the application market, there are a large number of multi-functional applications for iTunes, Android, iOS devices. For example, with a third-party phone manager, you can manage all the activities of your phone contact directly from your desktop. Here we will introduce if you use Phone Transfer to transfer ringtone files. Of course, there are many online tools that also claim to provide similar services. However, you need to be aware that choosing a high-confidence program will do more than half the effort, and some untrustworthy applications may snoop on and harm your device.
Read More: How to Port Android Apps to iPhone
Step 1. Install and launch Phone Transfer tool
Phone Transfer allows the transfer of selected media files like videos, photos and ringtones. To do that, you need to install the application first and then launch it on your computer. Then, its primary window appears and you can see there are 4 different options are displayed.
Step 2. Connect iPhone and Android phones to computer
Go to "Phone to Phone Transfer" mode and click on the start button. This takes you to the main transfer window. Now, you can use two USB cables to connect both of your devices to the computer. The two connected devices will be detected by the program and displayed side by side.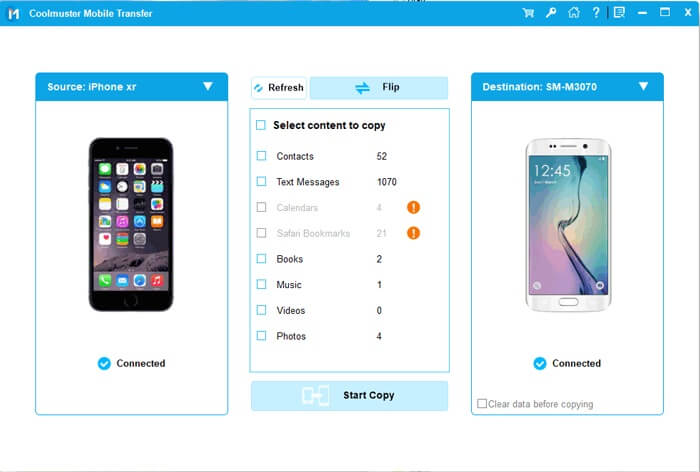 Step 3. Click "Start Copy" button to begin transfer process
Now, check the data types you want to transfer from your iPhone to Android phone (i.e. iPhone ringtones) and click the button of "Start Copy" to initiate the transfer process. Then, all the ringtones on your iPhone will be transferred to your connected Android device completely.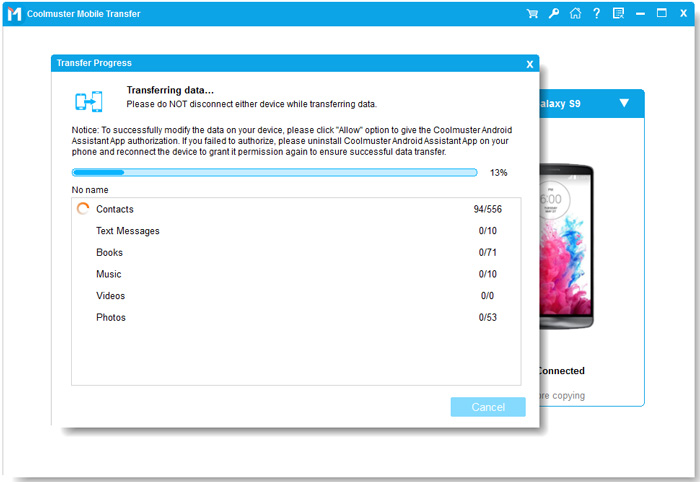 The Bottom Line
As you can see, using Phone Transfer to move ringtone files from iPhone to Android phone is very easy and safe without any complicated operations and restrictions. That is all about how to transfer ringtones from iPhone 11/11 Pro/11 Pro Max/XR/XS/XS Max/X/8/7/6 to Android device. In addition to ringtones, it can also help you to transfer more data from iPhone to Android, and vice versa, such as contacts, text messages, photos, videos, music, calendar, call logs, notes, apps, etc.. So why not download it now to transfer iPhone ringtones and more to the Android?
Related Articles:
How to Transfer Contacts from One iPhone to Another
How to Transfer Content/Data from Samsung to Samsung
How to Transfer iTunes Apps to Android?