The debate between iPhone and Android on which device is best is never ending. While there may never be a definitive winner, we still want to help you find the perfect one for your needs by comparing them. Although both iOS 16 and Android 13 are exceptional operating systems, they each have unique features that make them different.
Despite different designs, both products offer a variety of similar features that are centered around touchscreen technology. If you're looking for the best phone out there, it's certain to be running on one of these operating systems.
Android or iPhone which is better? Investing in a great phone is an important decision that should be made with knowledge of the various strengths and benefits each platform offers. Here, we'll compare Apple's iPhone vs Android devices in detail.
Part 1. iPhone vs Android: Cost
Purchasing a new phone can be expensive, but you will find affordable and more expensive choices on the iPhone or Android. Every phone model's pricing can be impacted by its storage capacity.
The most affordable iPhone of the best-priced models was Apple's iPhone SE, with a price tag of $429 for 64GB storage capacity. Compared to Android phones, the Google Pixel 5a is just $20 more at $449.00 and boasts 128 GB of storage plus an additional rear camera. (iPhone Comparison)
Samsung produces some of the most luxurious Android phones on the market, offering cutting-edge technology at a price that reflects its quality. The highly expensive Samsung phone is the Samsung Galaxy Z Fold3 which starts at $1,799.99, featuring an impressive 256 GB storage capacity, while Apple's iPhone 13 Pro Max starts at $1,099 with 128 GB of storage.
The screen and camera on both devices are comparable, but Fold3 has a bigger screen. Android and iPhone offer phones in various budgets depending on your needs.
You may like:
11 Best iPhone Transfer Software in 2023
What Is the Difference between HEIC and JPG
Part 2. Android vs iPhone: Ease of use
It's no secret that Apple products have always been known to "just work"; their user interface is easy to use. Nevertheless, the Android interface is also simple to use and very user-friendly. Learning how to use the other won't be hard if you can operate one of these devices.
Currently, all phone interfaces have improved and are easier to operate than ever before. However, the main distinction is control, something that has become even more accessible for today's users compared to back then.
Android phones offer significantly more control over your device, as well as its applications, in comparison to Apple devices. If you're content with Apple's home screen, you can customize it as much as you'd like.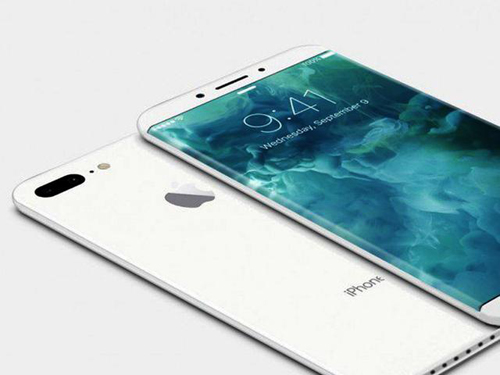 Part 3. Android versus iPhone: Software
Is Android better than iPhone in terms of software? Let's compare iPhone and Android with key distinctions to help you know the better choice according to your preferences:
3.1 Operating system
An "open" operating system allows unrestricted access to its source code, meaning anyone can freely use and modify it. Conversely, an OS classified as "closed" does not have the accessibility to its core programming information.
Android phones employ open-source software, whereas Apple gadgets operate on closed source systems. If customizing your phone's software is your top priority, then an Android device may be the ideal choice. (How to switch Android phones?)
Android devices are powered by Google's Android platform, whereas iPhones use Apple's iOS. Generally, they work the same. You'll have a Home screen with your frequently used applications like games, utility tools, a Phone to make calls, a Camera for taking pictures, and Messaging to send out texts.
In addition, touchscreen technology is utilized to provide users with an array of added features. Furthermore, the device may include additional hardware, such as accelerometers or gyroscopes, for a more enhanced user experience.
Every fall, Apple launches a new version of iOS, plus additional updates throughout the year. On the other hand, Android was not as consistent in releasing updates in earlier years; for instance, it took two years to launch Android 2.0 2009 and 3 and 4 in 2011.
However, recently, Android has adopted a yearly release cycle. Numerous Android device producers, such as Samsung, adopt and modify the operating system slightly to suit their needs.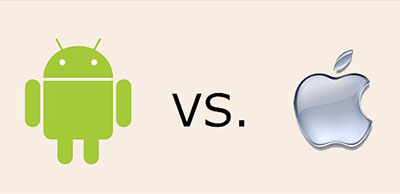 3.2 Security
To ensure your phone functions smoothly, companies consistently facilitate system updates to be directly downloaded to the device. The updates offer new exciting features and also provide much-needed security patches to keep users safe. Phone manufacturers routinely send out updates to keep their devices up-to-date. As long as users use an iPhone with supported hardware, they can receive and download all the necessary updates for their devices. Android phone manufacturers offer limited security updates and software versions for a set number of years after buying.
If the safety of your mobile device is a priority, an iPhone provides greater security than an Android. Such superiority can be attributed to multiple reasons that are highlighted below:
Apple provides end-to-end encryption in all their applications, ensuring maximum security and privacy for users.
End-to-end implies that a message is encrypted from the start to arrive at the recipient's device. Android devices typically encrypt messages while in transit, but there may still be vulnerabilities, such as going through Google servers.
Apple controls its downloads.
Regarding digital security, one of the most common threats involves downloading malware, harmful software meant to collect personal data or manipulate your device's functions. Android is much more open and versatile than Apple; however, this can be a double-edged sword as its accessibility could mean malicious apps are easier to download. On the other hand, all iPhone applications must go through rigorous checks on the App Store before being released for public use - thus providing users with greater protection from such attacks.
Although iPhones are not entirely safe from security risks, they are less likely to be targeted than Android phones.
3.3 Customization
When it comes to customization, Android, and iPhone offer different experiences. Android gives users a lot of flexibility to personalize their devices. They can customize the home screen with widgets, change the look and feel of the interface by downloading themes, and adjust settings such as font size, display brightness, and even power saving mode.
On the other hand, iPhone users do not have much flexibility when personalizing their devices. They can change the wallpaper, rearrange the apps on their home screens, and adjust the font size and display brightness settings. However, they are limited in what they can do compared to Android users.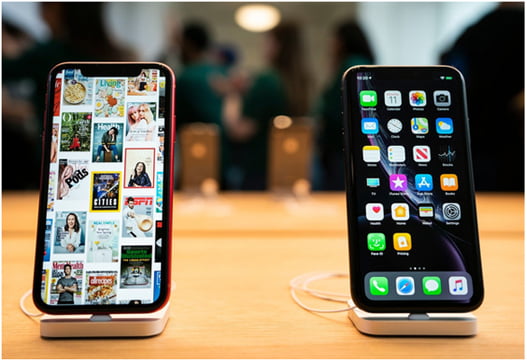 3.4 File Storage
Android or Apple? As for file storage options, iPhones are limited in comparison to Android devices. Apple only allows iCloud or third-party services such as Dropbox and Google Drive for storing documents, files, and photos.
In contrast, many Android devices have the option of built-in external memory support, which provides users with a higher capacity for storing files without relying on cloud storage. Additionally, Androids are equipped with a microSD slot allowing users to expand the device's internal storage capacity even further.
Part 4. Apple vs Android: Hardware
There are a few noteworthy hardware distinctions between iPhones and Android smartphones, so let's look at them.
4.1 Design
By this year, most of the best-rated phones will have a full-face touchscreen without extra accessories. Although this is generally true for iPhones and Androids, there may be slight differences between them.
Take the iPhone SE for instance, it has a superb home button that has a solid-state sensor and a Touch ID technology, allowing you to unlock the phone quickly and securely using your fingerprint. The Galaxy S22 Ultra features an integrated stylus that isn't near iPhone SE's design.
There are some iPhone generations that offer fewer color options than others. iPhone 13 and iPhone 13 ProMax come in five colors, compared to Samsung's Galaxy S22+ and Ultra, which offers seven. (Compare iPhone 12 vs. Samsung S20)
4.2 Performance
The processor of a phone is the core factor that determines its performance. The A15 Bionic microchip, featured in Apple's latest iPhones, is a proof to its iconic performance dictated by its powerful processor. Qualcomm Snapdragon processors are the driving force behind most top-rated Android phones, though they can vary in specifications.
Qualcomm's most formidable chip currently manufactured is the 8 Plus Gen 1, which can be found in both Samsung Galaxy S22+ and Ultra devices. The A15 Bionic and the Snapdragon 8 Plus Gen 1 chips provide robust, lag-free performance that will give any user a great experience.
4.3 Display & Connectivity
Boasting an OLED display and a 120 Hz refresh rate, the iPhone 13 Pro Max grants users an exceptionally smooth visual experience. Professional reviewers all see this model as having superior connectivity due to its self-illuminating pixels. Samsung's new smartphones, the Galaxy S22 Plus, Galaxy Z Flip3, and the Galaxy Z Fold3, are among the most highly rated devices available today. This is largely due to their vibrant AMOLED screens, which provide a colorfully bright display with a smooth 120 Hz refresh rate that allows light to pass through the screen seamlessly.
For connectivity, Apple's iPhones use Lightning connection ports and cables for charging and syncing. But, if you prefer wireless connections, Apple also has Bluetooth compatibility allowing users to connect audio systems or other devices conveniently with their iPhone. If you want universality in your phone, an Android is likely the most attractive option. They use USB-C cables to charge and link up wired USB-C headphones.
4.4 Battery Life, Charging, and Serviceability
Which is better Android or iPhone, in battery life? Due to the wide variety of Android phone models, it is difficult to accurately predict battery life. Samsung, Google, and Motorola phones do not require recharging as frequently as iPhones. But, depending on the phone you own and how often you use it, your charging time may differ.
Apple places a huge emphasis on elegance and ease of use in the iPhone above everything else. This is why users cannot update their iPhones' storage capacity or replace their battery, even though it's doable to get an alternative iPhone battery, it must be installed by a trained person. Unlike Apple, Android phone manufacturers typically permit users to replace the phone's battery and upgrade its storage capacity.
4.5 Cameras
What is better iPhone or Android? Nowadays, most smartphones come with two rear cameras: a wide-angle camera and a main one. However, more advanced models such as the iPhone 13 Pro Max and OnePlus 10 Pro, allow for even better close-up shots by providing users with an additional telephoto or "macro" camera.
Phones with one rear camera cannot compete with those with two or more to capture clear images in low light. The OnePlus 10 Pro offers the widest field of view (150 degrees) among all cell phone models, making it the ideal choice for anyone looking for superior image quality.
See more:
Reset All Settings VS Erase All Content [Informative Comparison]
Google Photos vs iCloud: Is Google Photos or iCloud Better
Part 5. Android vs Apple: AI & Voice Assistants
Google Assistant and Siri are two of the most well-known voice assistant technologies. Google Assistant uses Google's artificial intelligence platform and can be used on Android phones to answer questions, play music, set reminders and control home automation systems. It can also engage in a dialogue with the user to provide useful information.
Siri is Apple's developed voice assistant for iPhone users. It can answer questions, check the weather, set alarms, play music, etc. Its powerful natural language processing capabilities enable it to understand what users say and respond accordingly.
When comparing Google Assistant and Siri, it's without a doubt that Google Assistant comes out on top. Google Assistant is more than a voice-activated search engine; it's also an incredibly useful tool that can optimize your daily life by integrating Google applications such as Calendar and Maps.
Let's say you're rushing to meet someone for lunch downtown, and there is traffic on your usual route; Google Assistant will notify you in advance using your location, which is really cool.
Although Siri may've been the first to be unveiled, it is still quite basic and isn't that much of an artificially intelligent assistant. It may be good for responding to inquiries but falls short when considering AI capabilities.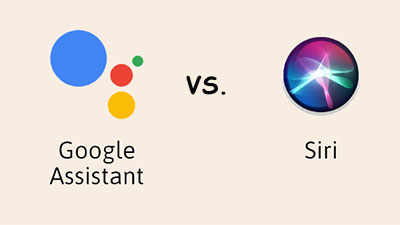 Bonus Tip: Easier Way to Transfer Data Between iPhone and Android Devices
Have you narrowed down your options to either an Android or iPhone? No matter what device you eventually choose, it's critical that you understand how to transfer data between the two. Fortunately, there is software like Coolmuster Mobile Transfer that makes the process of transferring information from one platform to another incredibly easy.
Mobile Transfer can transfer data between Android and iOS devices, regardless of their carrier or manufacturer. This tool is invaluable for anyone who needs to move files from one phone to another. You can seamlessly transfer text messages, contacts, photos, music, videos, and even call history, whether the data is in your internal memory or an external SD card.
It is very easy to use, and not risky at all. Moreover, it's widely compatible with thousands of Android and iOS devices and works on Mac and Windows computers.
How Coolmuster Mobile Transfer can help:
Allows you to transfer data between Android and iPhone devices with ease.
The process is simple, swift, and stable.
Supports transfer of various data like videos, photos, text messages, contacts, SMS, etc.
iOS 16 and Android 11 are supported.
Works on both Windows and Mac
Check the steps to transfer data between iPhone and Android easily via Mobile Transfer:
01 Download and install the software on the computer. After that, launch it and click on "Mobile Transfer." Now connect your Android and iPhone to your PC using USB cables.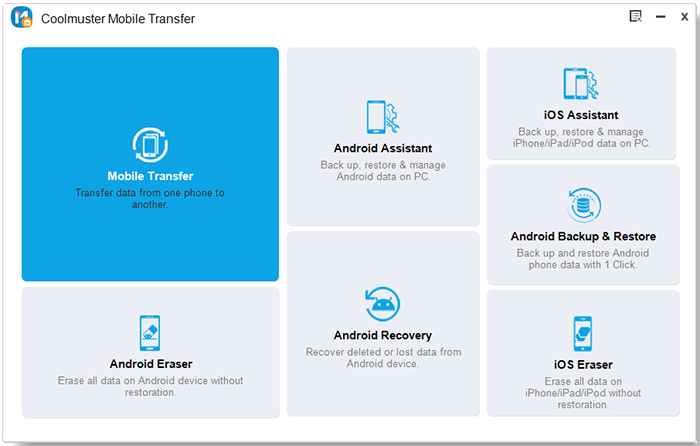 02 After connecting successfully, the devices will be recognized by the software and displayed on the screen in the 'Source' and 'Destination' locations. Make sure the phones are in their right locations. The phone you want to send data to should be in the Destination place and the other one in the Source place. If they are not, tap on the "Flip" button.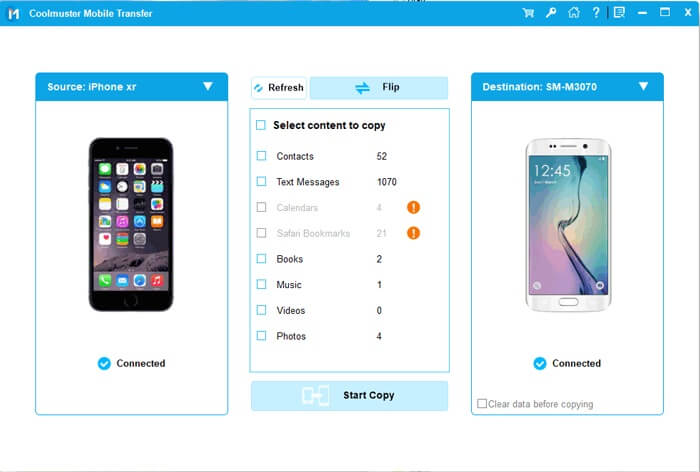 03 You can transfer videos, music, photos, contacts, call logs, SMS, etc., from your source device. After choosing the files, tap the "Start Copy" button.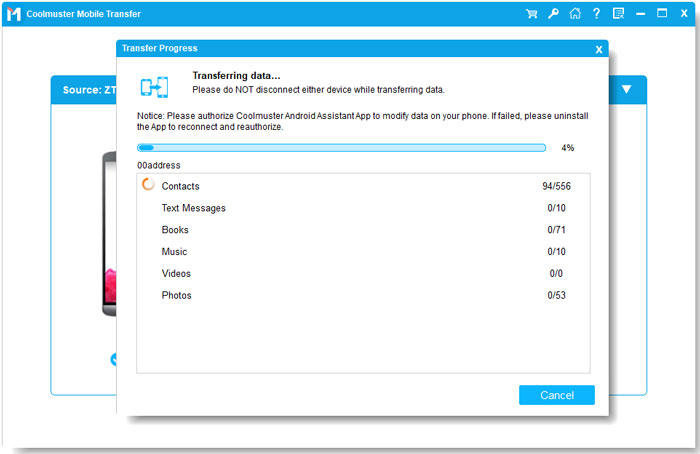 iPhone vs Android: FAQs
Q1. Which is better Apple or Android?
It depends on your personal needs. Both Apple and Apple have many to offer. Apple offers an intuitive user interface, reliable performance, and many apps. Above all, security is top-notch. But it's often seen as more expensive than Android, and its app selection can be limited in some areas.
Android has an open-source platform offering multiple customization options, thus making it more easily accessible than Apple. Also, it has a large app selection allowing users to find the apps they need. Android phones also tend to be lighter and have longer battery life.
Q2. What can you do on Android that you cannot do on iPhone?
Android phones provide many innovative options that iPhones can't, such as creating an exclusive guest mode profile to effortlessly and securely share your device with others. You also can access apps through widgets without launching them, but it also allows you to increase your storage with an SD card.
Conclusion
With a huge selection of currently available smartphones, it is often difficult to determine which one will suit you. To make your decision easier, we have discussed the two major options: iPhone and Android. We've analyzed their hardware and software capabilities, ease of use, and the cost to help you choose the perfect device that meets your requirements.
After deciding which device to switch to, Coolmuster Mobile Transfer is here to help you transfer files between an iPhone and an Android. It is easy to use and allows users to transfer almost all data. This versatile tool allows you to easily copy the data from your old phone to the new one. You no longer have to worry about losing important memories or data when switching phones; Mobile Transfer is here for your transfer needs!
Related Articles:
Comparison on Samsung File Transfer Tools
Top 12 AirDrop Alternatives for Windows - Share Files Seamlessly
AirDrop vs SHAREit, What's the Difference?
Top 7 Best Phone Cloning Software/Apps of 2023
Top 10 Android to Android Data Transfer Apps: Which One is the Best?