Transferring data between phones can be cumbersome, especially when switching between different operating systems or upgrading to a new device. One of the challenges of upgrading to a new phone is transferring note-taking app data from one phone to another. Typing out all the notes manually is not a practical solution. This raises the question of how to transfer notes from Android to Android.
The method for transferring notes from one Android phone to another depends on the note-taking app you use. Stock Android typically has the Google Keep app, but other phone brands like Samsung, OnePlus, and Xiaomi use their in-build note apps. As a result, the methods of transferring data between Android devices vary depending on the brands of the two devices involved. Continue reading through this guide to learn how to share notes between two Android phones.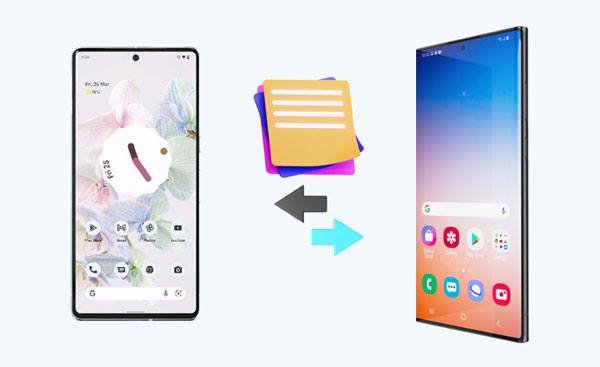 Method 1: How to Transfer Notes from Android to Android via Google Keep?
How do I share notes between two Android phones? You can use the Google Keep application. Google Keep is a free note-taking app that works on all Android phones and iOS devices. If you already use Google Keep to store your notes, transferring them to a new Android device is simple. Just sync your Google Keep app with your Google account, and your notes will be easily transferred from one Android device to another. Follow the below steps to sync your Google Keep account and transfer your notes:
1.1. Use Google Keep Application to Take Your Notes
Step 1: Begin by downloading and installing the Google Keep application from Play Store and launch it on your Android phone after it has been installed.
Step 2: To sync your notes with your Google Account, tap the "Turn on sync" option after seeing the prompt at the top of the app indicating that sync is currently off.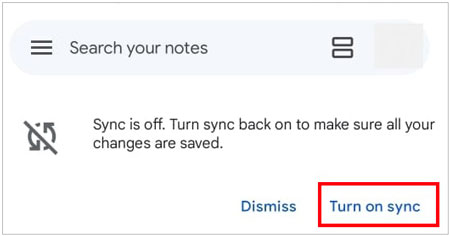 1.2. Move Your Notes to Google Keep
Many Android brands do not use Google Keep as their default notes app. Instead, the brands have their distinct notes apps. This presents a challenge when transferring notes from one Android phone to another. However, you can easily transfer your older notes to Google Keep for easy sharing. Follow these steps to transfer your notes to Google Keep:
Step 1: Install the Google Keep app. Then, open the default notes application and choose the specific notes you wish to transfer.
Step 2: To move the selected notes, press the "Share" button and choose "Keep Notes" from the available options. Then select one format from the given list, and tap "Save".
Step 3: Now you can access the notes on any Android device using your Google Account on the Google Keep application.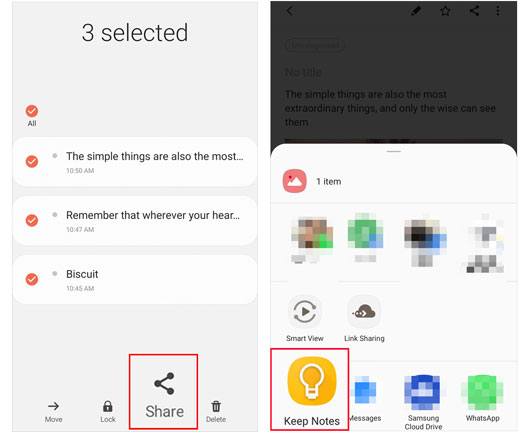 Learn more: Can you transfer songs from one Android phone to another directly? Anyway, it's easy to solve this problem.
Method 2: How to Transfer Notes to Another Phone Using Samsung Cloud?
Samsung users often use Samsung Notes and Samsung Cloud mobile applications. Samsung Cloud is an alternative to Google Drive that lets users back up crucial data such as their gallery, reminders, Samsung Notes, calendar, contacts, and Samsung Pass. Follow the below methods to learn how to use Samsung Cloud to transfer notes from one Samsung device to the other:
Step 1: Launch the Settings application on the source Samsung device and tap the "Accounts and backup" button.
Step 2: Click on the button called "Samsung Cloud" to sync Samsung Notes. Doing that will sync your Samsung notes to Samsung Cloud.
Step 3: Access Play Store using your destination Samsung device and install the Samsung Notes application. Launch it, and navigate to the "Settings" feature.
Step 4: Tap the "Import data" option and then hit the "From Samsung account" button. The Samsung Notes app will recover your backed-up Samsung Notes from Samsung Cloud.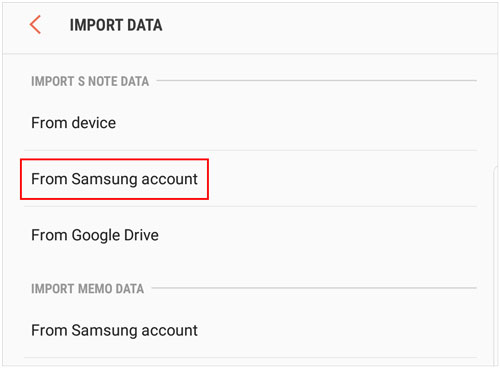 Guess you need: Transfer Apps from Android to Android in 6 Ways
Method 3: How Do I Transfer My Notes from Android to New Android via Smart Switch?
The Samsung Smart Switch app facilitates wireless file transfer between two devices, provided both have the app installed. It is free and can be downloaded from the Galaxy Store. This app is a quick and convenient way to transfer various types of files. With this app, even an iOS device can transfer data to a Samsung device. Follow the below steps to learn how:
Step 1: Begin by installing the Smart Switch app on the sender and recipient phones.
Step 2: Set up a connection between the two Samsung devices by allowing access to the Smart Switch app. After that, tap the "Send data" button on your source device and hit the "Receive data" button on the destination device.
Step 3: Tap on the "Wireless" button on your source device. Select the device on the destination device and tap the "Wireless" button. Wait for a few seconds, and a connection will be established. Allow the source device to share data.
Step 4: Select the data you wish to transfer on your source device. Choose the transfer method as Samsung Notes and click the "Next" button. The transferring process will begin and be completed within minutes.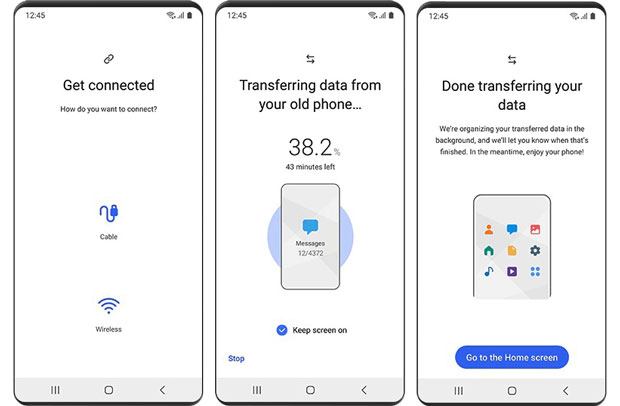 Read more: Sync Notes from iPhone to iPad with or without iCloud
Bonus: How Do I Share Data Between Two Android Phones via Mobile Transfer?
The data transfer process is now more straightforward due to the availability of third-party software. Such software helps you transfer data between two Android devices within minutes. Coolmuster Mobile Transfer is a tool that can help you move data easily and quickly from an old phone to the new one or vice versa. You just need to connect your devices to a computer using USB cables, and then transfer your files in minutes.
The software is 100% safe and contains no malware, ads, or user tracking. Your data will not be compromised in any way during the transfer process. Its user interface is simple and intuitive, so even first-time users find it easy to use. This tool supports the transfer of contacts, SMS, photos, music, call logs, apps, and videos between Android devices.
Key features:
* Support data transfer between Android devices, including videos, SMS, photos, contacts, music, apps, SMS, etc.
* iPhone to Android transfer is also available.
* Work natively with the latest Android and iOS devices.
Download this Mobile Transfer software.
Transfer data between Android devices with this program:
01Begin the process by downloading and installing Coolmuster Mobile Transfer on your computer. Launch the application after you have successfully installed it on your computer. Tap on the "Mobile Transfer" option from the available choices.
02Use two USB cables to connect the two devices to the computer and enable the debugging mode on both Android devices. The program will recognize your devices fast, and the connections are built.
03Select the items you want to transfer. If you want to erase data on the Destination device before copying, you can check the "Clear data before copying" option. Finally, click the "Start Copy" button to begin the transfer process.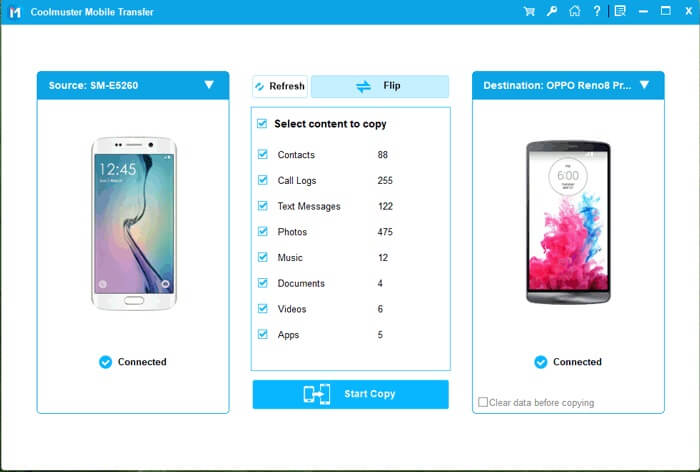 Conclusion
Now you have an answer to the note data transmission between Android devices. You can use any of the methods mentioned above to transfer your notes from one Android device to another easily. Plus, Coolmuster Mobile Transfer can copy other file types, like contacts, music, call logs, text messages, videos, and more from one Android device to another, and it supports iOS devices. If you want an efficient tool to move data, it is your cup of tea.
Related Articles:
[3 Ways] Transfer WhatsApp Chats from Android to Android
5 Ways to Cast Android to Windows 10/11
Transfer Photos from Android to iPad in 4 Simple Ways
How to Clean Junk Files on Android Easily
Top 3 Ways to Transfer Files from Android to PC Using USB Cable
Ultimate Guide to Transfer Your SIM Card from Android to iPhone