Are you wondering how to transfer Samsung notes to iPhone? Taking notes is essential for anyone who wants to keep track of critical tasks and obligations. Notes provide us with a gentle reminder of what needs to be accomplished. Samsung Notes is an ideal platform allowing users to take notes from their smartphones conveniently. However, switching from a Samsung phone to an iPhone can be daunting since you must transfer your valuable notes from your Samsung to your iPhone.
There are multiple ways to migrate Samsung notes to iPhone. Read this article to uncover the different techniques for moving Samsung notes onto iPhone without difficulty.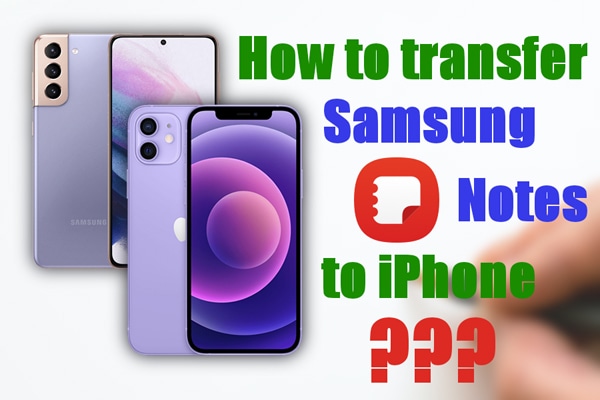 Method 1. How to Transfer Samsung Notes to iPhone via Google Keep App
Google Keep provides the most convenient and straightforward way to move Samsung notes to an iPhone. Google Keep is a perfect multi-platform note-taking app that can be effortlessly linked with a Google Account, making transferring Samsung notes easy! But note that you must use a similar Google Account across both devices to transfer your notes between a Samsung and an iPhone via Google Keep.
Follow the simple steps below:
Step 1. Download the Google Keep application on the Samsung phone and launch it. A popup window will appear inquiring if you'd like to turn sync on. Click "Turn on sync" so the application syncs with your Google data. Once finished, open up the Samsung Notes section to choose a note.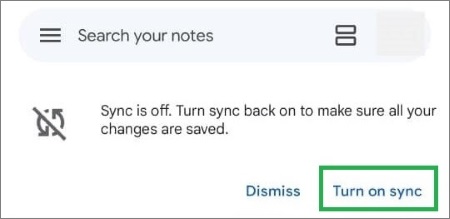 Step 2. Ready to transfer your notes? Select the note you'd like to share and press "Share". Here, decide whether you prefer image or text format before choosing Google Keep. Now save the note in the app! Repeat the procedures until all of your notes have been safely migrated over.
Step 3. On the iPhone, go to the App Store and download Google Keep. Launch the app and sign in with the same Google account you used on the Samsung phone. Once logged in, all of the notes will be transferred automatically!
See also:
How to Transfer Messages from Samsung to Samsung in Minutes
How to Transfer Data from Motorola to Samsung [You Probably Don't Know]
Method 2. How to Move Samsung Notes to iPhone via Google Sync
Google Sync also makes moving Samsung notes to an iPhone effortless and seamless! The Google account syncing feature lets you access Android content on iOS platforms. The most efficient way of sharing Samsung notes to an iPhone is through automated synchronization with Google. It's reliable, secure and allows immediate accessibility across devices at no extra cost!
Below are the steps for moving Samsung notes to an iPhone through Google Sync:
Step 1. Launch the "Settings" application on the Samsung device and tap the "Account" button. Locate the "Google" tab in that section.
Step 2. To synchronize your calendar, contacts and notes to the cloud, open Google and turn on the "Sync Now" option. If you prefer only specific data syncing, such as Notes alone, select partial synchronization and enable the "Keep Notes" option.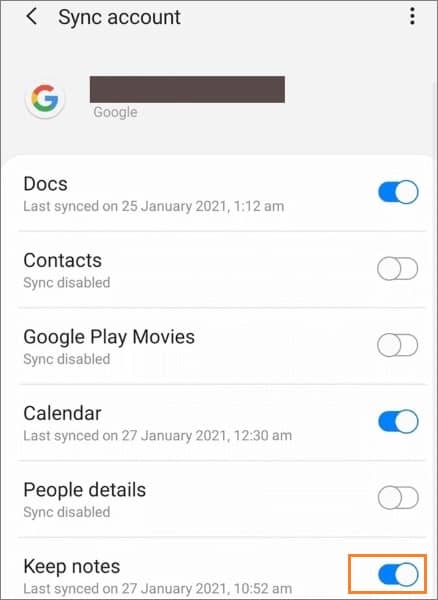 Step 3. Launch the "Settings" application on your iPhone, select contacts, calendar, mail and notes, and hit the "Add Accounts" button.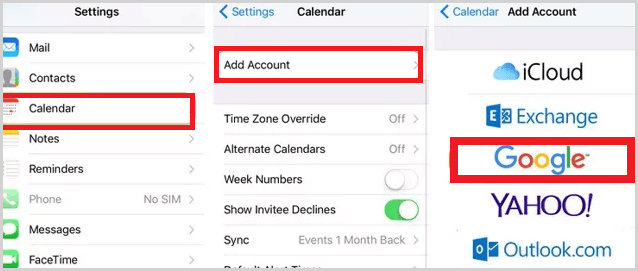 Step 4. Enter the proper Google account and sign in. Click on the "Next" button and enable the notes option. All the notes will be moved to your iPhone from the cloud.
Method 3. How to Transfer Notes from Samsung to iPhone via Dropbox
Dropbox is a beneficial cloud storage service used across Android and iOS platforms. This means you can access it from your Samsung or iPhone, provided there's a solid internet connection, making file sharing quick and easy.
Follow the below simple steps to learn how you can use Dropbox to move notes from your Samsung to an iPhone:
Step 1. Launch the "Notes" application on the Samsung device.
Step 2. Select all the notes you wish to move and tap on the three dots. Now click on the "Share" button.
Step 3. Choose "Dropbox" as the way of sharing from the popup window.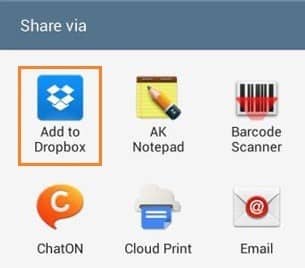 Step 4. Launch Dropbox on your iPhone device to access its storage.
See if these could also help:
How to Transfer Data from Sony to Samsung? [Top 4 Ways]
How to Transfer Files from Android to iPhone [Full Solutions]
Method 4. How to Migrate Samsung Notes to iPhone Through a Samsung PC
You can leverage your Samsung Notes application on your computer to transfer notes from Samsung to an iPhone. It's available in the Microsoft Store for those with a PC. After installation is complete and ready for use, follow the steps below:
Step 1. To copy the data from the Samsung Notes into your iCloud account, open the application on the computer and choose the desired note. Copy its content by highlighting it with your cursor and pressing "CTRL+C". Next, go to iCloud's official website in a web browser and login if you already have an account. Otherwise, create one quickly so that you can proceed with copying over the information.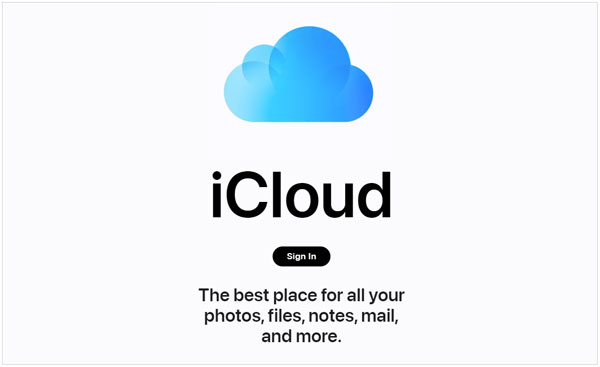 Step 2. Log in to your iCloud account and open the "Notes" tab. Create a note, paste all the copied data from Samsung Notes that you wish to transfer, and then save it. Redo this procedure until every piece of information has been successfully transferred. To complete this action, switch to the iPhone and check if iCloud sync on the Apple Notes is enabled. Once verified, you are done. (Not Enough iCloud Storage?)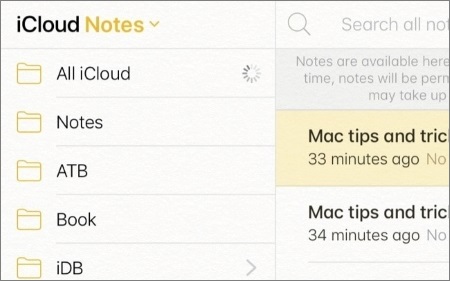 Step 3. To enable your notes to appear on Apple Notes, go into the "Settings" option on your iPhone and select the profile of your Apple account. Subsequently, press "iCloud", then tap "Show All". On this screen, you will then be able to choose "Notes". Enable the "Sync this iPhone" setting if it is not already enabled. Once these steps have been completed, the notes will soon be visible in Apple Notes!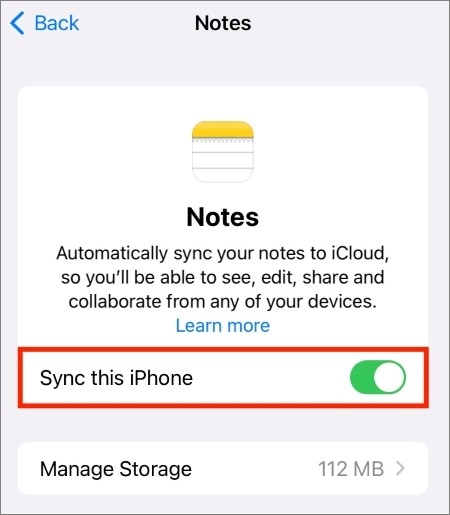 Method 5. How to Transfer Notes from Samsung to iPhone Through Email
Although transferring notes from Samsung to an iPhone may take some time and require patience, there is an easier way. Email can be utilized effectively to move your notes.
Here's how it works:
Step 1. Launch the "Notes" application on your Samsung device and select the note you wish to move.
Step 2. Tap on the "Share" button and select the "As Email" button from the popup window that appears.
Step 3. Enter your email address into the field that appears.
Step 4. Tap on the "Send" button.
Step 5. On your iPhone, log in to your Email and download your notes.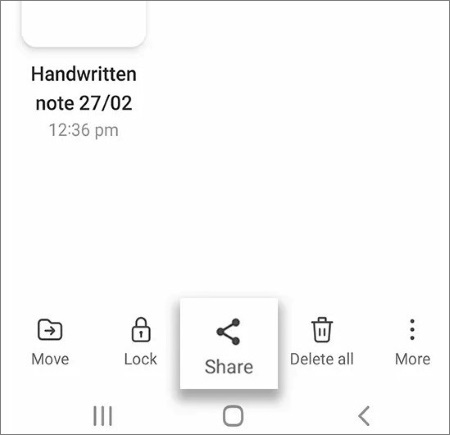 Also read:
How to Transfer Contacts from Samsung to Samsung in 6 Ways? Updated!
Efficient 9 Ways to Transfer Data from Android to Android [Can't Miss]
Bonus: How to Move Android Data to an iPhone Quickly
The easiest way of transferring Android data to an iPhone is through the use of third-party software such as Coolmuster Mobile Transfer. Coolmuster Mobile Transfer is a reliable application that supports the transfer of data between different devices in a secure way.
This data transfer software is an all-in-one solution that allows you to effortlessly share and move data across iOS, Android, iPad, iPhone, iPod Touch, the list goes on. It even works with devices from popular brands such as Samsung, LG, Sony, Google, HTC, and Motorola. You can rest assured it won't overwrite any existing data while transferring it between the two phones.
Key Features
Supports the transfer of many types of content, including notes, photos, contacts, text messages, videos and more.
Securely transfers data without overwriting existing files.
Compatible with different phones from multiple brands.
With user-friendly and easy-to-use interface.
To transfer data from an Android device to iPhone with the help of Coolmuster Mobile Transfer, follow these steps:
01Begin the procedure by downloading and installing the software onto your PC or Mac. Once the installation is complete, launch the program and click on the "Mobile Transfer" button from the available options.
02Connect the Samsung phone and iPhone to the computer using USB and lighting cables. Enable the USB Debugging mode on your Samsung device and tap on your iPhone's "Trust" popup to authenticate the connections.
03Carefully choose the data you'd like to migrate. This program allows for transferring Contacts and Documents between devices. Afterwards, click "Start Copy" to start moving your content from Android to iOS instantly!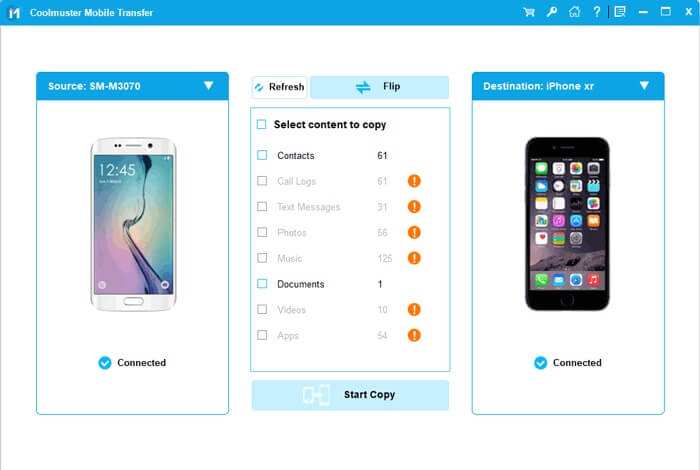 04After completing the data transfer, this program will inform you that the "Transfer is finished" and provide a detailed report about your transfer.
Conclusion
Moving notes from Samsung to an iPhone could be challenging. However, you can easily use any of the above methods to get your Samsung notes on iPhone. Meanwhile, we highly recommend using Coolmuster Mobile Transfer to move contacts and documents from Android to iPhone. This software is reliable, secure and offers an easy-to-use interface for transferring data.
Related Articles:
LG to iPhone Transfer: Transfer Data from LG to iPhone in 2 Amazing Ways
How to Transfer Apps from Samsung to iPhone
8 Methods to Transfer Data from Samsung to Huawei
How to Sync Android Phone with Tablet (iPad & Android Tablets)?
[Fast Transfer] How to Transfer WhatsApp from iPhone to Android
How to Transfer Photos from Android to iPad in 4 Simple Ways? (Updated)