WhatsApp is the most popular social media app today and its integration with Android devices brings convenience. With the help of Google Drive, you can effortlessly back up your valuable data, such as chats, attachments, and more. WhatsApp encrypts all backups for security purposes. However, users often need to access or read the content from these backups on their computers, whether for file recovery purposes or to see what is included in a backup. Do you know how to read WhatsApp backup from google drive on PC?
The truth is that it's not that easy to read a backup of your chat history on your PC. In fact, a large number of people don't know how to find WhatsApp backup on Google Drive.
This article will show you straightforward ways on how to see WhatsApp backup in Google Drive. We have detailed instructions that will assist you in navigating this process with ease. So, let's dive into it.
Part 1. Can I Read WhatsApp Backup from Google Drive on my PC?
There's no official way to read your WhatsApp backup file from Google Drive since the chats are securely encrypted. WhatsApp encrypts its data to provide an extra layer of protection from data leaks on the cloud.
Even though you can access the Drive backup, you can't read the files without decrypting them. Therefore, you can only view WhatsApp backup on your PC from Google Drive and delete it if you like, but you cannot read the chats.
As we know, reading the encrypted data from Google Drive on your PC can be difficult. So, if you want to know how to open WhatsApp backup file, you have to use a third party tool such as WhatsApp Data Backup that will help you backup the chat history to PC and be able to view them.
Part 2. How to Access Whatsapp Backup on Google Drive Through Restore?
Even though Google Drive is a great way to keep your WhatsApp data safe and secure, there's no viable way to read the backup on your PC. But you can back up your files on the Drive and restore them later. Read on to discover how to check WhatsApp backup on Google Drive on your phone.
2.1 Back Up WhatsApp Chats on Android
Start by backing up the chat history if you haven't done that already. To do that:
Step 1. Open the WhatsApp application and head to Settings by clicking on the three-dot menu and choosing the settings option.
Step 2. Next, choose the "Chat" option and "Chat backup", then check if you've added a Gmail account to your WhatsApp. If not, just add one in the "Account" section.
Step 3. After that, click "BACK UP" to save all the contents to the added Gmail account. You may also modify how often automatic backups should occur and choose whether to include or exclude the videos in your backup.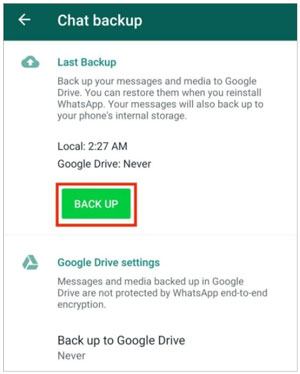 You May Like:
How to Access WhatsApp Backup on iPhone/PC/Google Drive/iCloud without a Hitch?
Top 7 WhatsApp Backup Extractor to Extract WhatsApp Backup File for Android & iPhone
2.2 Restore WhatsApp Chats on Android
After backing up your chats, you can restore them to your Android. But you first have to uninstall WhatsApp from your phone and then reinstall it. Here's how:
Step 1. On your existing Android, find the WhatsApp app and uninstall it, then reinstall it again. If your device is new, you will have to download it from the Play Store.
Step 2. Open the WhatsApp app and verify your contact number. It should be the same as the one connected to the WhatsApp backup.
Step 3. The app will recognize the backup of your WhatsApp data stored on Google Drive and provide you the option to restore. Tap on the "RESTORE" tab to restore your data.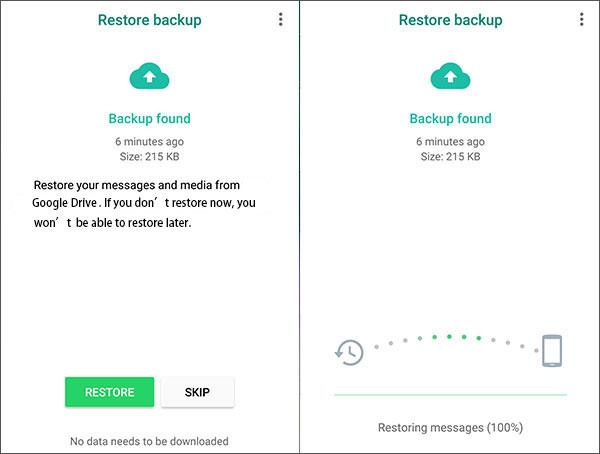 Step 4. Wait patiently for the process to finish, and then tap "Next" to complete the setup.
Can't Miss:
New Proven Ways to Transfer WhatsApp from Android to iPhone
6 Easy Ways on How to Backup WhatsApp Messages from Android to PC
Part 3. How to View Whatsapp Backup on Google Drive Using Elcomsoft Explorer for WhatsApp?
Apart from accessing your WhatsApp backup through restore, you can use Elcomsoft Explorer for WhatsApp to read your backup file. This app can decrypt and help you view WhatsApp chat history. Here are the steps:
Step 1. Open the app, and you will immediately see two icons, one for Android and the other for iOS. Click on the "Android" icon.
Step 2. Select "Download data from Google Drive". If you use 2-factor authentication on your Gmail account, you must enter the 2FA code.
Step 3. The downloading process will start instantly. Wait for the process to finish; it depends on your data size. You will see a warning pop up after the process is finished.
Now click on the "Decrypt" option. Tap "Open" to find your files in the tool's built-in viewer.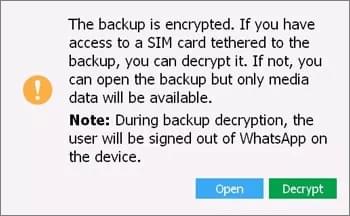 Step 4. You will be asked for the verification code when you try accessing your data. Click "Send" to ask for the code and enter it in the box. After entering the code, your data will be decrypted.
Read More:
[3 Solutions] How to Transfer WhatsApp Chats from Android to Android
Fast Fix WhatsApp Backup Stuck with Practical Tips in 2023
Bonus: Best Way to Back Up WhatsApp Chats to PC with Coolmuster WhatsApp Recovery
It is impossible to read WhatsApp backup from Google Drive on a PC in an official way. This is why you should look for an alternative software like Coolmuster WhatsApp Recovery. This powerful software can help you backup and restore your WhatsApp chats easily. Besides, this specialized tool help you recover lost or deleted WhatsApp data on your mobile devices. Here are the most amazing features that Coolmuster WhatsApp Recovery has to offer:
Recover a variety of WhatsApp data, including chats, messages, photos, videos, and audio files.
Support recovery on a wide range of Android mobile devices.
Preview the recovered WhatsApp data before recovery and select only the files want to restore.
Quickly and efficiently recover lost or deleted WhatsApp data.
Click on the button below to try out Coolmuster WhatsApp Recovery for free.

Free Download for PC
Here are steps to back up your WhatsApp files to your computer:
01Download and Install Coolmuster WhatsApp Recovery
Download and install Coolmuster WhatsApp Recovery on your computer. After executing it, access the initial interface and select "WhatsApp Recovery".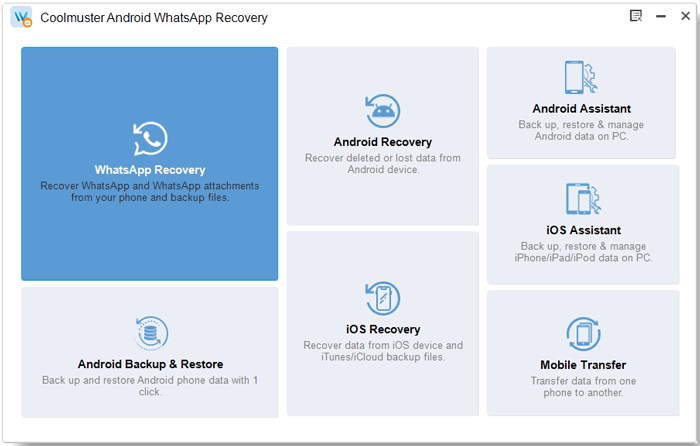 02Connect Device to Computer
To establish a link between your phone and PC, employ a USB cable, select a mobile device, and then press "Next".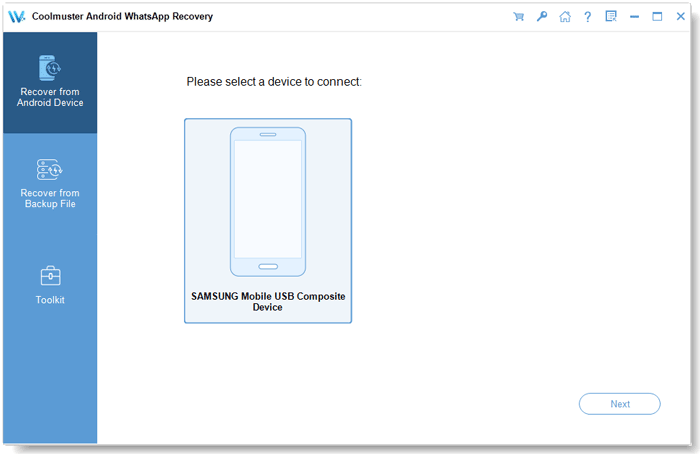 03Back Up WhatsApp Chats to PC
The software will commence scanning your WhatsApp data in order to extract it. This is a backup process.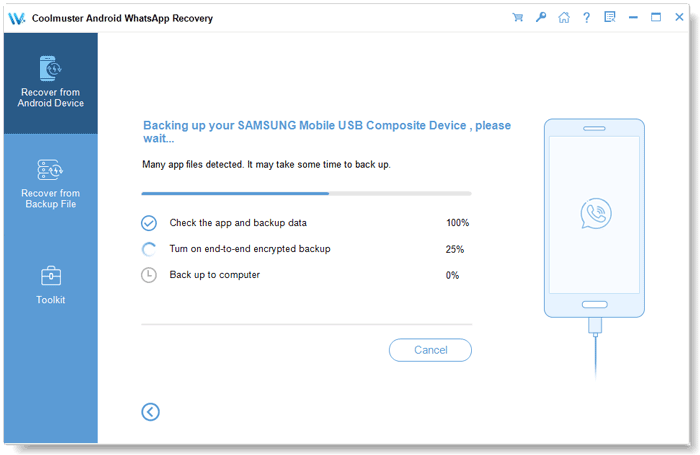 04Restore WhatsApp Chats
To recover your WhatsApp chat, turn on end-to-end encryption on your mobile phone, generate a 64-digit encryption key, and input it into the recovery software. Confirm and view your recovered chats once the scanning is complete.
After the scanning process is complete, you can preview the recovered WhatsApp chats and select the ones you want to recover. Click on the "Recover to Computer" button and choose a location on your computer to save the recovered WhatsApp chats.
You May Like:
How to Back Up WhatsApp Messages from Android to Mac - 5 Proven Ways
[Proven] How to Transfer WhatsApp to New Phone Easily? (Android & iPhone)
Final Words
Backing up your WhatsApp chats on Google Drive is a secure and reliable way to store private conversations and multimedia. From this guide, you now know how you can read Whatsapp backup files from Google Drive on a PC and how to extract WhatsApp database from google drive.
Since the native feature of WhatsApp doesn't allow reading the backup file on your computer, an alternative way is to use the Coolmuster WhatsApp Recovery. It is your one-stop solution for all your backup and transfer needs. It is a user-friendly tool with advanced features to make the whole process effortless.
Related Articles:
How to Retrieve WhatsApp Messages from Lost Phone without Backup?
[Full Guide] Where Are WhatsApp Messages Stored On Your Device?
[SOLVED] How to Recover 1-Year-Old WhatsApp Messages without Backup on Android and iPhone?
[Guide 2023] How to Restore WhatsApp Backup from iCloud to Android
How to Restore WhatsApp Backup from Google Drive to iPhone? [Step-by-step Guide]
Best Way to Transfer WhatsApp Backup from Google Drive to iCloud