"I am simply overusing the fingerprint to unlock the phone. It is too inconsistent for me despite several troubleshooting steps, no screen protector, etc. Ideally, I'd like to still be able to log in to apps such as banking apps using biometrics and pattern unlock for the device. Right now, I swipe up every time to bypass the fingerprint to the pattern unlock page. Is there a way to disable fingerprint phone unlock but have it enabled for biometric app logins?"
- Reddit.com
The fingerprint is one of the convenient security options on an Android device to protect your device data. What if your finger is dirt or the sensor cannot recognize your fingerprint to unlock your phone? Here comes the instructive guide on how to bypass fingerprint lock on Android in minutes.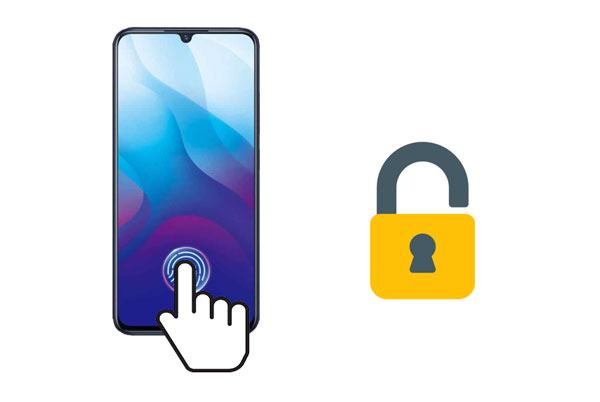 Part 1. How to Unlock Fingerprint Password on Android via Android Unlock
Have you set up a fingerprint lock for your Android device but cannot unlock it for some reason? Or do you want to unlock someone's Android phone with a fingerprint lock? Android Unlock allows you to bypass fingerprint and any other Android lock screen in a few clicks.
Key features of Android Unlock:
Unlock the Android phone with fingerprint lock within five minutes.
Remove pattern, PIN, password, or Face ID in one click.
Unlock some old Samsung or LG phones without data loss.
Support mainstream Android brands like Samsung Galaxy S23/S22 Ultra/S22+/S22/S21/S20, LG G8X ThinQ/LG V60 ThinQ/LG V50 ThinQ, Xiaomi 12 Pro/12/12 Lite/12X, etc.

Free Download for PC
Note: The unlocking process will erase everything from your device. So, you can try to access the locked Android phone via USB to back up your precious data before continuing.
How to bypass the fingerprint lock on Samsung in a few clicks?
01Install and run the program on your computer and tap Screen Unlock to continue.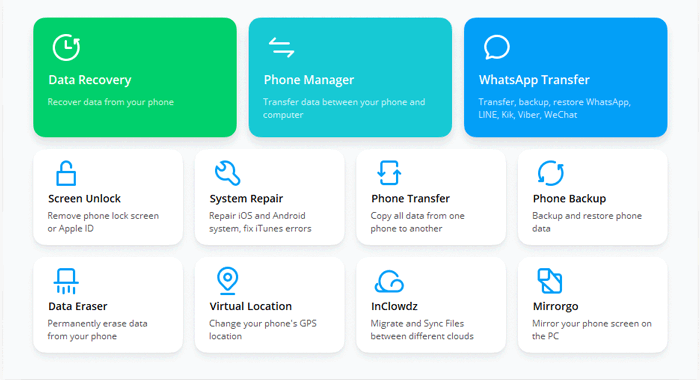 02Connect your Android phone to the computer via a USB cable and select the Unlock Android Screen mode.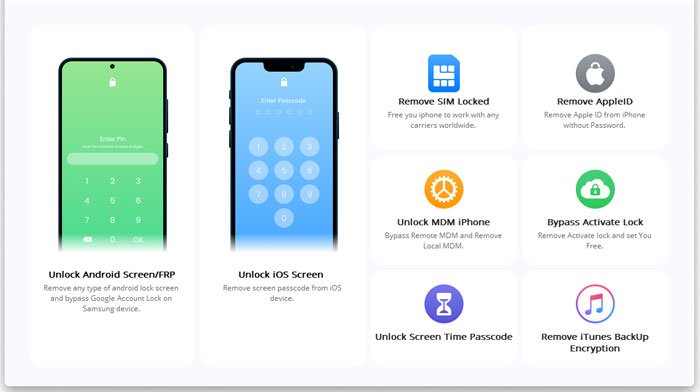 03Select the correct device information and tap Next. Then, follow the on-screen instructions to put your device into the Download mode.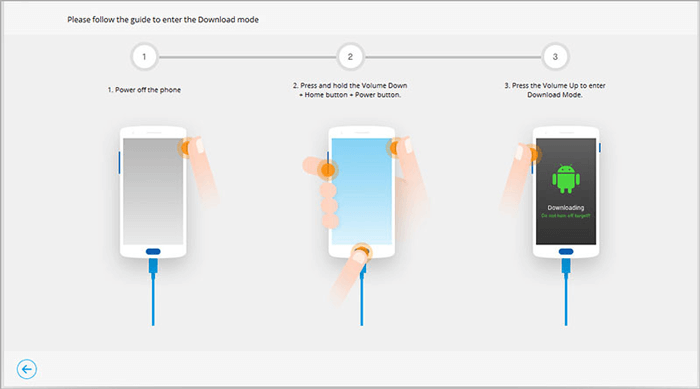 04It will start downloading the recovery package for your device. Once done, it will automatically unlock your Android phone.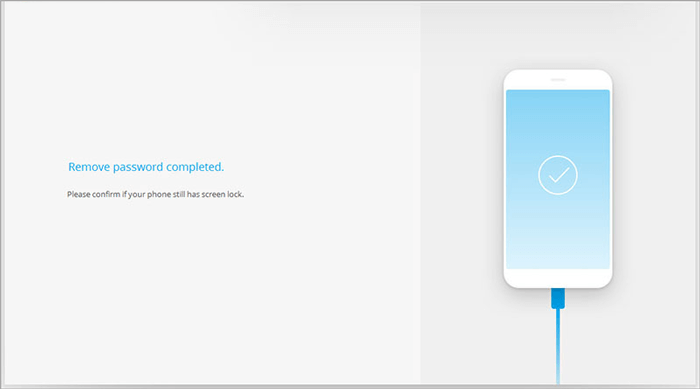 Further reading:
How to Fix Android Touch Screen Not Working - Can't Unlock Issue In Minutes? (15 DIY Tips)
How to Bypass LG Lock Screen without Reset? (Solved)
Part 2. How to Hack Fingerprint Lock on Android Using Find My Device
Suppose you have enabled the Find My Device option from Settings on your Android device before it gets locked, and remember the Google account credentials linked with your device. In that case, you can bypass the fingerprint lock by Find My Device remotely.
How do I bypass the fingerprint pattern on my Android remotely?
1. Install Find My Device on your computer or other devices from Google Play Store.
2. Launch the app and sign in with the Google account and password you use on your locked Android device.
3. Select the Android device you want to unlock and click Secure Device.
4. Enter a temporary password in the Set Password field and confirm it. Later, tap Secure Device again.
5. Access the locked phone using the temporary password and remove the fingerprint lock from Settings.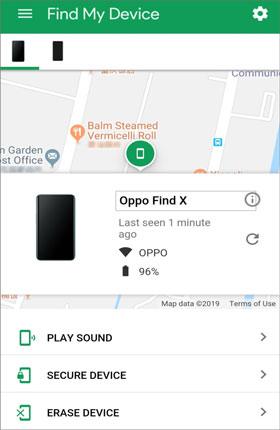 Note: The network should be enabled on the locked Android device, which runs Android 4.4 or later.
Part 3. How to Crack Fingerprint Password on Android with Forgot Pattern
Assume you use older Android smartphones that run Android 4.4 or earlier versions. You can use the Forgot Pattern to unlock the fingerprint lock. However, it requires a network connection on your locked device, and you must sign in to your Google account before it is locked.
How to unlock fingerprint lock in Vivo?
1. Try five failed attempts to unlock your device until the Forgot Pattern appears on the screen.
2. Tap Forgot Pattern > select the Enter Google account details option > Next > type in your Google account and password > hit Sign In.
3. Your device will get unlocked. Then you can remove the fingerprint lock from Settings.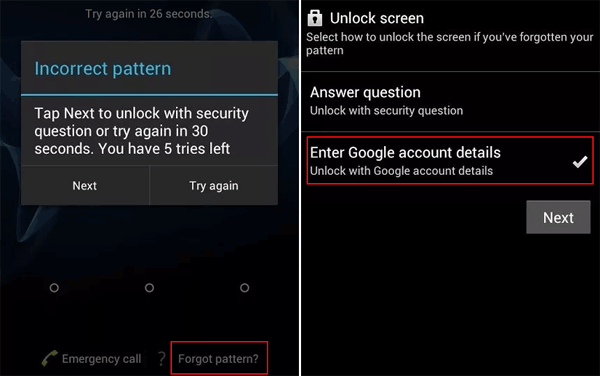 See more:
Best Samsung Unlock Tools to Unlock Your Samsung Phone
How to Unlock Samsung Phone Pattern in 10 Simple Ways?
Part 4. How to Break into a Fingerprint Phone via Samsung's Find My Mobile
Samsung users can use the Find My Mobile feature to hack the Android phone with fingerprint locks as long as signing in your device with a Samsung account.
How do I bypass the fingerprint on Samsung?
1. Open findmymobile.samsung.com from a computer browser and log in with the Samsung account details you associated with your device.
2. Select the Samsung phone you wish to unlock and tap Unlock.
3. Hit Unlock again and enter your Samsung account.
4. Wait for your device to be unlocked.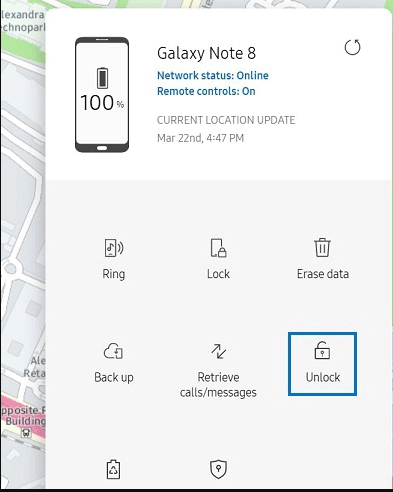 You might like: Want to back up your Android data to a computer in 1 click? You can refer to this guide.
Part 5. How to Get into a Fingerprint Phone by Hard Reset
When your device cannot recognize your fingerprints and lock you out, you can also hard reset it to remove the lock screen along with the device content, like messages, videos, images, etc.
How to unlock the fingerprint lock with tape?
1. Power off your Android device.
2. Press and hold the Power + Volume buttons together until the screen goes black.
3. Use the Volume buttons to select Recovery Mode on the bootloader screen and press the Power button to confirm.
4. Move the cursor to the Wipe data/factory reset option by tapping the Volume buttons and press the Power button to confirm the selection.
5. Select Yes - reset it now and wait for the process to finish.
6. Choose the Reboot system now option to restart your device. Once done, you can access your device without a lock screen.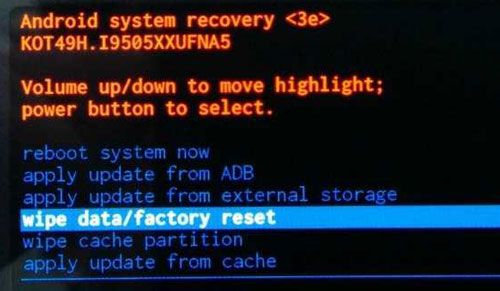 Perhaps you need: Fail to back up and restore data on your ZTE phone? Don't worry. You can learn these useful ways from this article.
Part 6. How to Open a Phone with Fingerprint with Safe Mode
It only bypasses the lock screen set by third-party apps. Here's how.
1. Press and hold the Power button and select the Power off option.
2. Hit OK when it confirms with you whether to reboot to Safe mode.
3. Follow the on-screen prompts to get your device into Safe mode. Later, you can uninstall apps or disable fingerprint locks under Safe mode.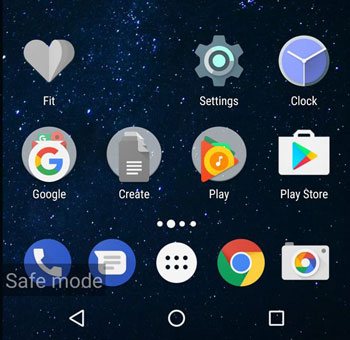 If you want to exit the Safe mode, reboot the device.
Part 7. How to Fix Fingerprint Not Working Issue
It causes convenience when the fingerprint is not working issue on your device. You can resolve the issue with the following helpful tricks.
Clean the fingerprint sensor and your fingers if your hands are dirty and wet.
Restart the device to fix glitches or bugs.
Ensure your Android device runs the latest operating system. If not, unlock it first and update the Android OS from Settings > System Update > Check for Updates > Update Now.
Back up your device and reset it from Settings > System > Factory Reset > Erase Everything and confirm with your password.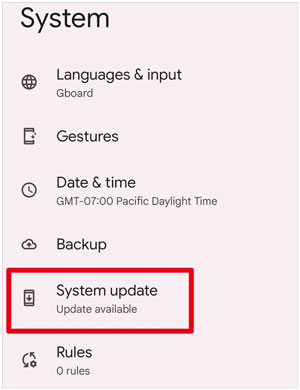 Bonus: Things to Know about Android Fingerprint Locks
1. Can someone open my phone without my fingerprint?
Yes, someone may hack your phone without your fingerprint. Some reports said that hackers could use a fingerprint scanner to capture a target fingerprint picture and create a negative with PhotoShop. Then, they will print the image and put some wood glue on the imitated fingerprint to trick the commercial scanners.
Thus, you can back up your phone data to keep it safe in case you have to reset it remotely when lost.
2. How to set fingerprint lock on an Android device?
Option 1. Enable fingerprint from Settings:
Open Settings on your Android phone > tap Lock screen and security.
Scroll down to select the Screen lock type.
Click Fingerprint > Add new fingerprint > follow the instructions to record your fingerprint.
Option 2. Enable fingerprint authentication from Google Play Store (Android 6.0 and higher):
It is used to authenticate the app purchases from Google Play Store and confirm the payment.
Open Google Play Store on your Android phone and tap the three-line icon to open the sub-menu.
Click User Control > Fingerprint authentication > follow the on-screen prompts to record the fingerprint.
You will need to authenticate the fingerprint next time to confirm your payment on Google Play Store.
Words in the End
This guide explains how to bypass the fingerprint lock on an Android phone step by step. You can pick Android Unlock if needed. Compared with other methods, it does not require any password inputting process nor has a system limit. Moreover, it has a much higher success rate of unlocking your Android phone than any other. Therefore, don't hesitate to give it a try.
Related Articles:
How to Unlock Android Phone without Code? SOLVED!
How to Unlock OPPO Phone without Password? | 5 Effective Tips
What is an Intelligent Lock Screen on Samsung & How to Enable/Disable it?
How to Bypass Android Lock Screen without Google Account in Top 6 Ways? (Proven)
What if You Locked out of Android Phone? 7 Easy Ways May Help (New Data in 2023)
How to Unlock Huawei Phone without Resetting? (Huawei P50/P40/P30/P20 Supported)