"Hi, I want to unlock my Sony Xperia, which I've had for nearly two years. I checked on the ee site via the iemi checker, and it said it couldn't be. I got it from ee."
- EE Community
Like any other phone brand, Sony Xperia also has a built-in data security system to protect your device's privacy. Generally, you can set up a password, pattern, fingerprint, or Face ID for the screen lock. What if you forget the screen passcode or the biometric recognition doesn't work? In that case, you can unlock the Sony Xperia phone in the following ways. Let's explore.
Part 1. 5 Ways to Unlock Sony Xperia Screen Lock
Below are five effective ways to unlock the Sony Xperia screen locks. Please choose the most suitable way based on your phone situation.
1.1 Hard Reset the Sony Xperia
First, you can hard reset the device without any Xperia unlock code. However, it will erase all the device content and settings. Thus, before starting the Sony Xperia unlocking process, please back up your locked device to avoid data loss.
How do you reset a locked Sony Xperia?
1. Power off your Sony Xperia phone.
2. Press and hold the Volume Up + Power buttons together until the recovery-mode screen appears.
3. Use the Volume buttons to select the Wipe data/factory reset option and press the Power button to confirm.
4. Move to the Yes - delete all user data option with the Volume buttons and press the Power button to confirm.
5. After a hard reset, choose the Reboot system now option to restart your phone. Later, you can freely access the device without a screen lock.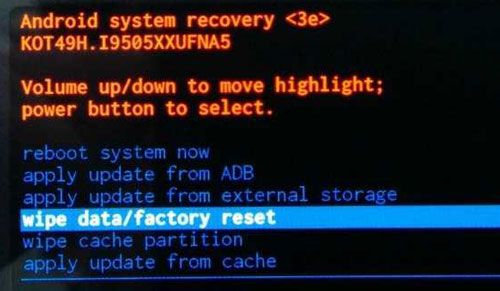 See also: Wonder how to copy data to another Sony Xperia phone? Open this guide to get useful approaches.
1.2 Use a Google Account
When you have several failed attempts to unlock Sony Xperia, which runs Android 4.4 or lower, a Forgot Password/Pattern option will appear at the bottom. Then you can use a Google account associated with your phone to remove the screen lock quickly.
How can I unlock my Sony Xperia E pattern lock?
1. Consecutively enter the wrong passcode or pattern five times until the Forgot Pattern/Password option appears on the screen.
2. Click Forgot Pattern/Password > Enter Google account details > hit Next to continue.
3. Sign in with the Google account username and password linked with this phone and hit Sign In.
4. Your Sony Xperia will get unlocked.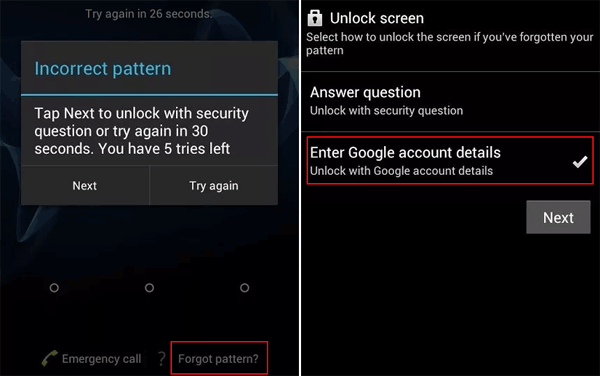 You might need: Failed to unlock your Android phone because the touch screen is broken? Learn easy tricks to fix it.
1.3 Use Google Find My Device
Suppose the Find My Device feature and Location service were enabled under Settings on your Sony Xperia before it gets locked. In that case, you can unlock your Sony Xperia 10 for free with Google's Find My Device service.
Here's how.
1. Open google.com/android/find from another device's browser and sign in with the same Gmail account you used on your locked Sony phone.
2. Choose your Sony Xperia under All Devices and tap Erase Device.
3. Click Erase All Data and hit the Erase button to confirm the operation. Note that this process will delete everything from your smartphone.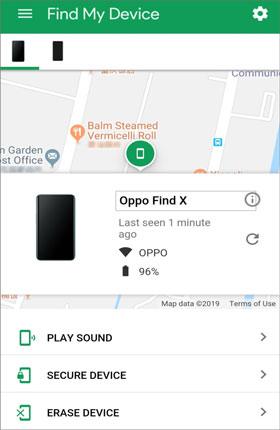 Learn more: This guide is on IMEI unlocking, helping you unlock your mobile phone with IMEI.
1.4 Answer Google Security Questions
This way only works for older Sony phones with Android 4.4 and below. If your device's operating system meets the requirement, continue with the following instructions.
To unlock Sony Xperia forgot password via answering Google security answers:
1. After more than five times wrong attempts, tap the Forgot Pattern/Password option on the screen.
2. Choose the Answer question option and offer correct answers for the questions it presents.
3. Click Unlock > Yes to proceed. If the answers are right, your device will get unlocked.
4. Create a new pattern/password/PIN lock for the mobile or tap None.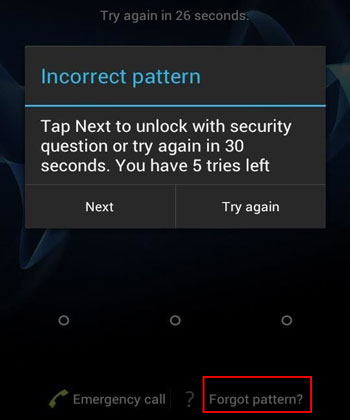 Read more: How can you wirelessly move photos from an Android phone to a MacBook? If you fret about this problem, don't miss this tutorial.
1.5 Use Sony Phone Unlocker – Android Unlock (Recommended)
Don't worry if you forget the Google account details or security answers to the questions or have no idea of the second-hand device. The more advanced Sony Xperia unlock software, Android Unlock, can remove any screen locks without a password.
Below are the key features of Android Unlock:
Unlock Sony Xperia pattern/PIN/password/fingerprints/Face ID in minutes.
Unlock older Samsung or LG models without data loss.
Easy, user-friendly, and fast.
Support almost all Sony Xperia models running Android 2.1 to Android 13, such as Sony Xperia 10 Plus/10/10 Ultra/Xperia Pro/5/5 Plus/4/Xperia L4/L3/1/1S, etc.

Free Download for PC
How to unlock Sony Xperia in a few clicks?
01Install and run Android Unlock on your PC. Next, choose Screen Unlock on the interface and plug your Sony Xperia into the PC via a USB cable.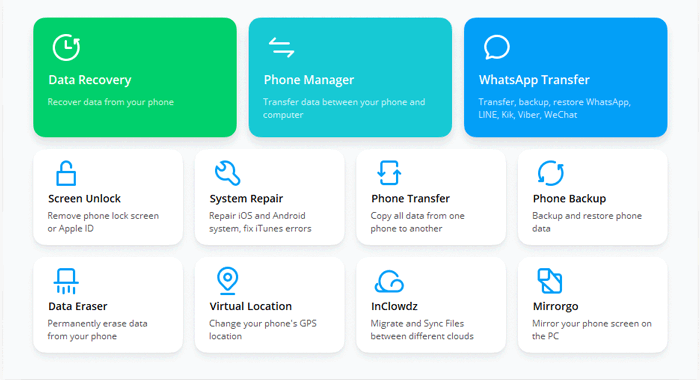 02Click Unlock Android Screen and confirm the device information before tapping Next. If necessary, choose the correct information from the drop-down menus.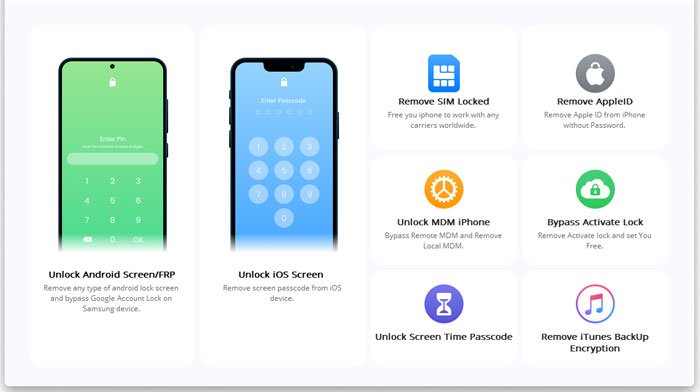 03Follow the on-screen prompts to boot your device into the Download mode. Once done, it will automatically download the recovery package for your phone.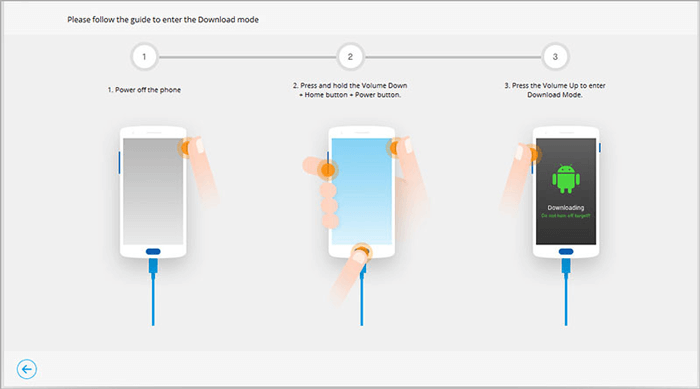 04After downloading the recovery package, it will unlock the Sony Xperia automatically.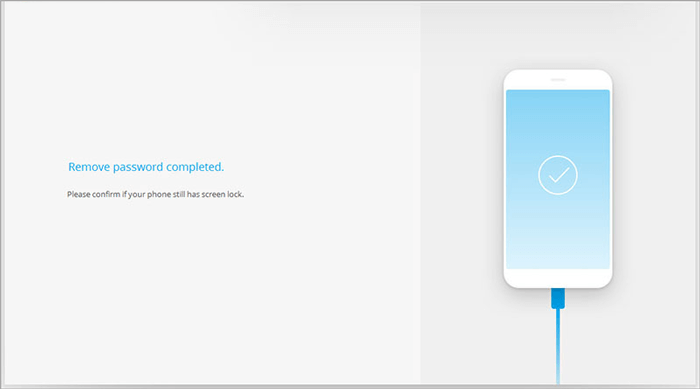 You may like:
How to Bypass LG Lock Screen without Reset? (Solved)
How to Bypass Android Lock Screen without Google Account in Top 6 Ways? (Proven)
Part 2. SIM Unlock Sony Xperia for Free
What is the SIM network unlock PIN for Sony Xperia? If the SIM card on your Sony Xperia gets locked, you can use a code to unlock the SIM lock quickly. Easier than you imagine, it doesn't require an Xperia SIM unlocking client. Instead, you can get the SIM network unlock PIN for Sony Xperia E for free.
You can follow the given steps below:
1. Open the Phone app on your Sony Xperia and launch the dial pad.
2. Dial *#*#7378423#*#* to check the SIM lock status.
3. Tap Service Info > SIM lock, and you will see a digit next to the Network option. If it displays 7, you will have seven times to unlock your Sony Xperia. However, if it shows 0, your device has been hard-locked.
4. Dial *#06# to get the IMEI number for the device and take it down for later use.
5. Insert a new SIM card into your device and enter the IMEI number if it asks you to enter the SIM network unlock PIN.
Extra Bonus: How to Unlock Bootloader?
Want to unlock the bootloader since it installs a custom OS on your device? You can follow this instruction to unlock the bootloader. However, you must know the consequence first before unlocking the bootloader:
After unlocking the bootloader, it will delete all the device data and restore it to factory settings.
Although Sony Xperia offers a warranty repair, it may charge you a bit for the complex operation and modification of the software.
If you don't mind the above results, you can start to unlock the bootloader.
Final Thoughts
Now you may have understood how to unlock your Sony Xperia phone. Android Unlock is worth a try since it is the easiest method without remembering the Google account password or security answers. Besides, you will also get useful tips to back up your Sony device data to avoid data loss.
Related Articles:
[Solved] How to Remove Screen Lock PIN on Android without Password?
How to Unlock Android Phone without Code? SOLVED!
How to Get into A Locked Phone with or without a Password? (Full Guide)
[Fixed] How to Unlock Locked Android Phone without Losing Data?
How to Unlock Android Phone Password without Factory Reset? (6 Ways)
Android Unlockers: Top 8 Android Phone Unlocking Software in 2023