iPhones, iPads, and Macs have an MDM (Mobile Device Management) feature perfect for companies or organizations. This feature allows administrators to control the iOS devices remotely, ensuring effortless supervision of their employees' mobile usage. Nonetheless, when it comes to the users, MDM monitoring limits their ability to freely use their devices.
Unless they remove any installed MDM profiles before selling them, those same profiles will prevent other individuals from using the device normally. 3uTools is a tool people use to remove MDM. But is it real, or are there any potential drawbacks? In this article, we'll provide an in-depth review of the 3utools MDM bypass and whether this MDM bypass feature lives up to the hype. Can you trust it as your go-to service provider, or should you look elsewhere for qualified alternatives? Read on to find out.
Part 1. An Overview of 3uTools MDM Bypass
To better understand 3uTools remote management, let us first look at MDM and why you may want to remove it.
1. What Is MDM?
MDM is a technology that focuses on managing devices such as smartphones, tablets, and laptops. It can be deployed with third-party software programs that offer management functions for certain phone manufacturers. With this innovative approach, businesses are equipped with an effective tool for streamlining their operations.
MDM enables administrators to securely and wirelessly transmit commands and profiles to configure devices easily. By using MDM profiles, it's possible for mobile device owners to quickly apply configuration settings remotely. Simply put, applying an MDM profile to your iPhone, iPad, or Mac will enable the administrator to configure and modify device settings on a broad scale instead of making changes one at a time.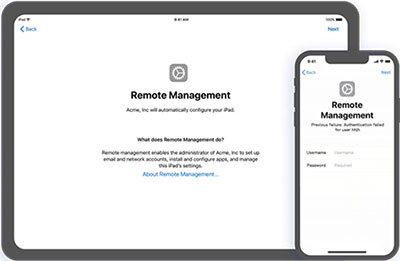 MDM seeks to balance corporate functions and security while allowing users the liberty they need. With that said, their primary goal is to enhance device supportability, security, and corporate features. The exponential growth in smartphone and smart device usage has necessitated reliable, scalable MDM solutions to ensure the efficient management of mobile devices.
By using MDM, organizations can gain many advantages, including the ability to update software and device settings, monitor compliance with organizational policies, and remotely wipe or lock devices.
2. Why Bypass MDM?
With the MDM's ever-growing capabilities, more and more companies are now taking advantage of it for their mobile workforce. In many cases, they have migrated entirely to a mobile approach to stay competitive. In today's digital age, most individuals and organizations rely on mobile devices to access or interact with corporate data. By deploying device management solutions optimized for consumer-grade technology, IT departments can streamline operations while providing users a more convenient and cost-effective experience.
Although there are numerous perks of MDM, some users may be hesitant to embrace this technology on their devices and could be looking for ways to avoid MDM. Of course, this has to do with the data security in the device. Here are reasons why you may want to remove MDM on your iPad/iPhone:
System administrators can issue instructions to devices with MDM, enabling them to manage and remotely control the devices.
The administrator can limit the usage of a particular device, as it will be supervised. This means the user can't fully enjoy the functions the way they want.
Individuals who use MDM-enrolled devices may fear being monitored, and their data is at risk.
3. What's 3uTools
3uTools is a comprehensive program that gives you complete control over your iOS devices. From bypassing MDM locks to monitoring device activity and troubleshooting iOS issues, 3uTools has a lot to offer. As a comprehensive and all-inclusive tool, one of its aims is to bypass MDM lock, but many users are consistently questioning its success rate.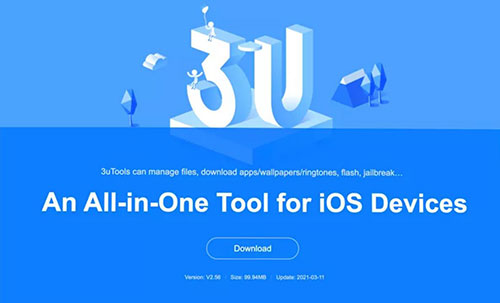 It proves to be an invaluable companion for those seeking fast solutions for their devices. To unlock your device from MDM restrictions using this tool, you'll need a laptop with a 3uTool program installed, the device to be unlocked, and a USB cable. Here are the key characteristics that set 3uTools apart:
Allows backing up and restoring iPhone, iPad, or iPod.
Bypass the MDM profile from an iPhone, iPad, or iPod touch when setting up.
Manages apps, videos, photos, music, and ringtone, on iOS devices.
Updates/downgrades iOS devices.
Jailbreaks iOS devices easily.
You may like:
How to Unlock iPod touch without iTunes Smoothly? (6 Amazing Ways)
How to Unlock iPhone with Unresponsive Screen? [Full Guide]
Part 2. How to Use 3uTools to Bypass MDM?
3uTools is an essential all-in-one solution dedicated to iOS devices. It offers the perfect combination of data management, jailbreaking, and flashing services for iPhones. Additionally, it provides a one-stop solution for bypassing backups, activation locks, and MDM locks quickly and efficiently. This revolutionary tool will remove the MDM profile from your device faster.
Unlocking an iOS device with MDM is easy. All you need is a computer, a USB cable, and the 3utool installed on your system.
Before you start using 3uTools, read through the following instructions on your iOS device to ensure a smooth experience:
As soon as your phone starts, the first thing to do is select which language appeals most to you.
Afterward, simply choose your region or country.
Set up and choose the WiFi network and enter the passcode.
With Apple's renowned intelligence, every action taken on 3uTools should be done with thoughtful consideration.
Step 1. To reset your iPhone settings, navigate to Settings > General > Transfer/Reset iPhone and select the Erase All Content and Settings option. Then follow the prompts on the screen to complete the setup process.
Step 2. Install the current version of 3uTool on the computer after downloading it.
Step 3. After launching the "Remote Management" page on your iOS device, plug it into your computer. Give 3uTools a few moments to recognize and display accurate information about your device on the screen. Once you have confirmed that all details are correct, click "Next" to proceed.
Step 4. Head to the "Toolbox" section and select "Skip MDM Lock." Once you do that, a confirmation box will appear. Click "Skip Now" to complete the process.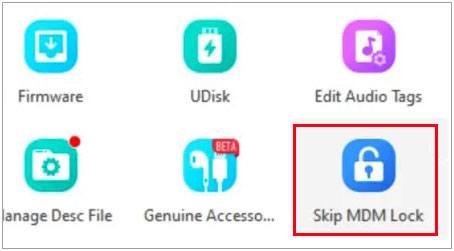 Step 5. A prompt will appear confirming that you wish to deactivate the device. Select "Deactivate" to continue.
Step 6. 3uTool will initiate the process of bypassing your MDM lock screen during setup. However, remember that this is only a temporary measure, and you'll face the "Remote Management" lock screen once again when you reset your device.
Part 3. Pros & Cons of Using 3uTools to Bypass MDM
Apple devices are known for their sophistication and complexity, which means every action taken on them requires special care. 3utools has unique advantages and potential drawbacks, which should be considered before making a final decision. Let's see the pros and cons of using this system before you make an informed decision that best suits your needs:
Pros:
3uTools is incredibly user-friendly and requires no technical expertise or experience to use.
It's free to use when you want to remove the Mobile Device Management (MDM) on your device.
Offering a comprehensive solution for iOS devices, the all-in-one tool will not only help you bypass MDM lock but also grant you access to jailbreaking.
It also offers other cutting-edge device management tools, including backup and restore functions, audio/video file conversions, icon arrangement capabilities, photo compression technology, and data transfer capacities.
Cons:
Only compatible with iOS 4 to 11.
Not compatible with Mac computers.
This tool has a free trial period for you to take advantage of. After that time has passed, however, you will have to pay for it.
Overall lower success rate than its competitors
Users should be wary of data breaches while using the software.
See more:
iPad Won't Slide to Unlock? Here are Practical Fixes
[Solved] How to Unlock Disabled iPad without iTunes | Latest Guide
Part 4. Best Alternative to 3uTools to Remove MDM Lock on iPhone/iPad
Is your iPhone being monitored remotely? If you have a company-owned device, it might have device management to control the device remotely. So, you will want to remove the MDM to not be monitored. iOS Unlock has an intelligent solution that can easily remove any remote monitoring from iDevices.
iOS Unlock is a great alternative to 3uTools that is designed to help you quickly remove the MDM lock from any iOS device with one click without using complicated commands. The good thing is that no data will be lost. The software will only remove the MDM lock but not your data or settings. It is also compatible with all versions of iOS, including the latest versions.
iOS Unlock has an easy-to-use interface that even starters will find easier to use. All you need is to download and install the application on your computer, connect your device to it, and follow the simple instructions. With that said, here are its top features:
Notable Features of iOS Unlock:
One-click bypassing of MDM profiles while keeping all of your data intact.
Instantly removes iPhone screen locks and iCloud locks with ease.
Unlock any lock screen on your iPhone, iPad, or iPod Touch.
Removes Face ID, Touch ID, Apple IDs & iTunes Backup Password; no password is required.
Assists in bypassing the iCloud activation without jailbreak.
The step-by-step process requires no technical knowledge.
The best iPhone unlock service that can unlock iPhone devices to use on any carrier.
Steps to remove MDM lock on iPhone with iOS Unlock, the best 3uTools alternative:
01 Download and install iOS Unlock on your computer. After the program is opened, select "Screen Unlock" from the main menu.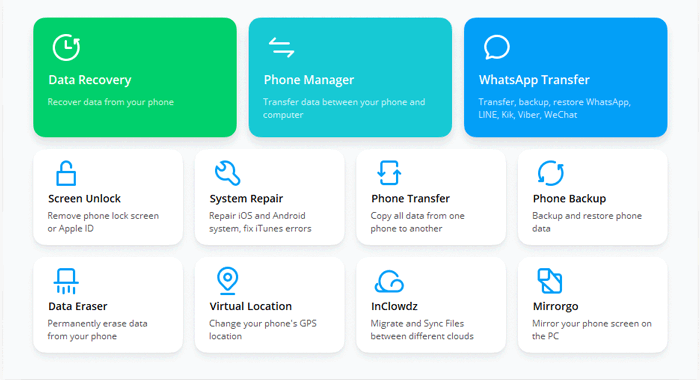 02 Choose the "Unlock MDM iPhone" option, and connect your iPhone to the computer.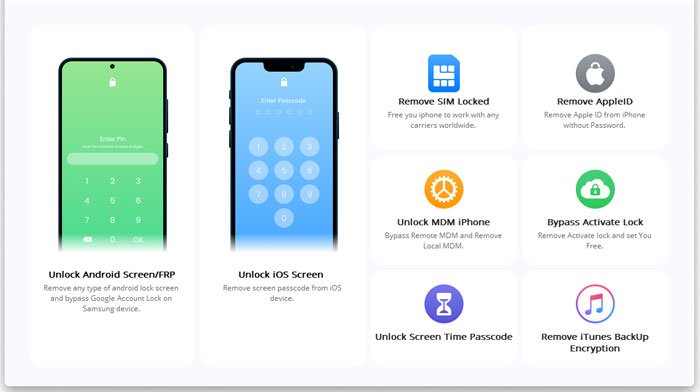 03 Click on "Start to remove." Once done, click "Verify."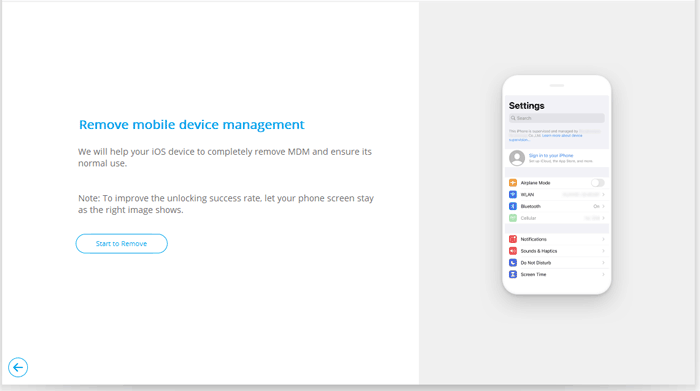 04 If you have activated Find My iPhone, the program will detect it immediately and prompt a window. Otherwise, if not enabled, you will proceed to the next step.
05 After a few seconds, your iPhone will automatically restart and remove the MDM profile swiftly.
Rest assured; no data will be lost in this process. If you have any concerns regarding the safety of your information, there is absolutely nothing to worry about.
Part 5. FAQs on 3uTools Remote Management
Q1. Can MDM be bypassed?
Yes, you can remove MDM, but not completely because when you reset the device, you will get the screen lock again. Depending on the security measures and configuration of the MDM, various tools and techniques may be used to gain access to a device or circumvent its controls. There are 3uTools that can remove MDM lock, but to get the best results, iOS Unlock is your best bet.
Q2. Can I use the 3uTools on my Mac?
Regrettably, the application is not supported on Mac devices. However, there are alternatives available that can work on Mac computers.
Q3. Will data be lost after removing MDM?
No. Your data won't be lost unless you factory reset your device. MDM removal only focuses on removing the lock, but all your files and data will remain intact after the process is completed. However, it is recommended to back up any important information before carrying out the process in case of unexpected events.
Conclusion
MDM locks can prevent you from using your device's functions freely due to monitoring. But, it is easier to remove this feature from your iOS devices, and one of the tools to use is 3uTools. 3uTools is a great tool that can help you unlock any of these locks, giving you full control over your device. Though it's one of the best tools to remove MDM, its success rate is still doubted.
iOS Unlock is a great alternative to 3uTools, with a higher success rate for unlocking any MDM lock. Its advanced security capabilities and simple interface make it an ideal way to get through your iOS device without any problem.
Related Articles:
How to Unlock iPhone without Siri Successfully in 2023? (3 Workable Ways)
6 Proven Fixes for "Your Passcode is Required to Enable Face ID"
How to Resolve the Forgot Screen Time Passcode on iPhone/iPad Issue?
How to Unlock iPhone with Broken Screen (2023 Updated)
4 Best Methods to Factory Reset iPhone without Password/Passcode