The iPhone is one of the most popular and recognized smartphones worldwide. It has been a popular choice among many people till now. But for some reason, you may want to unlock your iPhone. The reasons can be many; maybe you want to use it on a different network other than the one your mobile phone is currently locked to, you may also want to sell it, or you may want to retrieve data from it or replace it. Whatever the reason for unlocking your iPhone, you need super tools to give you ample time while removing the lock. Since many iPhone unlock service apps are available on the market, finding the right one can be challenging. But worry not, as we will introduce you to the 9 best iPhone unlock services to do the job correctly.
1. iOS Unlock - Best iPhone Unlock Service
This is, without a doubt, the most effective, reliable, and powerful iPhone unlocking service to not miss. iOS Unlock bypasses the screen locks and iCloud activation lock with ease. If you don't want to wait for days for the unlocking process to finish, this is the app to consider. It unlocks SIM lock faster, allowing you to use the device on any carrier you wish.
Top Features of iOS Unlock:
* Unlocks iPhone for use without carrier restrictions.
* Removes all iPhone screen locks, Touch ID or Face ID, and iTunes backup password.
* No tech skills are required to use this tool.
* Unlocks all lock screens on most iOS devices.
* Bypasses iCloud activation.
* Bypassed MDM locks.
How to bypass the iCloud activation lock using iOS Unlock
01First, install the software on the computer, then launch it. Proceed to choose "Screen Unlock" from the list. Next, choose the "Bypass Activate Lock" option to let you remove the iPhone Activation lock. Once done, hit "Start" to allow the unlocking process to start.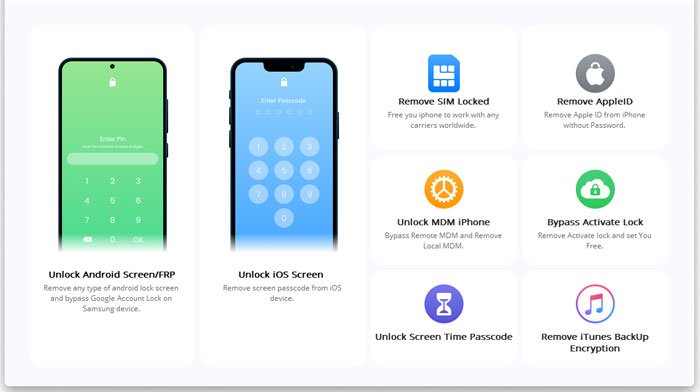 02When unlocking the activation lock on iPhone, note that the outcome varies. If you have a GSM device, removing the activation lock won't cause any harm to the device. But if you have a CDMA device, you'll encounter some limitations. You will not use the phone to make calls or use cellular data. Besides, Apple ID can be used on Apple Store and other functions.
03To proceed further, make sure the iPhone is jailbroken. You can click on "Jailbreak Guide" to know how to make the device jailbroken. When you are done jailbreaking the iPhone, the unlocking process will immediately start displaying the progress bar on the screen.
04After the process, a pop-up window will appear on the screen. Press "Done" to conclude.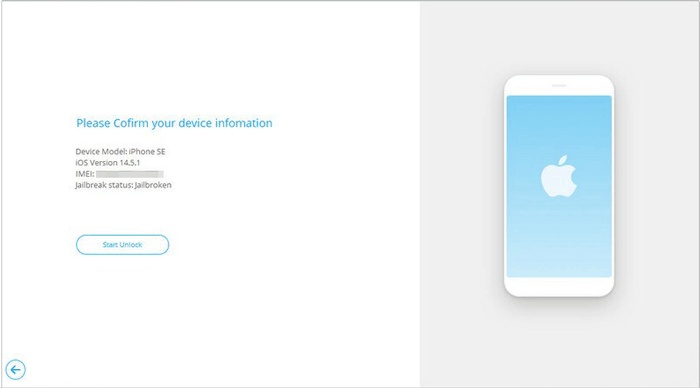 The Good
* It will remove iCloud locks, and SIM locks on your iPhone quickly.
* Very easy to use without professional knowledge.
* It can remove all types of passwords set on your iPhone, including screen passwords and Face ID/Touch ID.
* Great user interface and is very versatile.
The Bad
* Unluckily, the free trial version comes with limitations
* Deletes all data from your device.
You may like:
How to Easily Bypass iCloud Activation
How to Check if iPhone Is Unlocked without SIM Card [Proven Guide]
2. Direct Unlocks
Direct Unlocks is a smart, online iPhone unlocking service that will be extremely helpful to those seeking a simple and efficient way to unlock their locked iPhone devices. The tool can bypass the SIM lock on an iPhone, and the best thing is that it works perfectly on all iOS versions. It has a simple-to-use interface, and it works faster. As long as you have an internet connection, you can easily unlock the iPhone without any problem.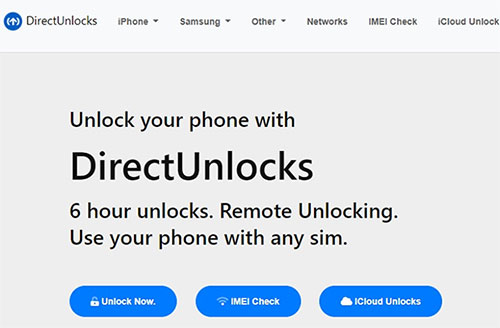 The Good
* Removes SIM lock instantly on iPhone devices.
* Unlocks iCloud activation too.
* It's a web-based app that doesn't need installation.
The Bad
* The rate of success is very low.
* You must enter the IMEI and the serial number of your iPhone.
* It's not free.
3. AppleiPhoneUnlock
AppleiPhoneUnlock is a fantastic iPhone unlocking service that can remove any lock from an iPhone device. It comes with an intuitive UI and is compatible with almost all iPhone models, starting from iPhone 4 and 4S. It also provides you with more features, such as iCloud lock removal.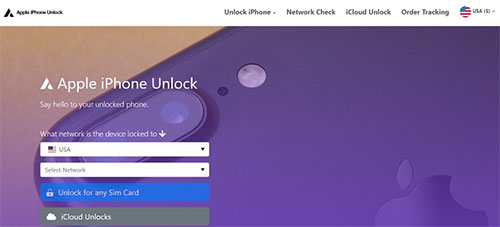 The Good
* Removes SIM locks on iPhone easily.
* Offers iCloud lock bypass feature.
* It works online and has an intuitive UI.
* It supports iPhone versions starting from 4/4S.
The Bad
* It does not specify the whole fee to unlock the iPhone online.
* The overall package is very expensive.
See more:
How to Unlock iPhone with Unresponsive Screen? [Full Guide]
How to Bypass iPod touch Activation Lock Easily? 4 Ways You Cannot Miss
4. DoctorSim
Another fantastic free iPhone unlocker tool is DoctorSim. It's a free iOS unlocker service that works on most iPhone models. This amazing app couldn't be easier to use. It's secure to use and simpler too. It unlocks the iPhone giving you all the rights to use it on any carrier. DoctorSim can unlock other phone brands like Nokia, Samsung, LG, and more.

The Good
* It can unlock SIM locks on various iPhone models.
* It's available anywhere.
* It's quite affordable.
* High rate of success.
* Easier to use.
The Bad
* It can take a lot of time, if not days, to finish unlocking the device.
5. IMEI Unlock SIM
This online iPhone remover can help you eliminate those annoying carrier restrictions on your iPhone without worries and use it on a carrier you like. The tool is easy to use and works on most iPhone devices, including the latest models. But you must use your phone's IMEI number and its model. Similarly, you can't unlock lost or stolen devices. Also, users must pay for it before trying it, and the unlocking process might take days.
All in all, it is worth a try, and you may find it a great app to remove the iPhone lock completely.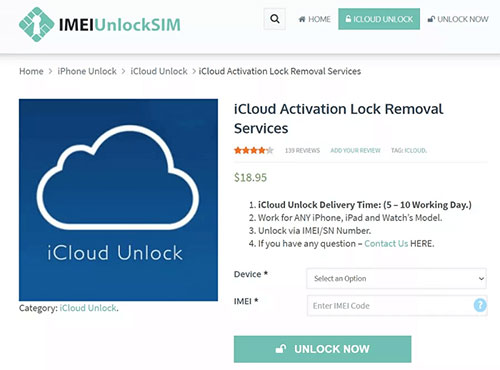 The Good
* Works on most iPhone models, including the latest ones.
* No need to jailbreak your device.
The Bad
* You must enter your IMEI number before unlocking.
* The unlocking process might take days to finish.
6. DoctorUnlock
DoctorUnlock allows iPhone users to unlock their devices online. It is a simple and user-friendly app that will provide quick instructions. All you need to do is enter your IMEI number and the model of the device. The user interface is clean and simple, so you don't need technical knowledge to use it successfully. However, this tool can only unlock the SIM locks on iPhone models like iPhone 4 to iPhone 11.

The Good
* Removes SIM locks permanently.
* Quite easier to use.
The Bad
* Low success rate since it only uses the IMEI number to unlock.
* The unlocking process can delay.
* Upfront fees are needed.
7. MobileUnlocked
MobileUnlocked allows you to permanently remove the lock on your iPhone. It supports all iOS versions and will be helpful to those who need a simple and efficient way to unlock their locked iPhone device. It comes with an intuitive UI and works perfectly for almost all iPhone models.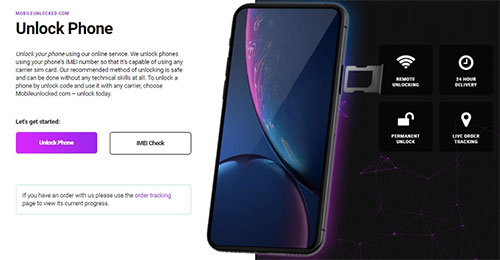 The Good
* An efficient way to unlock your iPhone
* Simple process
* All iOS versions are supported.
The Bad
* Some customers complained they paid the amount twice.
* The process can take days.
8. Unlock Base
Many people really love this tool iPhone iCloud unlock service. It not only works on almost all iOS versions, but It also has a simple-to-use and easy-to-understand interface. Once you unlock your device, you can use it on any carrier.
The Good
Can unlock your iPhone anywhere.
Easy-to-use app
Fast and quick process.
High success rate.
The Bad
Takes a lot of time to unlock.
9. iMeinow
iMeinow wraps up our list. This is one of the best websites to unlock iPhones. It's a reliable iPhone unlocking service that is perfect for any iOS device. This is the perfect solution if you've been tied up in a contract. You can use the iMeinow service to unlock iPhone, iPad, and iPod Touch. The best thing about it is that you can use this service without installation or any technical knowledge. Just enter the IMEI number and allow the tool to do the work for you. It's easy, free, and incredibly convenient to use.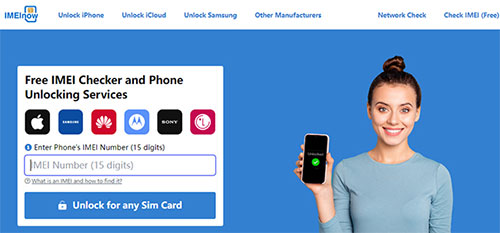 The Good
* It can unlock iCloud activation hassle-free.
* Convenient to use with a higher rate of success.
The Bad
* Doesn't work all the time.
* The process for a refund can be awkward.
Summing Up
iPhone passcode problem is very common, and anyone can be in such a situation You can still apply a few tricks and get your devices working just fine. The above fixes are helpful in instances when you want to enable Face ID without passcode. iOS Unlock is a pro tool that is effective and swift in bypassing the iPhone screen lock without a password/passcode.
Related Articles:
How to Unlock iPhone without SIM Card? [Updated Tutorial]
Fast Factory Reset iPad without Passcode with 3 Solutions
How to Reset iPhone without Apple ID Password in iOS 16 and Earlier Versions?
How to Bypass iCloud Activation Lock Easily on iPhone/iPad?
How to Unlock SIM Card on iPhone with Easy Steps [3 Solutions]