In this 21st century, it's very common for companies to provide employees with mobile phones. If you work at an average-sized company, you likely have one already. So, it is only prudent for companies to reserve their employees' work phones exclusively for job-related activities. On the same, there's no reason for an employee to use such a device for their personal needs.
Therefore, employers must closely monitor their corporate phones, and this is where Mobile Device Management (MDM) comes in. Nevertheless, it may be necessary to bypass MDM due to certain circumstances, which leads to the need for MDM removal tool. In this article, we will discuss the top MDM removal software that can assist you in removing that annoying lock from your device and enjoy its functions to the fullest.
Part 1. What's MDM & Why Users Want to Bypass It?
Before we dive into the tools to bypass MDM, let's first explore what it is, in which circumstances a bypass would be necessary, and why to remove it.
1. What's MDM?
MDM, or Mobile Device Management, is a powerful tool used by organizations to monitor the activity on mobile devices. This technology helps companies easily control and manage company devices offered to their employees such as phones and laptops.
MDM is a valuable tool for ensuring adherence to company policies, updating the software, and configuring settings on mobile devices. It can even be used to remotely wipe or lock devices if necessary (How to wipe iPhone remotely?).
Generally, MDM can only be achieved through third-party software. If someone is planning to quit working at their previous company or wants to use the device for personal purposes, bypassing the MDM might be necessary.
MDM offers many benefits, especially to the supervisors. Here are some of the advantages:
MDMD allows employees to work remotely and get protected corporate data.
By leveraging this cutting-edge technology, system administrators can deploy specific configurations and settings to devices without requiring user input or action.
Many organizations rely on MDM for ease of app installation and management.
Automation saves time, money, and effort. MDM can track devices' locations to help its users retrieve lost devices or block access in case of a security breach.
2. Why Users May Want to Bypass MDM?
Organizations across the globe are increasingly using Mobile Device Management (MDM) systems to check and limit the usage of mobile devices. This innovative software has enabled businesses to monitor their devices and install certain settings, applications, and many other features, ultimately allowing them to gain maximum control over all operations happening on mobile devices.
Businesses decide to adopt the MDM because of the high-level data security it offers to the enterprise. MDM ensures that the devices are safeguarded and that any business information stored on them is kept secure. At the same time, the encryption and processing of enterprise apps and emails remain independent from personal data. With these features in place, companies can rest assured that their valuable assets remain protected.
However, users may want to remove the MDM feature from their devices.
Often, individuals seek to bypass MDM because they wish to use apps their administrator hasn't authorized. For instance, the administrator may have blocked apps such as Facebook, so users may want to bypass device management settings to still use them.
Another reason to remove MDM is to access settings that are prohibited by the admin. Let's say the admin has blocked location services. This may lead a user to remove the MDMD to be able to access those services.
Finally, a user may not be comfortable using a device that's being monitored. They may feel violated if it is being tracked how and when they use their device. In this case, users would want to find a way to bypass the monitoring that MDM provides.
You may like:
How to Unlock iPod touch without iTunes Smoothly? (6 Amazing Ways)
How to Fix the iTunes/App Store Keeps Asking for Password Issue on iPhone/iPad?
Part 2. Top MDM Removal Tools
Companies often use MDM to monitor and protect their mobile devices, but some users need unrestricted access. Bypassing MDM will give you complete control of the device, meaning there will be no restrictions on how you use the device, giving you the convenience you deserve.
Evading MDM is impossible without trusted MDM bypass tools. The tools are not only reliable but also convenient for all users. The following section will provide a comprehensive overview of the top MDM removal software.
Tool 1. iOS Unlock
iOS Unlock is your one-stop for all your iPhone/iPad unlocking needs. This professional iOS unlocker can quickly and easily remove various locks from Apple devices, giving you complete control over the features you use and ensuring that it works with carriers worldwide.
iOS Unlock makes unlocking MDM on iPhone/iPad easier, even if you have forgotten the password or username. You won't struggle to access your device; it allows you to do so with ease and expertise. Besides removing MDM, iOS Unlock can also remove the iCloud activation lock, screen Time passcode, and iTunes Backup Passcode without passwords.
The greatest advantage is that it won't erase any of your data while bypassing the MDM lock. Furthermore, its compatibility with multiple iOS versions allows you to unlock any iDevice from this feature's restrictions. This invaluable tool will save time, energy, and effort for those looking to freely use their devices.
Key Features of iOS Unlock:
Bypass MDM lock and profiles without losing data.
Unlock your iPhone 14/13/12/11/X, iPad Pro/Air/4/mini, or iPod touch with just a few quick taps.
Bypass Face ID/Touch ID/Apple ID, iTunes backup passcode, and Screen Time Passcode without a password.
Unlocks iPhone to use on any carrier.
No tech knowledge is needed.
Steps for iPhone MDM removal using iOS Unlock:
01 First, install the iOS Unlock on the computer after downloading it. Run the program and choose "Screen Unlock" from the primary interface.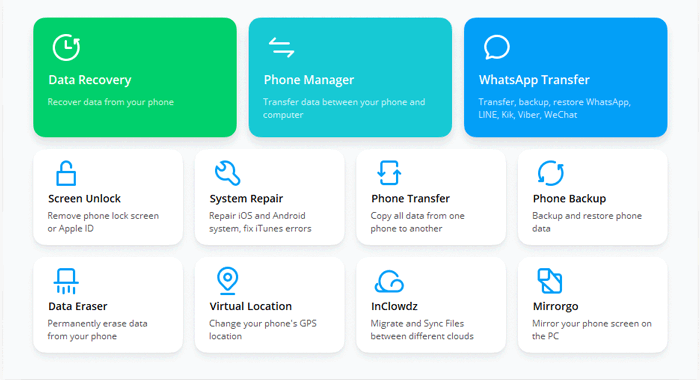 02 Choose the "Unlock MDM iPhone" option, and connect your iPhone to the computer.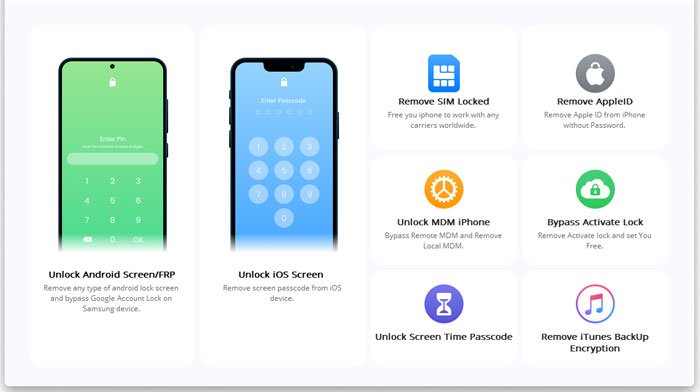 03 Click on "Start to remove." Once done, you must verify by clicking "Verify" before proceeding.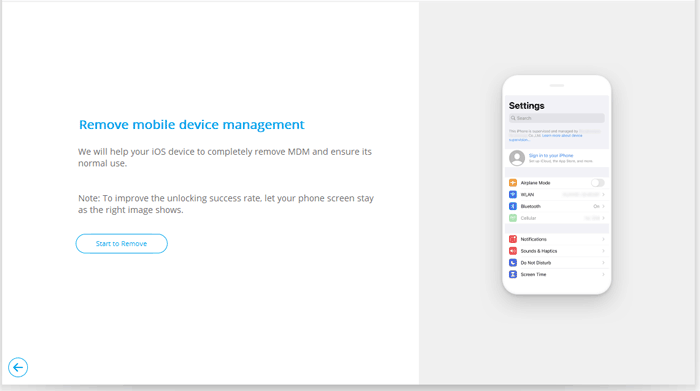 04 Turn off Find My iPhone if enabled and proceed. iOS Unlock will start the verification process shortly, patiently for a few moments. Once the bypass is finished, you will see a confirmation below: "Successfully bypassed." Your device is now unlocked!
Pros:
Higher success rate.
Unlocks MDM lock without losing data.
User-friendly and very efficient.
Removes the MDM lock completely.
Very easy to use with no tech skills needed.
Supports many iOS devices.
Cons:
Does not supports iOS versions below 7.0
Pricing:
Tool 2. 3uTools
3uTools is a comprehensive free MDM removal tool designed to make iOS device management simpler and more efficient. It offers powerful features, such as converting images and audio files, backing up your iPhone or iPad data, and restoring information. Furthermore, 3uTools is a free MDM bypass tool, so you won't have to spend a penny before using it. This tool's "Skip MDM Lock" feature allows for a swift way to break through the supervision imposed by administrators on iPhone or iPad devices.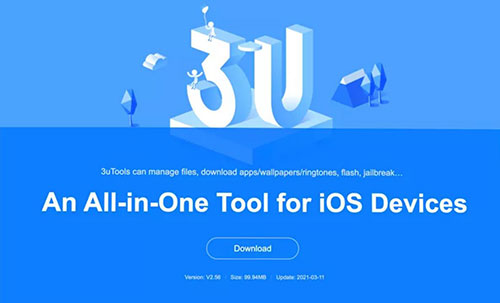 Key Features:
Removes MDM lock from iOS devices.
The application makes it easier to manage iOS files.
Supports flash and jailbreaking iOS devices.
Allows data backup and restoration.
How to use:
3uTools MDM bypass is made to remove the restrictions of an MDM lock. However, your device should be iOS version 13. Let's find out how simple it is to use 3uTools to bypass the MDM lock:
Step 1. Install and launch the 3uTools from the 3u official website on the computer.
Step 2. Next, connect the iOS device with a USB cable. Immediately you'll see your device's status displayed.
Step 3. Choose the "Toolbox" option at the upper menu bar and press the "Skip MDM Lock" option.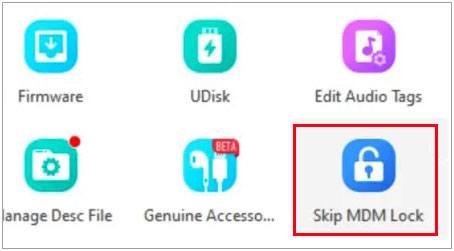 Step 4. You'll be presented with two prompts. Take a few moments to review the notes before you skip and deactivate your device. The bypass tool will start instantly. The procedure may take several minutes; just wait until it is finished.
Pros:
It is available for free.
Easily removes the MDM lock.
Offers various features as well.
Cons:
It doesn't work on Mac.
Does not remove MDM completely.
It's not supported on the newest versions.
It isn't a permanent fix, and your device may be locked again in case of backup restore or updating the iOS version.
Pricing:
See more:
How to Reset Android Phone when Locked? Top 6 Reliable Ways in 2023
[Solved] How to Unlock Disabled iPad without iTunes | Latest Guide
Tool 3. iActivate
iActivate is an MDM bypass program developed specifically for iPhones and iPads, allowing users to effortlessly remove any type of MDM lock. This powerful software supports most iOS versions, even the latest versions. If iTunes doesn't recognize your iPhone/iPad or alert you that another computer controls it, open iTunes and restore the device using DFU mode to gain control again. Consequently, it makes it tricky to operate.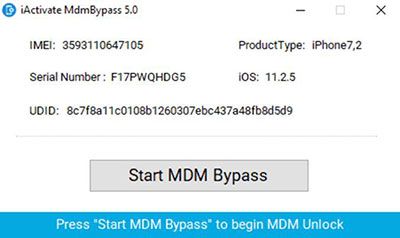 Key Features:
Supports the latest iOS versions.
MDM configuration.
Bypasses MDM lock on most iPhones and iPads.
How to use:
Let's find out how this iPad MDM removal tool can assist you in bypassing MDM Lock on iPads:
Step 1. Start by switching off your device's "Find My iPhone" feature.
Step 2. The next step is to purchase an MDM Bypass Service, which will allow you access to download the necessary software.
Step 3. Before you move forward, make sure your device is powered on and connected to your computer using a USB cable. iTunes should detect the device once it's plugged in. At some point, you'll be asked if you "Trust this Computer." After clicking 'Yes,' you can continue.
Step 4. To proceed, install and launch iActivate on your computer. Once the application is open, you should see a range of significant information such as iOS version, UDID, IMEI, and Serial Number on the screen. This means that your device has been successfully identified by iActivate.
Step 5. Click the "Start MDM Bypass" button to initiate the configuration bypass process.
Step 6. While the process may take a few minutes, be patient. Make sure to reboot your iDevice after you're done. After that, activate the device via WiFi.
Pros:
Easily removes MDM lock.
Works on iOS and Windows.
Cons:
The low success rate.
The one-time fee is quite high.
Restrict some features on your device.
Pricing:
It costs $45 to unlock the MDM.
Tool 4. MDMUnlocks
Unlocking devices stuck in the "Activation Lock" screen has never been easier with this iPhone MDM removal tool. MDMUnlocks can easily disable the MDM lock without requiring the password. This powerful and effective solution will make managing your device much simpler. You will quickly access all functions of your device. No more waiting for hours to get it unlocked, MDMUnlocks will do the job in a matter of moments. It is user friendly and a reliable tool. Besides, it's pocket-friendly.

Key Features:
A reliable tool.
Unlocks MDM on all iOS devices.
Unlocks iCloud locks.
How to use:
Are you an iOS user looking to bypass MDM lock? If so, MDMUnlocks is a reliable solution for you. It only takes a few simple steps to remove the lock. Here's how:
Step 1. Register with MDMUnlocks, then download it on the computer.
Step 2. Download the latest iTunes version on the computer.
Step 3. Use a USB cable to connect your iPhone/iPad to the computer and launch iTunes. Choose your device from iTunes and click "Restore." This will initiate an entire system restoration of your phone. Simply follow all instructions given on-screen to complete the process flawlessly.
Step 4. After the restore procedure, iTunes will start a countdown; just close it instantly, then run MDMUnlocks.
Step 5. At last, choose "Bypass MDM" from the app. Wait as the process completes and remove the MDM.
Pros:
It can unlock iCloud and MDM locks easily.
User friendly.
Quite affordable.
Cons:
Does not support other iOS versions.
It's not free.
Limited features.
Pricing:
Costs $10 to remove the MDM.
Tool 5. Wootechy iDelock
For anyone looking to bypass the lock on their Apple device, WooTechy iDelock is an ideal solution. It easily removes MDM locks and deactivates screen passcodes and Apple ID passwords. In addition, it offers a wide range of other restrictions removal services for your convenience.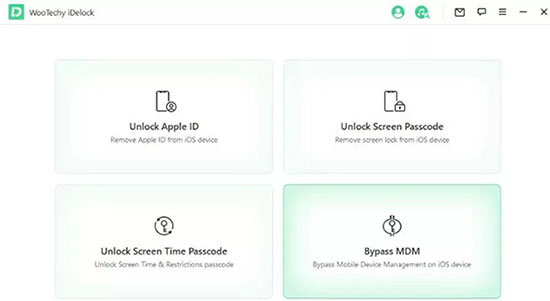 Key Features:
Removes MDM lock, security locks, screen passwords, etc.
Simpler to use.
Supports most iOS versions and devices.
User-friendly interface.
How to use:
Step 1. Run the WooTechy iDelock application on the computer and select the "Bypass MDM" mode.
Step 2. Once you've done that, take a USB cable to connect your iOS device to your computer. After the connection has been established securely, click on "Trust" to Trust the computer.
Step 3. Choose "Bypass MDM" to proceed. After that, select "Start to Bypass."
If your device is managed by an organization, choose "Remove MDM" and hit the "Start" button. Sit back and relax while you wait; in no time, the MDM will be disabled.
Pros:
Faster MDM lock removal.
It is easier to use and has a user-friendly interface.
Supports newer versions.
Cons:
It may not support older versions.
Pricing:
Part 3. FAQs on MDM Removal Tool
Q1. Can I remove MDM from my iPhone without tools if I don't have the password?
If you don't have the MDM password, removing the MDM lock from your device is impossible without the software. If you don't remember the password, you must use tools like iOS Unlock to remove the MDM lock from your device. Its advanced features guarantee great success when bypassing the lock.
Q2. Can a person control my iPhone remotely?
Yes. Through the remote management function, the admin will have full control over your iPhone remotely. They can see all the activities on your device and even control them. They can lock or unlock your device, monitor what apps and websites you're using, track your location, and more. This is why it's important to know how to remove MDM from an iPhone if you ever find yourself in this situation.
Conclusion
Unlocking an MDM-controlled device can be a real hassle, but with the right tools like MDMUnlocks and iActivate, you can easily accomplish the job without any hassle. Both offer reliable solutions at reasonable prices and are user-friendly as well. But iOS Unlock is a game changer when bypassing MDM on iOS devices. It is the most comprehensive, secure, and all-in-one solution with more advanced features. With iOS Unlock, you can remove every type of security restriction easily.
Related Articles:
How to Unlock a Disabled iPhone without iTunes? 4 Easy Ways You May Not Know
6 Proven Fixes for "Your Passcode is Required to Enable Face ID"
How to Resolve the Forgot Screen Time Passcode on iPhone/iPad Issue?
5 Ways to Unlock Android Phone if You Forgot the Password
4 Best Methods to Factory Reset iPhone without Password/Passcode